INTRO -
AI-Generated Artworks are killing the Internet, they are literally everywhere and What's more - They are Creating Mind Blowing Styles and Patterns of Artwork. Like Seriously, I Can't Believe the Creativity these AI Art Models are capable of!
I'm a big lover of Artificial Intelligence, and In the Past, I've fiddled with text-to-image Models but could not get any Big Results from them. I also love Art, But maybe I'm not the Best Artist. Apart from pure Skills, I haven't got the time, and tools, to Create Super Cool Sketches and Paintings that are of Quality.
I didn't mind too much in the Past, but now that this is Possible for Anyone with AI-Art Generative Models, I plan to Take it to the Limits. One Such Case will be my Experimentation with the Diverse Collection of Monsters in Splinterlands. It's Gonna be so much Fun!
AI-Generated Artwork Vs Real Artists
I'm not big on the Moral Aspect here but one thing I will like to say is that: AI-Generated Artworks Still require Fine Tuning, Creativity, and a Real Usecase to be of any Productive Value, and If not, They are just gonna be Random Stock Photos which the Internet is already full of. No one will pay much attention to them, especially with the Hype and Millions of Images being generated today.
And for Artists? - I give all Respect to them, they are Fantastic. I've always cherished being an Artist capable of Creating the Best Artwork that moves people and makes them see things Differently.
I Strongly Hope that AI-Art can Unlock the boundaries and Limits so that Anyone who Desires can Whip up Art in a Productive Way. What more can I say? We'll see what the Road Holds for Us, but I'm Highly Confident that it will bring about more Value to Our Lives.
My AI-Generated Artwork - Fire Elemental
So for my first-ever try at Generative Artwork, I decided to take a very Simple Approach, after all, we're Tackling Special Monsters available only in the Splinterlands NFTs Collection.
Fire Elemental is one such Monster that we can cope with Because (1) I can Readily find Reference Models Around AND (2)The AI-Art Model has Most Likely been Trained on fire & elemental prompts Over Rarer terms such as; Djinn Chwala.
Good, so this was the First Point of Consideration, after figuring this out, I moved on to the next process.
I Went and Collected About 20 Reference Images for Fire Elemental, Directly from Google Of course. It was Mildly Tedious, but I made this process Faster by Streamlining my Pick to Female/ Women Fire Elementals AND Selecting from a wide variety of Looks (Being - Less Fire, More Skin xD).
WHY? Well, The Reference Images are what I'll use to Train the Model AND Feeding it Male Images is Probably not the Best Idea(I mean, Splinterlands Fire Elemental is Female right?), Secondly, Images with Huge Spraying Flames will be Difficult to Trace by the Model, so Closer to Skin is a Good Approach.
AND This was what I was able to Come up with, check out some from the Collection;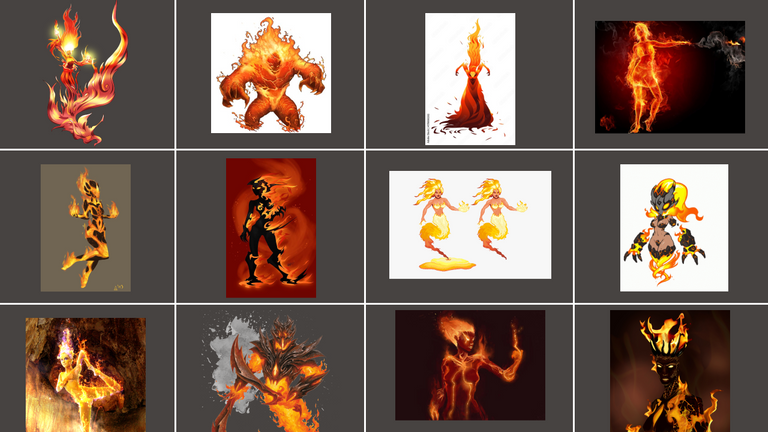 Now, Time to Train....
There are several Popular AI Art Generators Around, and Filtering them to Get the Best for your Usecase is where the Hard task lies. Anyways, I'm experimenting with DreamBooth Stable Diffusion
The Model Trains on My Reference for About 20 Minutes (it could be longer, if your images are larger).
Andddd... Check this Art Out!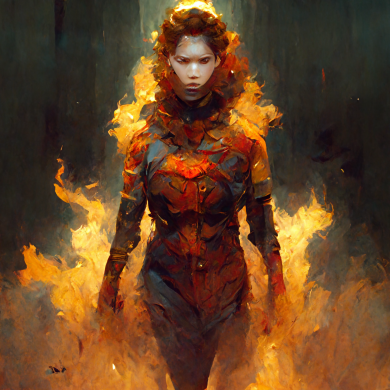 Isn't She Gorgeous? I feel like, for the First Time, We're able to get a Good Look at her real face(Fire Elemental, I mean) Against all Those Flames she's usually lugging Around, Hmn?. xD
For this Artwork, I used this Prompt: female fire elemental, summoned, deadly flame attacks, angry in battle, striding forward
My Thoughts on Experimentation;
Like I said earlier, I'm all about Experimentation and I'm About to Experimentate(Is that a real Word?) the Hell out of this Bad-Boy-AI-Generator. One thing is for Sure, It's gonna give me Hella Cool Artwork!
My Main Goal though is to use these to tell Stories and Transform Splinterlands Monsters into the Wildest Monsters you could imagine. Would that be Possible? Who Knows, I'm looking forward to It and I hope you are too!
What do you think about my AI-Generated Artwork?