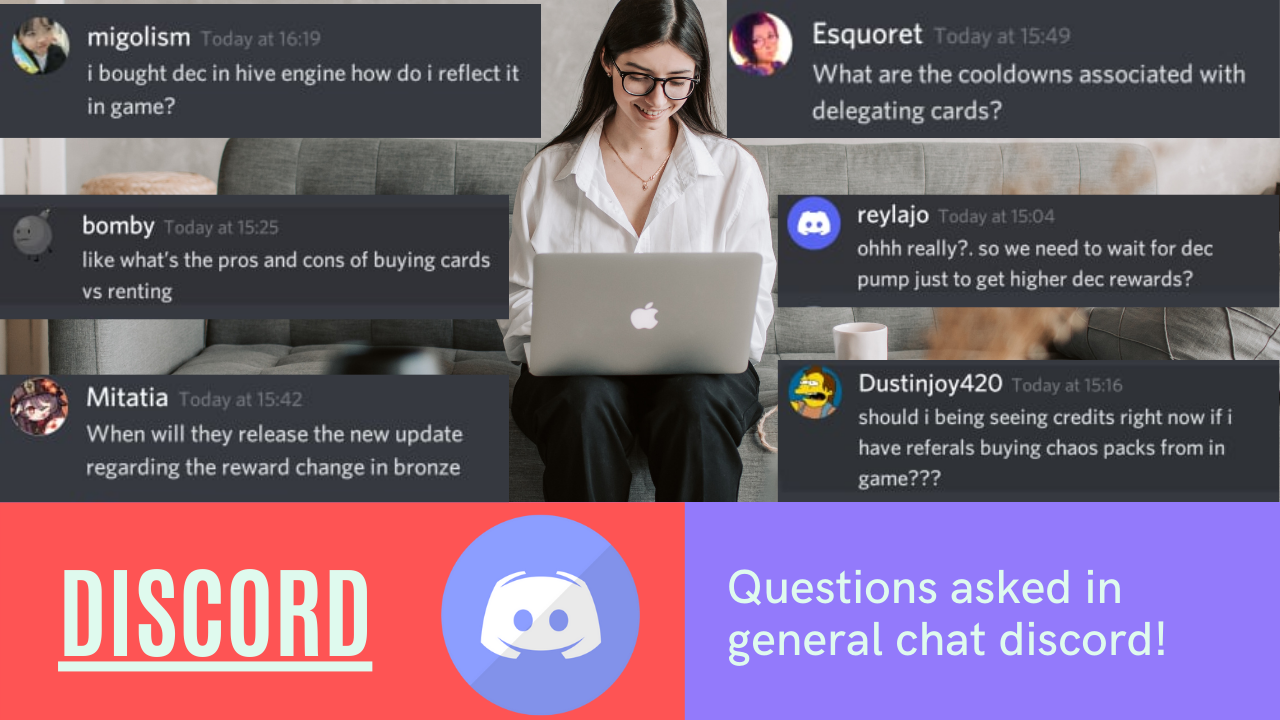 Disclaimer: All these questions were answered on discord too. It is for the reader who missed them, don't use discord, have same questions in mind, or just for the record. None of these questions are from AMA (Ask me anything) but from general channel of splinterlands Discord.
This post is a collaborative effort of
@dlmmqb (author)
@astro-cat3663 (questions gathering)
Please check out @astro-cat3663 too. It might not be possible without his help.
Note: My whole post got deleted because a 2-year-old baby deleted it as my mouse has a button that reloads page and splintertalk doesn't have a draft. It wasted my 2.5+ hours of work. I will not give up, trying to write again with even better quality.


My most money is wasted on fees what to do?
Mehdichi! you know what, I hate fees too. I understand your experience with Ethereum blockchain and am sorry for your loss. Here are the things to follow to save money on fees:
Get some crypto: I usually go to Binance (their referral program is shitty too if your referral doesn't trade and only hold or stake) and then I go to buy crypto with P2P (pair to pair) or debit card. Once you buy USDT (as example) you can proceed to the next step or skip this step if you already have crypto.

Now you can convert them to HIVE. Don't worry about the transfer fee. It's only 0.01 HIVE (cheaper than bank transfer).

Now you have HIVE but you need DEC. Transfer them to HIVE blockchain account (use hive Keychain extension. it is best out there). For you have to understand DEX (like Binance is centralized, they are decentralized). Go to TribalDEX or Leowallet.

Get your deposit address (on hive we have a readable name as address) and memo.

Now click on withdraw from Binance and out this information.

Once you got HIVE in TribalDex, Leowallet, or Hiveengine (all are same even shows same balance of hive blockchain account and that's why you need hive keychain extension to log in any one of them), Select DEC/HIVE pair. Trade to DEC.

Go to Splinterlands site and click on DEC. You will see balance in hive engine. Now copy that and paste. Then click transfer in. You got DEC with the cheapest way I know.


How does DEC maintains Scarcity?
Reylajo! I understand your concern. Many of us don't understand GAMIFY. It's same as CEFI and DEFI (different concepts but same in nature). I recommend you to watch a video on GAMIFY. So developers of @splinterlands put a lot of effort into making sure each creation is Scarce that's why we see SPT, SPS, and DEC all succeed together. When DEC gets lower in value then rewards from battles decrease and when it increases the rewards also increase. This makes sure that DEC is not too high in value and not too low in value too. The demand for DEC increased because of SPS airdrops. IF I would explain it even simpler then there are some implementations to make sure DEC stays stable (not like the fixed price but enough to fight the whales dumping).


Dustinjoy420! Believe me, I hate almost all referral programs even splinterlands in some cases. Most people are buying packs with SPS because of the juicy 10% discount. You will only see credits when someone used credits within splinterlands.
For Example: you referral buying packs, buying cards, renting, and any other future things to spend with credits only then you will get 5% of money spend. In most cases, people buy Credits with Paypal and buy packs so you only need 20 packs bought with credits to earn yourself a free pack.
In my case, Paypal is banned here so forget about locals buying credits.
In Addition, Developments also mentioned in AMA that they are planning to improve referral program to incentivize us more to refer others. The plans are kept secret and may be canceled if they feel like it.

Note: I lost most of my data In kid deleting as explained above so now most of questions are from same account as he/she asks a lot of questions in discord.

What is Energy Capture rate?
Bomby! You should really stop at 75% because higher capture gives you higher rewards from battles. You know that you regenerate 1.08% ECR back every hour so it's your choice when you want to log in next time. In addition, you can get additional battle rewards from gold cards and even Alpha and promo. Each one gives you 10% additional DEC for battle. On top of that, you can get a 5% additional DEC for every win Streak. In total, you can get a maximum of 120% extra DEC if you use 6 gold alpha or promo cards.
Note: the stats can be a bit different because of human error.


Multiple accounts are legal in splinterlands?
Bomby! Currently, Multi-accounts are not illegal. I know a utuber/3speaker that's plays with 4 accounts together. He has a lot of experience. As bots are also allowed so it's not possible to ban multi-accounts.


Can I transfer cards freely from account to account?
Bomby! you can do that yes. Do know what an NFT? It's unique like you and me meaning that there can only be one like fingerprints. That's why each card has an ID and even some are expensive before of their ID number. For Example: DZ6969. Maybe this is 3 times higher than the same stats cards because it's important to the seller and buyer too (emotional attachment). Being an owner of NFT means right to burn, rent, transfer and play as you please.


Pros and Cons of renting and buying cards?
Bomby! Thanks for asking this question in the best way.
Pros of renting:
You can climb rank higher.

You can get extra reward chests.

You get bigger upvotes in Share Your Battle Challenge as your battles have better cards and it makes battles interesting.

If rent from a top player and they cancel renting, sometimes they pay you 3 times more DEC as an apology.
Cons of renting:
Your rented cards can be canceled at the end of season causes your rank goals to fail sometimes.

At the end of Season rent prices are too high.

No benefit from price increase of cards.

No profit from renting your cards.
Pros of buying cards:
You get profited with Price increase of cards.

You get rent from cards.

You don't have to worry about rentals at all.

No one can take away collection at critical times.

Specific cards get you access to special tournaments.
Cons of Cards:
They are expensive.

They can decrease in value.

You can rank much higher with renting instead of buying.


Bomby! Do not get confused with EOS crypto it means end of season. I also got confused once.


When will new reward changes be implemented?
Mitatia! All new changes are usually implemented with start of next season when announced. If there are some changes to this then it's announced on @splinterlands.


How to tranfer DEC from hive-engine to Splinterlands?
Migolism! your question is similar to question 1 in some ways. Go to Splinterlands site and click on DEC. You will see balance in hive engine. Now copy that and paste. Then click transfer in.


What are cooldowns associated with delegating cards?
Esquoret! When a card is used and transferred to another player (for sale, rent, or delegation), it will have a cooldown timer before it will able to be used in battle by another player.
If you're buying or renting you can look under the cards "Status" and see if it has an activated clock. That will indicate you have an active cooldown, and when you hover over it, it will show you how long you need to wait to use it.
If you have already bought or rented a card, then go to your cards, click on the card, and see if it has the clock icon under "Status".

Did you know? Splinterlands is a card battle game. The best thing I like about it is, its resemblance with Pokemons and magic the gathering!
Click HERE to join.
Last Giveaway Winners:
10% of my HP winner (celebration of 100 followers): Click Here
Season 59 ending giveaway of epic and common cards: Click HERE