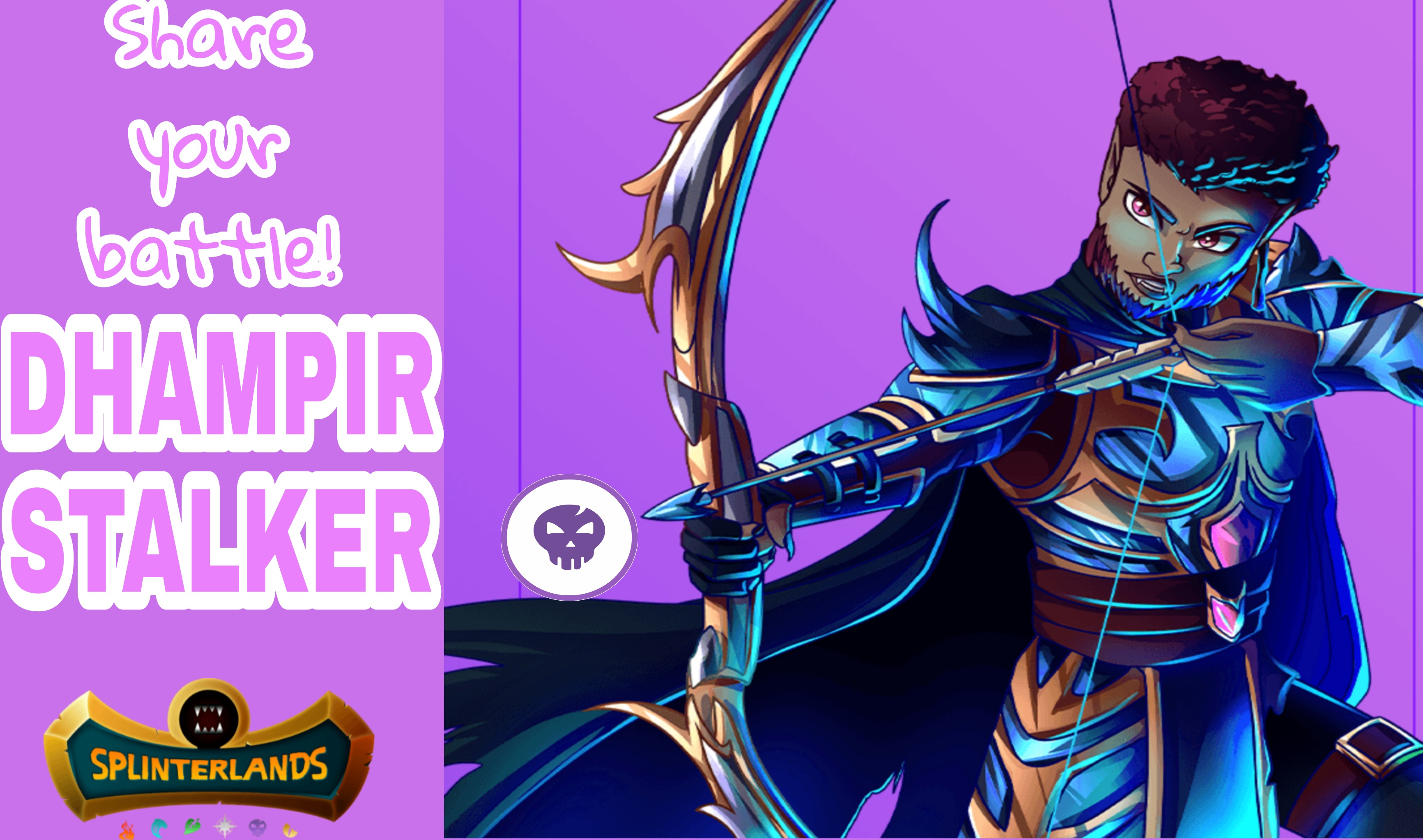 Hello my friends. I hope you are fine. SHARE YOUR BATTLE challenge is back and we have a new monster to talk about. In many battles I got puzzled about choosing my lineups, especially with the DEATH element. I don't own much powerful cards from this units. This week, we have a challenge to use DHAMPIR STALKER and I need to make a strong lineup to participate, so I also rented some new cards to support our themed card in the battle. You can get to know this game SPLINTERLANDS and its monsters from this link: www.splinterlands.com
---
Who is DHAMPIR STALKER?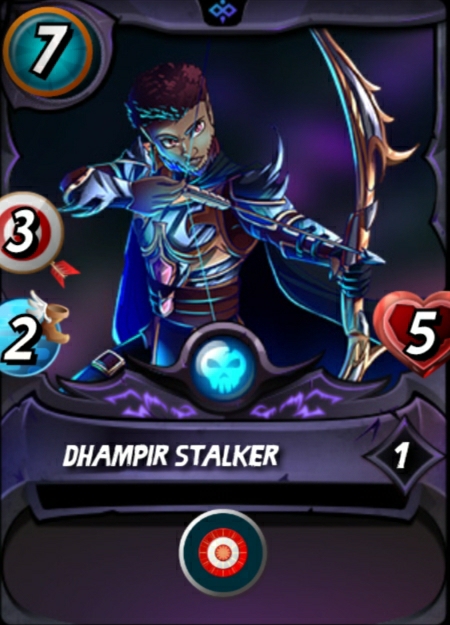 It is monster from the DEATH unit.
Mana Cost: 7. Health: 5. Armor: No Armor. Speed: 2. Attack: 3 Ranged attack. Abilities: True Strike (This Monster's attacks cannot miss).
---
Let's talk about lineups.
The opponent's lineup:
1- MOLTEN ASH GOLEM. 2- MANTOID. 3- SUPPLY RUNNER. 4- FIRE ELEMENTAL. 5- GOBLIN CHARIOT. 6- SPARK PIXIES.
And his summoner is TARSA.
My lineup & strategy: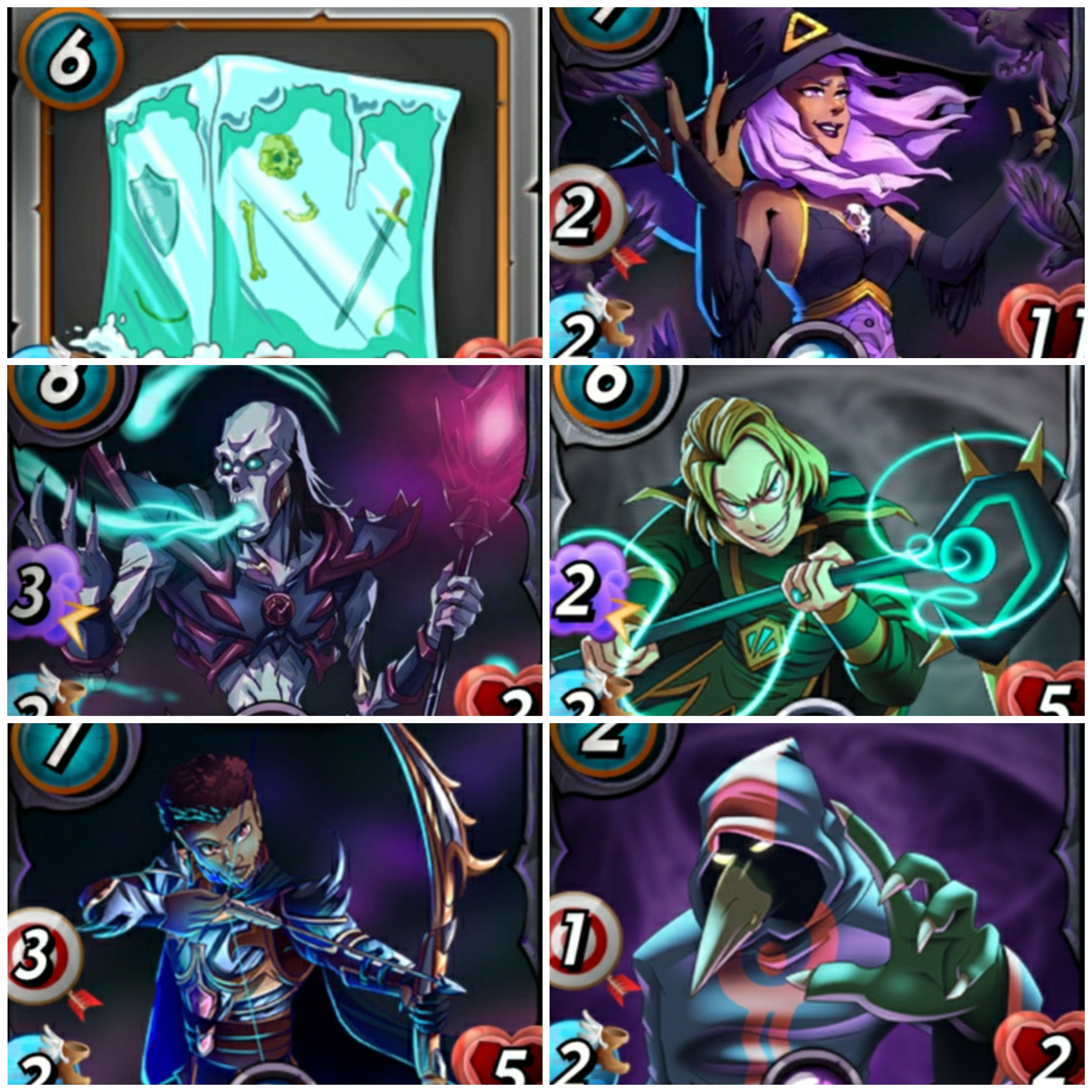 1- GELATINOUS CUBE.
We weren't able to use Melee monsters, so it was necessary to use a monster with high Health to take some hits. This monster will be uesful with its Scavenger ability which gives him +1 health when any other monster gets eliminated.
2- QUEEN OF CROWS.
I chose this monster to hit strongly and become a second tank. It will be helpful with the Close Range and its 11 Health.
3- KAIN HACE.
It is the first time I use this monster. I wanted to hurt the opponent's monsters with 3 Magic attack and Blast. Also, this monster can be impervious from Blast, Magic Reflect, Thorns, or Return Fire thanks to its Reflection Shield.
4- MAGI IF CHAOS.
One of my favorite monsters. It will make many damages to the opponent's tank with 2 Magic attack.
5- Our themed card: DHAMPIR STALKER.
This monster is very influential. You will rarely regret using it in battle because it always hits its target with 3 Ranged attack.
6- WEIRDING WARRIOR.
This monster will be safe in the last because the opponent will not be able to use a Sneak moster. Also, it will destroy Armors with on hit with its Shatter ability.
And my Summoner is THADDIOUS BROOD. This summoner will reduce the Magic and Health of the opponent's Monsters.
---
Battle information:

Active Units: FIRE, WATER, LIFE & DEATH.
Mana Cap: 42.
Rules Of Compat:
1- Close Range: Ranged attacks may be used in the first position in battles.
2- Keep Your Distance: Monsters with Melee attack may not be used in battles.
---
Battle highlights:
Watch the battle from this link if you would: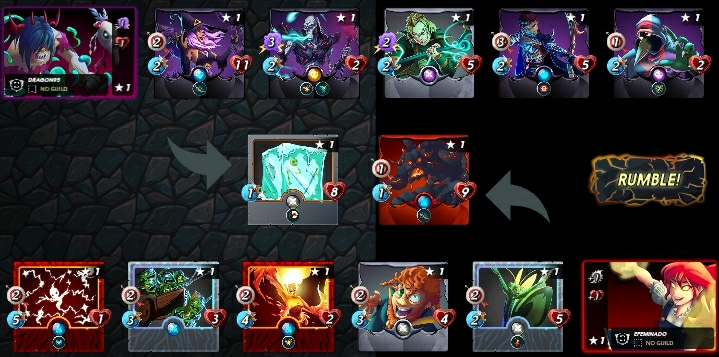 https://splinterlands.com?p=battle&id=sl_2f0a772cb9030cf831b4c79c3122bc6b&ref=dragon95
ROUND 1: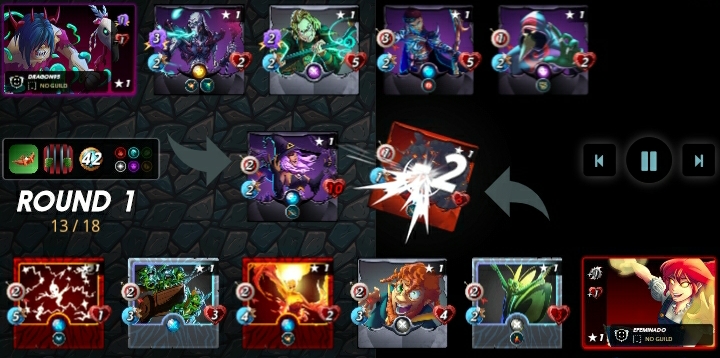 GELATINOUS CUBE recieved four Ranged attacks from SPARK PIXIES, FIRE ELEMENTAL, GOBLIN CHARIOT and SUPPLY RUNNER and got eliminated, also QUEEN OF CROWS got hurt by the Blast of FIRE ELEMENTAL. KAIN HACE hit the opponent's tank and MANTOID got hurt by the Blast. The opponent's tank got eliminated after recieving fout attacks by MAGI OF CHAOS, WEIRDING WARRIOR, QUEEN OF CROWS and DHAMPIR STALKER before MANTOID hit QUEEN OF CROWS.
ROUND 2: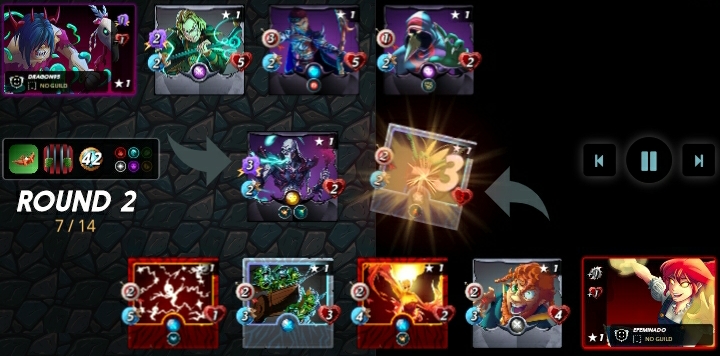 SPARK PIXIES and FIRE ELEMENTAL hit my tank, but KAIN HACE received no damage from Blast due to the Reflection Shield ability. QUEEN IF CROWS recieved a hit from GOBLIN CHARIOT before getting eliminated by SUPPLY RUNNER and my new tank KAIN HACE eliminated MANTOID and Balsted SUPPLY RUNNER who got eliminated by MAGI OF CHAOS. FIRE ELEMENTAL recieved a hit from WEIRDING WARRIOR and got eliminated by DHAMPIR STALKER.
ROUND 3: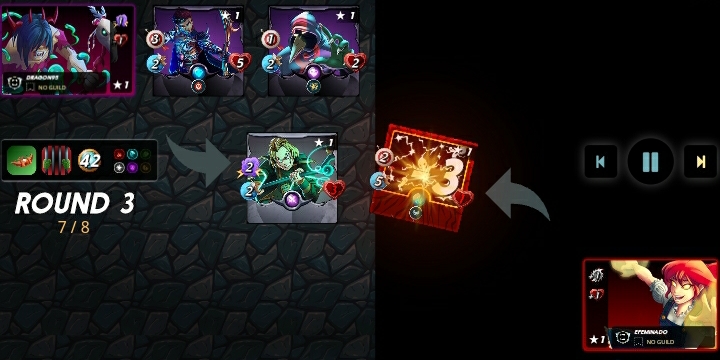 KAIN HACE got eliminated by SPARK PIXIES, GOBLIN CHARIOT hot MAGI IF CHAOS and recieved a hit before getting eliminated by WEIRDING WARRIOR. DHAMPIR STALKER eliminated SPARK PIXIES.
AND I WON THE BATTLE. 🔥
---
My impression:
I think the Keep Your Distance condition helped me because it made the opponent unable to use Sneak monsters and I succeeded in choosing my lineup that outperformed the opponent's lineup. Some monsters were successfully selected such as KAIN HACE who has 3 Magic attack, Balst and Reflection Shield abilities. Also some of my monsters had high Health, unlike the opponent's monsters which were easy to eliminate.
DHAMPIR STALKER:
This monster has a great feature, the True Strike ability that makes it always hit the target. It also has 5 Health, which makes him difficult to eliminate in some battles. With a 3 Ranged attack, this monster can inflict damage on the opponent's monsters and can eliminate some of them with one hit, as it did in this battle when it delivered the decisive final hit.
---
Thank you for reading.
GOOD LUCK my friends.