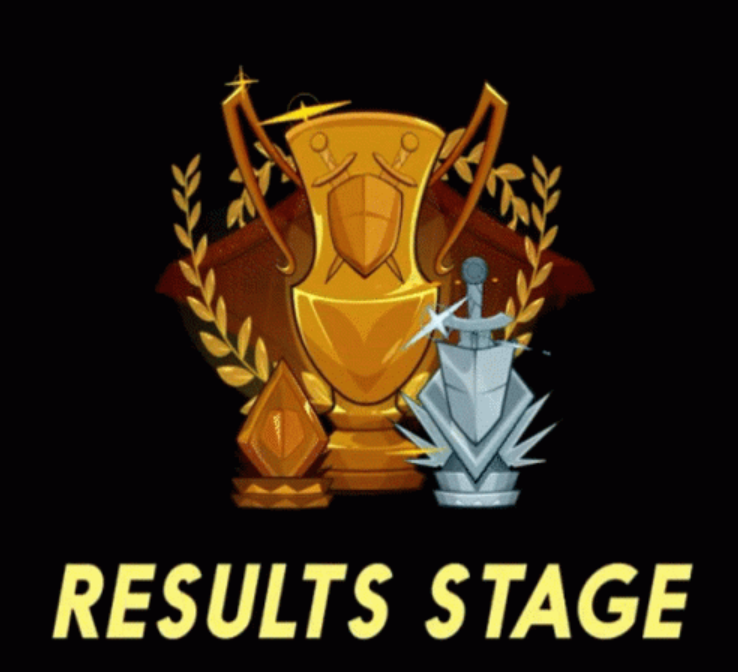 Overview
Welcome my faithful followers and @splinterlands gamers to my first edition of 'For Guild & Glory,' a personal brawl report. In this series I will be reviewing the overall performance of my guild, as well as each battle I contested in my fray.
For the second straight week, @shield-of-glory took first place in our Tier 2 brawl, this time edging out fierce competition from @peakmonsters guilds [Vikings] and [Champs], and @knightsunited.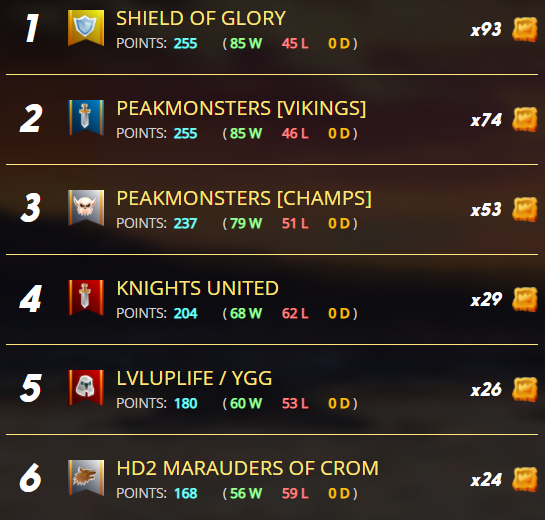 Here's a peak at the top five players in our guild in terms of battles won, with @anasazi and @steemitromney leading the way with immaculate 9-0 sweeps. I managed a top five finish in terms of win percentage with a 5-1 finish.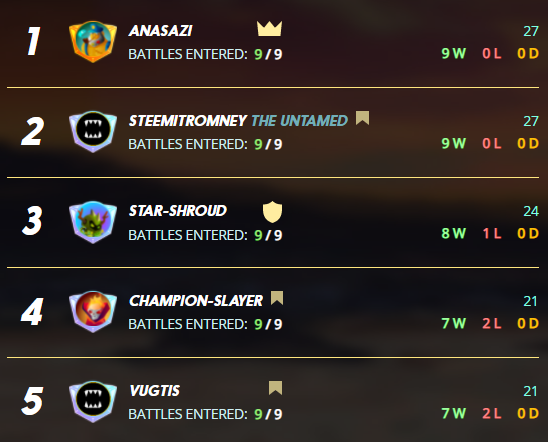 Preview
Going into this brawl I was a little nervous, as I had struggled in my first two brawls battling in the Gold Foil Wild Bronze Fray 13 with this new guild at Tier 2. However, I felt much more comfortable with my new fray position this time around, opting for Gold Foil Modern Bronze Fray 14. Being able to focus solely on modern cards was a huge help, because as a newer player who joined December 2021, I have easier access to the gold foil cards of modern.
Although I have a strong selection of GF commons and rares from Chaos Legion, including all of the rare summoners, I have very few GF from Untamed or Dice. When it comes to GF epics and legendaries in modern I have only a few that I own which aren't reward cards, a total of nine epics and two legendaries. So I decided I would rent some key summoners and difference-making monsters to ensure I did what I could to support my guild in the brawl while also using the rentals to win some key ranked battles at the end of the season.
I ended up renting 11 cards in total: Yodin Zaku, Scarred Llama Mage, Dragon Jumper, Kron, and Grum at legendary; and epics Nerissa Tridawn, Hunter Jarx, Ferexia General, Pyromaniac, Azmare Harpoonist, and War Chaang. While I didn't use them all, several of these cards were keys to victory, especially those beefy 7cc legendary summoners. I will likely switch up the cards I rent for future brawls, but this seemed like a good spread to shore up some of the weaknesses in my GF modern collection.
Battle Analysis
There were six challengers waiting to battle in the GF Modern Bronze Fray 14, so let's get to the action.
Battle 1
Up first is @john9inch from Peakmonsters [Vikings] and we both chose water, albeit with different summoners.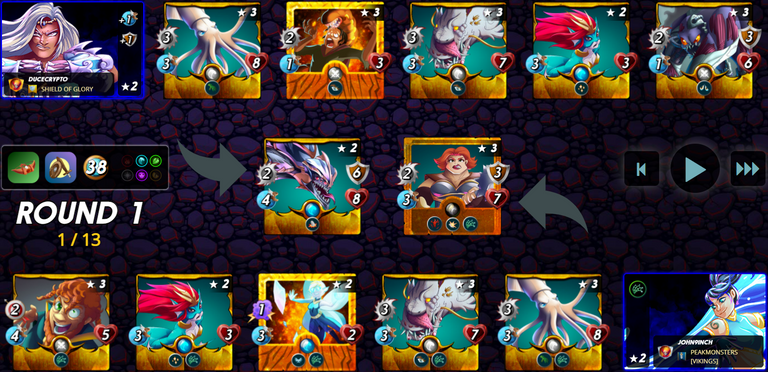 They selected Vera while I opted for Keyla and since I chose no flyers, this difference of summoners was a big advantage for me. My lucky opponent started a GF gladiator, Alva the Crusher, as tank; I am still waiting to open my first GF gladiator. Even though their Ice Pixie managed to evade my Deeplurker a few times, eventually it went down and my opportunity monster could focus on bigger and badder targets.
Battle 2
My second feature battle is against @realluckybooster of Peakmonster [Champs]. Again we both chose the same splinter but different summoners.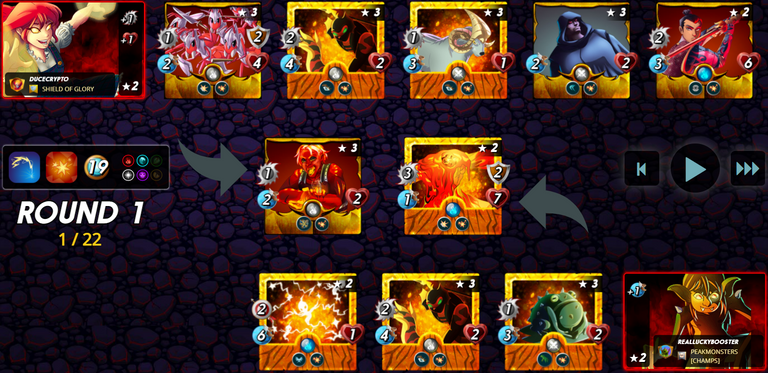 I opted for Tarsa while they chose Pyre. In this low 19cc blast battle, I really wanted to take advantage of all six slots and the extra HP provided by Tarsa. Although they stuck first, I struck hardest, with the extra melee attack granted by my summoner. The extra attack point allowed my Serpentine Spy to take out two of his backline monsters, while he only managed to take out my lone 1cc Radiated Scorcher with his first two attacks. From there we ganged up on Living Lava to seal the deal.
Battle 3
This was a tough matchup against @jigstrike of the long-standing Knights United guild, another perennial powerhouse ranked among the Top5 guilds in Splinterlands. To make matters more difficult, it was an away battle and their guild banished the card Scarred Llama Mage for this battle using the power of their barracks. This made the battle conditions of noxious fumes much trickier to contend with.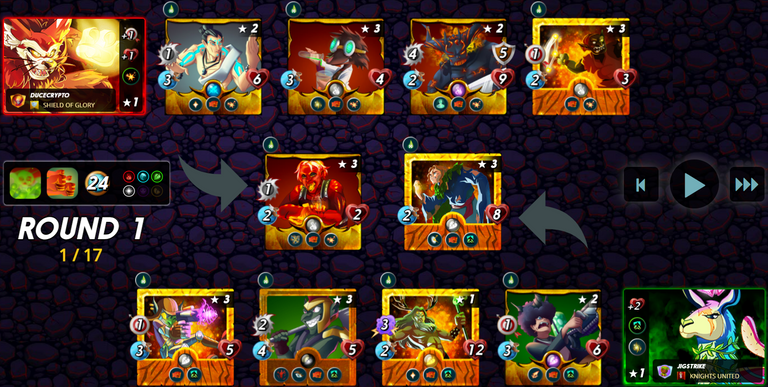 Without access to the cleanse from the Llama, I chose fire for the immunity of Forgotten One and the raw power of Yodin instead of Tarsa. But the 1-2 punch of Llama-Kron from my opponent was too much to handle. My plan of getting the healing Xenith Monk cleansed worked out, but there just wasn't enough HP to fend off his attack. Ultimately Forgotten One and Kron were the last monsters standing, but it was a one-sided fight and my only loss.
Battle 4
I turned the tables on my next opponent, @darkse1d of [email protected] Marauders of Crom, using the combo of Scarred Llama Mage and Kron to my advantage.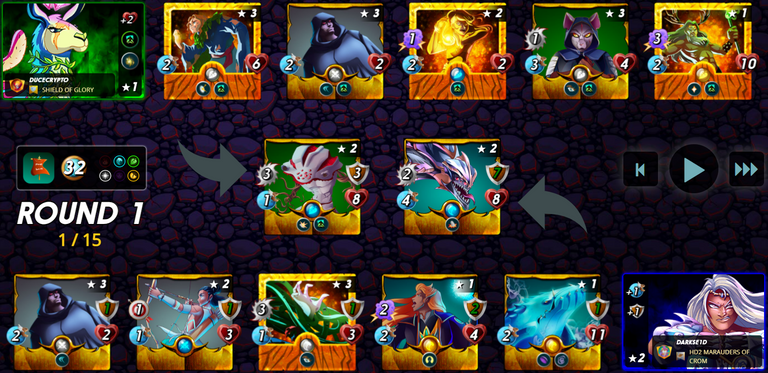 Chaos Agents on both sides were staking up the misses and my melee attacks were running into plenty of armor. My opponent's River Hellondale resurrecting the Diemonshark soaked up even melee damage and then after that there was still Baakjira to deal with. But even 4-on-1, Kron was still up to the task and took down the opponent's lineup.
Battle 5
My fifth battle came against @marcox828 of Monster Nest, and we both chose a fire summoner for the 44cc no neutrals encounter.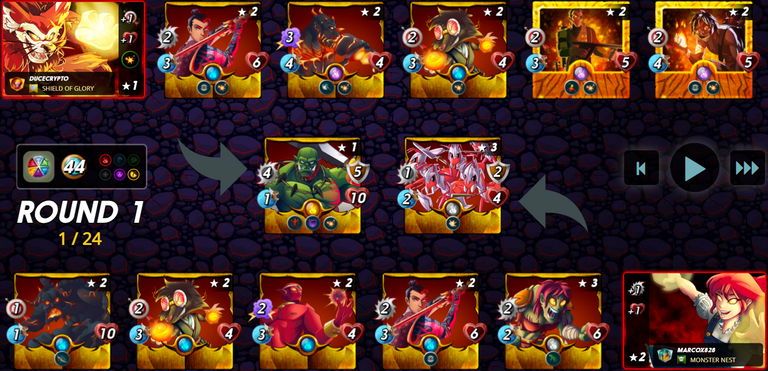 As is the case in medium mana matches, the brute strength of Yodin overpowered their Tarsa lineup. Grum just soaked up the damage and missed his one attack, while the boosted range attackers in the back three spread the damage around. Always sad to see Grum miss his only 90% chance to hit, I was really looking forward to my first bloodlust in brawl.
Battle 6
The last battle of my coverage saw me taking on @acedingo of Land Barons. For the big 60cc battle, I went big with Drake, my dragon summoner plus fire, against his water-based Kelya team.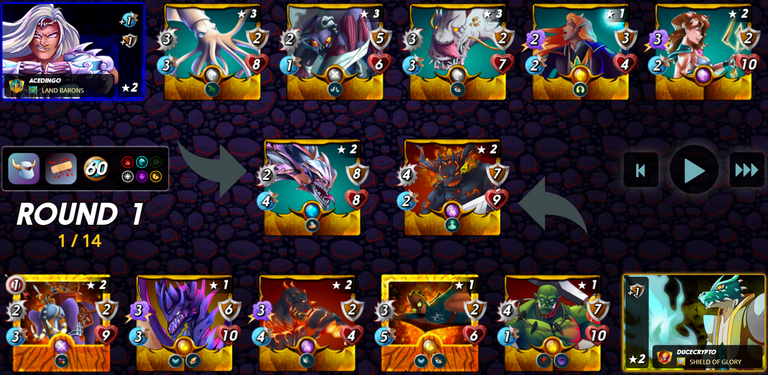 My opponent wasn't able to use all 60cc, while I harnessed the raw strength of the Chaos Dragon, alongside the Grum, Dragon Jumper, and War Chaang that I rented for the brawl. I was fortunate that their Deeplurker's second attack went to my tank instead of the magic-wielding Djinn Inferni, as I needed to count on that magic attack to take out the resurrected Diemonshark. After that key strike, the opponent's forces quickly fell to defeat.
Conclusion
Well there you have it, my most successful brawl campaign yet with @shield-of-glory as we took first place in back-to-back brawls. We each took home 5231 merits and secured another 93 crowns for the guild. We were able to increase our store to level six and will be working even harder to get it up to level eight in the next few months.
I think I rented a good amount of cards that were pivotal in a few wins, but I'm already thinking about how I can alter my rental strategy for the next brawl cycle. It will be easier to rent as well, since the brawl will not coincide with the end of season.
What did you all think of this brawl report? Do you have any suggestions to improve my battle lineups? Let me know in the comments and I'll be sure to follow up. Thanks for reading and best of luck with your next season.