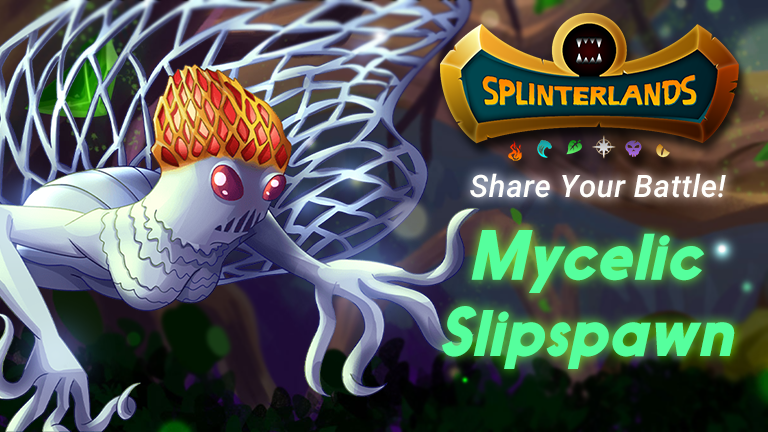 Every week there is a Splinterlands challenge to share a battle using a specific card and on this week's post it is the Mycelic Slipspawn card. I also encourage Splinterlands players to partake in the challenge because you get to try different strategies and earn some crypto in the process.
Featured Monster: Mycelic Slipspawn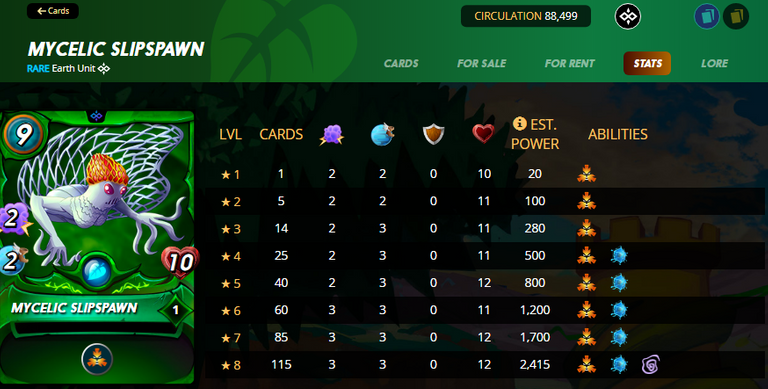 Mycelic Slipspawn is a earth splinter card that costs 9 mana. It starts with taunt and learns the forcefield at level 4 and slow at level 8. It's a tanky card that is meant to take hits while the rest of your monsters attack and the force field ability looks useful. It reduces any damage that is 5 or above to 1.
I don't use this card often because I like to deal damage over trying to extend out the match. However, I do use them from time to time during matches with an opportunity rule set or those where poison is part of the rule set so my other cards can live longer. Besides this, the card is also good at back to the basics battles because it is tanky and it can attack from anywhere.
Rule set, Battle and Plan

The ruleset this time is back to basics and spreading fury. This means that all monsters lose their abilities and all monsters get the enrage ability. There is also 99 mana available and I am left with the choice of earth or death splinter.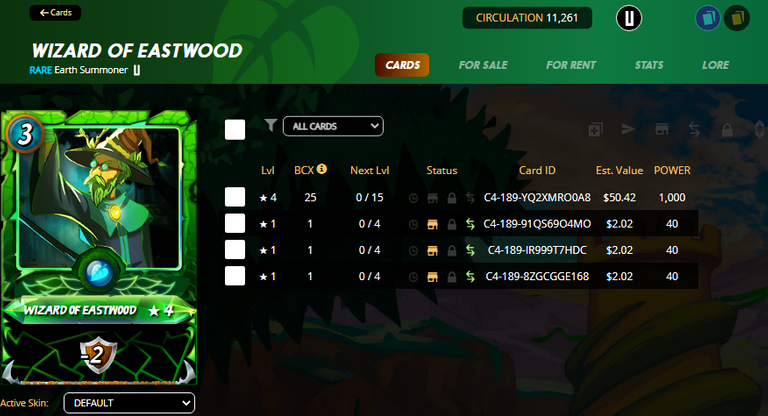 The summoner I choose to use this time is Wizard of Eastwood. In a match like this, I think that removing 2 armor will make it easier for me to kill the opponent and my cards can be played at their highest level.
| Splinter | Mana Cost | Position | Reason |
| --- | --- | --- | --- |
| Wizard of Eastwood | 3 | Summoner | -2 Armor |
| Unicorn Mustang | 8 | 1st | Tank |
| War Chaang | 7 | 2nd | Backup Tank |
| Mycelic Slipspawn | 9 | 3rd | Magic and backup tank |
| Kron the Undying | 10 | 4th | Magic |
| Beatrix Ironhand | 6 | 5th | Damage Dealer |
| Mitica Headhunter | 8 | 6th | Damage Dealer |
| Total Mana: | 51 | | |
My plan is just to have a lineup using a few tanky monsters up in front. Unicorn Mustang is fast and strong so it is up first. Then there is War Chaang because it can attack from anywhere. There are two magic tank monsters as backup and two ranged monsters as my fast damage dealers.
Round 1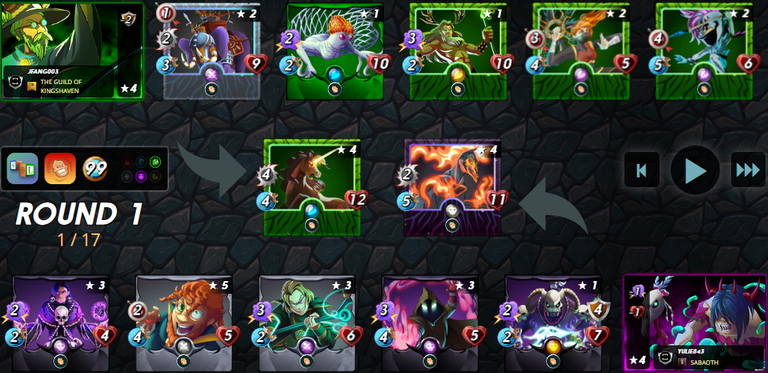 At the first glance of my opponent's lineup, I think I have the stronger lineup due to the tankier monsters. My damage dealers towards the back are also faster than my opponent so I don't think there will be any issue killing off my enemy. The only issue is that my opponent has a fairly powerful magic lineup and it depends on whether or not I will be missing my attacks.
Round 2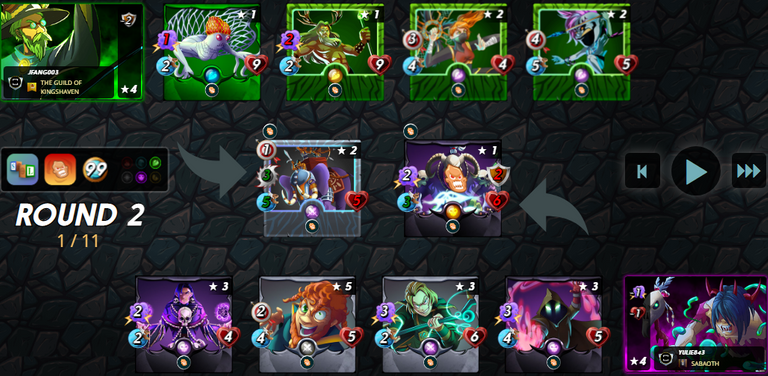 We both traded one monster and I still think I have an edge. War Chaang is boosted by the enrage ability so the next monster should also go down fairly fast.
Round 3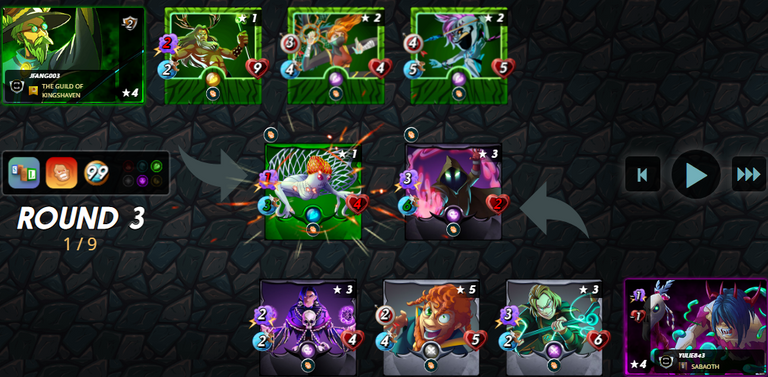 With another monster traded, I believe that I still have an edge due to my fast ranged monsters. Kron is the next tank up to take hits and it just depends on whether or not I miss my attacks.
Round 4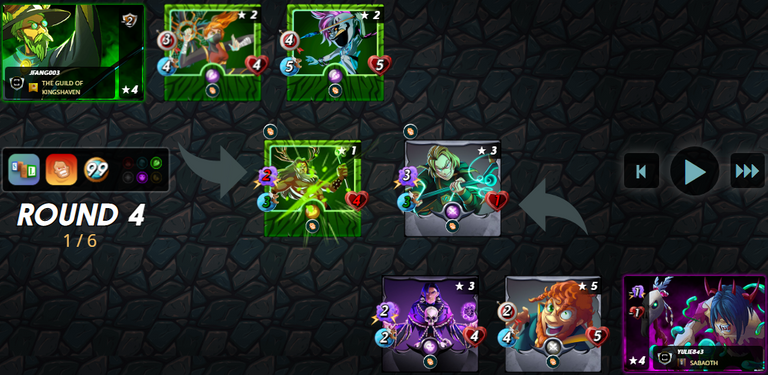 Given the speed difference, I think that I have this match won. So long as my headhunter hits, my opponent will be left with just one magic damage dealer and I don't think I will lose at that point.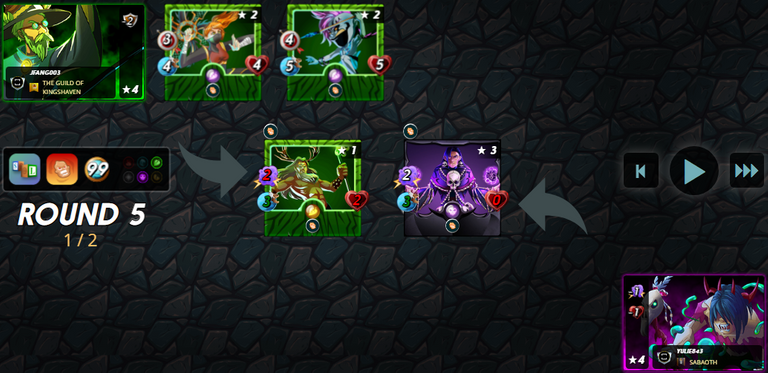 Since my Headhunter did not miss, I was able to take out the front two monsters and finish off my opponent in the upcoming round.
Conclusion
The battle this time around went exactly as I expected. The lineup I went for had a bunch of fill in tank monsters and I was never lacking damage at any point in the battle. Since my ranged monsters are fast, I was able to avoid missing my attacks and I was able to take advantage of enrage to boost two melee monsters.
The -2 armor from Wizard of Eastwood was not that great but it did allow me to place the highest level monsters that I could. On my opponent's side, I don't know why he did not place supply runner in the last spot. It makes more sense to leave it in the last spot to do more damage and having 1 more health doesn't matter as much. The extra damage that the supply runner could do would cover it in a round or two. Other than that, I think my opponent had a strong line up.
You can see my entire match here.
What did you think of my match? Was there anything you would have done differently? I think it is quite interesting to see how different players use the same card.