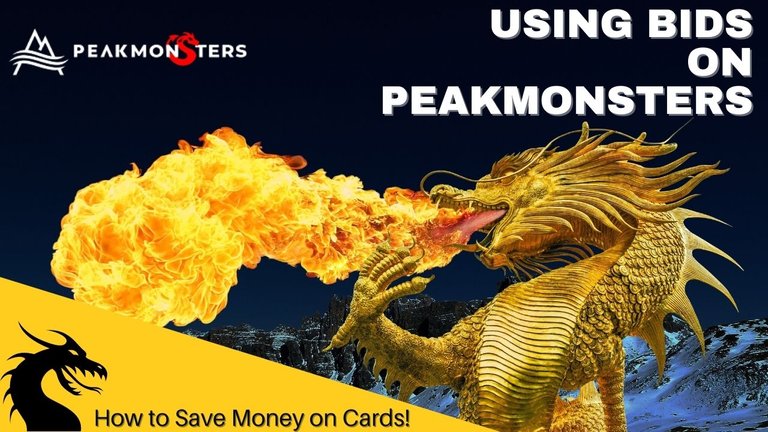 So with Chaos Legion right around the corner, I've decided it's time to buy up as many reward cards as I can to get them ready for Gold League gameplay. Unfortunately, buying one card at a time is literally a nightmare inside Splinterlands.
I decided to give the bidding system in Peakmonsters a shot and I was pleasantly surprised with the results.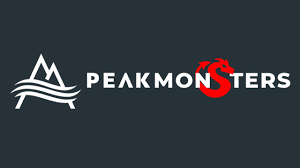 Bidding is the best way to ensure you get a good deal on your purchases.
If you're not in a hurry to buy cards, using the bidding system on Peakmonsters can save you money. In the example below. I wanted to purchase 10 Venari Heatsmiths. Prices for this card can usually range from 16 to 21 cents. While that doesn't seem like a lot, buying multiples at a time, you can spend way more than at the best price.
I set my price for 18 cents for 10 level 1 cards. Once complete, the total cost should be $1.80. I was pleasantly surprised that the tool searched out for cheaper cards as well and 10 copies of Heatsmith only cost me $1.66. An 8% savings over my initial cost.
Extrapolate that savings out and it can be huge if you are planning on purchasing hundreds of these cards at once!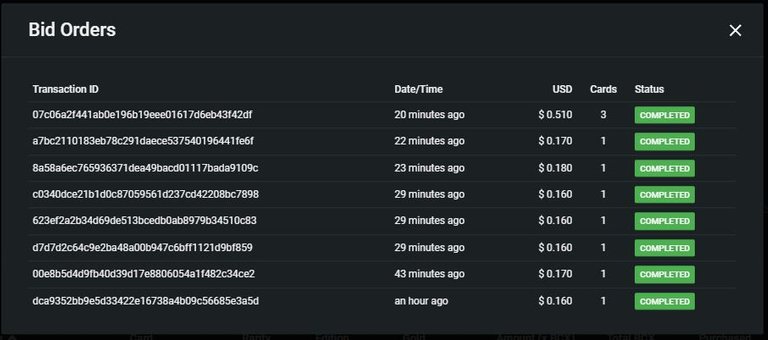 You can save time by using the bidding tool.
One of the worst parts about buying cards is the time it takes to purchase cards. Even on Peakmonsters, you can spend hours attempting to buy cards that are already sold. This can be extremely frustrating and I'll sometimes end up paying too much for a card just cause I know I'll be able to buy it.
The bidding system is fire and forget. You simply set your bid, number of cards, and max BCX and let Peakmonsters find your cards.
It took about 20 minutes for the system to find the 10 cards to purchase. During that time, I cooked lunch and did some work. No need to click and pray that cards were still available!
Check out the bidding system if you want to save time and money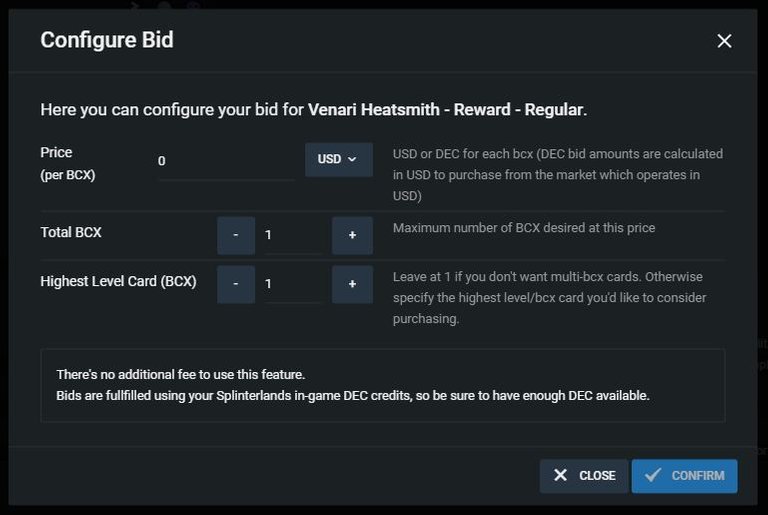 Configuring a bid is simple. First, you will set the price you want to pay per BCX in USD. My Example (.18 USD)
Next, you set the total BCX you want to buy. My Example (10 BCX)
Finally, you set the Highest Level Card (BCX) My Example (5)
One of the best ways to get a deal on cards is to set the Highest Level Card higher than 1. Many sellers will give a discount on their higher-level cards since they are not in as much demand as a level 1 card.
If you don't mind getting multi-BCX cards, this is a great way to save even more money.
I encourage any player from beginner to expert to check out the bidding functions on Peakmonsters if they want to streamline their gameplay, save time, and save money playing Splinterlands.
Not Playing Splinterlands Yet? What are you waiting for? You can join the fight today by following the link below! With Chaos Legion right around the corner, it's a great time to get started with Splinterlands!

If you made it this far I just wanted to say thanks for taking the time out of your day to read my post. I hope it was informative and helps you make better teams in Splinterlands!
Do you have any strategies you'd like to share? How do you save money and time while playing Splinterlands?
A Little About Me...

Currently based in Siem Reap, Cambodia, I'm a solo-traveling digital nomad. Due to the pandemic, I've been living in Siem Reap for almost 2 years now. While I'm hoping to get back on the road soon, I'm not in a rush.
I'd love to connect with other travelers, digital nomads, gamers, or residents of Cambodia. Don't hesitate to say hi or send me an upvote!