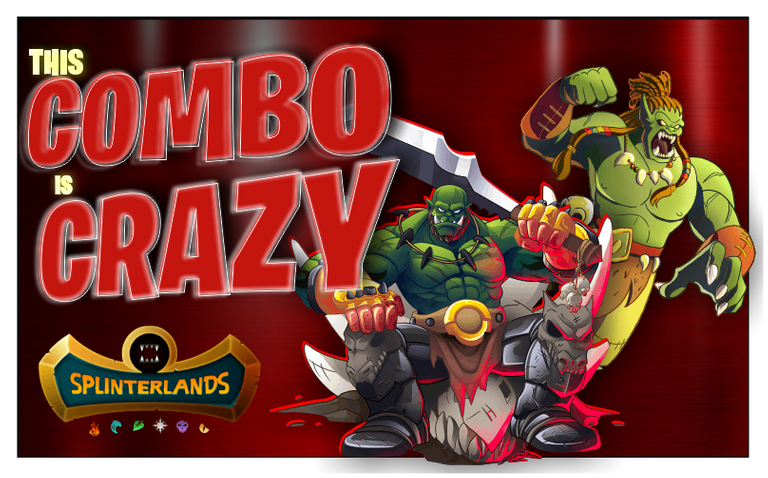 All right guys, today I bring you an excellent combo, and it's easier than it looks.
We just need to rent or have two cards! Although it can be better or accompanied with some other cards, I tested it in bronze and silver, but you can improve it with some cards and play it in gold.

The combo is simple, GRUM FLAMEBLADE gets better every time he kills a creature, but it's always possible to lose him, now by combining him with QID YUFF his damage will break the shield and at the same time will generate extra damage making you can kill your enemies faster, and get all the juice out of this excellent monster!!!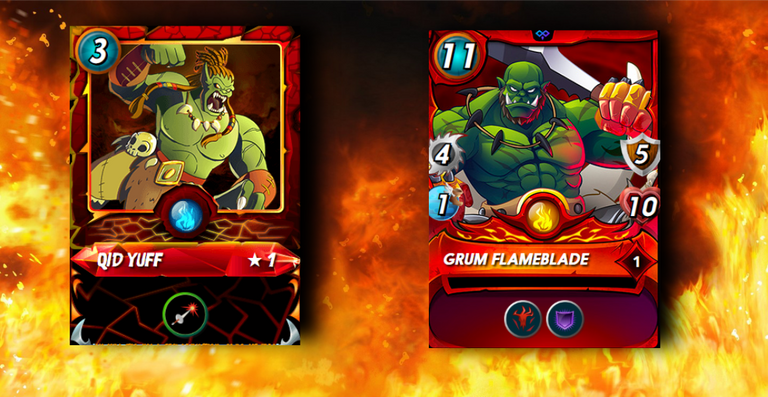 If we want, we can add more options, for example, we can add SCAVO HIRELING that recovers his armor.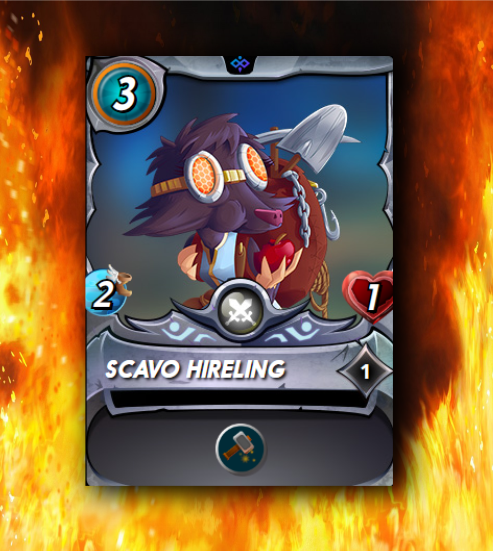 If we play in silver we can have GRUM at level two and that will make him more resistant to magic.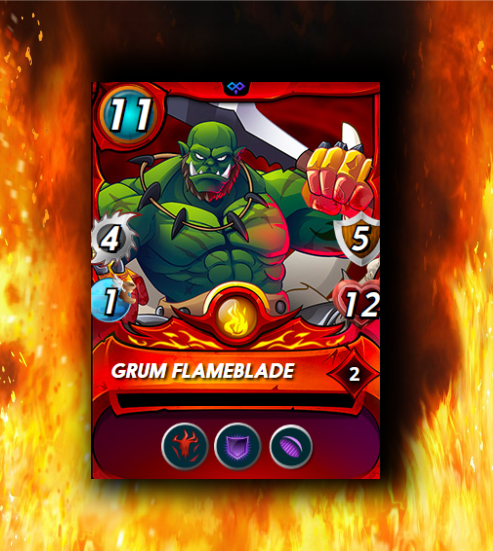 And to have the most complete combo we can add: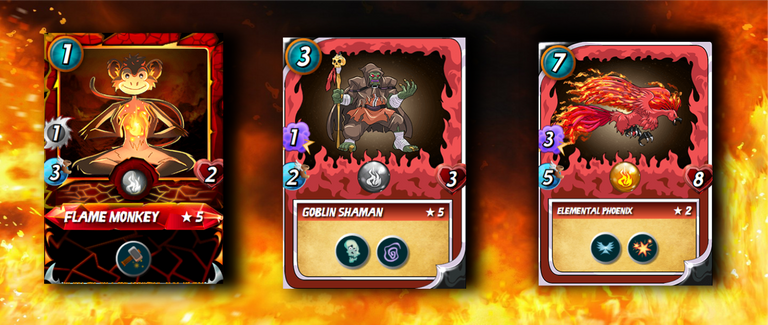 ELEMENTAL PHOENIX (level 2) the phoenix will give us explosion that will help us to kill the enemies and lower their life so that GRUM can get faster to finish with his life and thus be able to grow faster,
GOBLIN SHAMAN will generate the same by lowering the life of all the rival monsters.
And the most important acquisition can be FLAME MONKEY (if or if at level 5) as the monkey will give us armor recovery.
Finally, you can play with another summoner, but the effectiveness decreases a lot!
I played about 20 games with this base lineup of which I won 16 games...
What do you think of this amazing combo, will you use it in the future?

credits
---
. All images made by me with corel draw taking the images from the SPLINTERLANDS chart.
. banners created by me with inspiration from google resources and with the logo taken from the official SPLINTERLANDS website.
. The png of the words ENGLISH and SPANISH were created in this page
. The separator bars were designed by me INSPIRED BY ONE I SAW A WHILE AGO ON HIVE
. Truadicide with deepl.com


Muy buenos chicos hoy les traigo un combo excelente, y más fácil de lo que parece
¡Solo necesitamos alquilar o tener dos cartas! Aunque puede ser mejor o acompañado con algunas otras cartas, lo probé en bronce y en plata, pero se puede mejorar con algunas cartas y jugar en oro

¡El combo es simple, GRUM FLAMEBLADE se mejora cada vez que mata a una criatura, pero siempre es posible perderlo, ahora al combinarlo con QID YUFF su daño romperá el escudo y a la vez generará daño extra haciendo que pueda matar más rápido a sus enemigos, y sacarle todo el jugo a este excelente monstruo!!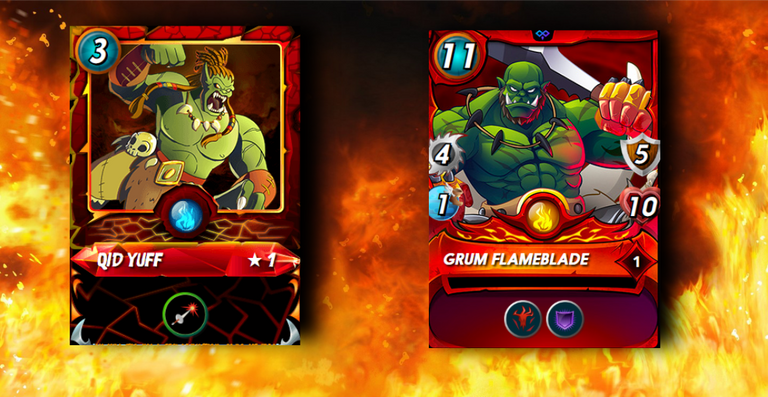 Si queremos, podemos agregar más opciones, por ejemplo, podemos sumar a SCAVO HIRELING que recupera su armadura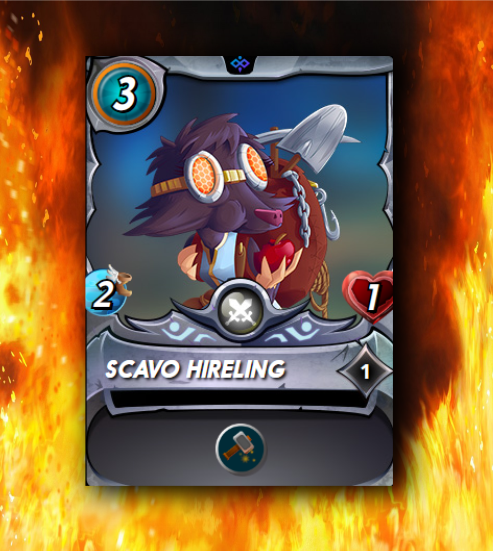 Si jugamos en plata podemos tener a GRUM a nivel dos y eso lo hará mas resistente a la magia

Y ya para tener el combo más completo podemos agregar a:
ELEMENTAL PHOENIX (nivel 2) el fénix nos va a dar explosión que va a ayudar a ir matando a los enemigos y bajarles la vida para que GRUM pueda llegar más rápido a terminar con su vida y así poder ir creciendo mas rápido,
GOBLIN SHAMAN generara lo mismo al bajarle la vida a todos los monstruos rivales
Y la adquisición más importante puede ser FLAME MONKEY (si o si en nivel 5) ya que el monito nos va a dar recuperación de armadura
¡Por último se puede jugar con otro invocador, pero la eficacia disminuye muchísimo!
Jugué unas 20 partidas con esta base de alineación de las cuales gané 16 partidas…
¿Qué opinan de este increíble combo? ¿Lo usaran en un futuro?

---
créditos
---
. Todas las imágenes hechas por mi con corel draw sacando las imágenes de la carta de SPLINTERLANDS.
. banners creados por mi con inspiración de recursos de google y con el logo sacado de la pagina oficial de SPLINTERLADS
. Los png de las palabras ENGLISH Y ESPAÑOL fueron creados en esta página
. Las barras de separación fueron diseñadas por mí INSPIRADA EN UNA QUE VI HACE UN TIEMPO EN HIVE
. Truadicido con deepl.com