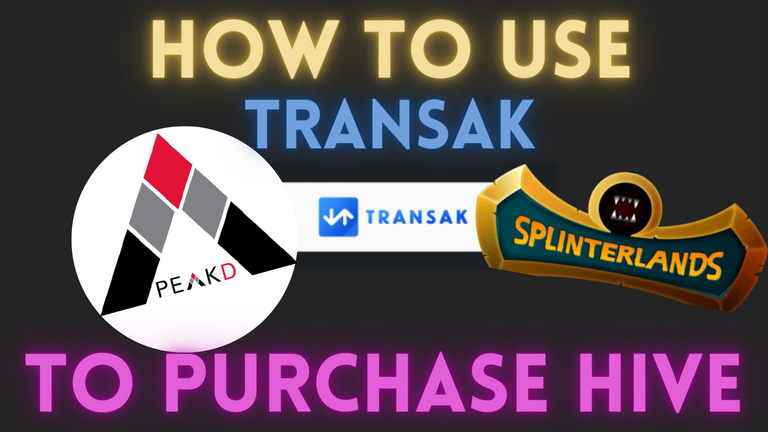 Here are my Recommendations for using Transak
Well folks, I wanted to share with you the process of using Transak. Transak is a way to get your USD dollars into crypto (in this case I wanted to purchase HIVE). Surprisingly, not many have used it to purchase HIVE which can be done on @peakd. If you are unaware of this service, I think this post might be helpful to you! Note, you can also use Transak on Splinterlands' website; however, you are purchasing SPS or DEC there as opposed to just HIVE here on PeakD.
How to Use Transak on PeakD
1 You need to click on your wallet from the pull-down menu,

2 Click on the EXCHANGES services button.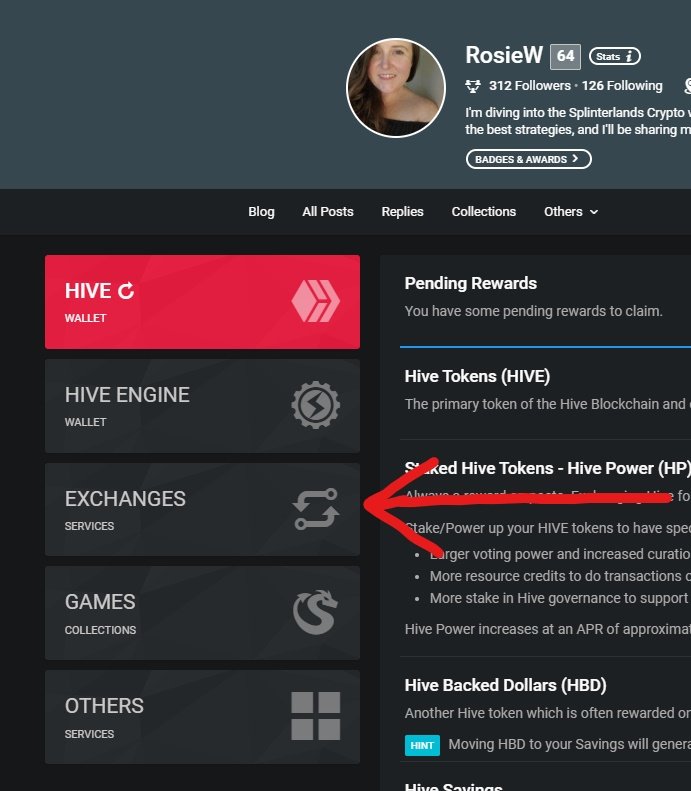 3 You'll see the Transak logo on the page so you want to click on that to use Transak.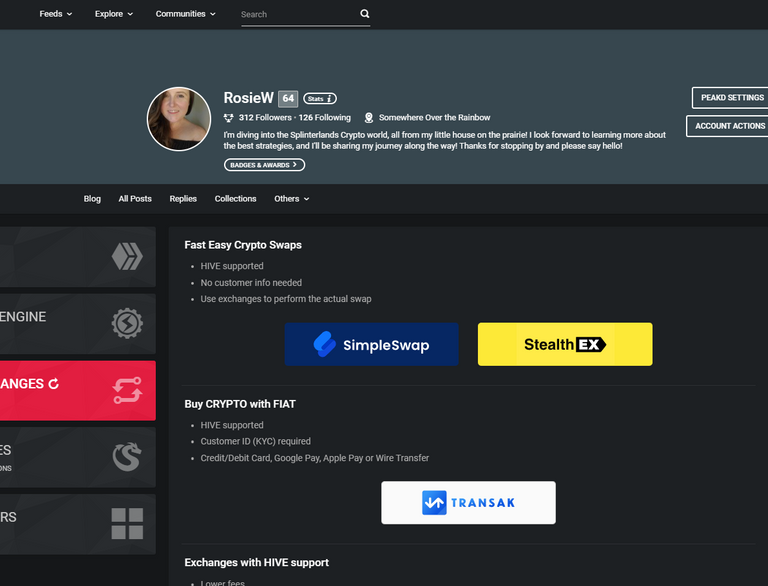 4 Click on Transak and now you're able to enter your dollar amount and they will calculate the HIVE you receive based upon the market value.
NOTE: They do warn you that the final number may vary from what they provide to you if HIVE is dropping quickly; however, they give you a very small percentage of variance allowed so it's not that big of risk honestly. I appreciate their transparency on that information, however, and I believe those who might be new to purchasing crypto will appreciate it as well (though I'm not new to purchasing crypto, but it's still helpful information). Make sure you provide your correct email when you make your purchase; Transak will email you once all is completed.

HERE STARTS THE REVIEW: Bizarre Lack of Information
What I found frustrating was trying to get Transak to work for me. Two reasons for this (1) my bank's restrictions, which you'll understand if you keep reading and might be helpful to you and (2) Transak's lack of information during the processing. I will explain my bank problem in a moment but first, you should know the maximum amount you can purchase in Transak might actually be wrong.
Transak says that the maximum amount of money you can enter for purchase is $1500 USD so I tried that multiple times. I kept receiving a "sorry" message with no explanation as to why they couldn't do business with me, they were just sorry. Well, yes I was sorry as well, because I really wanted to accomplish something quickly before Splinterlands goes mental (and it's going to go mental guys so get ready!)
The "any pending charges message" was also concerning to me, because shoot, had it sort of gone through and taken my money? For your information, no, it never went through period. In fact, upon calling my bank, they never received any of those attempted purchases on their end so this was not just a "my bank" problem but a Transak problem as well that I had to figure out on my own.
Finally, I had a thought that perhaps I had a daily limit on my card (this is when I called the bank later to find out no, I didn't, so again, a Transak problem), so I decided to only attempt to purchase $1000 USD. When I chose this I at LEAST got a verification asking me to go to my cell phone and find the 5 digit code and enter it. I entered the code and waited to STILL receive this Sorry! message. Bizarre.
That's when I called my bank.

Heads Up! Transak is in Great Britain!
So, turns out my bank won't let me do business outside of the United States without letting them know I'm doing so (makes sense) but if you don't know Transak is located in Great Britain, you have no idea that you might need to call your bank. (Maybe PeakD and Splinterlands can add this somewhere on their websites just to be helpful or maybe they just assume people like me know what I'm doing... ha ha .. sadly, I don't apparently!)

What You Need to Know to Make Transak Work
Anyway, my bank lifted the protections and I thought yay! Let's try the $1500 USD again. Nope, doesn't work. Therefore, I had two problems going on this whole time (1) my bank was protecting me and I didn't know it because I didn't know Transak is in Great Britain and (2) Transak's maximum limit is wrong. So, even though Transak is saying $1500 is the limit, seems it's actually $1000, so if you're having problems getting it to work, try less money (and just do the transaction multiple times).

Waiting for the Money Once the Transaction Goes Through
I tried the $1000 USD again and it went through -- sort of! I waited over 30 minutes and hadn't received my money. I had already asked @jarvie and @asgarth for help with Transak for days now (because of my bank problems) and as usual, they were so helpful to call Transak, to uncover if there were any problems on their end, etc, and to just generally go out of their way for me (which is by the way, what they do over at PeakD -- seriously the best two guys around) and I KNEW this was a Transak problem, NOT a PeakD problem (rarely is there a PeakD problem as they are a well-oiled machine! HA!) so I decided I needed to ask the Mavericks over in Discord. That was interesting.
The Mavs really didn't know. Many haven't used Transak which is a surprise as it's a great way to get some HIVE. If they had used Transak, they had purchased it through Splinterlands and found it to work immediately for them. This knowledge became concerning for me. It was going on an hour and I hadn't received my HIVE.
I reached out to Transak on their Discord. And that's when things got weird. Discord is a dangerous place, so please be very careful to make sure you're not going to a Discord server that LOOKS like Transak. Meanwhile, Chatter had reached out to me and was saying to let him know if the money didn't come through because he had used Transak before with no problems.
Well, when I used Transak discord I was helped right away but they asked me to use some Wallet Connect service. I started to get concerned. Why did I need to create a QR code to get my money. Meanwhile, I had confirmed with my bank that indeed the purchase had gone through appropriately.

Here's Where It Gets Complicated
My advice to you is to wait. Just wait probably three hours and see what happens. If the Transak help had just told me that in the beginning; however, they said the transaction usually takes 15 minutes (and mind you it was over an hour by this point). I don't mind if it takes a few hours, but what I do mind is thinking there's a $1000 dollars floating around in outer space that Elon Musk can't even get to. It's stressful for me. That's an INSANE amount of money for me personally as I have little. All my savings is invested in this game, so I don't need to lose any pennies like AT ALL.
People need to remember that. If it's $20 or $20,000, it's someone's money and it's important to them. I was not impressed sadly with the Transak representative (if it was from Transak). I feel there was perhaps a language problem, but I can't be sure of that.
Anyway, if you want to hear the rest of the story, keep reading. If you came here for how to use Transak, I would say wait a few hours before you panic. HA! I would also say talk to PeakD support and talk to Splinterlands' support, depending upon where you're dealing with your money, and they are so helpful and kind and patient. I cannot say enough about our amazing family. Honestly, if you're here in this space, you're safe. Just stay within the Splinterlands'/PeakD family.
If you need to contact Transak directly, one of the Mavs recommended this direct website form. I didn't use it, so I can't recommend it myself but it looks legit. https://support.transak.com/hc/en-us/requests/new

The Rest of the Story
I went to Wallet Connect and it had all these wallets asking me to choose one. Well, HIVE wasn't on there. I PROMISE. Like I looked up and down that thing a thousand times to be sure. The Transak representive said "OH it's there. Trying refreshing." Then MAGICALLY Hive Blockchain appeared. Hmmmm.. that seemed fishy to me. I clicked on it and a QR code was generated. I will say the Transak representative said DO NOT SHARE that QR code with ANYONE. So of course I didn't. I went and asked the Transak representative what to do next and he said HOLD. That was the last I heard from him. I miraculously got my money within the next hour. I say miraculously because when I went to go get the Discord link to give to you all, I saw that the Transak representative has written to me saying that QR code was invalid. First of all, he has written me two days later. Secondly, I got my money, so why is he bringing up the code now? Therefore, I'm not going to give you that Discord link because I just am not sure what in the world is going on over that. This is my red flag about Transak. I think just go to their website directly and use the link I provide you above.

The Good News
Since I got my money, although I had wanted to do $1500 and not $1000, I decided (crazy ME!) to do this whole nightmare again because interestingly enough, they do not take much for fees so the value is GREAT if you're needing to make those changes! I did it again and this time I decided to wait longer. I waited two hours and got a bit nervous so I reached out to the Transak representative again to see if I needed to generate this ridiculous code again. Weirdly enough, I could NO LONGER ACCESS HIM as he had blocked me. This is where I just have zero assurances about it. I waited another hour and BINGO my money was there. Moral of the story-- the money will come just not maybe instantly.

Would I Recommend Transak?
Ironically, yes I would. I just want to reassure you that the transaction will take longer than they suggest (or it CAN take longer than they suggest). The fees are cheap and Transak, while it's communication is poor on why it was rejecting my card, that their limit is actually $1000 and not $1500 and those sorts of things, make it a bit unfortunate; but once you get past that (and give your bank permission), all is well. I might suggest you be on the phone with your bank when your transaction goes through if you want that assurance as well. Then wait. Don't stress too much for a few hours. I received an email the moment I got the funds so keep your eyes peeled for an email from Transak and that will help you as well.
Also, if you're having SPS or DEC, then use the Splinterlands' website and Transak that way. Supposedly Transak will give you HIVE but then immediately change it to SPS or DEC. I am not after those things (something more precious in Splinterlands for me... YIPPEE!) so I wanted to go with just HIVE and used PeakD for that process.

Funny Part of this Story
Transak keeps writing me asking for a review. HA! I'm not confrontational so I'm not sure what to say to them exactly. Any suggestions here? HA HA! I got what I wanted, so I don't want to bash them, but wow... that was stressful. And I will say, this is the "problem" for mainstream people and crypto. We need to continually work on making crypto more accessible to get into. I feel like PeakD and Splinterlands are trying to do that, so I hope they continue in this endeavor.
Well, thank you for reading this long (probably boring) article. I felt it was important enough to share so that other folks needing to know about Transak can have some peace of mind. Feel free to ask me any questions and I'll try to help!!
P.S. When in doubt...
When in doubt, go to the PeakD or Splinterlands' team for help. You can certainly trust them, and that is what I LOVE about being here. Thank you all for helping me in my hour of panic. I really appreciate that you folks took the time to help me buy some HIVE. And now... I won't tell you my plans for that because hey.... don't want you to buy up what I'm after in Splinterlands, but ohhhhh am I excited! Yipppeee!!!

If you enjoyed my post and want to try Splinterlands, please use my referral link: https://splinterlands.com?ref=rosiew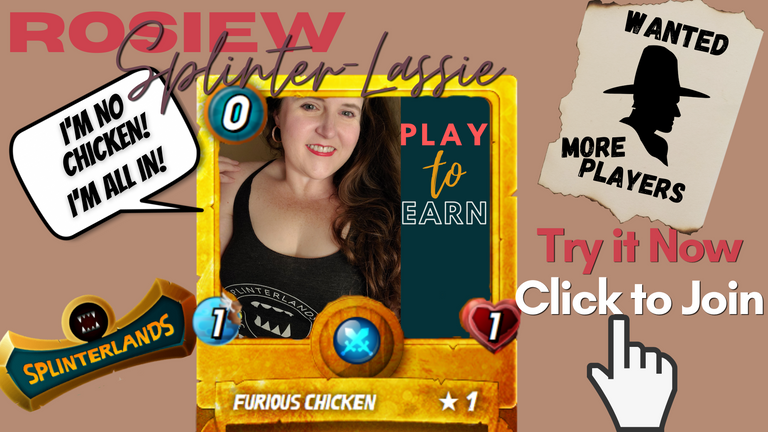 Please remember my post is not meant to be financial advice and is just my opinion.
Follow These Folks:
Splinterlands: https://peakd.com/@splinterlands/
PeakMonsters: https://peakd.com/@peakmonsters/
Monster-Curator: https://peakd.com/@monster-curator/
1Up (#OneUp): https://www.1up.zone/
Here are some great links to join as well!
Splinterlands Discord: https://discord.gg/Tw7KjNsQGs
PeakD Discord (PeakMonsters as well): https://discord.gg/7mQmzZeugE
Monster Market Discord (Monster Curator): https://discord.gg/DR3J9rfRFV
NFT Studios Discord (aka 1UP Discord #OneUp): https://discord.gg/4VYBcNuVQd