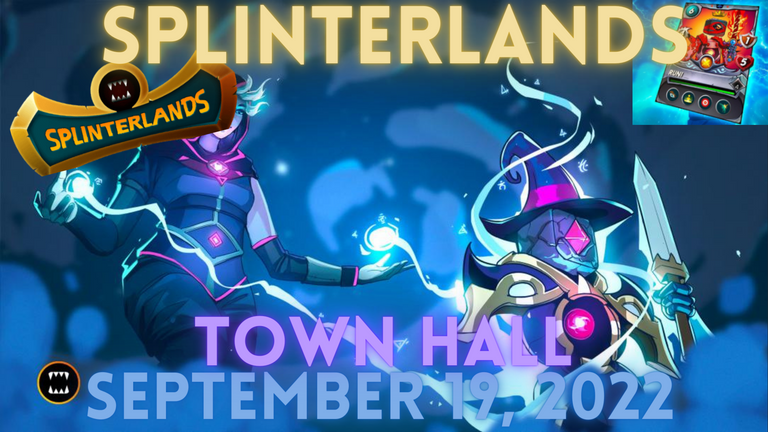 Splinterlands Town Hall (AMA) Summary for Sept 19, 2022
*Please note: I cover as much as I can of the summary as a record of the conversation. I do not provide my opinion but actual conversation that occurs during the Town Hall/AMA. This summary will have questions provided from the Discord and the answers given by the various Splinterlands' team will be typed by me. Please forgive any typos or errors; some may be from Discord or some may be my own.
Founders Begin the Town Hall (formerly AMA)
Today's Town Hall included: @aggroed, @yabapmatt and @hardpoint
If you wish to contact the team, here's some of the personnel:
Aggroed @aggroed Founder and (C.E.O)
Matt @yabapmatt Founder and (C.P.O.)
Hardpoint @hardpoint (C.T.O.) (Chief Technical Officer)
Nate @nateaguila (Creative Director)
Cryptomancer @cryptomancer (Splinterlands Developer)
Chatter (Director of Marketing)
Homestead @homesteadhacker (Business Analyst)


Introduction from Aggroed
Matt will discuss Runis
Hardpoint (Richard) will discuss Tower Defense
Nate - Creative -- Runi Train or airdrops for Riftwatchers
Weirdbeard - Splinterfest and Tournaments
Chatter - supporting role
Cryptomancer - Core dev for Splinterlands will give a brawls update
Nifty Arcade and Playground Labs


Nifty Arcade - Tyler and Jared
Tyler - Nifty Arcade is a revenue share system created for ease of your Splinterlands cards either for yourself or for scholars
Allows people who have decks of cards (like Fire Splinter). I can combine all of them and give to a scholar and let them.
I can create a deck and let people go play that deck.
We will allow people to purchase pre-configured decks rather than individual cards
Advantage: To help those new players with a one-click solution to buy one deck type per rank. You can rent to scholars, friends, or use yourself.
Features: Asset Tracking

Revenue shares, deck purchasing but the idea allows you to see everything you own in the ecosystem. I can track multiple accounts. I can see crypto, NFTs and Splinterlands cards. It allows me to track everything in the eco system. I can also see everything I've earned in the last 30 days.

Aggy: Is this just for the whales? It's for everyone! I can come on here and play other's assets or I can purchase my own and get a higher deck I have.
Aggy: How do you calculate the staked SPS and the NFT cards?

Matt and the devs have been building a platform so that we can access the staked SPS and give to the lender and we keep everything else. The system will calculate everything earned and the borrower sends everything back to the lender on the keychain.

Visit https://www.nftyarcade.io/ to check out all these new features! This will work for more than just Splinterlands.
We would love feedback so please reach out to us on Discord

Sam at Playgrounds Labs and Kapital DAO
We're working with guilds and enables you to go in with a wallet of assets and delegate those assets to managers who will then delegate it out to others. This is great for large groups like hedge funds.
You can work from one common UI and using that system of delegation from the admin who owns the assets down to a manager then down to a player.
There is no worry about who is playing with these assets because you will never lose control over those assets. You will want the best manager then and we see that building a great community. This is already live and are in other companies. We are part of the largest guild in the world. We just partnered with them and will be disclosed in a week or so.
Where to find Kapital DAO: kapital.gg . You can use the app today. Next week we will be doing a massive card opening for Splinterlands so you'll want to be a part of that!


Words with Wizards: Hardpoint
Are we on track?

We're really busy with a lot of things going out. We're excited!

Are we set to go live tomorrow?

Fairly certain we will get it out. We'll have a countdown page.

What is a Tower Defense Game and what are we offering tomorrow?

An offshoot product off the Splinterlands game and uses the same website and wallets. We're partnered with Double Coconut The pre-sale will be selling the packs. Packs, chests or crates we're not sure. 250,000 will be available and each will have 5 towers or spells. If you participate in the pre-sale you'll have a 0.2% chance to get that promo hero and you'll never have that chance again. This won't be your typical Tower Defense game. You'll have to stake towers, spells and heros in your game and have them locked up into the game to use them. The more you have staked there the more you earn. And we're working that each one of those models gives more energy so if you want to earn more you buy more.

Logistics of Presale into general sale

We're talking about Riftwatchers how we went from presale directly into general sale. So we will create a gap from the pre-sale into the general sale so players will know exactly what they're getting with their money. The pre-sale is the ONLY thing that will be available tomorrow so you don't need to worry about the general sale. We will release the general sale next week because we weren't ready for the general sale anyways. But if it was live the goal will be a minimum of having one hour between pre-sale and general sale with a new countdown clock so we don't have that same event that happened with Riftwatchers presale.
There are only 250K packs for sale so you can't oversell the number available.
Pre-sale Pow wow: Tower Defense Presale Countdown in Discord.
Leaking the name? Nope, not yet. We're close to the name and that will lead us into a logo for it. We have a name picked out and a logo going out and we're shooting to have both of those by Splinterfest and that will be shared there.

It's going to be one of the first time where you can keep accumulating rewards with the whole "press your luck", you're winning rewards and if you lose, you're going to lose rewards, so you are truly defending your rewards. I'm excited about that dynamic and building that tension. We're really trying to have the games be engaging and it's very exciting.
Presale at 4pm EST so come join tomorrow!


Words with Wizards: Matt and the Whitelist sale for Runi
The Whitelist will be dropped this week

It's a generative NFT project. Each one is completely unique and you get to show off your NFT in your profile picture and avatar, etc. That's not something we have in Splinterlands yet. Every trading card game has this same issue, but we had the idea that we can make one of our cards be a generative NFT where everyone gets a random version of it. In the game it has the same stats, but the image that will be shown will be your unique Runi image. We also see this as one of the best ways to really try to market this to the larger NFT community and audience that mostly lives on Ethereum and Open Seas.
The mint will be on Ethereum on Open Seas

It's the best opportunity to really get a lot of new people with a lot of capital in this game from that bigger community.
Whitelist Sale

Thursday 2pm EST on the Splinterlands website
6500 NFTs total
2000 spots reserved for the Splinterlands community
You'll need an Ethereum key (not coinbase, but specific)
Each Runi is $500 in Eth but you'll reserve your spot and if you spend 100 vouchers you'll get to mint it for $250 when that starts later in October. It will be a great opportunity to get this cheaper than everyone else will get it.
Cool ability unique to Runi will be a neutral legendary, maxed level and a new ability called rebirth which is basically as self-resurrect. That will happen only one time during the battle.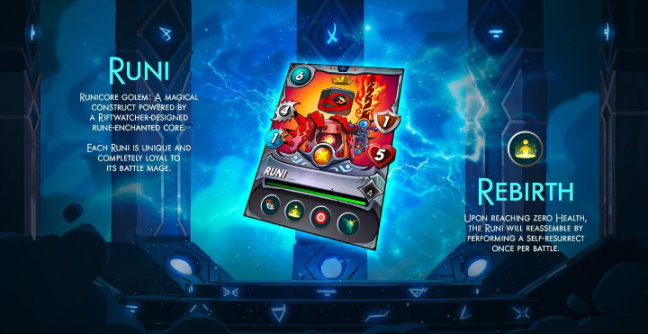 We plan to do a lot more stuff with this model in the future. We want the Runi to be the ticket into the future projects we do. A lot of the NFTs will get you access into other stuff, so we want the Runi to work like that as well in the future. The Runi will be your access to future things. If you have a Runi and we do another generative NFT project so everyone who has a Runi will get access to that. We kind of see this as the gateway to a whole new world.
Can one whale take all of them?
- We are putting in mitigation techniques to give everyone a fair chance but my expectation is those whitelist spots will sell out quickly. My hope is everyone who is on there at 2 pm on Thursday you'll be able to get one.
The success of this project is how many people we can get from the wider NFT community. A goal of mine, here is to get a reasonable amount of sales but hopefully the real money comes from the resale. We hope the floor price goes up significantly.
Whitelist countdown on Discord will happen so join the Discord for the live event.


Words with Wizards: Cryptomancer and Brawls
Eye candy from Cryptomancer!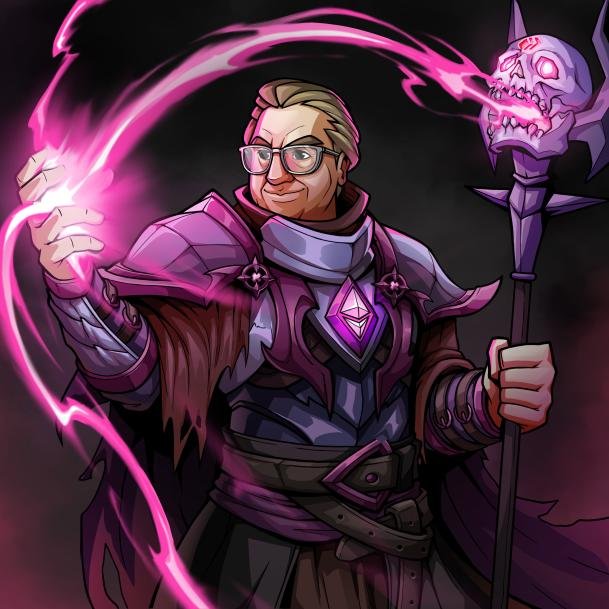 Splinterlands Business Card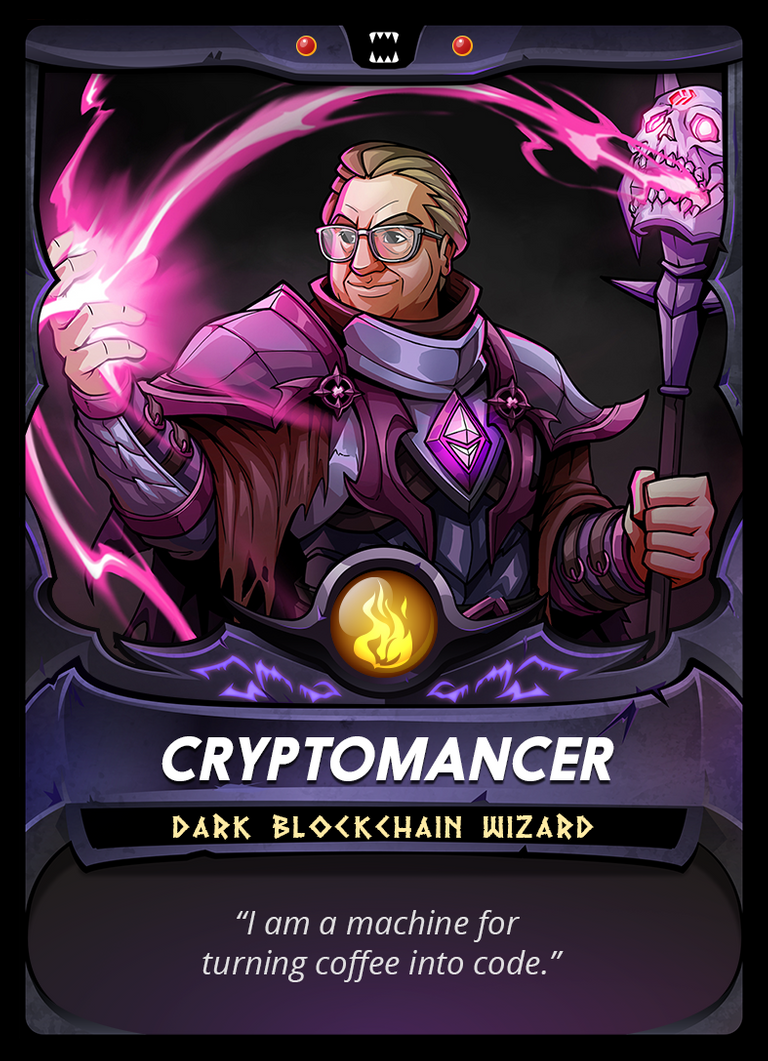 Brawls Eye Candy
Brawl rewards will be claimed like SPS rewards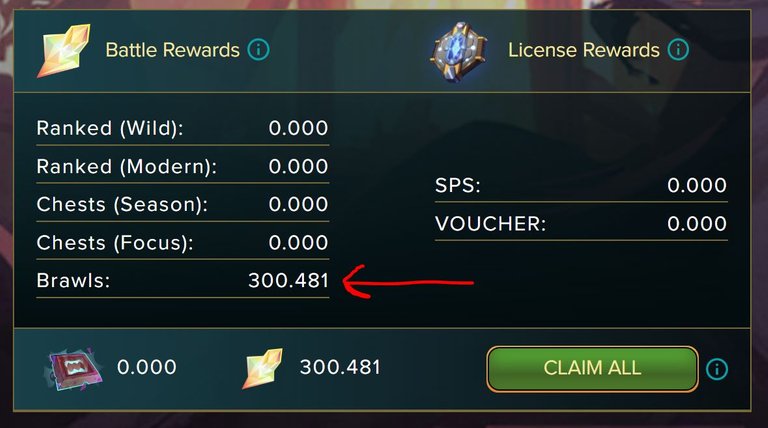 You will be able to see an estimate in how much SPS you'll be able to earn.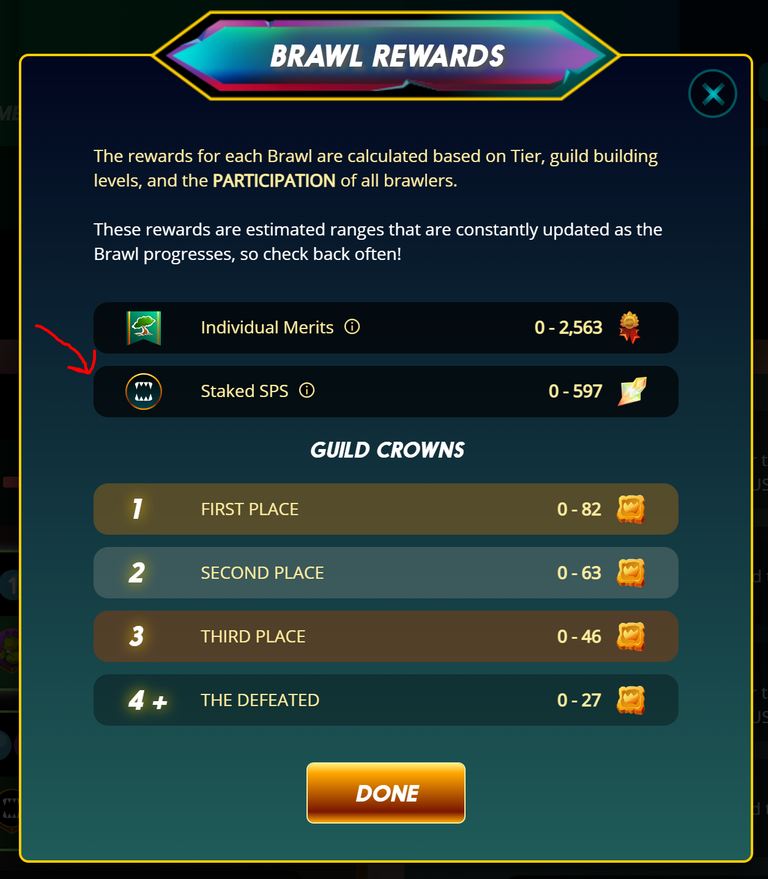 -That will update as the Brawl progresses.
You can also see it in the tool tip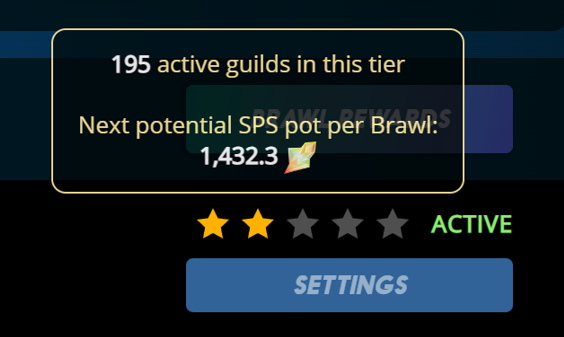 It will help you know if it's advantageous for you to head up to the next tier.

Here's the SPS Pool you can click on to see how the SPS is calculated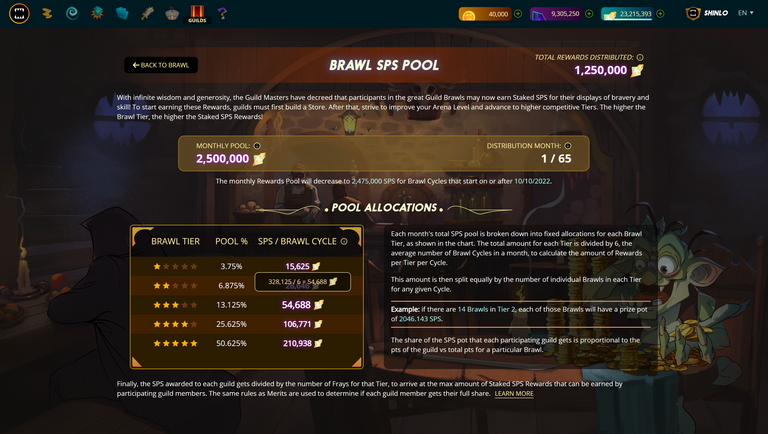 You'll see the monthly pool there and the rewards will be increased for 65 months. That 2.5 million SPS is broken down and that monthly amount gets divided by six (average number of brawl cycle). The text explains how it's broken down.

The timeline and plan going forward

I would like to see an exponential progression rather than a linear because it's harder to get into the top brawls. These numbers are not finalized. We are going to put these numbers to a governance vote to see if it's the numbers you want. I hope that will be out next week but not sure we have a lot going on.

The coding is about finished. I'm doing a whole bunch of testing. We're probably looking at the second half of October release. The priority will be these presales coming and Splinterfest but we'll have that vote coming. I hope you're excited. I think it's gonna be pretty awesome.

Coding is 99% done. I have one or two days of testing and fine tuning. We'll be ready for QA before I leave for Splinterfest.

WeirdBeard is this what people are looking for?

I think a lot of people look at this as a piece of a larger solution. I think it's not the end all be all.... but a lot of things we're talking about here is how do we get people to stop squatting at the lower tiers in the brawls. I think that distribution makes it so that you're dumb for not moving up. Those numbers are CRAZY. People that haven't seen the value in brawls, but you look at it now and by passing by being involved in brawls you're giving up on so many things, not just rewards.
I think it happened on it's own in two separate's tracts. I didn't have to twist Cryptomancers arm for this. A lot of this was when we look at what's happening with Brawls, internally we all have a lot of the same desires as the players. The biggest aspects was that ability to vote and have those players can choose what this will be. It happened on its own tract. Cryptomancer has a very good handle on what needs to be done and a lot of it now is just how do we do it.

Another Brawl feater: The bloodstone and powerstones be purchased with vouchers instead of merits. We were working on taht but we decided the brawl sps rewards. So we will go back to that change. We also want to look at the fray composition. There's a bit of grumbling there so we're going to look at that and see how we can improve. We really need to have more discussions internally before we move forward so that is something that's also coming up.

WeirdBeard: Quality of life stuff, as long as you keep your house in order we're gonna do fine.


Words with Wizards: WeirdBeard and Splinterfest
WE'll be having a Brawl Hall later this week to discuss the upcoming tournaments and brawls

We will be announcing the opening of the Splinterlands whitelist for tournaments and community tournaments

Come to the Brawl Hall on Friday 9 am EST!

9,732 participants. Fourth highest of the year!

Splinterfest

The three casters are Luthien, Bulldog and Aftersound
On stage interviews and those 3 will cast the first ghostcard tournament

Prizes

We're giving away land: At least 60 plots are up for grabs! If you finish in the top 16 of each tourney, you get a plot!
If you come to Splinterfest and on stage games so even if you're not good at the game, you can win plots of land just for being there!
The Alliecoin tournament happens tomorrow! If you want to join that, go to their discord and get in to win $1000 in prizes.

We're looking for fan-submitted videos. Record a video of why they love Splinterlands! You can submit it to [email protected]

Splintercast - Podcast with ME! Our very first podcast will have on Wednesday! We'll be talking to fans both inside and outside, people that are big block chain enthusiasts.

If you come to Splinterfest you'll get boost pack of random Chaos Legion cards!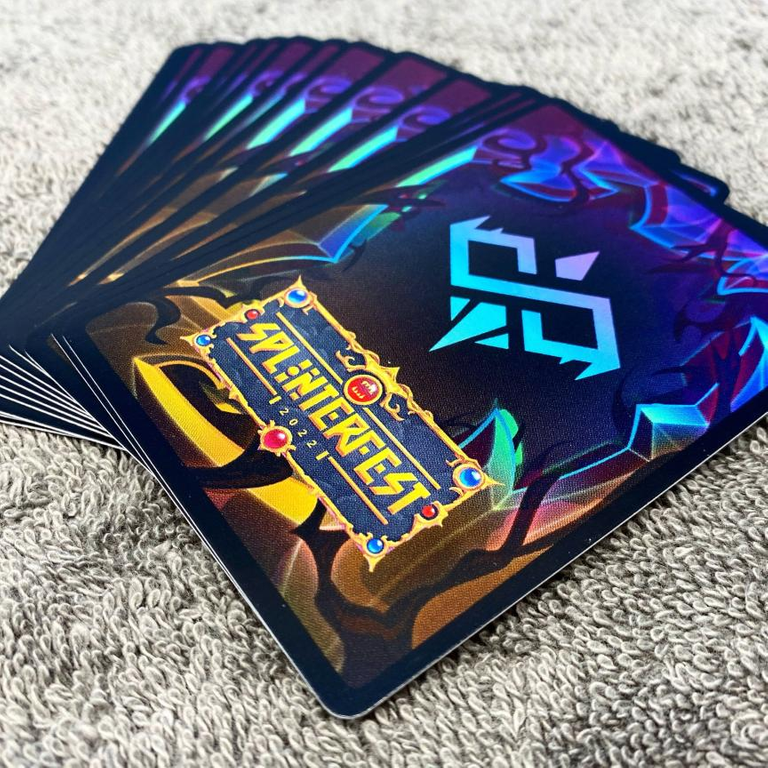 Words with Wizards: Nate - Creative
We dropped a lore story earlier.
And let's see the Runi Wallpaper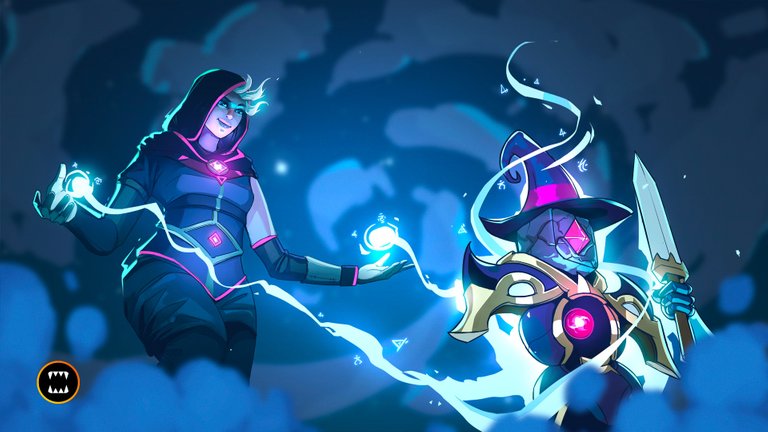 Here's some fun examples of Runi!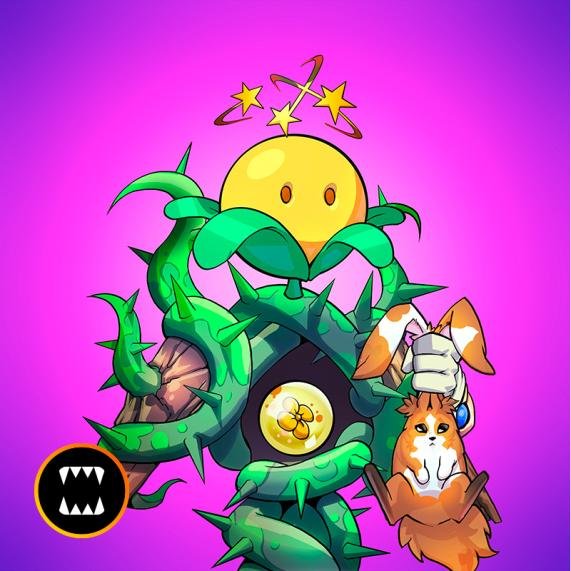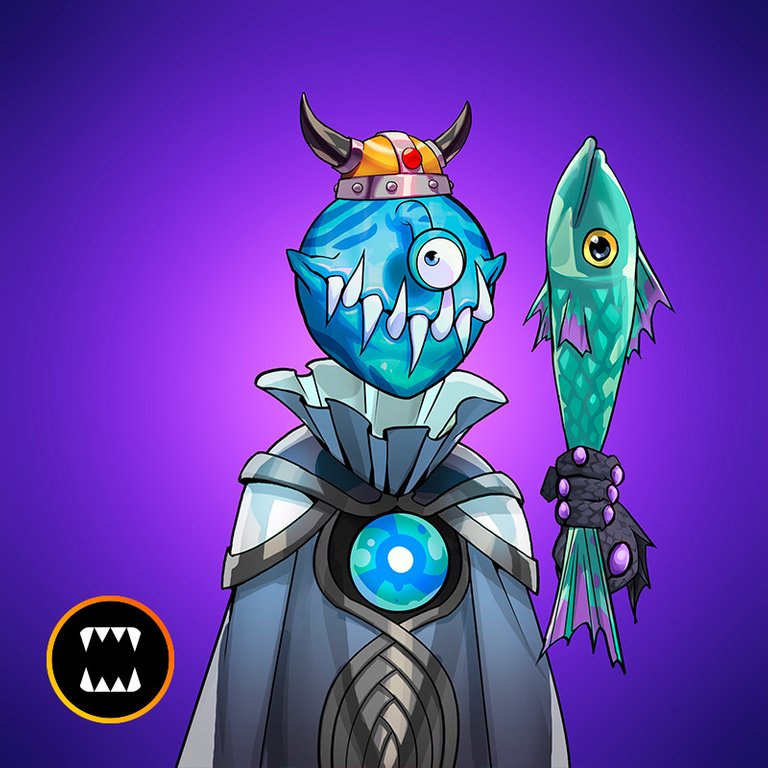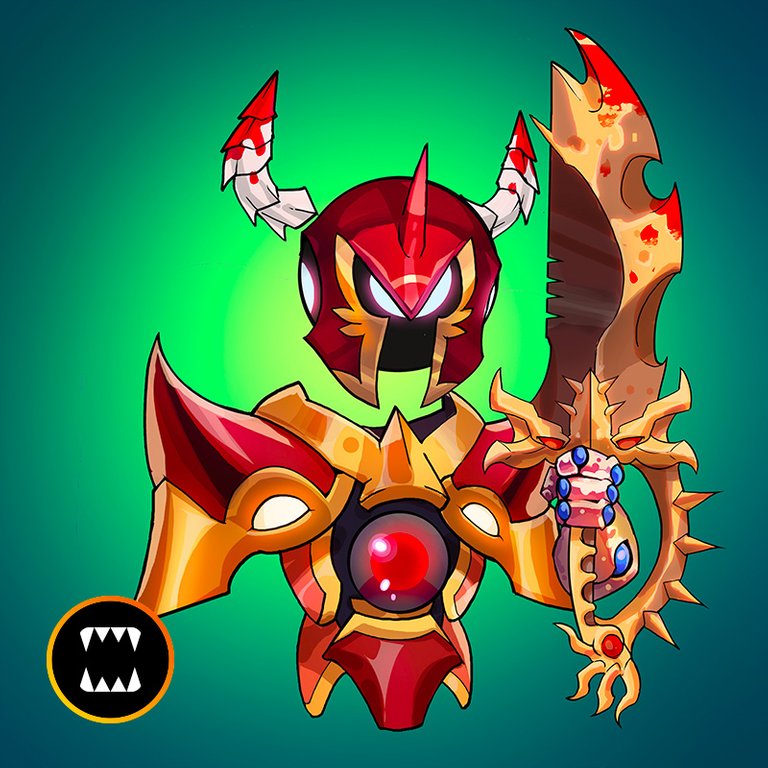 I feel like the Runi whitelist isn't going to last more than six seconds so I'm not going to share more.

Riftwatchers Eye candy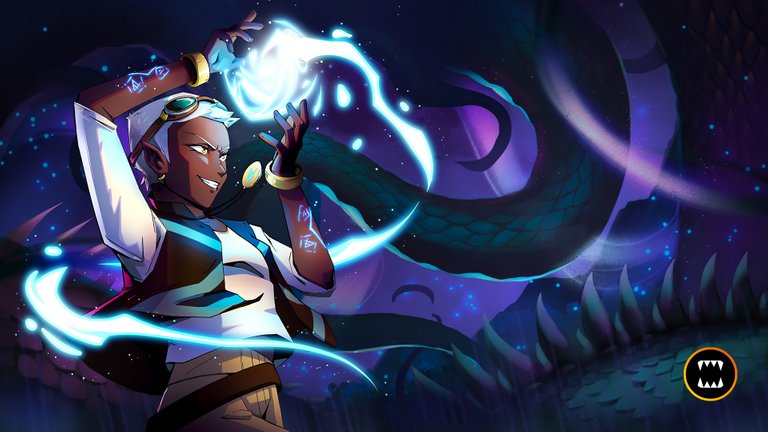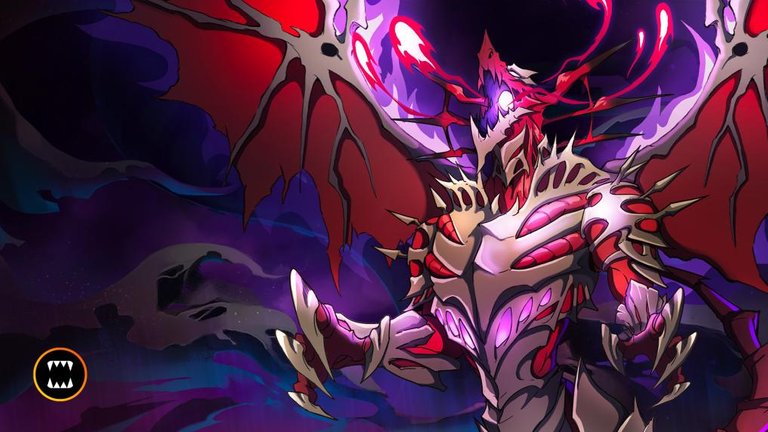 Chatter Marketing Update
We've just been supporting everything we've talked about so far.

We're just making sure they are successful as we move along.

We've been doing a whole bunch of press tours.

We've been joining a bunch of AMAs. A big credit to PJ and 16-Bit for that. They have been jumping into those.

Thanks Crypto Monks that have been helping us.

We have 100 more Discords listening into us now because of them!

On the back of Runi, we're going to be doing a lore story that will end with the protagonist that is trapped in the Dungeon and it will happen in the Discord. This will probably happen mid October after Splinterfest. As you answer every question right, you'll unlock new scenarios.

Splinterfest is going a long as normal. We'll be working on the VIP dinner.

GLS The whitepaper was released last week. We are in multiple meetings with the soccer. More to come we're working on videos with actual players. A lot of big partnerships coming that we can't share but just keep your eyes out over the next few weeks.

If we do a fast sell out of Riftwatchers, and then TowerDefense and then Runi sell out how do we get that out to the world?

I mean it's a little bit of everything. We will optimize our ads. Those ads have been going well. Return on ads have doubled this last month. Snapchat ads will be with Crypto Llama. PR we're getting out there. We're looking at going to Nasdaq again for an interview there again.

Some pretty big Web 2 names are wanting to come in and work with us so that could be exciting as well!


Waffles Kitty and DYGYCON
Not only is DYGYCON fully virtual, in a metaverse like Animal Crossing, it's a convention online with a bunch of different crypto projects there and you get to be with the awesome people that you get to be with in the community. It's hosted bi-monthly so the next one is this weekend! You'll be able to her from Aggy and others there.
There were over 100 projects that have booths there. Gala games will be coming. NFT Horizons, and other names. You guys gotta be there!
Head to this link: https://peakd.com/dygycon/@dygycon/dygycon-11-around-the-corner to be there!
Teaser: Aggy said he would LOVE trading in Dygycon while running around as an avatar. Whether we start that in Dygycon or we have a Splinterlands universe I would really like someone to build that!


Introductions: Chris Sabile - Creative
Shout out to Richard and Nate for hiring me! What I do? I do everything from facilitation to production all those things that get the web form to get those assets in place for things to go through the pipeline. It can be hand of the king of Creative director. This has been my DREAM. Every day is like living my dream every day. It's a lot of work but it's SUCH A DREAM!
Tyler and Alfredo are on my team and I couldn't do it without them.
I'm most excited about the Runi project. I'm excited to see that out in the world. I'm so grateful to do this dream job. Thank you so much guys!


Introduction for Support: Cornavirus
I'm a support staff and moving to writing guides for the new players. I've been playing this game for around 2 years so my knowledge will be very helpful to newer players I feel. If they know more about the game they will be able to earn better. Being on this team has been wonderful!


Introduction for Support: Paul (Paultrx)
I found Splinterlands back in 2019. I'm part of the live agent. We're called the Healers headed up by Travelgirl. I am in software support as a day job and this is a side job.


Splinterlands TV with RonDon
Aggy does clip of the week and shout outs

They have over 200 subscribers on Twitch and that money goes back to the Splinterlands Streamers.

baronstoolbox.com for your card when you stream!


Riftwatchers DAO Proposal
Can we split the TD presale proposal up into 3 separate proposals instead of 1? A lot of people don't agree with all 3 but agree with some of them.

I think my post will lead to multiple proposals
Is 9/27 the deadline to pass any type of resolution for the presale issues?
IDK that there's a specific deadline but we want to do this fast.


Tower Defense
Will beta access be transferable for those who want to sell off this benefit (ex: group buys splitting the benefit)? Will accounts be reset after beta?

It's a countdown. We'll discuss internally about changing that.

How many bonus packs do we get for purchasing 500+? Do we need vouchers for these?

75 and youll need 75 vouchers

Why does the promo card for Tower Defense require so many more packs than a promo card from a normal Splinterlands set?

That's the number we came up with. Matt said "It's different economics. It's a totally different thing."

Can you give us an idea of how many packs we need on average to max out a single copy of every card?

Will the presale fixes from Riftwatchers be added in time for tower defense and Runis to prevent the same problems?

We definitely have a lot of fixes going in.


Runi
Can we buy multiple whitelists with the same wallet?

Would it be possible to build a Polygon bridge for Runis to be staked so players can more actively rent it out without worrying about gas fees while still allowing Splinterlands to tap into the Ethereum market?

There's no plan for that right now. The plan is to get the most eye balls, the most money, the most people and that's on Ethereum right now.

Can the team please come up with some way to make sure the Runi whitelist presale isn't botted and goes to actual players? This will make the Riftwatchers presale feel like an eternity.

We have some ways and flexibility there.


Tournaments/Brawls
Will Riftwatchers be added to the "modern" brawl frays? When will true modern frays come?

Will Chaos only frays be added to tiers 3+?

Don't want to say yes or no yet here but we will take community feedback to find out where to go.

When stones become only purchasable with vouchers, will we get to keep any we previously bought with merits or will those be refunded? I've seen players hoarding up so they don't have to use vouchers later. When will this change to vouchers happen?

You'll have what you previously purchased we won't be adjusting balances. It will happen some time after Brawl SPS rewards (say end of Oct/ early Nov)

Since brawls are coming out soon with SPS and will have enough incentive to motivate brawls to go higher, can you PLEASE give us the NEW SPS information a few weeks ahead of time so that we can all properly plan our strategies?

It's going to vote so you'll have plenty of time and we'll have a blog post ahead of time.


Miscellaneous
Why do all of the big sales start at or around the same time? Can you vary these up for those who always miss out because they can't be available at that time?

We need our developers and support staff and as many people in our company we can have available. Unfortunately, even though we are based all over the world, a large amount of people are in the US. We just won't be on our best if it's the middle of the night. We try to vary stuff that we can vary.

Why am I constantly matched up with players 500-1000 rating below me even if I'm not playing for a leaderboard position at the top of my league?

The match making system does the best it can but if there's not those players playing at the current time. If you're at the top of the leaderboard you're going to be matched up with lower people


Rapid Fire Questions
QUESTION: Could you guys please separate the ranked SPS claim from the node license SPS claim? These are two VERY different things and should really have different claim buttons. I do understand the similarity of both going straight into your staked SPS accts, but many of us need/like to track seasonal earnings. Current double claim makes tracking seasonal earnings a LOT more labor intensive and time consuming.

Potentially but I don't see that one as too high up in importance.

QUESTION: Would it be possible to facilitate direct SPS deposit into tribaldex from outside exchanges (ie Crypto.com), the same way we can directly deposit LTC, BNB, BTC etc? (I know these others convert to SWAP:xx but...). This will be VERY helpful as we move towards adaption and onboarding...

I guess it's possible because that would be an F20. I'll think through that. There are a lot of technical considerations there.

Question: Will waitlist spots be transferable from third party markets like the hive dexs, or will they be soul bound to the presale only?

No because they are linked to Eth wallets.

Question: Could we discuss the idea of the SPS DAO accumulating BTC for the long haul.

Ultimately the SPS DAO can do anything the SPS holders want to do. Right now Splinterlands is putting up proposals but the SPS DAO is held by the token holders. It's gonna be what they want to do.

Question: How many assets are available in the Tower Defense game?

25 towers and 25 spells with different rarites and one hero per launch.

QUESTION: What is the best way to get our friends in from you perspective? I'm having to hand hold the entire onboarding process. I don't mind, but do u have a better solution

We agree the onboarding process could be better. Right now our focus is on getting the core stuff of the game getting the economy correct but at some point in the future and as soon as possible (I hope) I want a team dedicated to the whole new player performance.

QUESTION : WHEN WILL THEY UPLOAD THE 3 DAO PROPOSAL ABOUT RECENT RIFTWATCHER PRESALE

I think it will be 4 proposals, and I will try to get it out tomorrow

Question: When can we open land?

We are adding pre-requisites for land and we hope soon!

QUESTION: why does the Splinterfest schedule say silver/gold tournament. Is it silver or gold or both?

It's not silver/ gold We have a Gold/Modern Tournament and Champ/Wild Tournament

Question: When was the last time you had a look at how the rating system work? Currently you get more rating if you are on a winstreak, that seems wrong.

So, it seems wrong, It's not wrong or right here. We had a specific plan for how the rating system worked. That was implemented years ago so we're looking into it.

Question: With RW summoners being epic people are speculating in opening without legendary potions. Can you please explain how using a potion to open a pack is being calculated?

That would be silly. They take away chance of getting common cards so you're only hurting yourself to not use them.

Question: If we sell 26,147 more CL packs can Mancer press the red button?

Q: Is Runi whitelist number set in stone? Could a possible path be to see the whitelist numbers, then add 10% for the eth sale?

We can give out as many spots as we want. If there's some problem, we have options to potentially give out more whitelist spots. We'll see how it goes. We have a lot of flexiblity.

question : why was it decided to suppress stones from merit, when players asked for both? most of guilds are far from store 8 and can't accumulate them like other people do. having option for both makes sense

Why wouldn't you want to use merits for stones? Wouldn't you want to use merits for packs? I don't know why it has anything to do with store 8.

Question: zombie dragon stats reveal next week?

As soon as they are ready. That won't be right away. We need the airdrops make up for the number of packs that have been opened so we need to give it time.

Question: When'll Prop 2 (34) be live? It's a huge win for the ecosystem

Tomorrow during maintenance.

question : how many whitelist can we purchase in one tx?

Question: Will there be any opening of SPS reward pools for holding TD or Land assets prior to those games/modes being available similar to Validator Nodes?

We'll be doing a token holders proposal here because people are asking for it.

Question: what happens if I buy 2 whitelists spots but I only use 1? Can I get a refund of vouchers for the other AFTER the runis mint?

No refunds on whitelist. If you buy it and don't use it, you lose it.

QUESTION: what's the story behind the card frames around you guys on town hall streams?

Baron's Toolbox made them! We thought the it helped the stream with a little more flavor (says RonDon)


---
Here's the Link to the YouTube video from Splinterlands' Official YouTube Channel if you want to see the Town Hall as well for a reference.
---
If you enjoyed my post and want to try Splinterlands, please use my referral link: https://splinterlands.com?ref=rosiew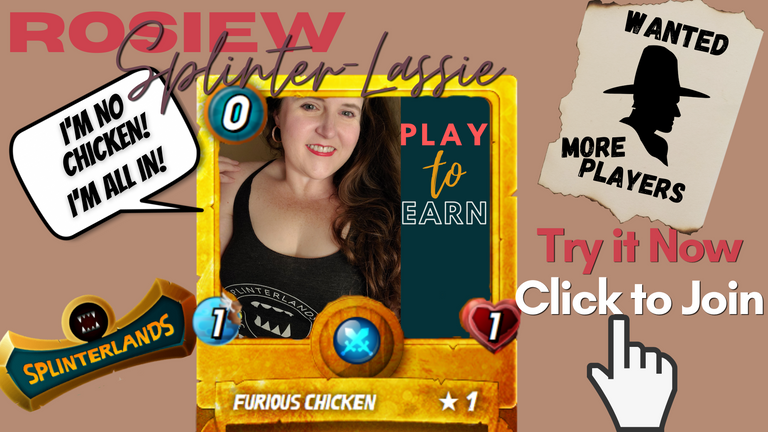 Please remember my post is not meant to be financial advice and is just my opinion.
Follow These Folks:
Splinterlands: https://peakd.com/@splinterlands/
PeakMonsters: https://peakd.com/@peakmonsters/
Monster-Curator: https://peakd.com/@monster-curator/
1Up (#OneUp): https://www.1up.zone/
Here are some great links to join as well!
Splinterlands Discord: https://discord.gg/Tw7KjNsQGs
Monster Market Discord (Monster Curator): https://discord.gg/DR3J9rfRFV
PeakD Discord (PeakMonsters as well): https://discord.gg/7mQmzZeugE
NFT Studios Discord (aka 1UP Discord #OneUp): https://discord.gg/4VYBcNuVQd