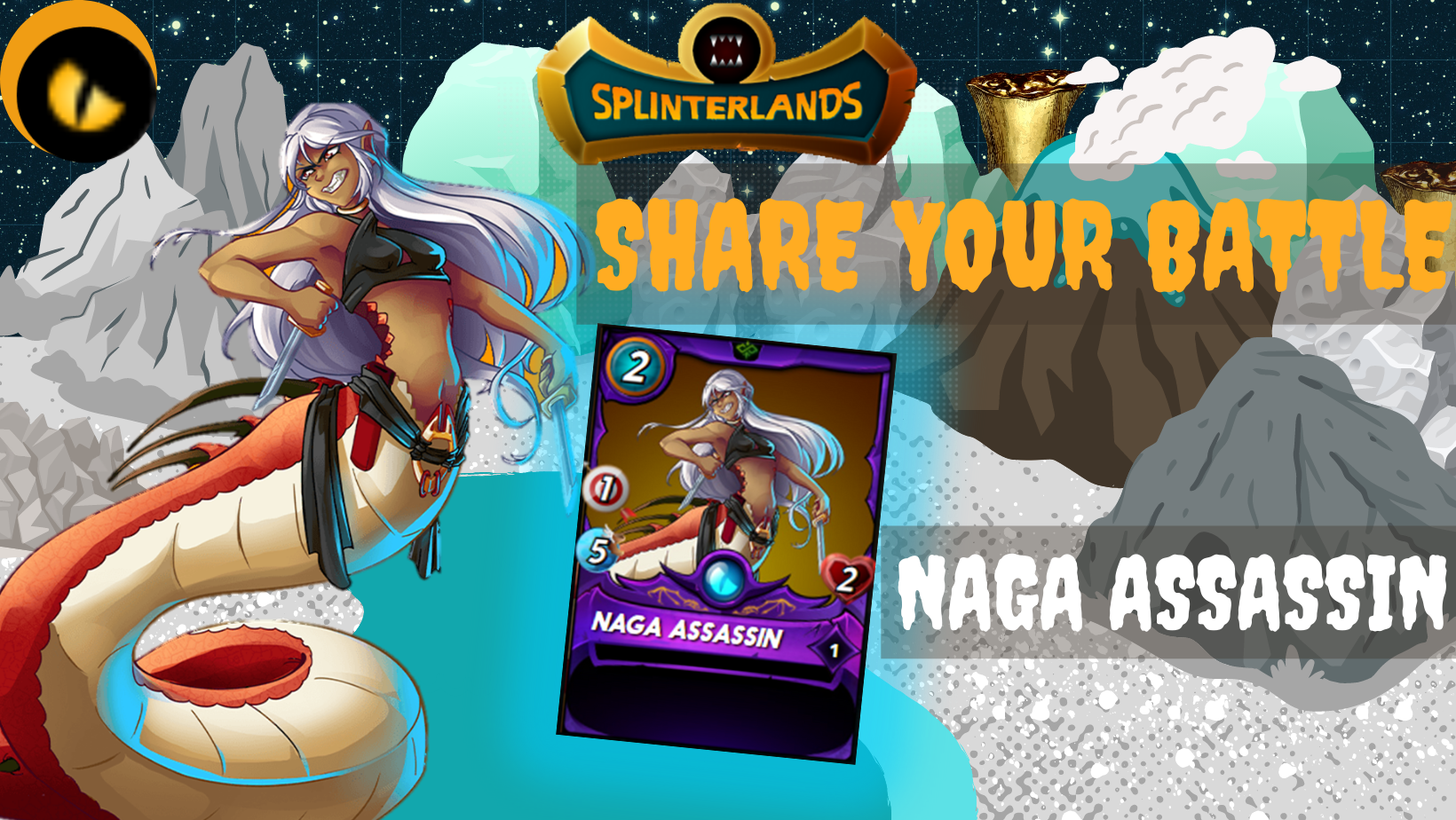 Hello all 🌎 readers, I'm back with the Splinterlands weekly community challenge, which is to show in a battle with a DRAGON element card. Which is why I chose to talk about NAGA ASSASSIN.
If you want to know and participate in the Splinterlands weekly challenge I leave you the following link
Holaaa a todos los leyentes del 🌎, vuelvo con el reto semanal de comunidad de Splinterlands, el cual es mostrar en una batalla con una carta del elemento DRAGON. Por lo cual elegí hablar de NAGA ASSASSIN.
Si quiere conocer y participar del reto semanal de Splinterlands les dejo el siguiente link

Let's talk about NAGA ASSASSIN / Hablemos de NAGA ASSASSIN
This week the challenge is from the DRAGON element and I can choose any monster from it, so this time I decided to talk about NAGA ASSASSIN . This is a rare type card and its attack is at DISTANCE or RANGED.
It has 8 levels, in which the abilities are acquired in the following way:
1-3 NONE
4-7 BACKFIRE
8 SWIFTNESS
It is a card that has a low mana advantage of 2 points, a great speed on the battlefield.
Esta semana el reto es del elemento DRAGON y puedo elegir cualquier monstruo de este, por ello esta vez me decidí hablar de NAGA ASSASSIN . Esta es una carta la cual tipo rara y su ataque es a DISTANCIA o RANGED
Tiene 8 niveles, en los cuales las habilidades se adquieren de la siguiente manera:
1-3 NINGUNO
4-7 BACKFIRE
8 SWIFTNESS
Es una carta que tiene como ventaja un mana bajo de 2 puntos, una gran velocidad en el campo de batalla.


Skill / Habilidad
###BACKFIRE
This ability allows that, if the attacking monster misses the attacking monster, the attacker receives double damage, i.e. when this situation occurs the enemy receives two attacks. It is of great advantage, as you have the chance to attack twice in one round.
Esta habilidad permite que, si el monstruo atacante falla lo ataques a este, el que ataco recibe el doble de daño, es decir al ocurrir esta situación el enemigo recibe dos ataques. Es de gran ventaja, ya que tienes la probabilidad de atacar dos veces en una ronda.

SWIFTNESS
This ability is also very good indeed, as it allows all monsters on our team to increase their speed. This is a great advantage, as it helps to attack faster each round, taking away the enemy's advantage, so you can defeat them faster.
Esta habilidad también está muy buena de verdad, ya que permite que todos los monstruos de nuestro equipo aumenten su velocidad. Esto es de gran ventaja, ya que ayuda atacar más rápido en cada ronda, quitándole al enemigo esa ventaja, pudiéndolo vencer mas rápido.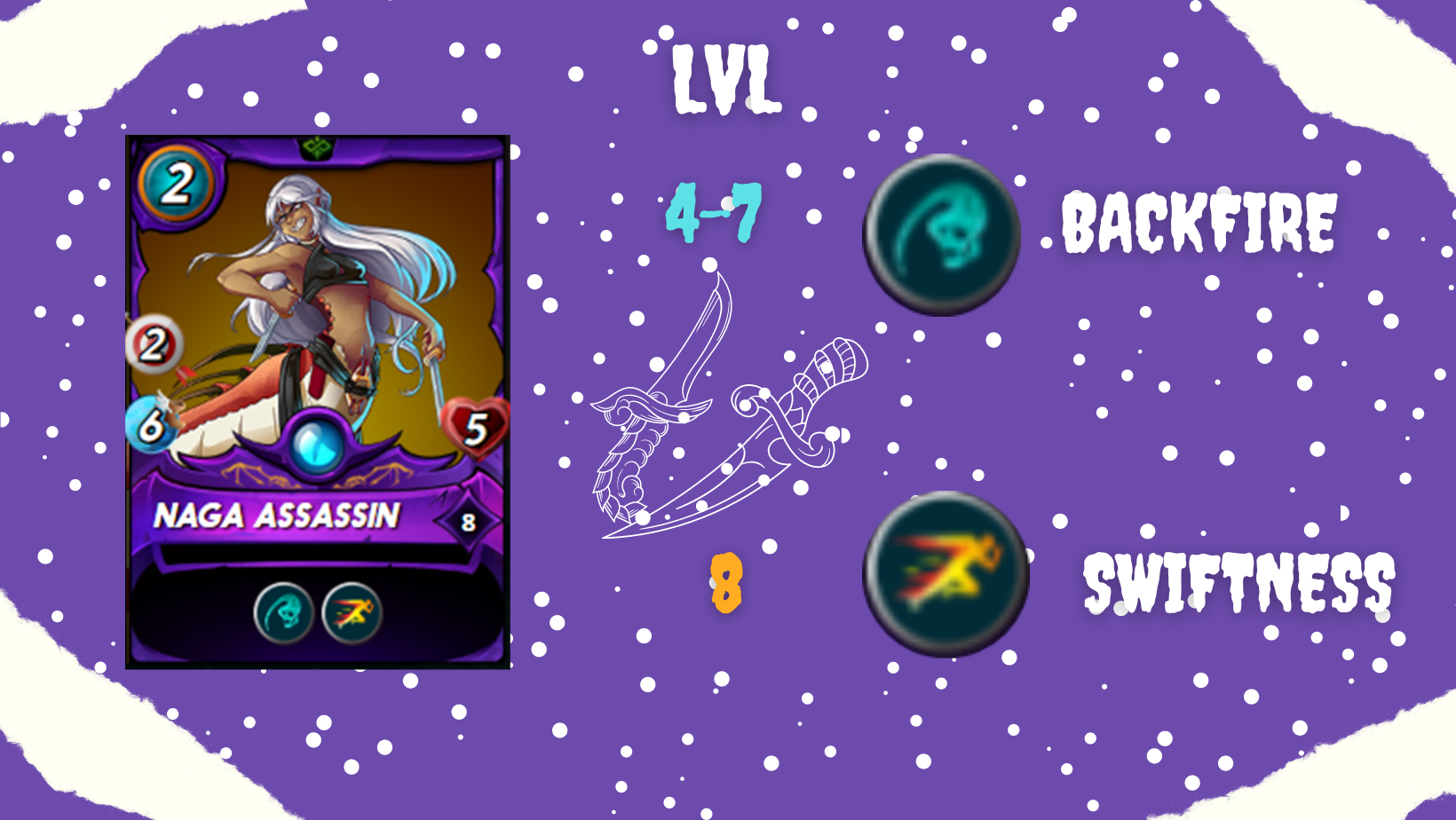 Market price / Precio en el Mercado
Currently on the Splinterlands Internal Market, the prices for this specific card vary. On this occasion I only found level 1 cards, which are priced between $0.058 and $0.012.
Actualmente en el Mercado interno de Splinterlands, los precios de esta carta en específico varían. En esta ocasión solo encontré cartas nivel 1, las cuales lo precios se encuentran entre los 0.058 $ los 0.012 $.

What to use for the challenge of the week? / ¿Qué utilice para el desafío de la semana?
For the challenge of the week, I used a card NAGA ASSASSIN level 1, which I rented from the Spellbook of the game.
This monster has the following characteristics:
Speed: 5
Ranged attack: 1
Health: 2
Mana points: 2
Ability: none
Para el del desafío de la semana, utilicé una carta NAGA ASSASSIN nivel 1, la cual rente en el tampoco pertenece al Spellbook del juego.
Este monstruo tiene las siguientes características:
Velocidad: 5
Ataque a distancia o ranged : 1
*Salud: 2 *
*Puntos de Mana: 2 *
*Habilidad: ninguna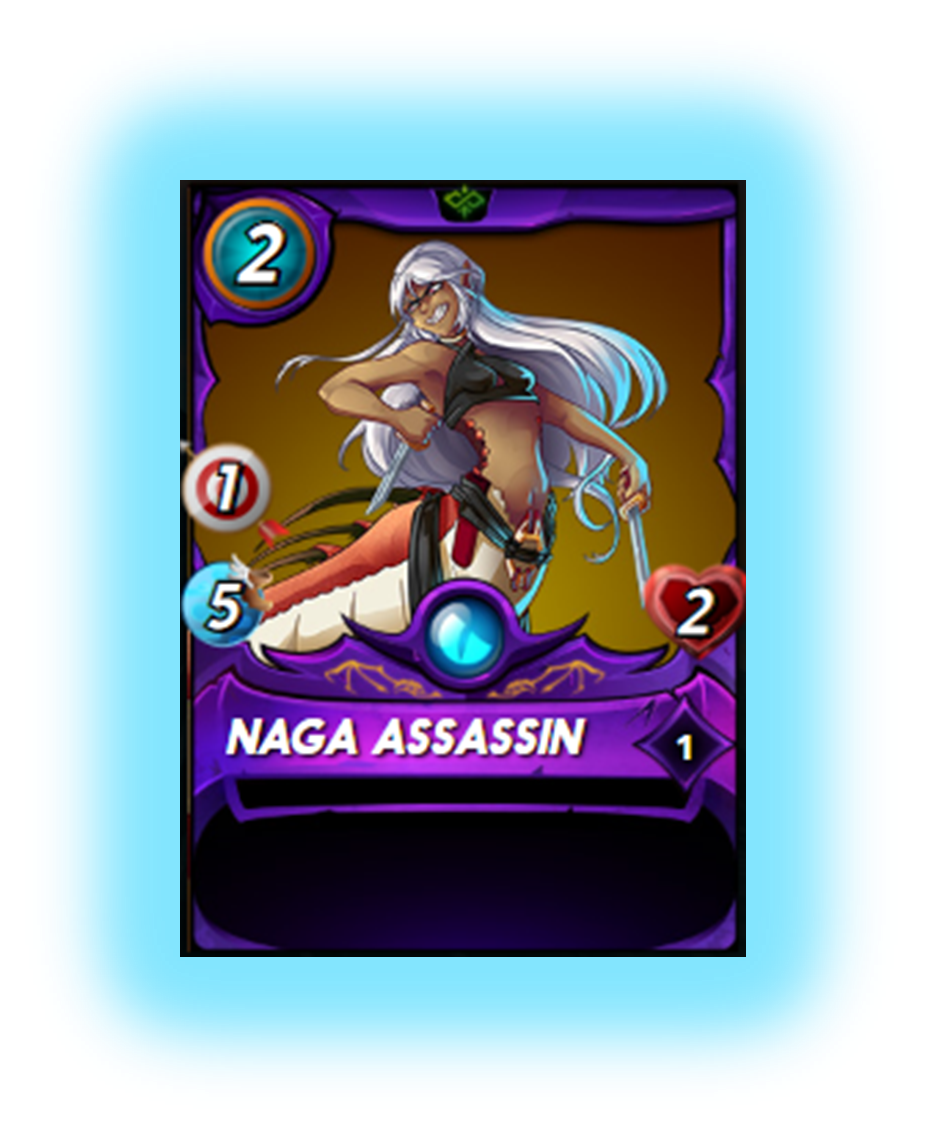 Cards used for battle / Cartas usadas para la batalla
The cards used for this week's battle are as follows:
For my team I used the element DRAGON and WATER , and I used the Summoner from Splinterlands called: DRAKE OF ARNAK. This has the ability to give + 1 PROTECTION to all the monsters in my team.
I also used other cards such as:
🌊 DIEMONSHARK.
🌊 DEEPLURKER.
🌊 VENARI WAVESMITH
🌊 NAGA ASSASSIN
My opponent used the element EARTH, and as Summoner a: WIZARD OF EASTWOOD. Which removes -2 points PROTECTION, to cards belonging to the opposing team, as I also use:
🍃 MYCELIC INFANTRY.
🍃 REGAL PERYTON.
🍃 VENARI SCOUT
🍃 GOBLIN THIEF
🍃 FAILED SUMMONER
Las cartas utilizadas para la batalla de esta semana son las siguientes:
Para mi equipo utilice el elemento DRAGON y AGUA , y use al Summoner de Splinterlands llamado: DRAKE OF ARNAK. Este tiene la habilidad de dar + 1 de PROTECCION a todos los monstruos de mi equipo.
También utilice otras cartas como son:
🌊 DIEMONSHARK
🌊 DEEPLURKER
🌊 VENARI WAVESMITH
🌊 NAGA ASSASSIN
Mi oponente utilizo el elemento TIERRA, y como Summoner a: WIZARD OF EASTWOOD. El cual quita -2 puntos PROTECCION, a las cartas pertenecientes al equipo contrario, como también uso a:
🍃 MYCELIC INFANTRY
🍃 REGAL PERYTON
🍃 VENARI SCOUT
🍃 GOBLIN THIEF
🍃 FAILED SUMMONER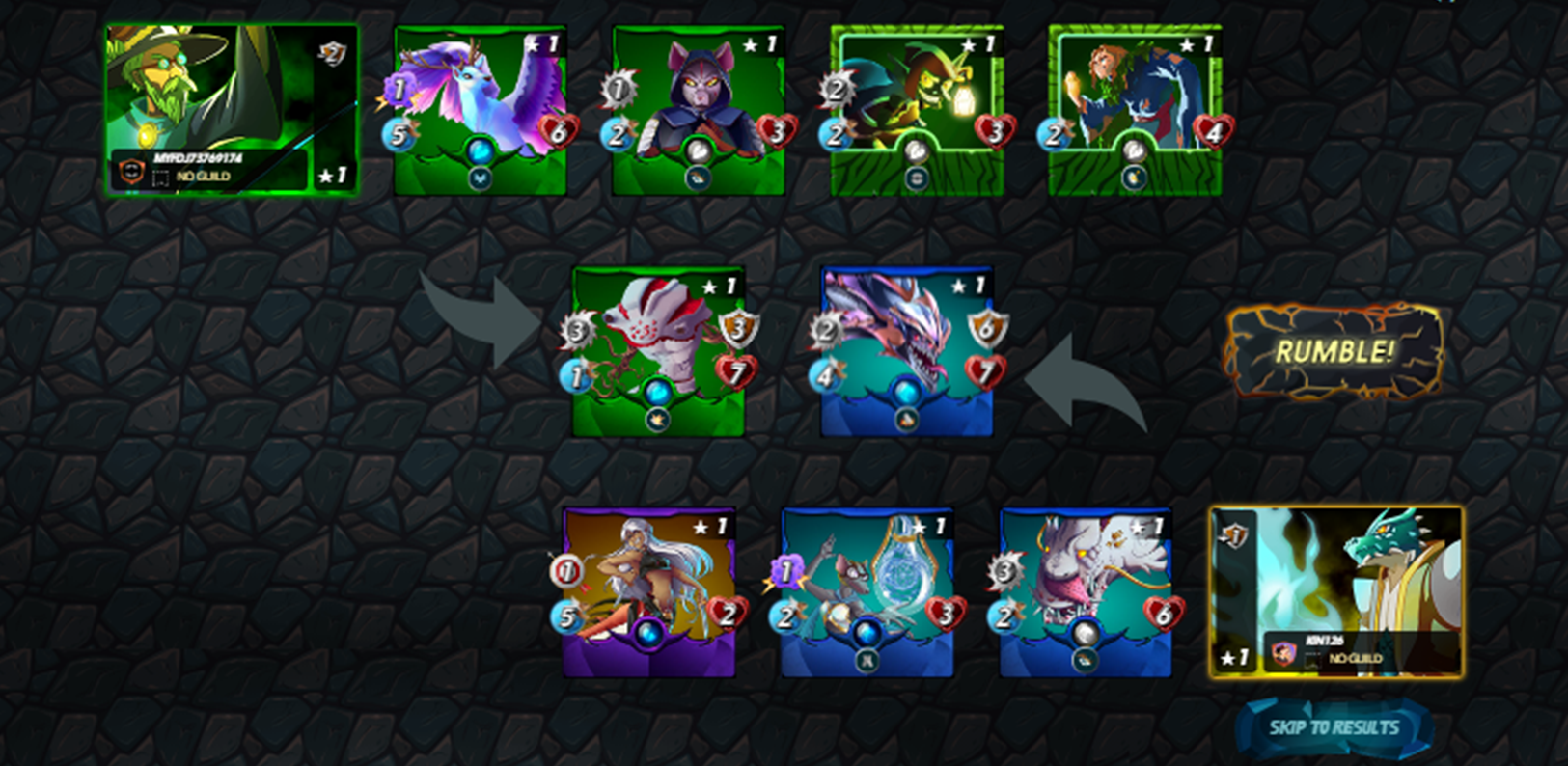 The Battle / La Batalla
It was a 6 Round battle in which I show below:
Fue una batalla de 6 Rondas, la cual muestro a continuación: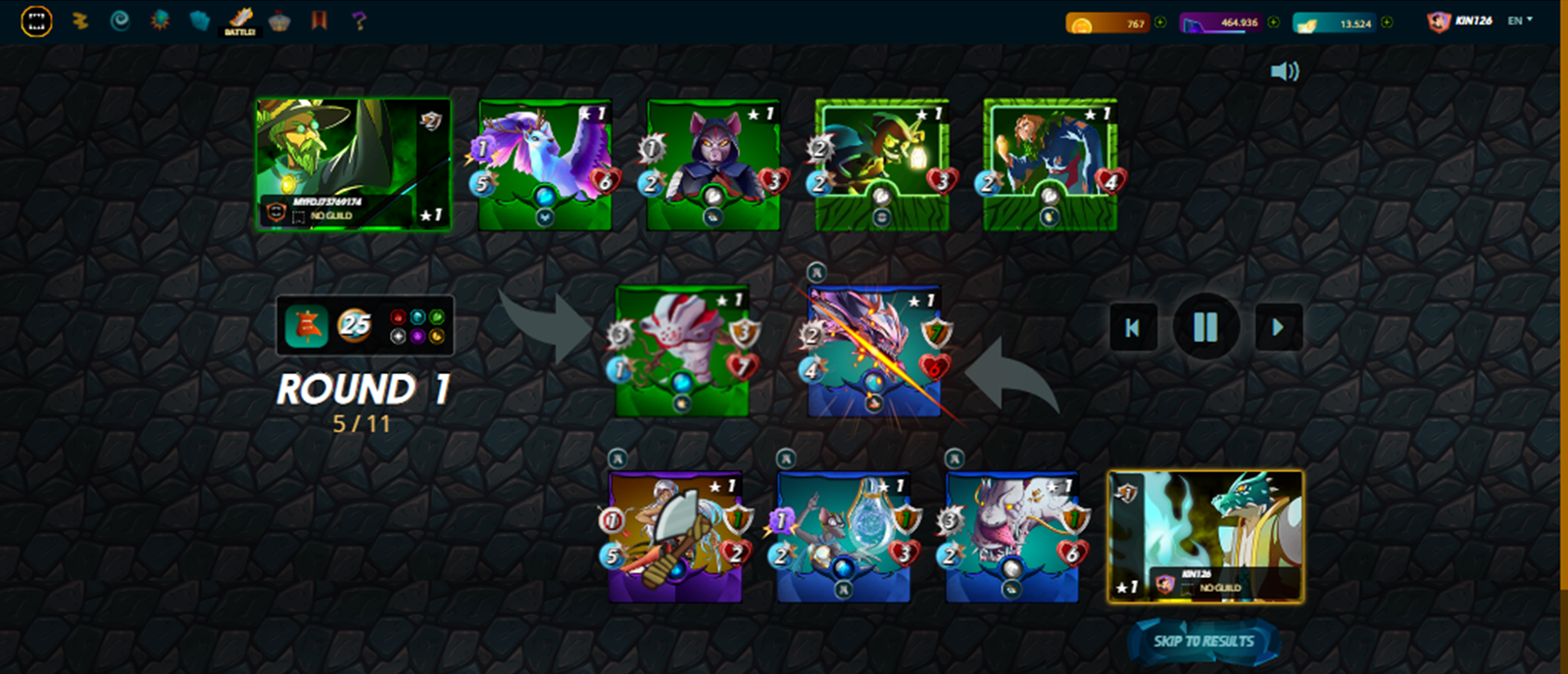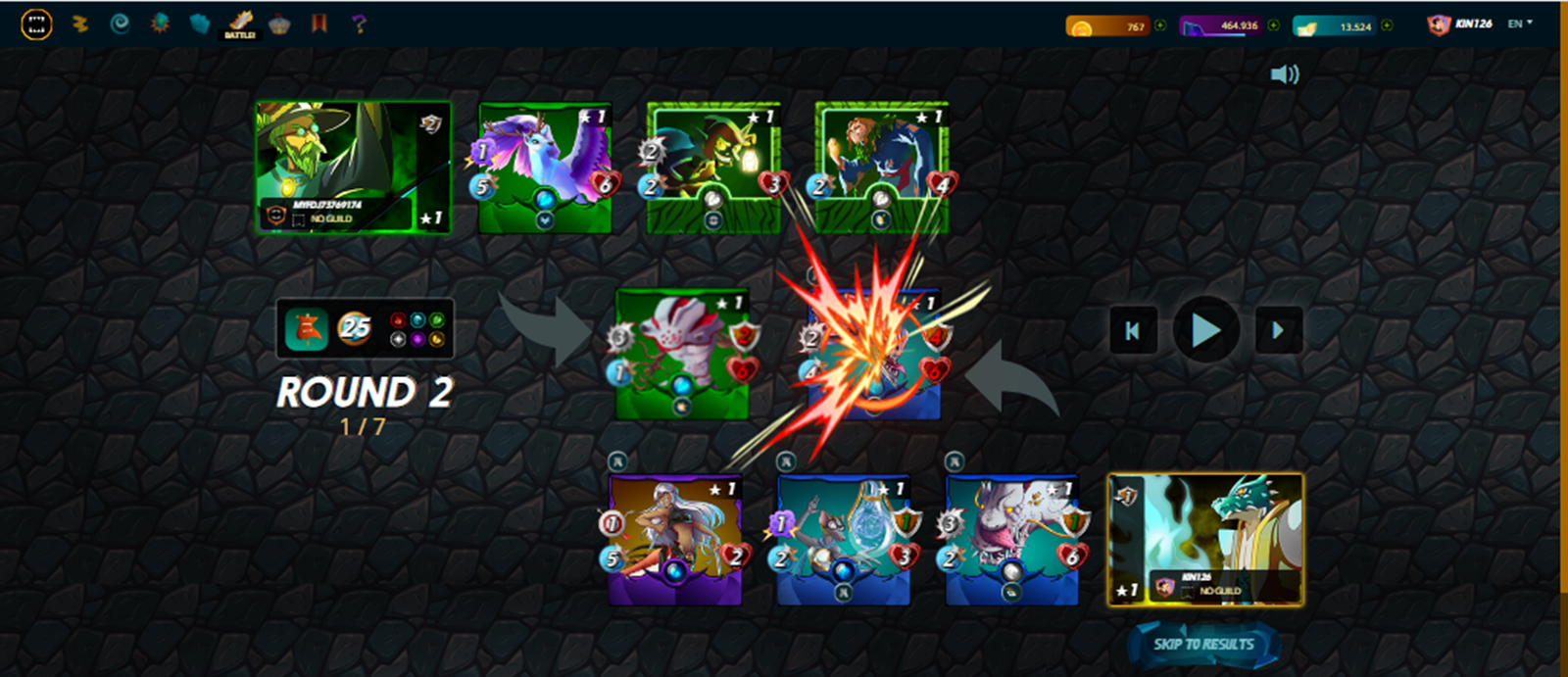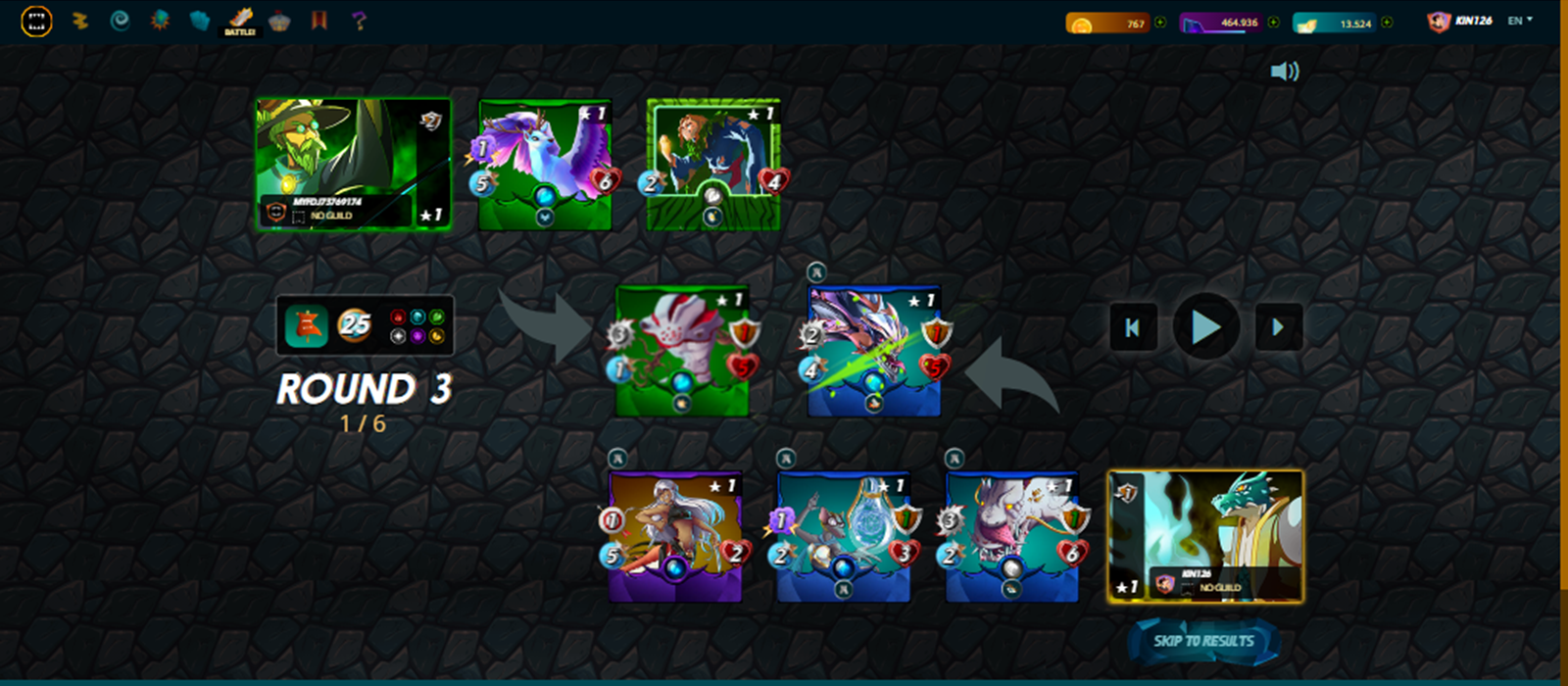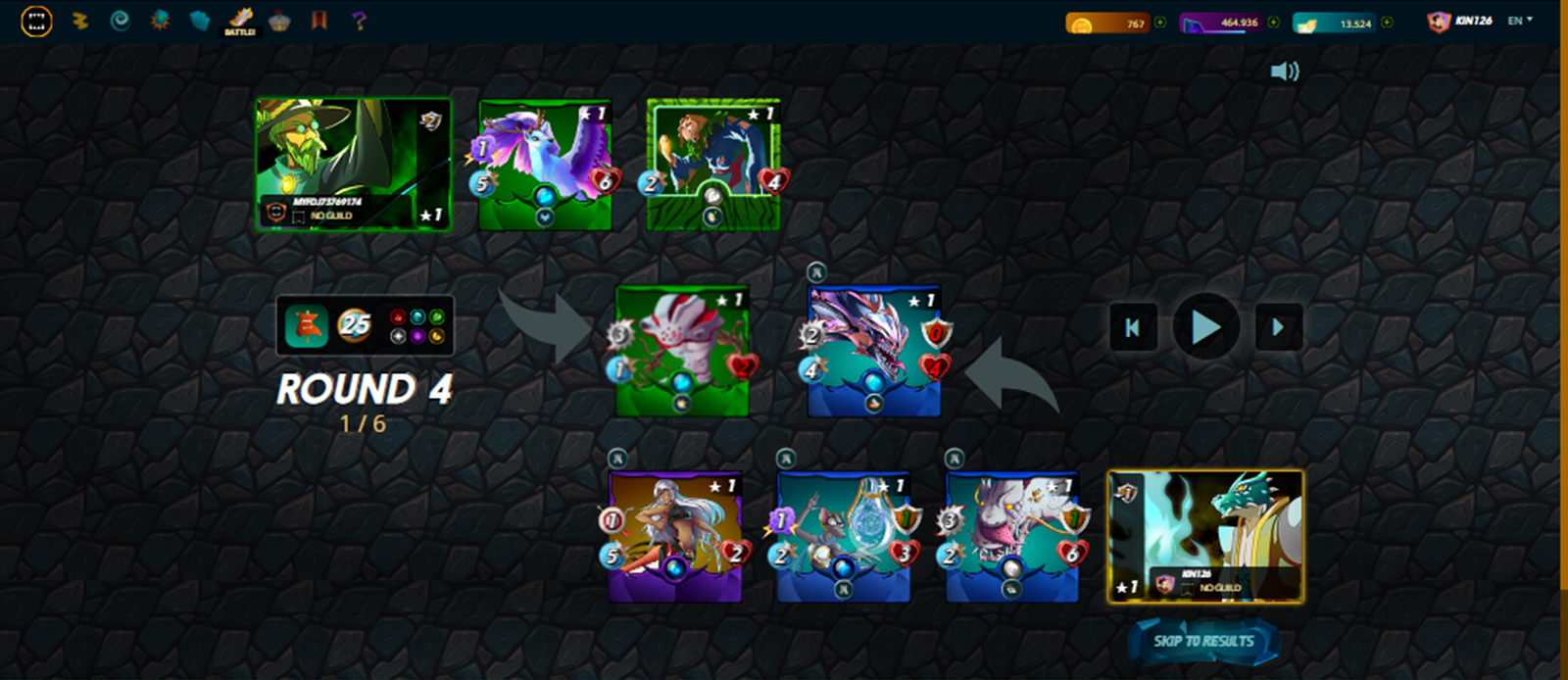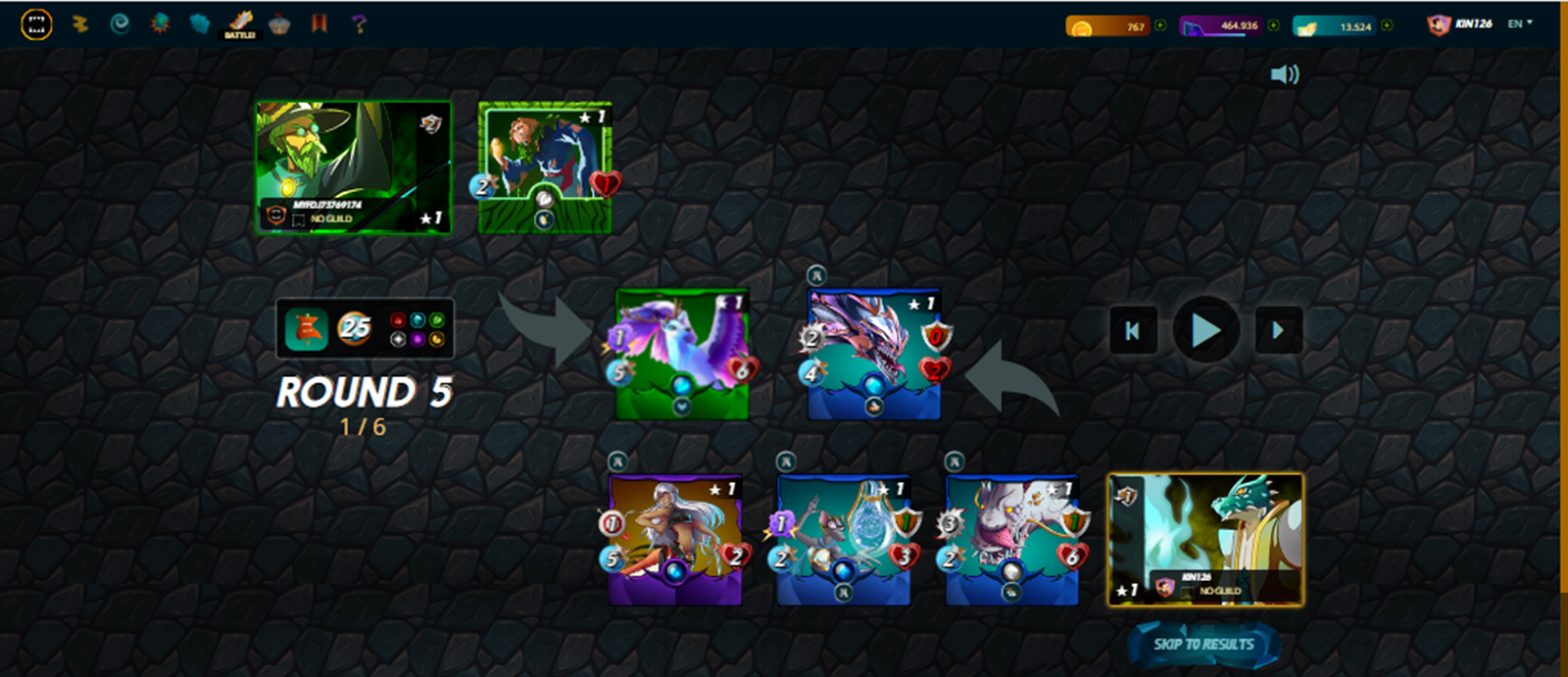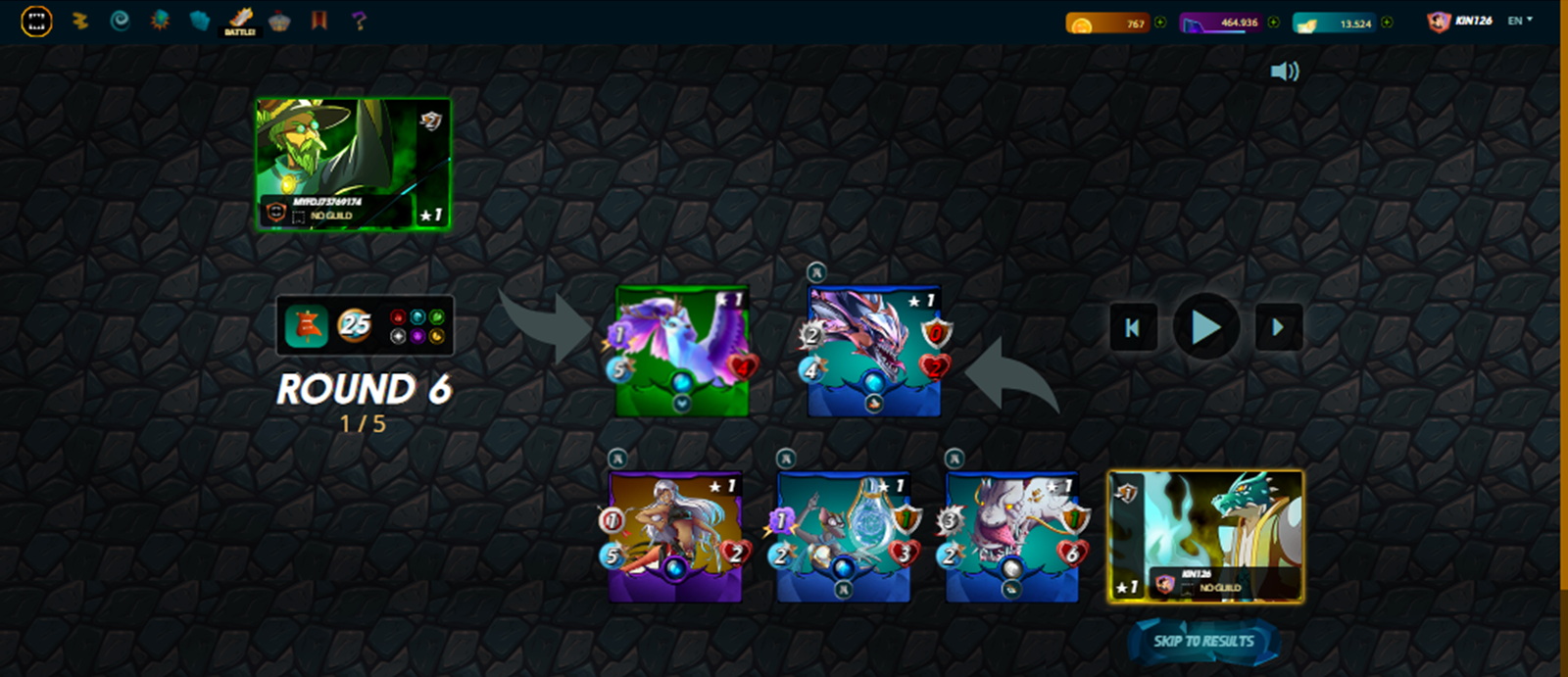 This was a 25 mana battle and as you can see I was able to effectively attack my enemy, winning this battle with 4/4 of the monsters I chose to battle.
The battle can be seen through the following link
Esta fue una batalla de 25 puntos de mana y como pudieron observar pude atacar efectivamente a mi enemigo, ganando esta batalla con 4/4 de los monstruos que elegí para la batalla.
La batalla se puede observar a través del siguiente link

*Friends now I bid you farewell ☺️, see you next time. Byeeeeeeeeee 👋.
Amigos ahora me despido de ustedes ☺️, nos vemos en una próxima ocasión. Byeeeeeeee 👋.

Author of Images and Separators: @ross92/ Autor de Imágenes y separadores : @ross92
Resources used / Recursos utilizados
Microsof Power Point
Canva app
Images from Splinterlands / Imágenes de Splinterlands