Monster May-Hem has been an enormous success and provided both streamers and viewers alike with endless excitement, anticipation, and rewards. However, as with all good things, it has come to an end. As we watch the sun set over this community-centric SpliterlandsTV promotion let's take a moment to reminisce on some of the highlights.
During the month of May, we distributed over 2000 cards to active viewers, and the total value of the giveaways was worth over $10,000!
Of course, none of this would be possible without our viewers, and seeing that giving back to our amazing Splinterlands community is what we do best, we have decided to enter into June and beyond with a mind-blowing promotion aimed at rewarding you, our community.
Summoner Summer is here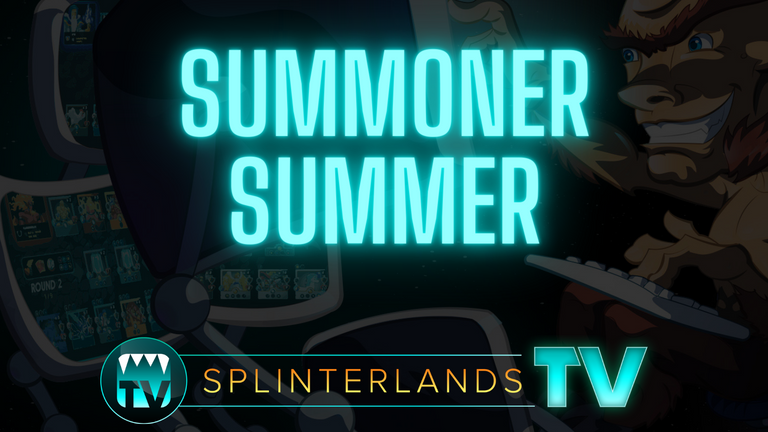 Things are heating up on SplinterlandsTV now that summer is here. Dust off your Splinterboots and tune in to one of the most rewarding promotions SplinterlandsTV has seen to date. As the fifth consecutive SplinterlandsTV promotion, Summoner Summer will be focused on giveaways featuring your favorite Splinterlands Summoners all summer long.
What can I win?
During the Summoner Summer promotion, we will be giving away up to 6 prizes per stream, or 3 per hour, which means about 2000 chances per month for you to win. As the name states, this giveaway will be very summoner heavy. There will be a mix of Chaos Legion summoners, Alpha and Beta summoners at various levels, Gold Foil Promo Summoners plus a max Delwyn Dragonscale, and dozens of Untamed Rare and Legendary Summoners including the grand prize GOLD FOIL BYZANTINE KITTY!!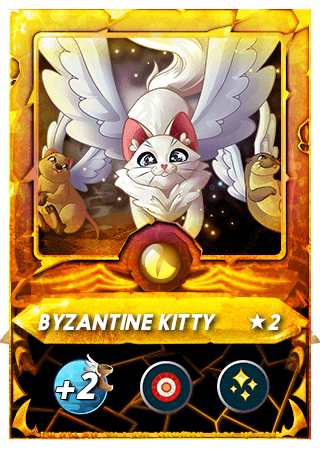 How do I get in on the action?
If you would like to stand a chance at winning some of the fantastic prizes up for grabs all you have to do is tune in to SplinterlandsTV and follow the streamer's prompts. Streamer's prompts might include simple instructions like entering a given keyword into the chat, spamming the chat with emojis, or even being active in the live audience chat. It's as simple as that, no expensive buy-ins or set amount of asset holding will be necessary, simply grace us with your presence!
In order to receive your cards, you'll need to link your Hive account to your Twitch account using our easy-to-use chat command in the SplinterlandsTV live stream chat.
Step 1
Join any one of our SplinterlandsTV streamers during a live show on Twitch
Step 2
In the live audience chat simply type in !setname [yourHiveUsername] in chat. (Replacing [yourHiveUsername] with your actual Hive account name.) Make sure you type it correctly so that the bot can verify your account.
Step 3
You can verify your linked account name by typing the !name command, which will show your linked Hive name. If you need to correct your Hive account name, just use the !setname command again.
Even more ways to win
Want to get your hands on a share of 2000 SPS given away weekly?
Participate in our weekly SplinterlandsTV Clip of the Week contest.
Yet another way we reward our Splinterlands TV viewers is through our Clip of the Week contest. This feature allows viewers to clip their favorite Splinterlands TV moments by using Twitch's clip feature and posting them in the clip-of-the-week channel on our SPLTV Discord server with your IGN.
Once your clip is posted, streamers, viewers, and community members will have the opportunity to vote for their favorite clip by making use of the :spltv: emote below the clip of their choice. Each week the top 5 clips as determined by votes, as well as the viewers that posted the clips, will be walking away with their share of the 2000 SPS prize pool. Use this handy guide to increase your odds.
Disclaimer
Please note that all prizes drawn for the Summoners Summer promotion are done live on stream through a randomized selection feature. Although SplinterlandsTV enters all eligible cards into the system, neither SplinterlandsTV nor the Streamers control the prizes selected for each individual draw. (This does not apply to any additional giveaways hosted directly by the SplinterlandsTV streamers which will be done at their discretion)

Splinterlands TV streamers maintain the right to add luck advantage to channel subscribers.

The use of multiple accounts to increase your chances of winning or any other form of cheating will not be tolerated. Should you suspect that an individual is abusing the system please let us know by completing the following form. Let's keep Summoners Summer fun and fair for everyone!