Background
Q — What is 🔥🧠🐳 Energy?
A — 🔥🧠🐳 Energy is 3 tokens: 🔥 Furious Energy, 🧠 Big-Brain Energy, and 🐳 Whale Energy. Together, they form the 🔥🧠🐳 Energy Trinity for the 3 types of Splinterlands players. We explain on our site: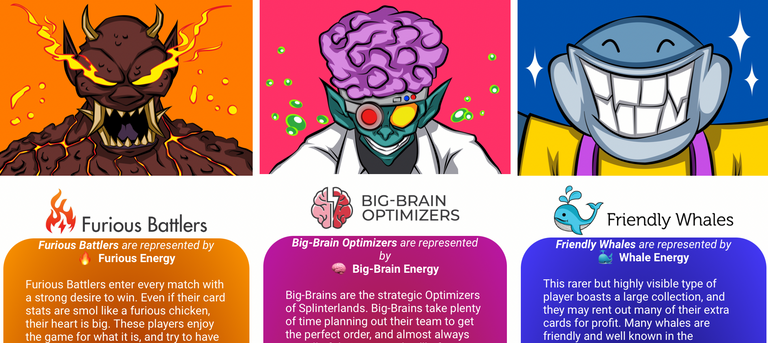 ... There's more, see the rest 👈
Q — What can I do with 🔥🧠🐳 Energy now that I have some?
A — First of all, congratulations 🥳, and welcome to the club! You're now part of our community, and you deserve the best. Just by holding onto your 🔥🧠🐳 Energy, you'll be eligible for our upcoming community rewards next month, which will be 3 custom NFTs. We're working on more utility for the future, so stay tuned, and make sure you're following us (@SplinterSkins). You can also use each 🔥🧠🐳 Energy as a tipping token — like Dogecoin, but with more meaning and personality:
View on our site for the best quality



Screenshot from SplinterSkins.com
Q — What's the difference between the different types of 🔥🧠🐳 Energy?
A — Look at our website, also check out our Tokenomics post which details the Trinity.
Q — How was 🔥🧠🐳 Energy distributed / What are the Tokenomics?
A — 80% was airdropped to Splinterlands Skin holders. 15% is reserved for providing liquidity, community contests, rewards and other expenses. Finally, 5% is vested for the SplinterSkins team. Unlike most tokens, each 🔥🧠🐳 Energy is already capped at its maximum supply. This means there can never be more minted, so your holdings can never be diluted! Read our tokenomics post to learn more.
Q — Why airdrop 🔥🧠🐳 Energy to Splinterlands Skin buyers?
A — Skins are the best on-chain representation of real Splinterlands players without any bots. Unlike other assets like cards, bots have no use for skins, and they never earn them. Learn more about skins here.
"Players who enjoy the game and play for fun, players with good aesthetic taste, and the most dedicated – these are the people who buy skins"
Q — I missed the airdrop, can I still get involved?
A — Absolutely! We'll be giving out many more rewards for active community members and 🔥🧠🐳 Energy holders, such as 3 custom NFTs next month. You're still early.
Now that we got all the background info out of the way, time for the announcement...
Each 🔥🧠🐳 Energy is now live for trading on TribalDEX Pools, paired with Hive! 🎉
To buy, first select SWAP.HIVE (deposit if you don't have any), then select the trading symbol for the 🔥🧠🐳 Energy you want:
🔥 Furious Energy: FURY
🧠 Big-Brain Energy: BRAIN
🐳 Whale Energy: WHALE
BEE:BEE Proposal Details
We've added some initial liquidity for these pairs. To get more, we're proposing to add LP incentives through TribalDEX, in the BEE:BEE Token fund. If you have any $BEE and want to support this, please stake it and vote for our proposals. If the community approves, our 3 proposals will distribute $BEE as an incentive for liquidity providers on the 🔥 Furious Energy/Hive pair, the 🧠 Big-Brain Energy/Hive pair, and the 🐳 Whale Energy/Hive pair.
With this proposal, we also aim to develop a partnership with TribalDEX and the BEE community. TribalDEX is the leading exchange on Hive, and BEE is used to pay for all of its services. In my personal opinion (not financial advice), the BEE token seems very undervalued. To see what I mean, compare the market cap of BEE to the market cap of Hive, and see what percentage it is... Then do the same comparison for the tokens of leading exchanges on other chains , I.E. PancakeSwap. The comparison is complicated by the existence of WORKERBEE, however, BEE also has extra utility that other exchange tokens lack, which helps make up for this difference.
TribalDEX as a whole suffers from a serious lack of marketing. With our marketing expertise, we could bring value to BEE, and the whole community. We're very excited for what the future holds. If you're reading this and you're intrigued about collaborating with us on this or any other initiatives, comment below or send @SplinterSkins a message on BeeChat — we'd love to talk! 🤝
Disclaimer
SplinterSkins does not purport itself to have any affiliation with Splinterlands, or any employees, developers or partners thereof. None of this content is financial advice, legal advice, tax advice, investment advice, or any other type of advice. Furious Energy (FURY), Big-Brain Energy (BRAIN), and Whale Energy (WHALE) are not investments or securities, and they carry no expectation of profit. This is not a solicitation to invest, or any other type of solicitation. This content exclusively represents the opinions of the author(s).