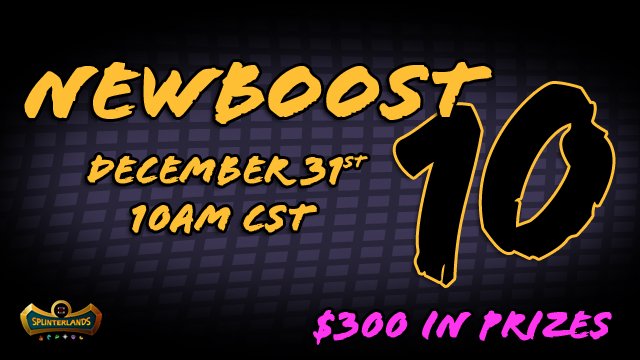 What is New Boost?
The Splinterlands community gets together to give new players a boost. "Boosters" will play for 1 hour and then send their DEC winnings and/other prizes to the account @newboost. Then we have a livestream where the @newboost account will give away everything to Noobs. All of the Boosters that give at least 1000 DEC get a commemorative NFT. Those NFTs are worth 1 entry into the final New Boost event grand prize giveaway. Details on that event here.
What are the prizes?
How do you get a boost?
The first 10 20 Noob players who enter their Splinterlands username in the comments below are entered for a guaranteed boost of 1000 DEC. All other prizes will be distributed in the NewBoost Live event.
Who is getting a boost?
@kurouzs - sent
@elminster - sent
@horea39 - sent
@aceofspades999 - sent
@beehold - sent
@blueberrr - sent
@micro97 - sent
@satorihime - sent
@shiro-chan - sent
@brojustaverage - sent
@totalstranger - sent
@smurk - sent
@zero-exp - sent
@marleyroots - sent
@henruc - sent
@silentwill - sent
@eman13088 - sent
@jkeen33 - sent
@ikethepsych - sent
When is the New Boost Live Event?
Friday December 31st
10 AM CST
Streaming Live on my YouTube Channel.
Who is giving the boost?
Hopefully you! Anyone who donates at least 1000 DEC to @newboost will be entered for the grand prize giveaway valued over $1000. Good Luck.
Bottom of the post SPAM...
Sign up for Splinterlands using my referral link to get a free card when you first sign in. https://splinterlands.com?ref=unitqm
Check out the wiki. We're making a Splinterlands wiki and need your help.
https://www.splinterwiki.com
Watch the full Starting out in Splinterlands series here...
https://www.shorturl.at/drJW3
More Referral Codes
Upland
https://r.upland.me/YhDa