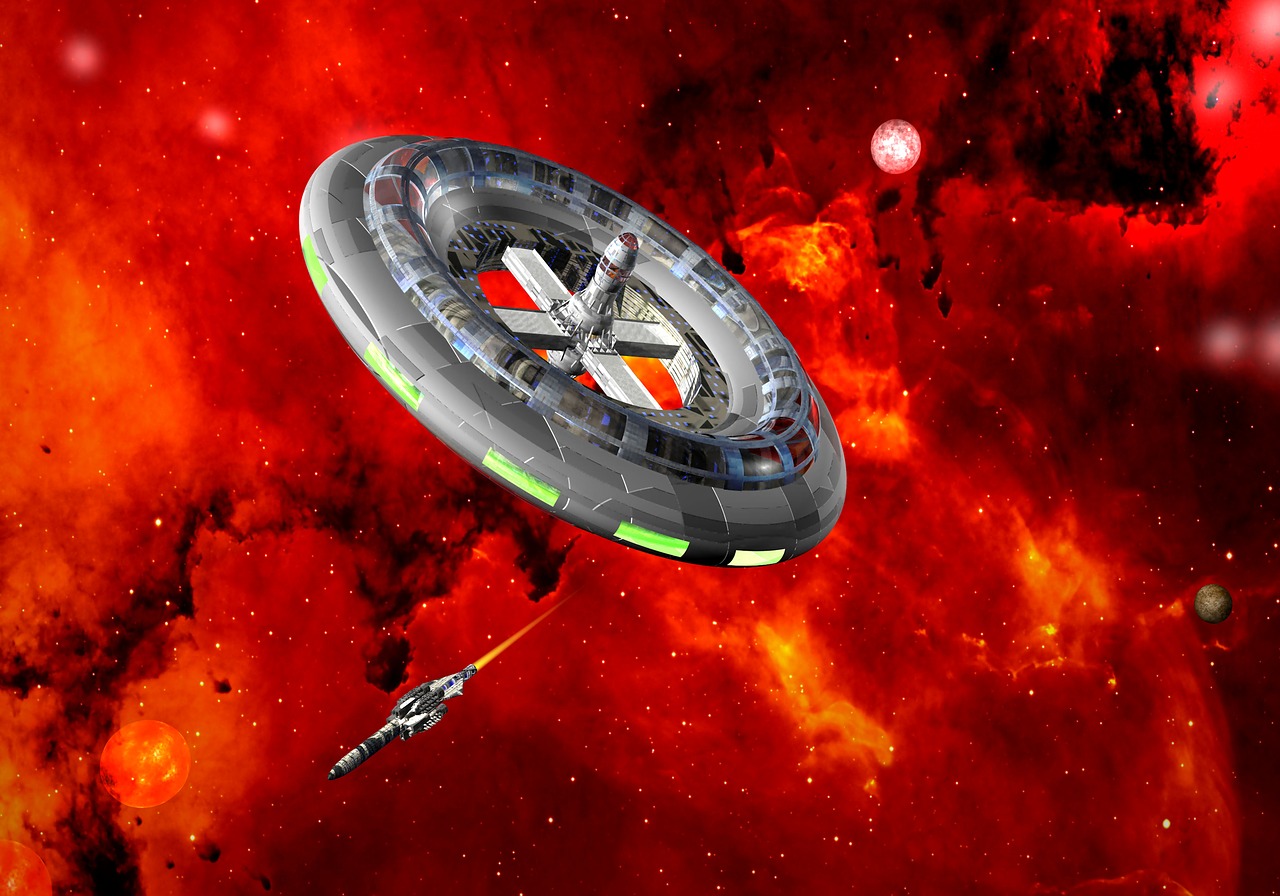 Source/Fuente

Español

Argos
Marcos se sentó en el suelo, para tratar de recuperar el aliento, llevaba casi treinta minutos, corriendo de un lado a otro, tratando de encontrar una cápsula y todas habían sido expulsas, como mucho le quedaban un par de horas antes de que Argos empezase a ser desintegrada. Jadeante, se puso de pie y en medio de las alarmas y la voz del sistema de advertencia, que notificaba del inminente desastre, continuó corriendo por los pasillos, era probable que, en el segundo nivel, donde se encontraba las bahías de carga, aun estuvieran algunas cápsulas operativas.
Su paso por la Argos había sido breve, llegó desde Belerofonte, diez días antes de la notificación de desocupación por riesgos estructurales, de eso ya habían pasado treinta y tres días, y sólo restaban siete, para el plazo máximo de desocupación.
A su llegada, había sido asignado a la división de reconstrucción de cascos, pero poco después, representantes de la Comisión de Seguridad de Instalaciones Industriales del Parlamento, realizaron una inspección, tras revelarse en un reportaje de un conocido periodista de Heracles, que las condiciones de funcionamiento de Argos eran críticas y decidieron que lo mejor era suspender las operaciones para que fuera reacondicionada.
Luego de conocida la orden de desalojo, fue asignado al cierre de las operaciones de los hornos de las fundidoras y luego de los motores rotacionales del sistema de gravedad, pero hace dos días había sido reasignado a la clausura del núcleo del reactor de antimateria, que proporcionaba energía a toda la estación.
El reactor era un monstruo, capaz de generar tanta energía por minuto, como la requerida por un mundo como Belerofonte durante todo un año. En sus primeros tiempos, podía cubrir todos los requerimientos de los cien hornos de fundición, trecientos astilleros y las treinta mil habitaciones, que albergaban a los más de noventa mil trabajadores, así como a las instalaciones necesarias para brindarles servicios.
Argos era la más grande de las doscientas estaciones espaciales astilleros creadas durante la gloria de la era de Perseo, cuando aún el Parlamento, no había situado su sede en Heracles y regía parcialmente las colonias desde Perseo, cuando aun la guerra en Cefeo no se había desatado.
Ya contaba con más de cuatro mil años de operación y sus condiciones se había deteriorado notablemente llegando incluso a formarse micro fisuras en la coraza exterior de su reactor, este fue el principal riesgo encontrado por la delegación y el que forzó su desocupación.
Aquella mañana, Marcos fue encargado de sellar la operación del sector de mantenimiento quince del reactor, sólo debía ejecutar una rutina en el computador de mantenimiento y luego cerrar la puerta del mamparo del sector y sellarla soldando su marco.
Una vez que ejecutó la rutina de clausura, cerró la puerta y accionó al robot soldador, para que realizara el trabajo final, pero mientras el dispositivo se encontraba haciendo su trabajo, tras la puerta una de las micro fisuras de la coraza se agrando e inició una reacción en cadena que acabó generando el estallido y desprendimiento de un fragmento de la coraza, que salió disparado rompiendo el mamparo y dejando escapar un chorro de vapor a gran temperatura.
Marcos fue arrollado por un fragmento de mamparo y quedó inconsciente mientras el vapor salía por la fisura, por fortuna para él, el fragmento metálico que lo golpeo, le sirvió también de barrera para protegerlo del impacto del chorro de vapor; evitando así que sufriera graves quemaduras, limitándose sólo a algunas leves, en su rostro y manos.
Cuando logro reponerse del golpe, vio que el sector donde se encontraba estaba clausurado, y que las alarmas de evacuación estaban activas, por fortuna el sistema de emergencias le abrió la puerta hermética y lo dejó salir al pasillo de salida, donde empezó su deambular en busca de una cápsula de escape.
Al parecer ya todos habían abandonado la nave, posiblemente le habían dado por muerto durante el accidente, centenares de cápsulas habían sido lanzadas, casi todas con su carga máxima de evacuados, pero la computadora de su unidad de información personal, le indicaba que aun existían cápsulas que no habían sido expulsadas, sin embargo, no se había familiarizado aun con la ubicación de las mismas, de acuerdo a su código y la unidad de información no se la proporcionaba.
Después de recorrer los astilleros y el área residencial, bajó al segundo nivel, donde se encontraban las bahías de carga para los suministros de las operaciones, ahí solía laborar poca gente y como las operaciones se estaban suspendiendo, ya no se estaban recibiendo suministros, así que probablemente sus trabajadores hubiesen sido reasignados al nivel uno a laborar en la parada de operaciones.
Apenas llegar al área de evacuación del nivel dos, encontró que las tres primeras cápsulas habían sido usadas, pero la cuarta en la línea, aún estaba disponible. Subió en ella y cerró la puerta, no creyó que fuera necesario esperar por otros, pues parecía que todos se habían ido ya. Se sentó en la silla de control, se abrochó ajustadamente los cinturones y accionó la palanca de expulsión, una cuenta regresiva de un minuto se inició, después del cual, la cápsula fue expulsada violentamente comprimiendo a Marcos contra su asiento y dejándolo inconsciente por unos minutos.
Marcos despertó, se liberó de los cinturones y flotó hasta asomarse por uno de los ojos de buey de la cápsula por el que vio que se aproximaba a un grupo de otras que flotaban en el espacio, en la zona de rescate designada. Recorrió los alrededores observando la vista por todos los ojos de buey, hasta que llegó a uno desde el cual se podía ver la estación Argos, y de fondo la estrella enana roja que orbitaba, a su alrededor, se empezaba a desprender grandes fragmentos que comenzaban a arder al aproximarse a la corona de la estrella.
Aquel había sido el fin de Argos, una de las últimas y la más grande estación espacial astillero construida, y uno de los más gloriosos logros de la antigua era de Perseo.
Texto de @amart29 Barcelona, Venezuela, julio de 2020

English

Argos
Marcos sat down on the floor, to try to catch his breath, he had been running around for almost thirty minutes, trying to find a capsule and they had all been ejected, at most he had a couple of hours left before Argos began to be disintegrated. Panting, he stood up and amidst the alarms and the voice of the warning system, which notified of the impending disaster, he continued to run through the corridors, it was likely that on the second level, where the cargo bays were located, there were still some capsules in operation.
It arrived from Bellerophon ten days before the notification of the evacuation due to structural risks. Thirty-three days had already passed and only seven remained for the maximum period of evacuation.
On his arrival, he had been assigned to the hull reconstruction division, but shortly afterwards, representatives of the Parliament's Industrial Facilities Safety Committee carried out an inspection, after it was revealed in a report by a well-known Heracles journalist, that the operating conditions in Argos were critical and they decided that the best thing to do was to suspend operations so that it could be reconditioned.
After the eviction order was known, he was assigned to the closure of the operations of the smelters' furnaces and then of the gravity system's rotational motors, but two days ago he had been reassigned to the closure of the core of the antimatter reactor, which provided power to the entire station.
The reactor was a monster, capable of generating as much energy per minute as required by a world like Bellerophon for an entire year. In its early days, it could cover all the requirements of the one hundred smelting furnaces, three hundred shipyards and the thirty thousand rooms that housed the more than ninety thousand workers, as well as the facilities needed to provide them with services.
Argos was the largest of the two hundred shipyard space stations created during the glory of the Persian era, when even the Parliament had not located its headquarters in Herakles and partially ruled the colonies from Perseus, when even the war in Cepheus had not yet broken out.
It had already been operating for more than four thousand years and its conditions had deteriorated considerably, even to the point of forming micro cracks in the outer shell of its reactor.
That morning, Marcos was in charge of sealing the operation of the reactor's 15th maintenance sector. He only had to perform a routine in the maintenance computer and then close the sector's bulkhead door and seal it by welding its frame.
Once he executed the closing routine, he closed the door and activated the welding robot to perform the final work, but while the device was doing its job, behind the door one of the micro-cracks in the shell enlarged and started a chain reaction that ended up generating the explosion and detachment of a fragment of the shell, which shot out breaking the bulkhead and letting a jet of steam at high temperature escape.
Marcos was run over by a fragment of the bulkhead and was unconscious while the steam came out of the fissure. Fortunately for him, the metal fragment that hit him also served as a barrier to protect him from the impact of the steam jet; thus avoiding him from suffering serious burns, limited to only some minor ones, on his face and hands.
When he managed to recover from the blow, he saw that the sector where he was was closed, and that the evacuation alarms were active, fortunately the emergency system opened the hermetic door and let him out into the exit corridor, where he started his wander in search of an escape capsule.
Apparently all of them had already left the ship, possibly he had been left for dead during the accident, hundreds of capsules had been launched, almost all of them with their maximum load of evacuees, but the computer of his personal information unit, indicated him that there were still capsules that had not been expelled, however, he had not been familiarized yet with the location of them, according to his code and the information unit did not provide it to him.
After visiting the shipyards and the residential area, he went down to the second level, where the loading bays for the supplies for the operations were located. Few people used to work there, and since the operations were being suspended, supplies were no longer being received, so his workers would probably have been reassigned to level one to work at the operations stop.
As soon as he arrived at the level two evacuation area, he found that the first three capsules had been used, but the fourth one in the line was still available. He climbed in and closed the door, not believing it was necessary to wait for others, as it seemed that everyone had already left. He sat down in the control chair, fastened his seatbelts tightly and activated the ejection lever, a one-minute countdown began, after which the capsule was violently ejected compressing Marcos against his seat and leaving him unconscious for a few minutes.
Marcos woke up, freed himself from the belts and floated up to one of the capsule's portholes where he saw it approaching a group of others floating in space in the designated rescue area. He circled around, looking through all the portholes, until he reached one from which the Argos station could be seen, and in the background the red dwarf star orbiting around it began to break off large fragments that began to burn as it approached the star's corona.
That had been the end of Argos, one of the last and largest space station shipyards ever built, and one of the most glorious achievements of the ancient age of Perseus.
Text of @amart29 Barcelona, Venezuela, July 2020

Gracias a todos por visitar mi publicación, espero sus comentario y agradezco su apoyo, hasta la próxima
---
Thank you all for visiting my publication, I hope your comments and I appreciate your support, until next time

Previamente publicado en mi blog de Steemit
---
Previusly published in my Steemit blog