Saludos amigos.
Greetings friends.


Una de las cosas que me enamoró de la urbanización donde vivo cuando estábamos buscando lugar para vivir, fue la variedad de árboles y plantas florales. Desde niña viví en un lugar donde tuve mucho contacto con la naturaleza y cuando me iba a casar estuvimos buscando un lugar para vivir y todos eran lugares completamente de concreto.


One of the things that made me fall in love with the urbanization where I live when we were looking for a place to live, was the variety of trees and floral plants. Since I was a child I lived in a place where I had a lot of contact with nature and when I was getting married we were looking for a place to live and they were all completely concrete places.


Al entrar a la urbanización podemos encontrar este hermoso flamboyan. Este año no pude tomarle fotos en su momento más esplendoroso porque no estoy bajando a caminar como solía hacerlo a diario con mis hijas.


As soon as we enter the urbanization we can find this beautiful flamboyan. This year I could not take photos of her at her most splendid moment because I am not going down to walk as I used to do daily with my daughters.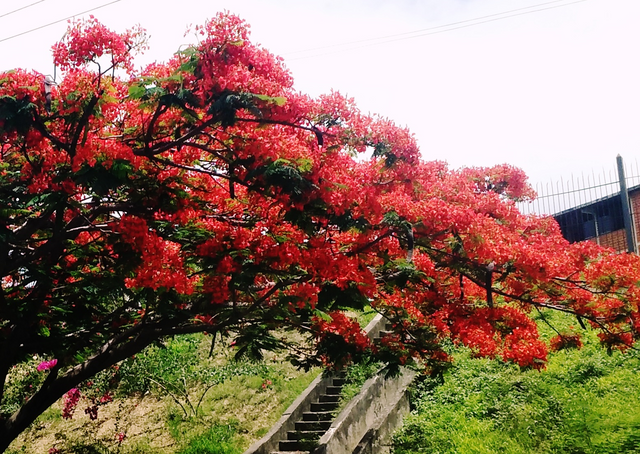 La semana pasada tuve que ir al odontólogo y pude tomar estas 2 fotografías que comparto hoy con ustedes.


Last week I had to go to the dentist and I was able to take these 2 pictures that I share with you today.


Este árbol es muy llamativo por su color, además sus flores permanecen por un largo tiempo, aproximadamente uno o 2 meses, empieza a florecer en el mes de mayo. En este momento ya está en la fase final de floración, por lo tanto no está en su máximo esplendor pero pueden imaginar lo hermoso que es cuando está completamente floreado.


This tree is very striking for its color, also its flowers remain for a long time, approximately one or 2 months, it begins to bloom in the month of May. At this moment it is already in the final phase of flowering, therefore it is not in its maximum splendor but you can imagine how beautiful it is when it is fully flowered.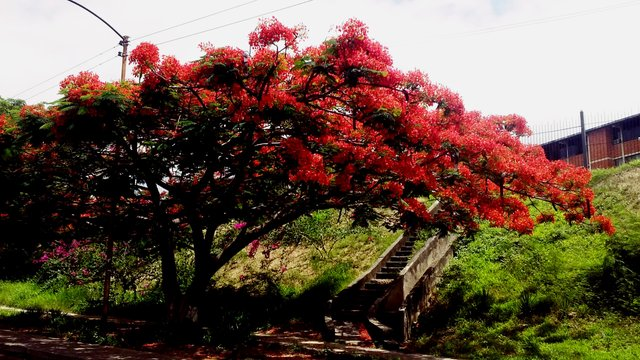 Una de las cosas que también resaltan su belleza es la alfombra naranja que dejan sus flores al caer, son muchas flores que caen en los lugares donde hay un flamboyan, dejan su rastro... una hermosa alfombra, en este caso color naranja. De este árbol también los hay de flores amarillas pero acá en la urbanización sólo hay color naranja, y en realidad es el que me gusta más. También tenemos en nuestra urbanización araguaney que son de flores amarillas y compartí con ustedes fotos hace 2 meses aproximadamente. "Amo el lugar donde vivo" porque tiene una extensa y hermosa área verde .


One of the things that also highlight its beauty is the orange carpet that its flowers leave when they fall, there are many flowers that fall in places where there is a flamboyan, they leave their trail... a beautiful carpet, in this case orange. Of this tree there are also yellow flowers but here in the urbanization there is only orange, and in fact it is the one that I like the most. We also have in our urbanization araguaney that are yellow flowers and I shared with you photos about 2 months ago. "I love the place where I live" because it has an extensive and beautiful green area.