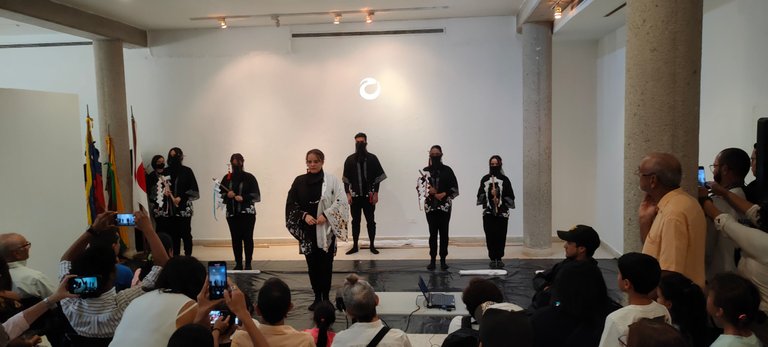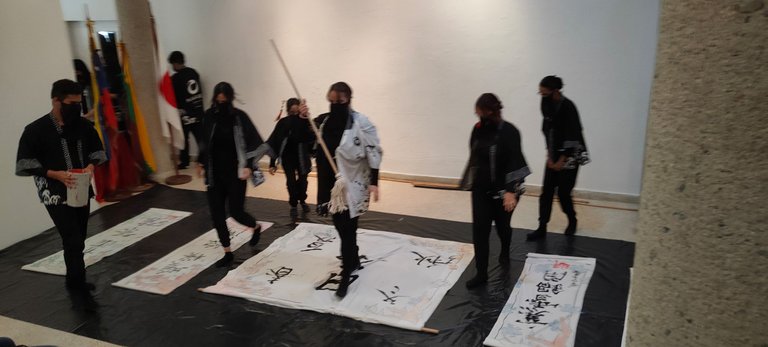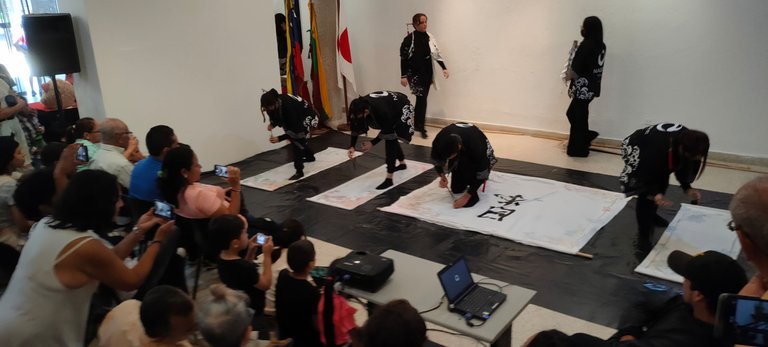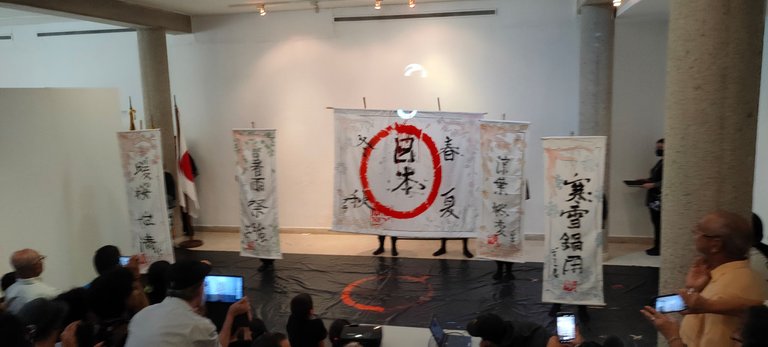 Es un momento especial el encuentro impactante con la escritura del Japón, esta actividad está organizada por la Universidad de Carabobo y la embajada del Japón, forma parte de la Semana Cultural del Japón en Valencia; estoy sentado con mi familia observando el espectacular movimiento en las tablas de NAGARE, Venezuela Club de Caligrafía Japonesa, está dirigido por Michel González, el Panda Gakuen. Los desplazamientos ceremoniales se desarrollan maravillosamente en la Galería de Arte Universitario Braulio Salazar en Valencia. Están ocupadas por los asistentes al evento todas las sillas en el espacio de la Sala. Entran con un sencillo protocolo, ha improvisado escenario con papeles, potes de pinturas y pinceles varios tamaños, uno de los pinceles parece una escoba.
It is a special moment the striking encounter with the writing of Japan, this activity is organized by the University of Carabobo and the Embassy of Japan, it is part of the Cultural Week of Japan in Valencia; I am sitting with my family watching the spectacular movement on the boards of NAGARE, Venezuela Japanese Calligraphy Club, it is directed by Michel Gonzalez, the Panda Gakuen. The ceremonial movements are taking place beautifully at the Braulio Salazar University Art Gallery in Valencia. All the chairs in the Sale space are occupied by those attending the event. They enter with a simple protocol, having improvised a stage with papers, pots of paint and brushes of various sizes, one of the brushes looks like a broom.
Realizan unos giros sobre los papeles, colocan rápidamente unas escrituras japonesas y levantan los carteles con escrituras donde predomina el negro y el rojo. Se levanta la sal en aplausos, mis ojos están revisando cada uno de los preciosos símbolos para tratar de entender que simbolizan cada uno de ellos. Tan solo comprendo un símbolo, el círculo rojo, es redondo. Esto es maravilloso.
Termina la escena y salimos fuera de la pequeña sala. Está en el centro dos grupos de personas que asisten a disfrutar de este precioso evento impregnado de la cultura del Japón. Pregunto para qué hacen la cola. En una mesa larga están sentados, ocupados, un grupo selecto de escribientes con un vestuario eminentemente japoneses donde predomina el negro y el blanco están regalando los nombres escritos en japonés sobre hojas en blanco. Hago la cola con @alejandroloreto, @soy-laloreto e @iritere. En una de las colas están dos personas, se escriben los nombres y en la otra cola están otras que dibujan hermosos diseños de bambúes.
They make a few turns on the papers, quickly place some Japanese writings and raise the posters with writings where black and red predomínate. The salt rises in applause, my eyes are checking each one of the precious symbols to try to understand what each one of them symbolizes. I only understand one symbol, the red circle, it is round. This is marvellous.
The scene ends, and we walk out of the small room. In the centre are two groups of people who come to enjoy this beautiful event steeped in the culture of Japan. I ask what they are queuing up for. At a long table they are seated, busy, a select group of scribes in eminently Japanese costumes where black and white predominate are giving away names written in Japanese on blank sheets of paper. I queue up with @alejandroloreto, @soy-laloreto and @iritere. In one of the queues there are two people writing their names and in the other queue there are others drawing beautiful bamboo designs.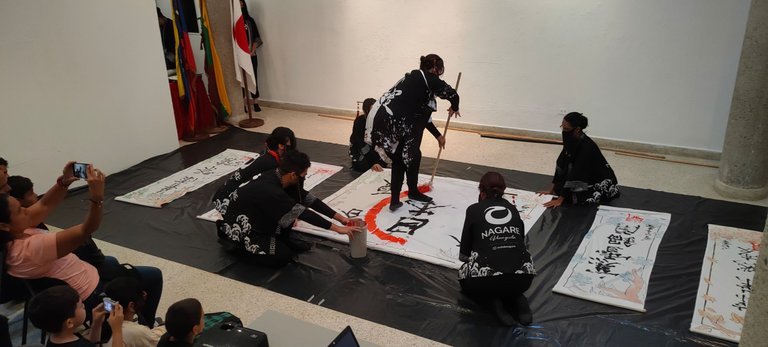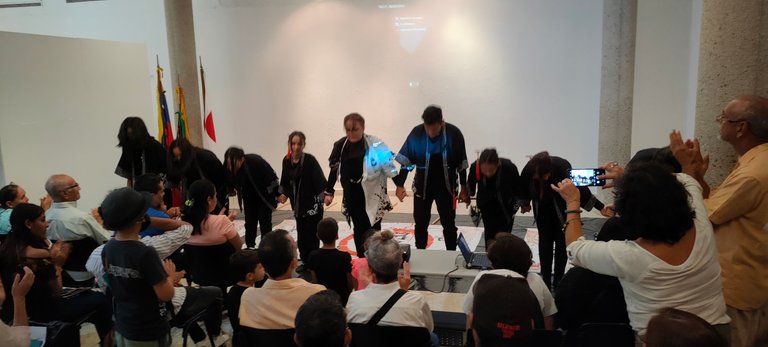 De esta fantasía, salgo con mi nombre, HIRAM, me explican la que la escritura japonesa no puede cubrir mi nombre completamente porque tiene reducido el alfabeto.
Tengo en mis manos, también, "Te Amo" y "Gracias por ser feliz"; en dos hojas con sus diseños de bambúes. Las protejo en mis revistas como un tesoro. Son un tesoro.
Este es un grupo venezolano residenciado en la ciudad de Maracay que muestra con sencilla sensibilidad los logros obtenidos en estudio de la cultura del Japón. @soy-laloreto e @iritere están con mi nieto ensimismado buscando sus hojas con sus nombres en japonés.
From this fantastic one, I come out with my name, HIRAM, they explain to me that the Japanese writing cannot cover my name completely because it has a reduced alphabet.
I hold in my hands, too, "I love you" and "Thank you for being happy"; on two sheets with their bamboo designs. I protect them in my magazines like a treasure. They are a treasure.
This is a Venezuelan group based in the city of Maracay that shows with simple sensitivity the achievements obtained in the study of Japanese culture. @soy-laloreto and @iritere are with my grandson looking for their sheets with their names in Japanese.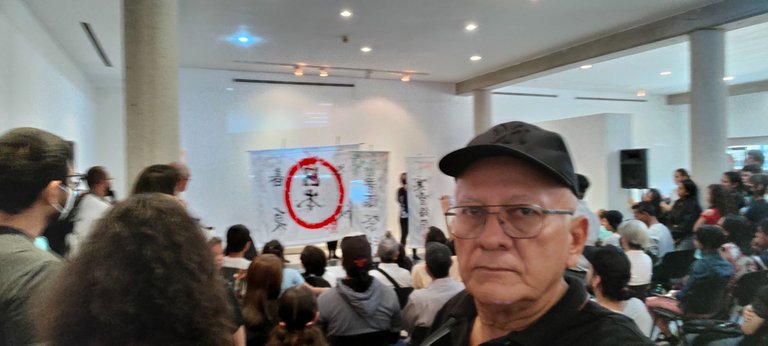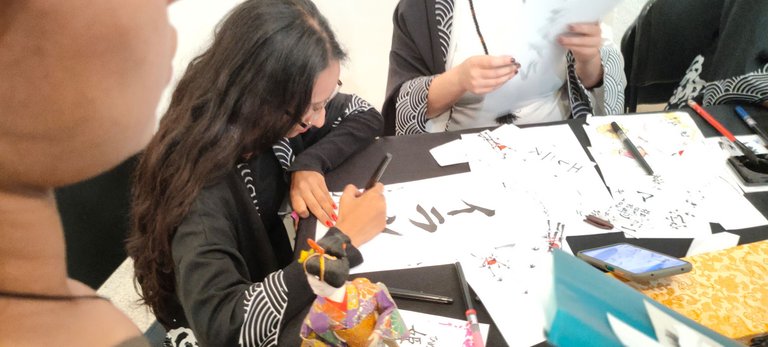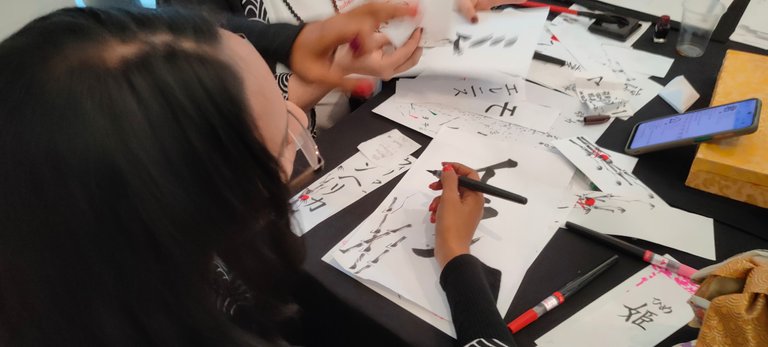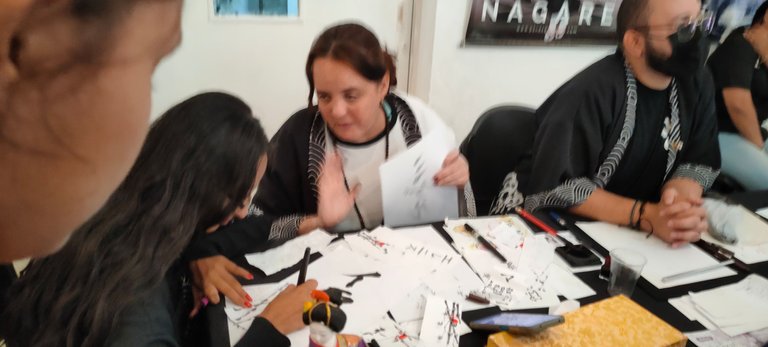 Es un placer, esto es especial, mi alma está en paz disfrutando el flow espiritual del alejado continente asiático. Mi sentimiento dice que Japón está acá sentado como un bonsái, meditando y escribiendo haiku.
Que importante sentir esta semiótica, al escribirla y tratar de descifrar lo que se está redactado en la profundidad de mi alma con un pincel impregnado de tinta china. Esa tinta es la que percibo en cada rápido y delicado trazo que explica un contenido de la naturaleza y de lo humano que siempre nos rodea. Como me explica, cada sencillo símbolo tan milenario y continúa marcando la sencillez de nuestra historia humana.
Es un encuentro con mi ser, es fabulosa esta buenaventura de vida personal y familiar.
It is a pleasure, this is special, my soul is at peace enjoying the spiritual flow of the distant Asian continent. My feeling says that Japan is sitting here like a bonsai, meditating and writing haiku.
How important to feel this semiotics, writing it down and trying to decipher what is written in the depths of my soul with a brush impregnated with Chinese ink. That ink is what I perceive in each quick and delicate stroke that explains a content of nature and of the human that always surrounds us. As it explains to me, each simple symbol that is so ancient and continues to mark the simplicity of our human history.
It is an encounter with my being, it is fabulous this good fortune of personal and family life.
Escribir en el Japón, es un arte, la personalidad que se desarrolla desde el nivel educativo, se constituye en ciudadanía; el buen escribiente nace y se construye como la base fundamental para el crecimiento y fortaleza de los pilares de la cultura espiritual de esa nación.
Escribir es un placer, mantenerse en ese flow genera el floreciente bienestar por la llama que permanece encendida a través de los siglos para la eternidad. La luz del flourishing que se desborda a plenitud me deja sin palabras, sin voz, en silencio; con el sol que despierta mi espíritu para que levante las alas, las velas. Es esencial volar y navegar con el alma suelta, nutriendo del eterno conocimiento que se expande incesantemente por el espacio.
Es un placer escribir con los buriles del sol del Japón.
Writing in Japan is an art, the personality that is developed from the educational level becomes citizenship; the good scribe is born and built as the fundamental basis for the growth and strength of the pillars of the spiritual culture of that nation.
Writing is a pleasure, keeping in that flow generates the flourishing wellbeing by the flame that remains lit through the centuries for eternity. The flourishing light that overflows to fullness leaves me speechless, voiceless, silent; with the sun awakening my spirit to lift the wings, the sails. It is essential to fly and sail with a loose soul, nourishing the eternal knowledge that expands incessantly through space.
It is a pleasure to write with the burins of the sun of Japan.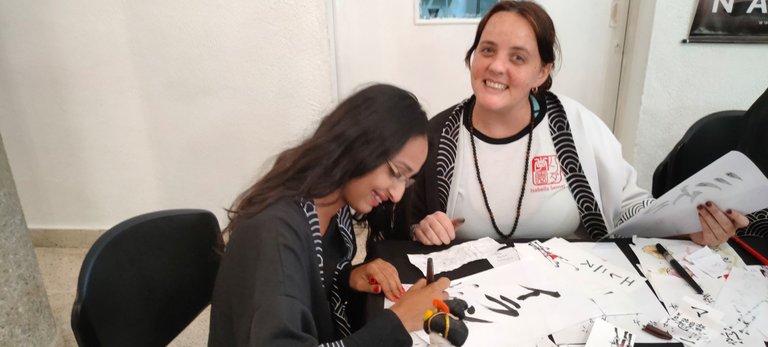 Soy y estoy feliz.
Muchas gracias por estar aquí en HIVE y por ser felices.
I am and I am happy.
I am grateful to receive your attunement by staying in the Flow of Hive.


REFERENCIAS: Las muestras fotográficas tomadas con mi teléfono Realme Pro 7 son de mi propiedad patrimonial, con el apoyo de mi estabilizador Gimbal 1-Asix.
REFERENCES: The photographic samples taken with my Realme Pro 7 phone are my property, with the support of my Gimbal 1-Asix stabilizer.