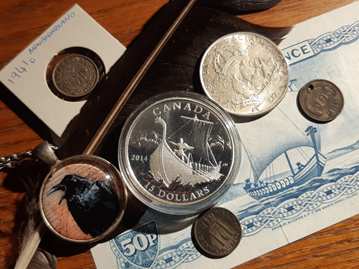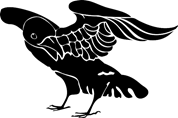 P
"Dae ahh look loch a bluudy Financial advisor t' yea?" ~ The Bloody Raven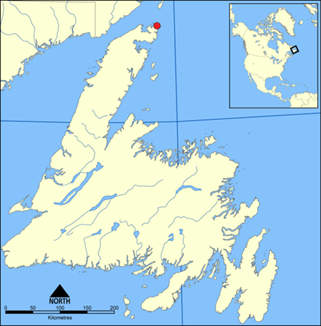 W0.
On the northern tip of Newfoundland were discovered remnants of an old Viking encampment that existed five hundred years before Explorer Christopher Columbus even set foot on San Salvador (the Bahamas). West beyond Greenland was the place called Vinland by the Vikings that extended from as south as Nova Scotia north to Baffin Island. On the very northern tip of Newfoundland Island they made their camp, today the location is called L'Asne aux Meadows, an archaeological site designated UNESCO world Heritage Site, and now a Tourist destination and discovery center for the Newfoundland summer months.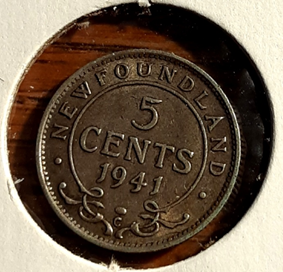 Why come to North America? While most of us tend to see Vikings as marauders or raiders they were also well practiced Traders as evidenced by their extensive trade far south as Northern Africa and east in the Black Sea and the Volga River. Exploration would be natural for the Vikings. To Leif Erickson, the leader of the expedition likely chose the location for it's abundance of wood at the time, and necessary foundation of their culture, economy and trade.
The Coin
2014 Canada 15 Dollars The Vikings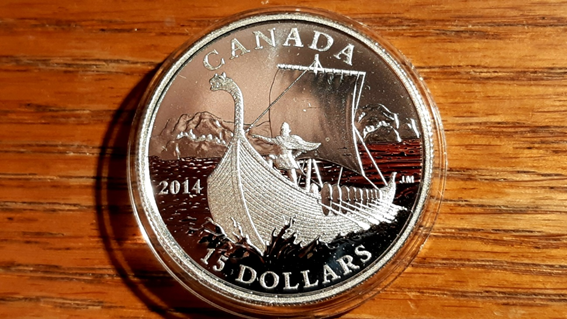 Reverse; Viking Longboat coming ashore to Vinland, 2014, JM
CANADA 15 DOLLARS
0.9999 Fine Silver, 23.17g
36.07mm Diameter, 2.9mm Thick
Engraver John Mantha
Original Issue Price $54.95 CAD
The site was discovered in the 1960 by a Norwegian team of Helge and Anne Stine Ingstad following the Saga of Leif Erickson and since then these archaeologists have uncovered clear evidence of Ship repair and maintenance at the site. At least eight structures of sod type structures were identified, evidence of Iron ore refining and a forge indicating and arguably the first Iron produced in North America. Stone oil lamps, stone weights, bronze pin, and various items including a bone knitting needle and a part of a loom suggesting there were even women in the encampment.
2014 Canada 15 Dollars The Vikings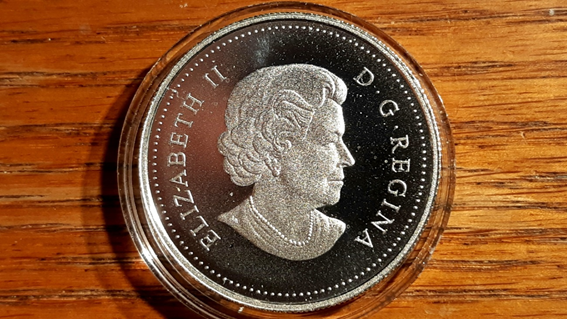 Obverse; Queen Elizabeth II facing right
Legend; ELIZABETH II, D.G. REGINA
Mintage of 15,000
Reference KM# 1660
Edge: Serrated
Engraver Susanna Blunt
Forth coin of a 10 coin Exploring Canada Series
Why the encampment never became a permanent settlement may likely have been bad relations with the indigenous. With conflict and the threat of attacks from the "Skraelings", the Vikings were finally forced to leave.
There are other possible sites scattered over the Canadian arctic region yet to be fully determined to be Norse encampments and outposts, an amazing feat for a relatively small European community called the Vikings.
But imagine if the Vikings did manage to establish a settlement in North America, perhaps simply by choosing more of a Trade and diplomacy policy rather than resorting to any raids. we may have quite a different world it's a result. The Viking people having in 500 year advantage with at least a Fur monopoly and become an economic powerhouse over most European countries.
The Viking Ship of this coin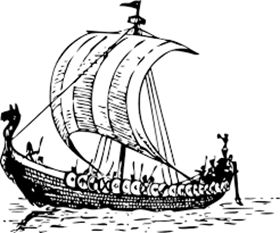 W1.
There are two broad classes of Viking ships, the ship represented on this appears to be the Langskip or Longboat, with a longer, shallower and narrower hull than the Knorr, the Longboat is built for speed and maneuverability and the shallower draught allows the ship to navigate far up rivers as shallow as 1 meter so that a raid may commence as soon as the ship reaches shore. Using both sail and oars for propulsion the ship could reach a speed up to 15 knots if performed by a college rowing club under ideal conditions but generally 5 to 10 knots speed.


There are subclasses of Longships; from the small general use Karvi, Snekkja, Skeid, and finally the largest and lavishly ornate Drakkar or Drek Dragon ships. Characterized by the Dragon or fierce best on it's prow.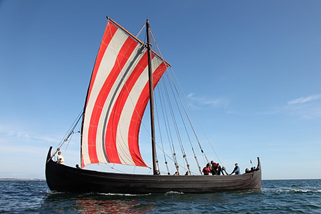 W2.
The second type called Knarr/ knörr is a merchant or cargo ship with a deeper draught, wider and shorter hull to accommodate supplies and trading goods, food, drink, tools, timber etc. and may have an enclosure to keep cargo dry. Perfectly suited and designed for long Sea voyages. Usually relies on sail for propulsion but oars can be deployed without cargo in the way. A 16 m knörr has a cargo capacity of 24 tons.
What ship did the Viking Leif Ericsson really use? Longboat or Knorr?


These craft are not very large and it is amazing feat to navigate across the North Atlantic in such an open ship. It's light, rigid, and stable design is the basis of many engineering principles in ship design still used today. And while no surviving record the name or class of Longboat Erikson came over to North America in, there is a replica ship of Leif Erickson's ship built to commemorate Leif Erickson's discovery of North America, and no, it wasn't the MV Leif Ericson ;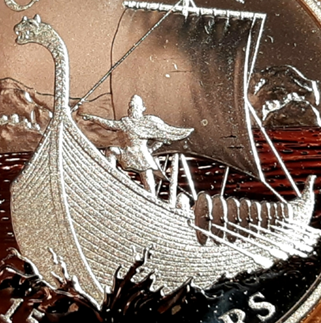 Ship Name: The Leif Erikson
Class: Similar to the Knarr.
Length: 42 feet long.
Built in: Korgen, Norway.
Completed April 1936.
Captained by Gerhard Folgero.
The ship was donated to City of Duluth, Minnesota. Restored in 1980 & 2001 from neglect and vandalism and continues to be restored. It is currently located at the Lafarge cement terminal until fully restored and moved to its permanent display Duluth's Leif Erikson Park. Due to copyright issues the only photos of this Replica ship are currently viewable on the Leif Erikson's Website.
My Take on the 2014 The Viking Silver Dollar
I can understand why this coin is named, "The Viking" as the mint carries on the typical portrayal of Vikings in their trademark Dragon Drakkar Long ship. But it is more likely to be explored with the more practical Knarr ship. Leif's Vinland expedition would have required at least a cargo vessel to haul all the necessary supplies needed for a long journey. Logistically the L'Anse aux Meadows Viking encampment could have required up to three ships for enough supplies for an extended time away or more if it were intended to a more permanent settlement.


The Bloody Raven's Take on the 2014 The Viking Silver Dollar
Aye, A coin that 'as the feared silhouette of the Drakkar Viking long ship would sell better than the slower lumbering Knarr on it. Scandinavians are a tough lot, best t' 'ave a few in the crew. And as @silversaver888 sez... #ilikeitalot
I hope you enjoyed this special feature
And, thank yea for stopping by me Pirate Blog today.
The #piratesunday tag is the scurvy scheme of Captain @stokjockey for #silvergoldstackers and #ssg-community pirates to proudly showcase their shiny booty and plunder for all to see. Landlubbers arrrh…welcomed to participate and be a Pirate at heart so open yer treasure chests an' show us what booty yea got!

R
References
1. All are my own pictures shot with a Samsung SM-A530W unless otherwise indicated.
P. Image under Pixabay
R. Clip art from 123RF
W. Wiki Commons
Sources
W0. L'Anse aux Meadows map by Coach.nyta under Public Domain
Canadahistory.caThe Far Norse
History on the Net: The Vikings
Numista: 2014 Canada 15 Dollars The Vikings
The Leif Erikson
Wiki: The Leif Erikson ship
Wiki: Viking knörr
Wiki: Viking Longship

"Et lux in tenebris to serve laboro, sum sicarius" "I work in the shadows to serve the Light, I am an Assassin"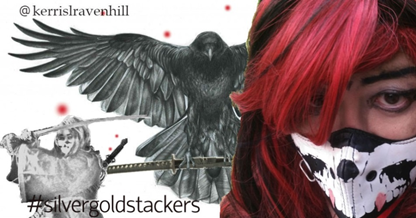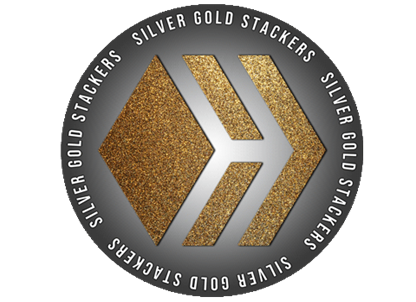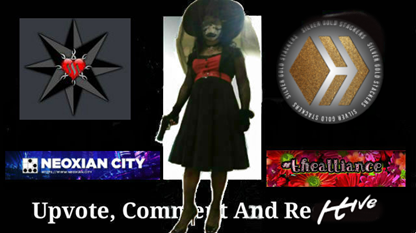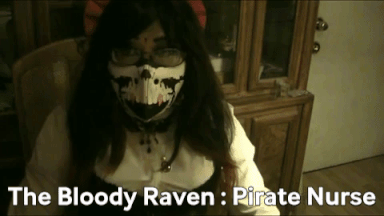 Banner by @thekittygirl