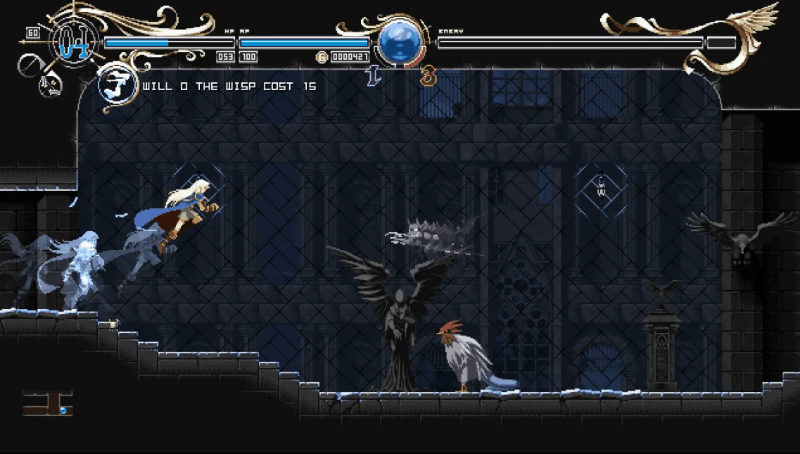 ---
In the world of video games the Indie genre has raised a lot of dust, 10 years ago the games included in this genre were only considered tributes to nostalgia or just fan works that sought to remember the games of yesteryear, a genre that contributed little and was rarely promoted as a good level. In the present Indie games are part of the expected releases and are usually the novelties in a genre that reinvents itself to expand, today I will give you my impressions of a Metroidvania that at first glance screams everywhere Castlevania, with a graphic section that enamors and above all presents a renewal in the gameplay that gives points in its favor, will Record of Lodoss War-Deedlit in Wonder Labyrinth achieve its mission?
---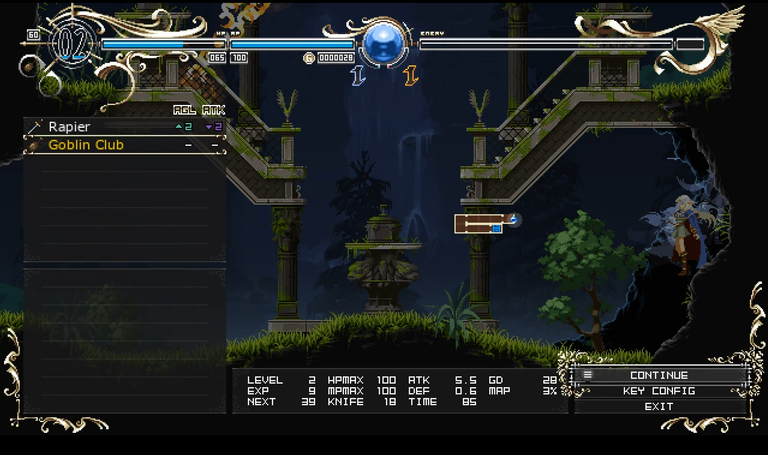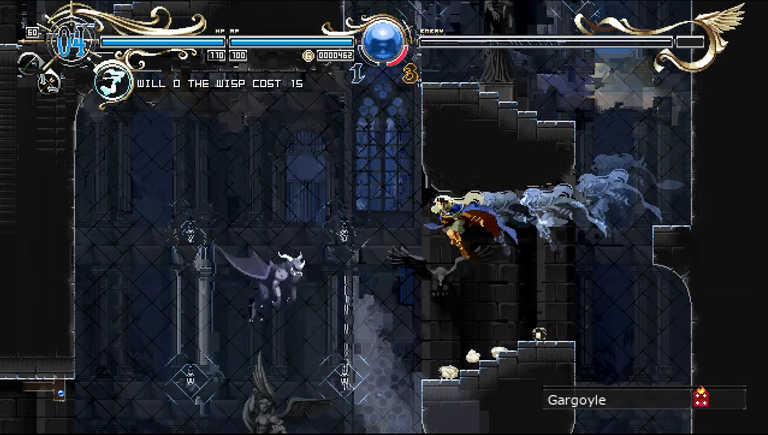 ---
---
STORY

Record of Lodoss War-Deedlit in Wonder Labyrinth falls into the error of relying more on its gameplay than on the story that it can give us, like many games of the genre at the beginning we do not know who we are or why we have descended into these dungeons, our goal and ultimate goal is to go through the scenarios in the form of labyrinth to discover through the dialogues what is before our eyes and the story of the game. In this case the game does not focus on telling us a deep story so it can be considered simple or just not the focal point of the game, we have to read the multiple dialogues that appear on screen to know with brushstrokes the story is told to us.
---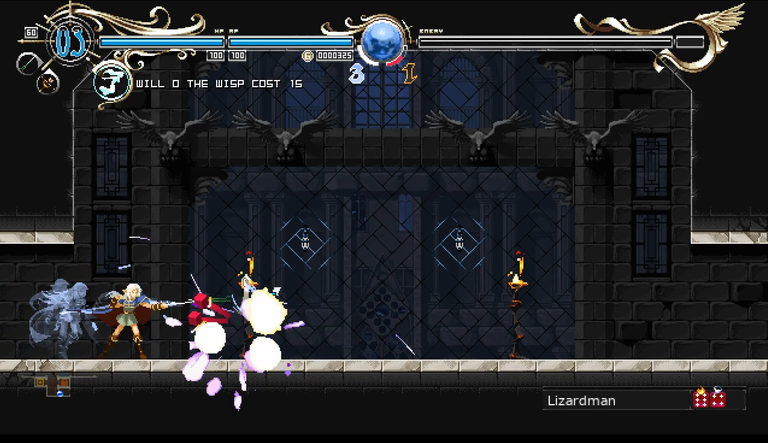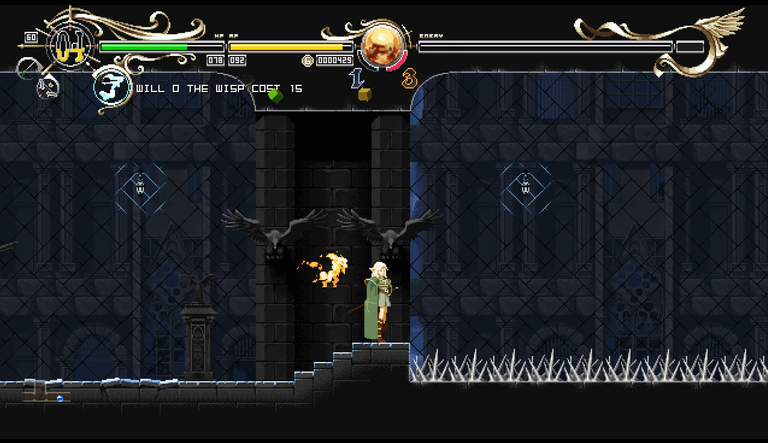 ---
---
Gameplay

Record of Lodoss War-Deedlit in Wonder Labyrinth presents a mixture of genres among which highlights the Matroidvania and classic RPGs, and this is something that works very well, it is not only about going through dungeons and go fighting enemies; it is necessary to learn about the skills of our character, as are more effective attacks and how we can defend ourselves without wearing us out; something I have not mentioned is that here the final bosses will give us battle without respite. We have a progression system which allows us to improve our skills so we must know each of the elements that make up our attacks this is something inherited from RPG games, we also have a menu in which we can go collecting items, this section reminds us of the JRPG type games of the early 90s. As for its gameplay we must understand that we are not only ready to attack, we must be careful with the enemy, know when to run away and when to face him, because a carelessness of 1 second can lead to certain death. This gameplay or genre mix has been one of the factors that led me to finish the game.
---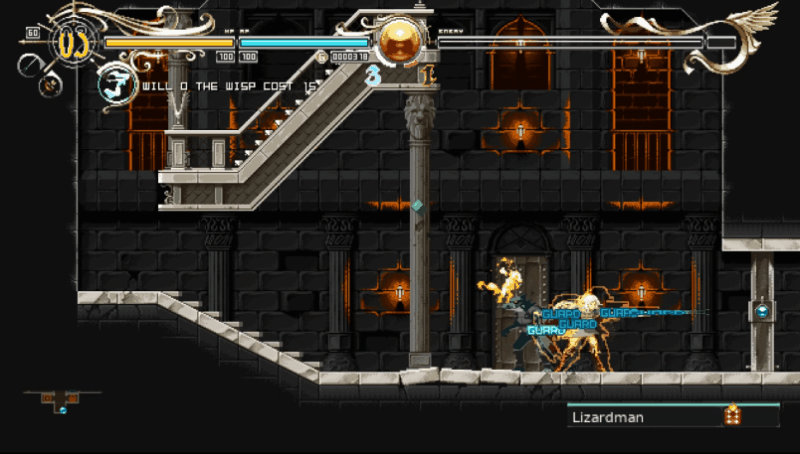 ---
---
Technical Section

Record of Lodoss War-Deedlit in Wonder Labyrinth, follows the Metroidvania formula to the letter, so it is possible that your nostalgia will take you to remember the time in which you played Castlevania. We are facing a game that does not disappoint in its artistic section, a well-kept Pixel Art design, a color palette that manages to accurately recreate the dungeons, the castle and improve the genre of yesteryear. The scenarios usually have an amazing level of detail with the only flaw of always repeating, but in them we can see the smallest objects to the largest and most detailed. In terms of sound we have a soundtrack that has great merit for providing a first class experience to be one of the main protagonists, good rhythms, is not repetitive and above all combines with the interior design to immerse us in the action; I have placed it attached in case you want to hear it. In the faithful style of the genre we will find great texts and dialogues do not exist, it is not in multiple languages, but that is not an impediment to enjoy it.
---
---
Highlights
Mixing genres to implement new game modes is something that is attractive.
Its artistic section Pixel Art style, which is not modest at all and at all times is present.
Its soundtrack which is always present and is not overwhelming.
---
The Worst
It is a game that repeats the Metroidvania formula to exhaustion, managing to make a linear game in which we rarely require to return to explore areas.
The elements of the environment are recycled, it seems that you are always in the same scenario over and over again.
Time of duration, about 5 hours.
---
Conclusion
Despite having a long and convoluted name Record of Lodoss War-Deedlit in Wonder Labyrinth is a game which we can enjoy at all times, although it is true that it does not reinvent a genre completely or manages to bring outstanding innovations; it is enjoyable, it is entertaining, but it is a game that lasts a short time and that is something unforgivable. Despite its shortcomings it has an artistic section that makes you fall in love, you can see that its Pixel Art design was the most worked, something that will always be notorious will be the hateful comparisons with Castlevania but despite this I invite you to play it.

---
ESPAÑOL
---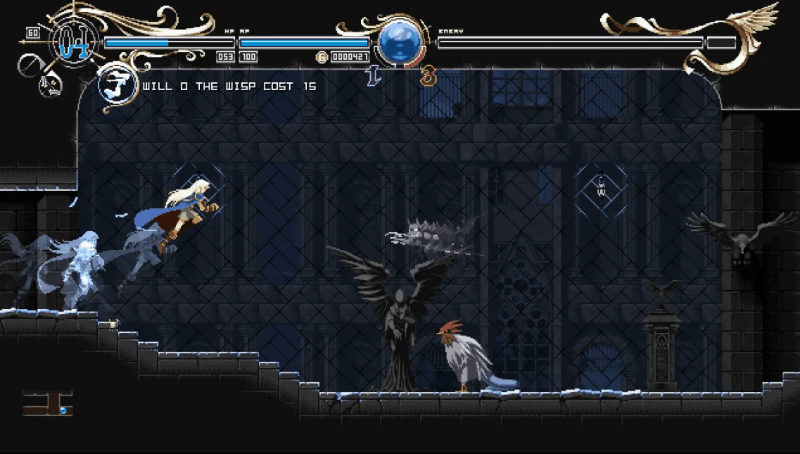 ---
En el mundo de los videojuegos el género Indie ha levantado mucho polvo, hace 10 años atrás los juegos englobados dentro ese género solo se consideraban homenajes a la nostalgia o tan solo trabajos de fan que buscaban recordar los juegos de antaño, un género que poco aportaba y rara vez era promocionado como de buen nivel. En el presente los juegos Indie son parte de los lanzamientos esperados y suele ser las novedades en un género que se reinventa dentro de sí mismo para expandirse, el día de hoy les voy a dar mis impresiones de un Metroidvania que a simple vista grita por todos lados Castlevania, con un apartado grafico que enamora y sobre todo nos presenta una renovación en la jugabilidad que le da puntos a su favor., ¿Logrará Record of Lodoss War-Deedlit in Wonder Labyrinth su cometido?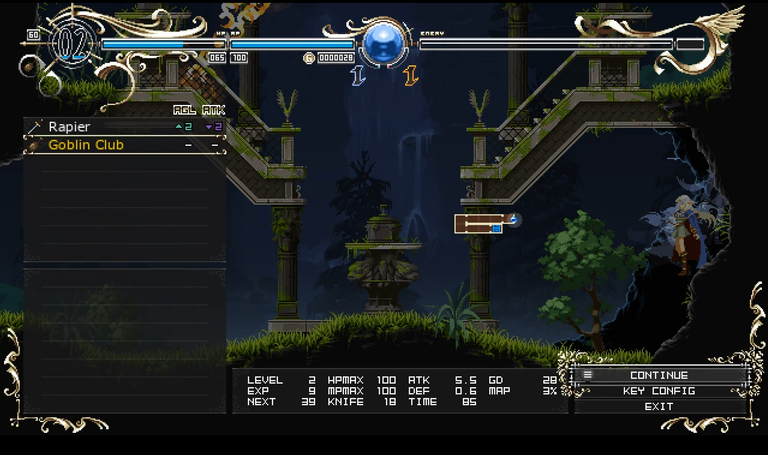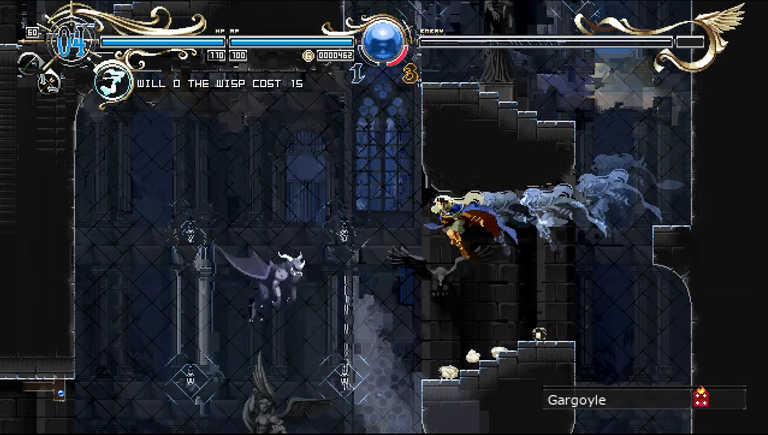 ---
---
HISTORIA

Record of Lodoss War-Deedlit in Wonder Labyrinth cae en el error de confiar más en su jugabilidad que en la historia que puede brindarnos, al igual que muchos juegos del genero de entrada no sabemos quién somos ni porque motivo hemos descendido a estas mazmorras, nuestro objetivo y fin último es ir transitando los escenarios en forma de laberinto para ir descubriendo a través de los diálogos lo que está ante nuestros ojos y la historia del juego. para este caso el juego no se centra en contarnos una historia profunda por lo cual puede considerarse que es simple o tan solo no es el punto focal del juego, tenemos que leer los múltiples diálogos que aparecen en pantalla para conocer con pinceladas la historia se nos cuenta.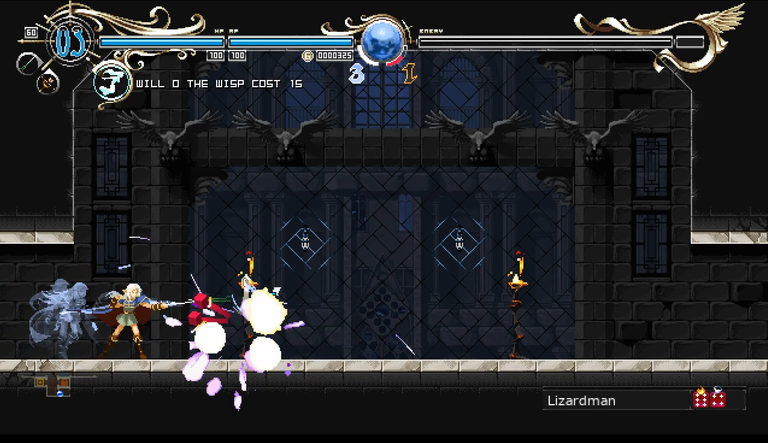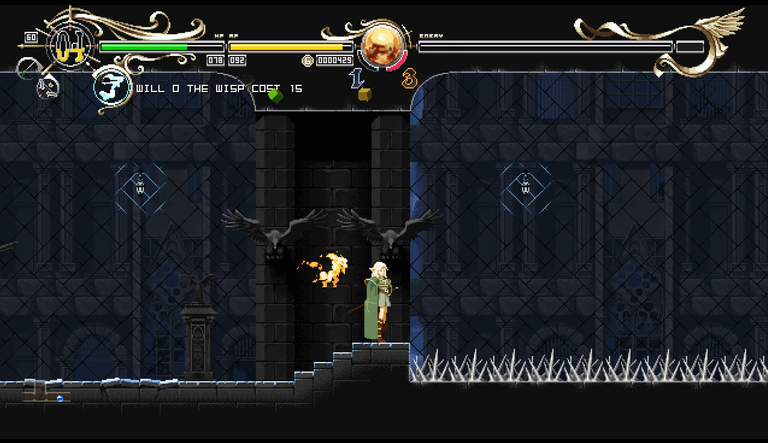 ---
---
JUGABILIDAD

Record of Lodoss War-Deedlit in Wonder Labyrinth nos presenta una mezcla de géneros entre los cuales destaca el Matroidvania y los juegos de rol clásico, y esto es algo que funciona muy bien, no solo se trata de ir recorriendo mazmorras e ir peleando con enemigos; es necesario aprender sobre las habilidades de nuestro personaje, como son más efectivos los ataques y cómo podemos defendernos sin desgastarnos; algo que no he mencionado es que aquí los jefes finales nos darán batalla sin tregua. Tenemos un sistema de progresión el cual nos permite ir mejorando nuestras habilidades por lo cual debemos conocer cada uno de los elementos que conforman nuestros ataques esto es algo heredado de los juegos de rol, también poseemos un menú en el cual podemos ir recolectando objetos, dicha sección nos recuerda a los juegos del tipo JRPG de principio de los 90. En cuanto a su dinámica de juego debemos comprender que no solo estamos prestos a atacar, debemos ser cuidadosos con el enemigo, saber cuándo huir y cuando plantearle cara, motivado a que un descuido de 1 segundo puede llevar a una muerte segura. Esta modalidad de juego o mezcla de genero ha sido uno de los factores que me llevaron a terminar el juego.
---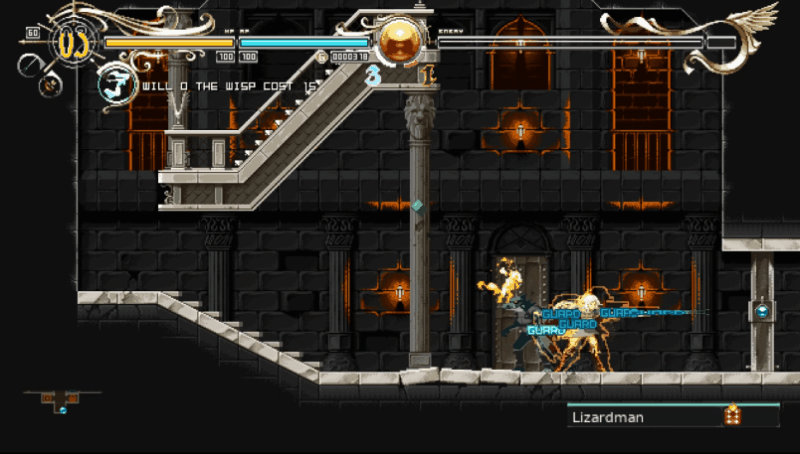 ---
---
APARTADO TECNICO

Record of Lodoss War-Deedlit in Wonder Labyrinth, sigue la formula Metroidvania al pie de la letra, por lo cual es posible que tu nostalgia te lleve a recordar el tiempo en el cual jugabas Castlevania. Estamos ante un juego que no decepciona en su apartado artístico, un diseño Pixel Art bien cuidado, una paleta de colores que logra recrear con exactitud las mazmorras, el castillo y mejorar el género de antaño. Los escenarios suelen tener un nivel de detalle asombroso con el único fallo de siempre repetirse, pero en ellos podemos ver los objetos más pequeños hasta los más grandes y detallados. En cuanto a su apartado sonoro tenemos una banda sonora que tiene un gran mérito por brindarnos una experiencia de primer nivel al ser una los protagonistas principales, buenos ritmos, no es repetitiva y sobre todo se conjuga con el diseño de interiores para sumergirnos en la acción; lo he colocado adjunto por si deseas escucharlo. Al estilo fiel del genero encontraremos grandes textos y los diálogos no existen, no está en múltiples idiomas, pero eso no es impedimento para disfrutarlo.
---
---
Lo mas destacable
Mezclar géneros para implementar nuevos modos de juegos es algo que resulta atractivo
Su apartado artístico al estilo Pixel Art, el cual no es nada modesto y en todo momento se hace presente.
Su banda sonora la cual siempre se hace presente y no es agobiante.
---
Lo Peor
Es un juego que repite la formula Metroidvania hasta el cansancio, logrando hacer un juego lineal en el cual pocas veces requerimos volver a explorar zonas.
Los elementos del entorno se reciclan, pareciera que siempre estas en el mismo escenario una y otra vez.
Tiempo de duración, Alrededor de 5 horas.
---
CONCLUSIONES
A pesar de tener un nombre largo y enredado Record of Lodoss War-Deedlit in Wonder Labyrinth es un juego el cual podemos disfrutar en todo momento, si bien es cierto no llega a reinventar un género por completo o logra aportar innovaciones sobresalientes; se disfruta, es entretenido, pero es un juego que dura poco y eso es algo imperdonable. A pesar de sus falencias posee un apartado artístico que enamora, se nota que su diseño Pixel Art fue lo más trabajado, algo que siempre será notorio serán las comparaciones odiosas con Castlevania pero a pesar de ello te invito a jugarlo.
---
The game is the intellectual property of its creator