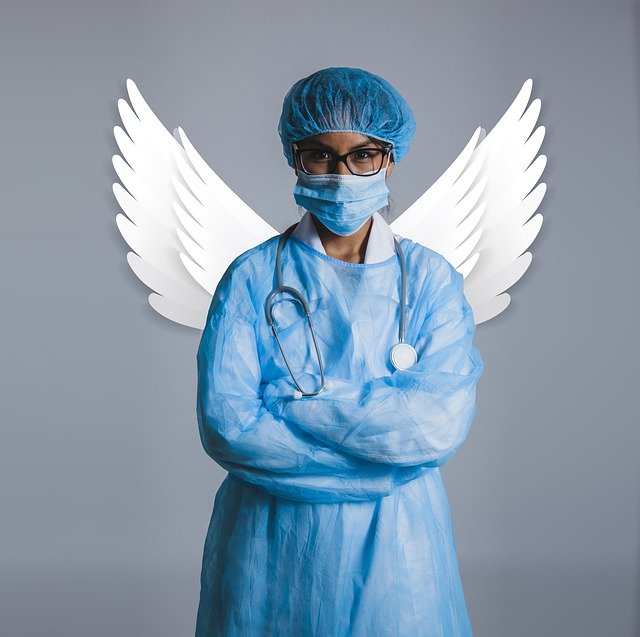 ---

---

Ni he de soñar ser ejemplo de perfección ni por un momento,
Jugando a tener bajo control mis propios sentimientos,
Siendo el bastión de un caos al que la realidad abraza,
Eje de la atención de quién la solución a su queja espera.


Descubrí miradas tristes que buscaban sonrisas en mis noticias,
Atajé la esperanza como la medicina más eficiente usada,
Recete mil posiones esperando mejorar siquiera una vida,
Jugué a ser quien sabe cómo sumar al destino más dias.


Reflejada en los ojos de mil miradas suplicantes,
Así día tras día lograr salud era lo que llenaba mi magia,
Esa magia que hizo a un niño confesar que me veía como un espejismo,
Ese espejismo donde yo soy su ángel guardián.


Nació el compromiso más extenso que mis fuerzas,
Ese donde mis horas de sueño se han vuelto innecesarias,
Mientras mi cansancio pasa a ser el factor más olvidado,
Donde cada día le exijo a la vida darme nuevas destrezas.


Hoy con orgullo me pongo es esas alas que aquel niño dibujó,
Alas que me satisfacen cuando donan fe,
Bendita sea la deidad que me otorga eso dones,
Esa deidad que hace posible sanar a mi prójimo una vez.

---
---
Porque visto desde el corazón de un niño todo parece muy angelical...
---
Esta es una poesía creada a partir de esta imagen que se me cruzó en Pixabay y qué me pareció una buena manera de honrar a los médicos que hoy -mas que antes- luchan por salvar vidas.
---


& Telegram as @DarkFemme

Nota:
Todos los separadores y firma son de mi autoría, realizados con ibispaint.
Recuerden que la fuente de la imagen está bajo la misma en el hipervínculo.
Contenido original que será publicado en varias redes con el mismo nombre de usuario.
---


JOIN US / ÚNETE
---
The Tag for us Community now is #poet-up. All divisors and the sign for this community was maked for me with Ibispaint app.
La etiqueta para nuestra comunidad es #poet-up. Todos los separadores y la firma de esta comunidad fueron realizadas por mí con Ibispaint.

Follow us on our social media
Síguenos en nuestras redes sociales
---