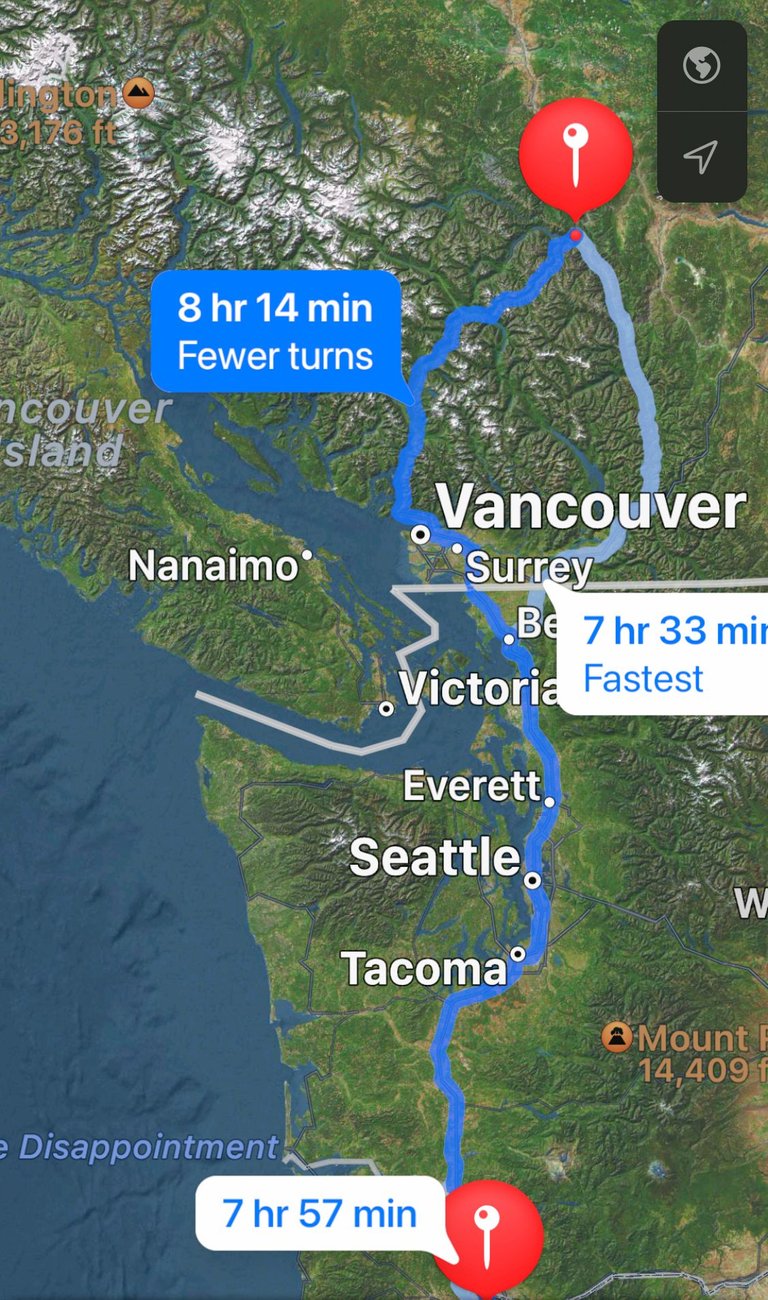 Everything is going as planned. Better, maybe. Spare tire on the roof is secure and doesn't make any noticeable noise when I drive on the highway. Car bed is comfy. Plenty of funds for the minimalist journey, two sturdy credit cards to back me up, and more than enough food to get me through the Yukon Territory.
I hit the road after work on Friday night, July 29th. Crash at a Smokey Point Rest Area just north of Seattle. It's the same rest area I crash at when I'm going to San Juan Island, but I'm not going there this time. I'm going way norther.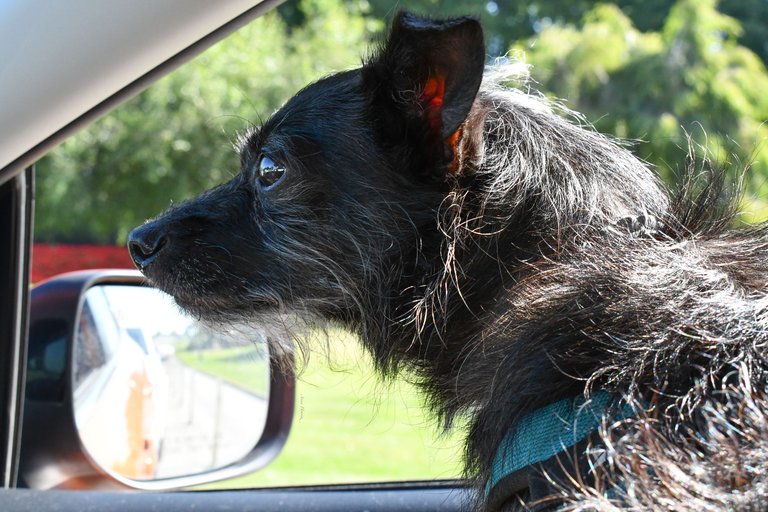 I've been asking Pilot for weeks now if he wants to go to Alaska. He doesn't know what the fuck I mean but hell yeah he wants to go. Neither one of us can believe it's finally and actually happening.
We wait in the heat for half an hour to cross the border into Canada. While we wait, some of the local crows notice the crow shit on my car and come over to see if I have any food.
I do.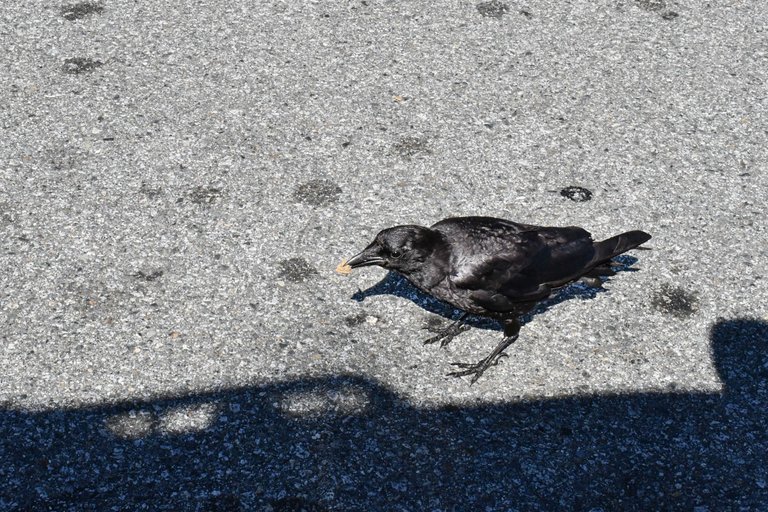 We get into Canada without getting into trouble for the mass quantities of smoked fish I have in the cooler. After securing weird plastic Canadian currency as well as quarters for campground showers, we ooze through Saturday traffic toward Highway 99, also known as the Sea to Sky Highway.
This is why it's called that: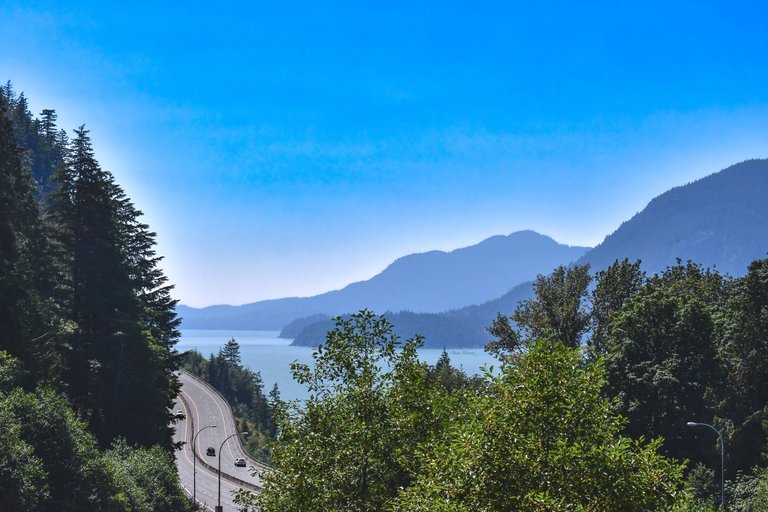 The highway winds along the east side of the Howe Sound between water and steep ass hills that somehow still manage to have been developed by humans.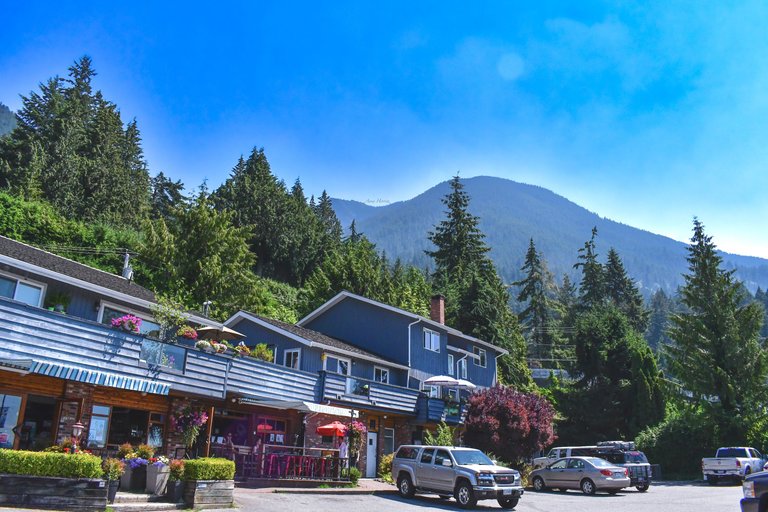 One crazy earthquake and I'm pretty sure this little café is going to go from sky to sea.
We keep on keeping on, stopping to hike the Howe Sound Trail, where we meet an old Canadian with an old Canadian accent who tells me I should let Pilot off leash because God will take care of him. A smile from me is the only acknowledgment he gets for his suggestion. As he continues on ahead of me he points out the old trail, the one that was rerouted for the Olympics in 2010. He also informs me that it takes about 3 hours to get to the lake that the trail leads to. We don't hike for three hours. Only about 25 minutes, then we turn around. On the way back I let Pilot off leash because god dammit we know the terrain now, plus it's all downhill and I'm not confident that God will take care of me while I attempt hikeslide down super steep slopes with a little dog on a leash who wants to run ahead because he has four-wheel drive and why the fuck am I so slow.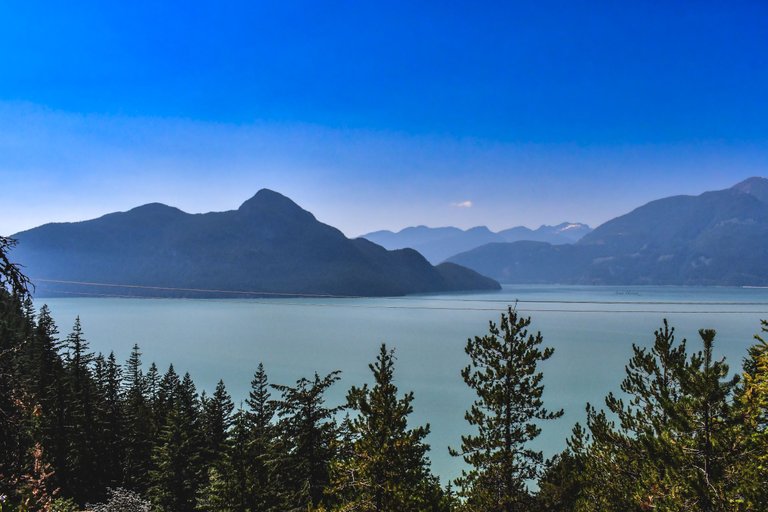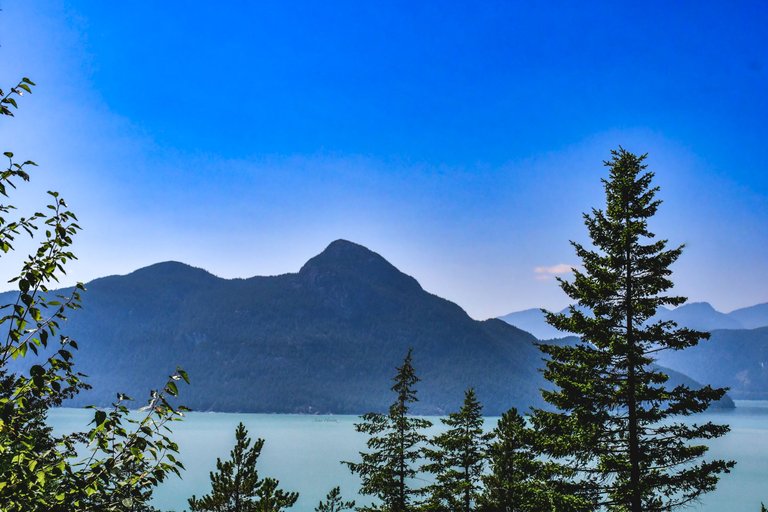 Further along the highway we encounter out the tiny town of Squamish and buy ice for the overheated cooler.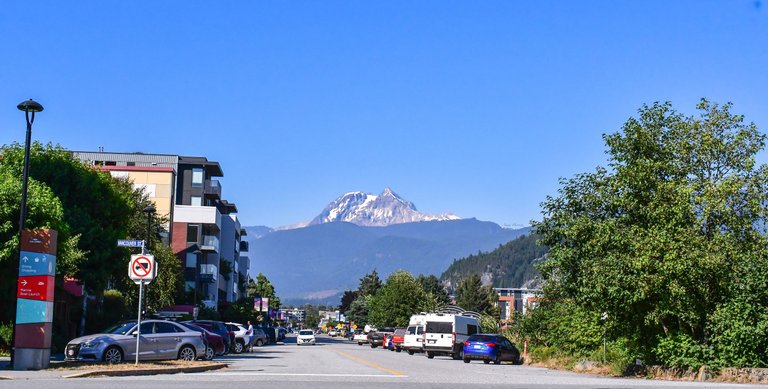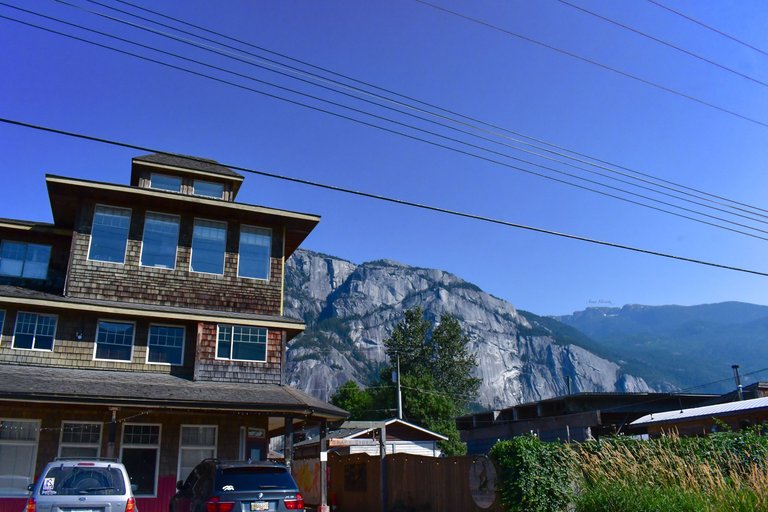 Squamish is cute. Has a block with rainbow crosswalks. Also has some "Ocean front trails." The name is enticing, so we check them out.
I dunno, man. Maybe if it wasn't the middle of the summer and a sweltering 40 Canadian degrees outside these Ocean Front Trails would be nicer, but they're just brown and dry and hot and miserable and the water is all boggy and oily and this picture only looks good because I know how to work it.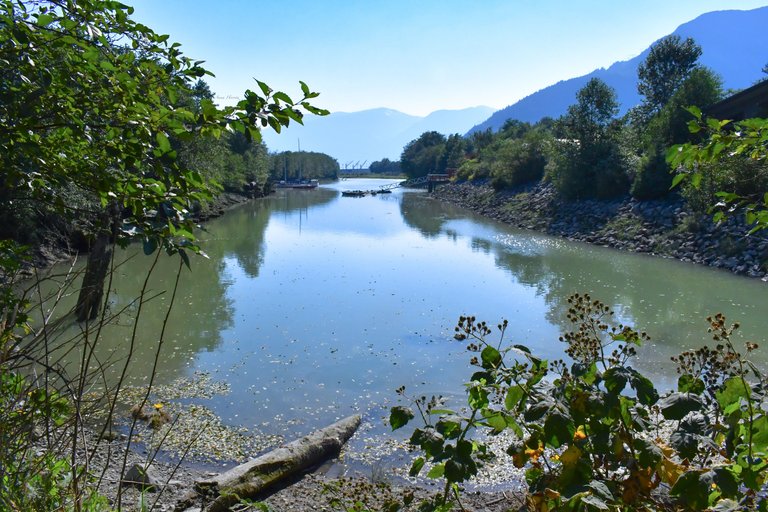 But this big rock thingy they have as a backdrop is nice.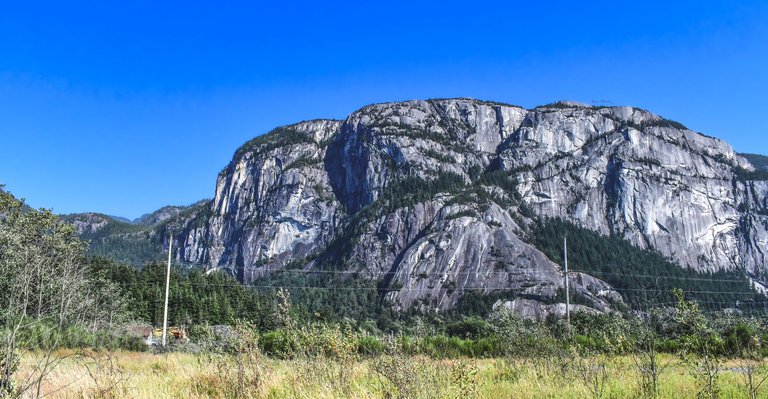 Reminds me of what little I've seen of Colorado.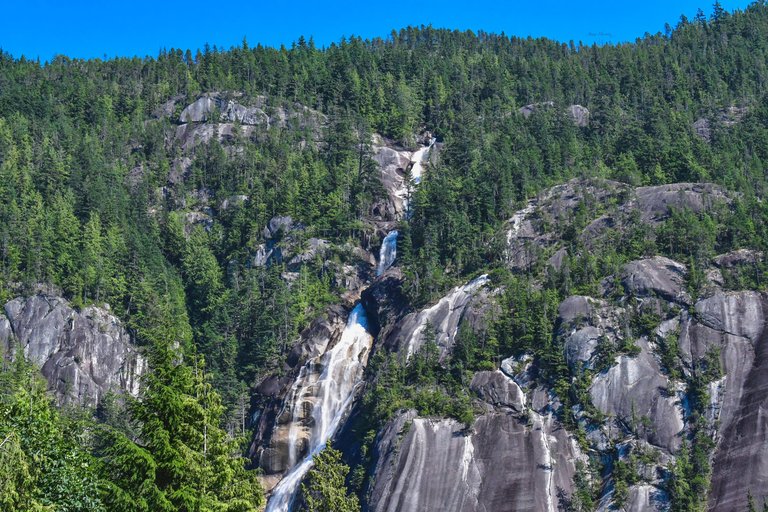 Further along the highway this beautiful ass mountain range, whatever the fuck the local humans call it, catches my eye with its glowing gorgeousness on the other side of the road. For some rude reason my side of the highway doesn't have a viewing area and there are a ton of signs saying I'm not allowed to pull into the view point or make any u-turns or anything else that might endanger my life or anyone else's, so I add an extra twenty minutes onto my journey by forging ahead, finding a turnaround, coming back, and pulling into the goddam view point area legally so I can get a picture of what's probably the place where they make that beloved feeling we call euphoria.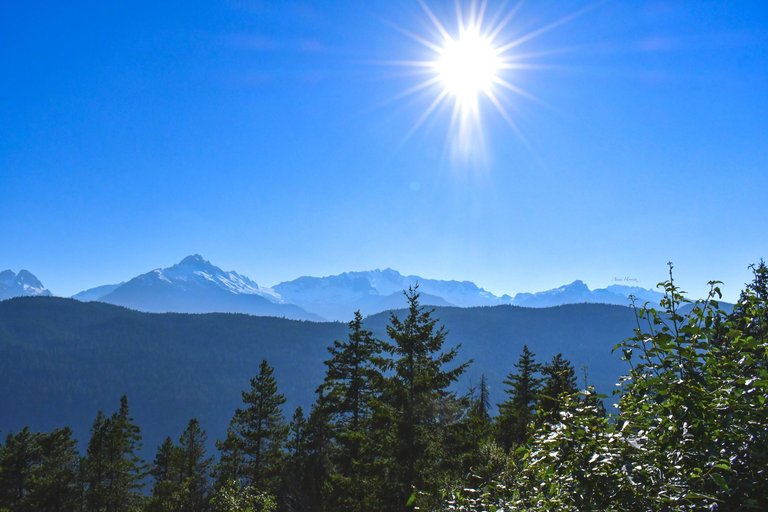 Beyond that we find Whistler Village, which I guess was built for the 2010 Olympics and Paralympics. I only stop in to get some ice because it's so bloody hot out and the ice in my "three days guaranteed" cooler is already two thirds melted. On the way out I see my first ever wild bear fussing around on the side of the highway. A black bear. It's a narrow and winding road, though, so I don't get to stop and ogle and photograph.
We drive on and on for what seems like forever into the sunset. The plan is to camp out at the free sites on the recreational land, but it's the weekend so of course every last spot is full.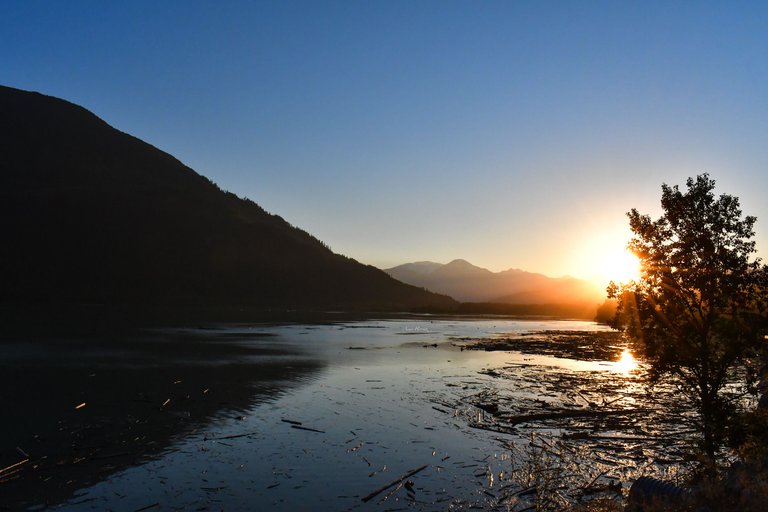 About an hour south of Lillooet, I manage to find what's probably an old logging road that has a turnaround spot. I park there and call it home for the night. Take a shit in the grass nearby. Proper camp etiquette would be to go in the bushes, but fuck that I'm not shitting in the bushes in the dark in bear country.
At least I bury it.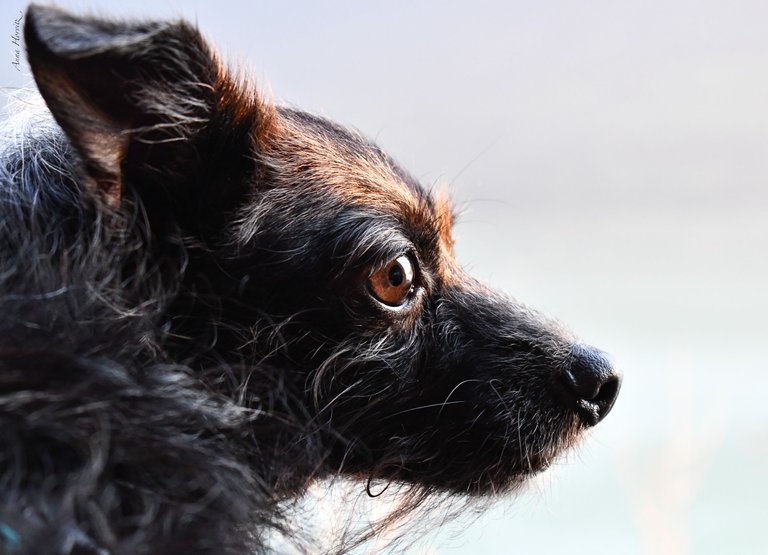 I currently have long stretches without internet. I'll get back to comments and post more when I can. Follow me along my journey!
---
CrowTube Channel
Crowstagram
NFT Crowroom
A percentage of this post's rewards goes back to support the community.
All the stuff (pictures, words, etc.) I put in this post and any of my other posts is mine (unless otherwise stated) and can't be used by anyone else unless I say it's ok.