Heeeyho Readers! Finally got my hands on an Opinel!
---
We never need a new knife, but a classic is a classic.
On a previous post I wrote about my favorite go-to pocketknife — the Victorinox "Swiss Army". The MacGyver of the pocketknives is a fundamental piece of gear in my daily life. The option of having different tools condensed into one kit weighed in on my decision over a foldable single-blade.
However, classic knives should be in every outdoor enthusiasts' collections, regardless of preferences — and we cannot go classiest as a 1890's French design. Let's talk about the Opinel pocketknife.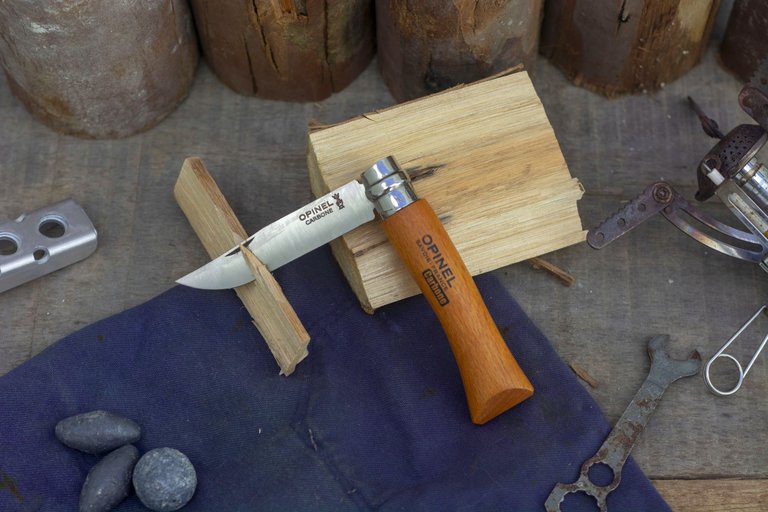 Opinel N°7
---
The history of Opinel dates back to 1890, when Joseph Opinel began making knives in Saint-Jean-de-Maurienne, Savoie, France. His design soon prooved popular with the local farmers, herdsmen, and paysans-vignerons (peasant winemakers) of the area.
I first heard of the brand from a friend, though never really bought one until @riverflows convinced me. After not finding one anywhere, last weekend I got a N°7 (will explain this number soon) for $17 bucks; pretty cheap, although there are more expensive options.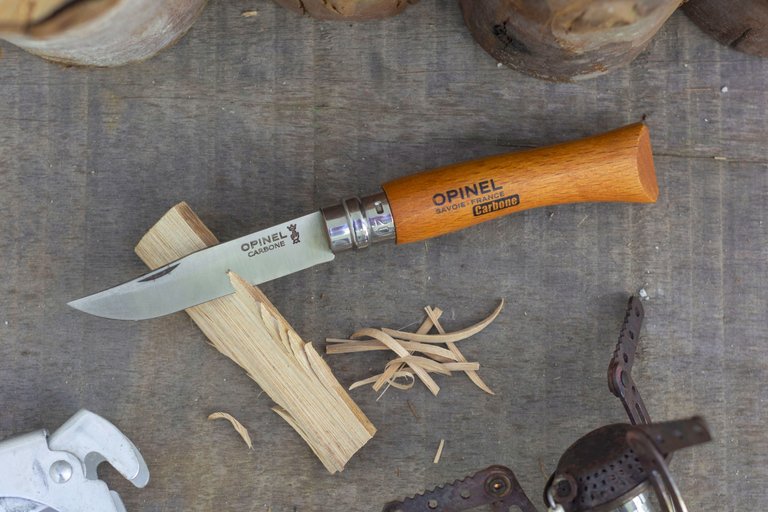 Opinel N°7
---
The N°7 refers to the blade size, which is 8cm in length in this case. Joseph Opinel designed a series of sizes, numbered 1 - 12, in 1897. The N° 1 Opinel was discontinued in 1932 because the 2cm blade was too small. Same for the N° 11, discontinued in 1935 because of its similarity to the N° 10 and 12.
Opinel currently comes in eleven sizes: 2, 3, 4, 5, 6, 7, 8, 9, 10, 12, and 13. There's also a N° 7 that sports a round point (opposed to the sharp pointy end) intended for children.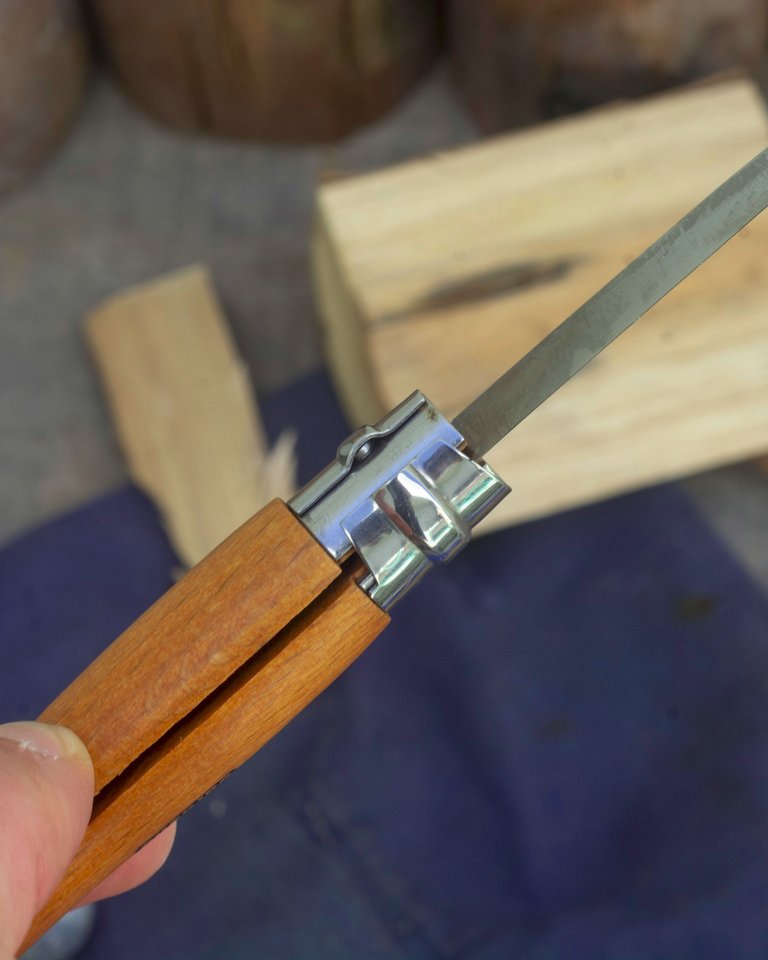 Opinel N°7 locking mechanism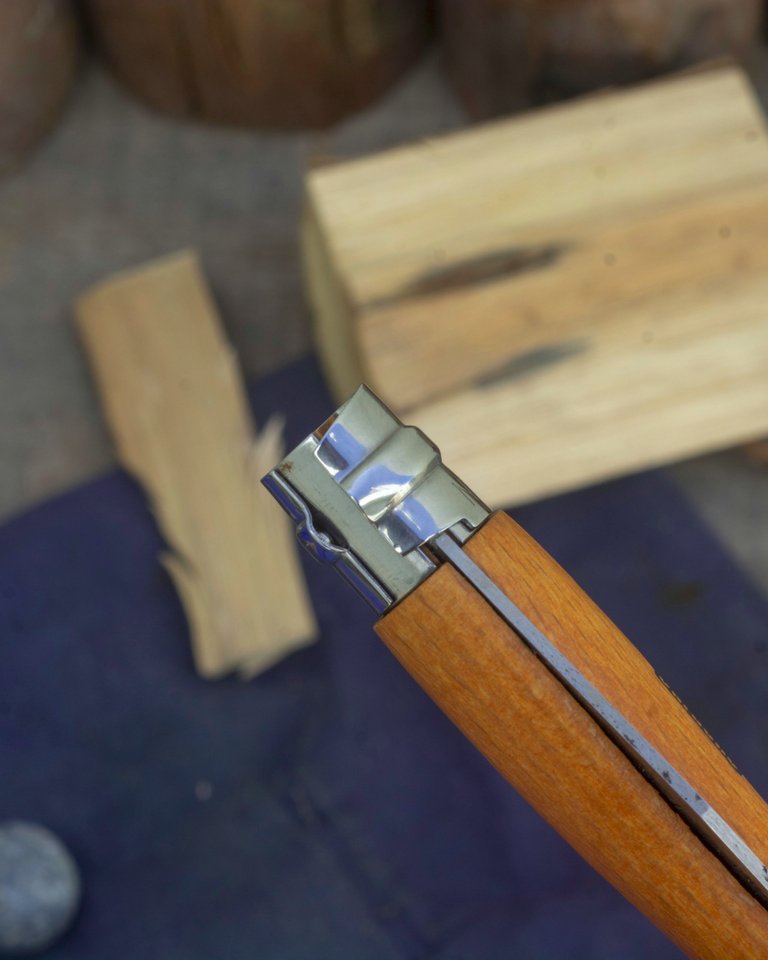 Opinel N°7 locking mechanism while closed
---
It took me a while to realize my Opinel has a locking mechanism. This simple design is called Virobloc and consists of a locking collar that fixes the blade both in the opened and closed positions — the later introduced in 2000. It works, it's simple, and it doesn't loosen. Perfect as it is.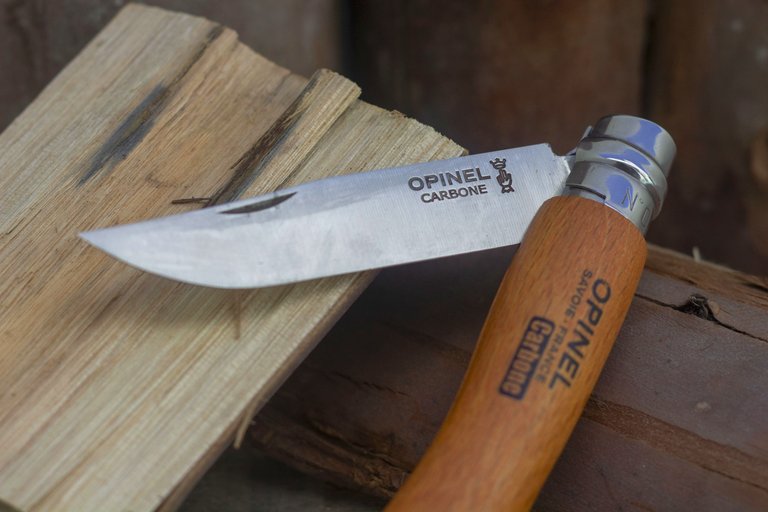 Opinel N°7 blade and handle
---
The handle is gracious in its light yellow color with dark dashes. According to the Opinel website, the handles are made of beech. I found it aesthetically pleasing and loved the vintage feel. The handle is firm and easy to hold. I'm not sure how durable the handle is, though.
Blade
Finally! The cherry on the cake is the blade. Opinel knives are made of both high carbon and stainless steel (newly addition). The XC90 carbon steel in my Opinel cuts like hell for such a bargain kit. It's also extremely hard, providing a long lasting cutting edge (still need to evaluate). The downside, however, is that carbon steel is sensitive to corrosion, so extra care needed here. My utter ignorance in blade knowledge rates the Opinel high in the rank; it cuts as much as the Victorinox.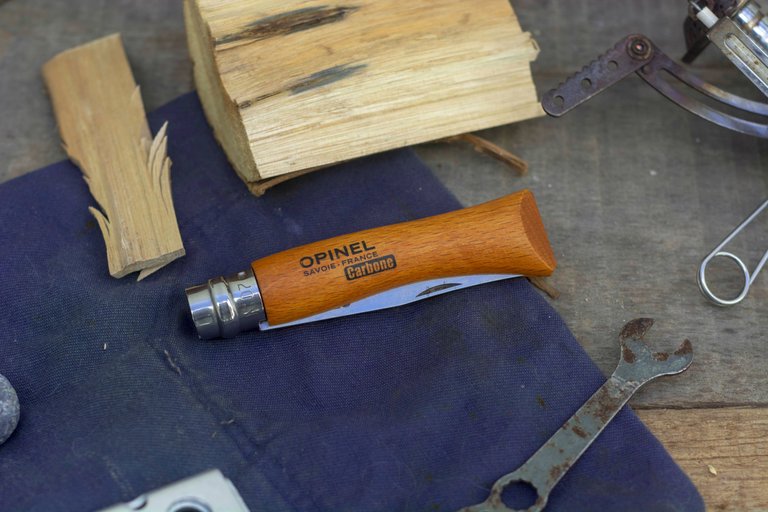 Opinel N°7 closed
---
The size and weight of the N°7 Opinel seems perfect for a pocketknife — not bulky nor too small that you can't peel a fruit. It's definitely something I'd carry on daily hikes to slice snacks. Will it replace my Victorinox? Negative. It will become a spare: Victorinox goes into the backpack, Opinel in the pocket for easy access.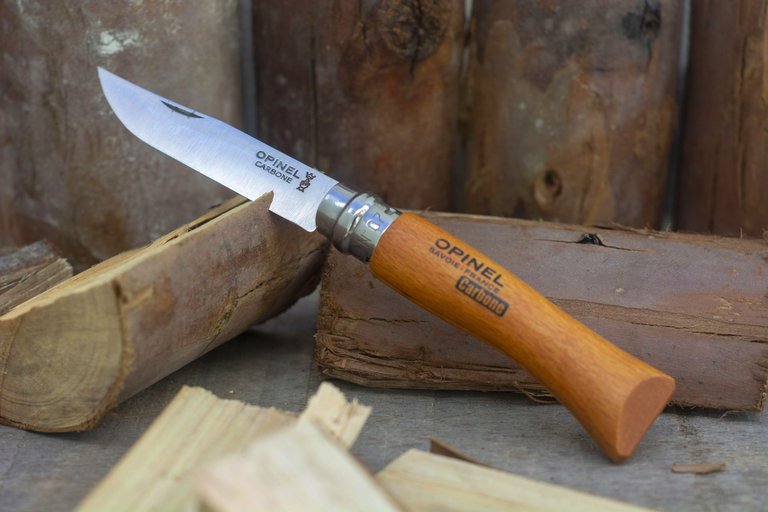 I hope you have enjoyed this post and the photos.
What's your favorite pocketknife? Let me know in the comments.
Peace.
---
Did you know that I have a book out? Check this!
Access Link: https://www.amazon.com/dp/6500272773?

---
If you enjoyed this post consider leaving your upvote for a hot coffee.
~Love ya all,

---
Disclaimer: The author of this post is a convict broke backpacker, who has travelled more than 10.000 km hitchhiking and more than 5.000 km cycling. Following him may cause severe problems of wanderlust and inquietud. You've been warned.
---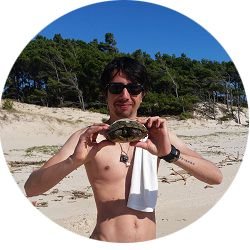 I'm Arthur. I blog about Adventure Stories, Brazil, Travel, Camping, & Life Experiences.
Follow me to stay tuned for more craziness and tips.

m