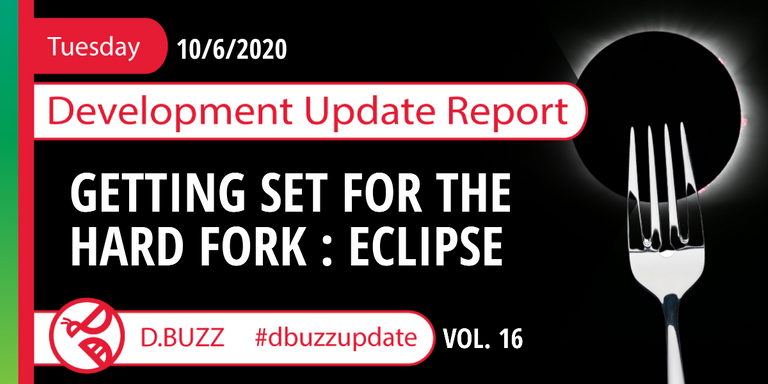 ---
D.Buzz Weekly Development Update Report
Vol.16
---
Hello D.Buzz Friends,
Eclipses, some people see them like doors or gateways that support us in entering into a higher dimension of being, a mystical event on which great change happens. If however you are dapp developer coding for the Eclipse HIVE Hard Fork, its more like a blinding experience that leaves you worrying and confused till its over.
Just kidding on that last. :D
We have a lot of respect and admiration for the many individuals working on updating HIVE block chain. Thank you guys and gals for your diligent hard work and effort.
At D.Buzz, we spent our last week really diving in and getting the platform ready for the upcoming hard fork. We are, as of today about 90% ready for the hard fork. However, given the bumpy nature moving into this hard fork we decided to push back the main update to the D.Buzz platform, till after the eclipse Hard Fork.
This was we can keep using Next.D.Buzz to test hard fork code up until lunchtime and ensure that when we update D.Buzz, it will run (*more or less) bug free.
So... while sad to say that we will not be updating D.Buzz today with the new features it will come soon!
Till then feel free to use Next.D.Buzz, or join us on our Discord channel HERE and ask us any questions you might have.
---
Next.D.Buzz
Version-Release: 3.2.1-dev
---
*NOTE : These features and updates are published to Next.D.Buzz testing server. Updates to the main site "D.Buzz" will start after the Eclipse Hard Fork.
Both sites work.
D.Buzz : Stable fully functional site.
Next.D.Buzz : Public testing server for new features and updates that will be pushed to the stable site when ready.
---
Fixes
---
Fixed errors with usernames logging in with capital letters
Fixed sign up button
Fixed feed height recalculation when link preview is hidden
Fixed user dialog anchoring to top left corner when clicking profile link
Hide payout period for newly append comments on mobile view
Fixed feed height recalculation when twitter embeds are loading
Fixed layout for post actions on mobile view
---
Progress Report
---
Most of the week was spent on updating and preparing for HF24, we are currently 90% done for getting our Dapp ready for eclipse.
Preparing the Dapp for Social media sharing (* This might be a secret cool thing you should take note of)
---
Update Notes Complete
---
What do you think of these updates?
Are you happy with the overall growth and direction we are taking with D.Buzz?
Let us know in the comments below
As always...
The team at D.Buzz, is highly dedicated to the growth and development of the HIVE blockchain and our platform. We welcome any feedback from the community to help further growth of D.Buzz, or how we can further the growth of HIVE.
Over and out.
---
---
Is a censorship-resistant short form microblogging platform that empowers you to share your thoughts in 280 characters or less.
Censorship resistant and built for the community with love.
---
We strive to have a fun and neutral stance on topics. If you have any concerns with the content, please contact @jacuzzi, who writes and generates the content for our articles, or the @dbuzz team for clarification.
---


---