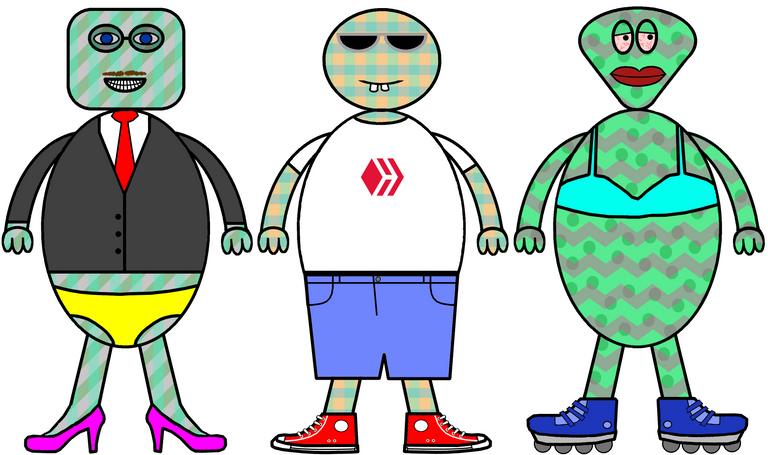 I have been wanting to build a blockchain-based game for years and more recently have been studying the documentation on Hive-Engine about how tokens and NFTs work on it. I've decided to start by building a project that is simpler than my game ideas and that is how I came up with... HIVE ALIENS!
Hive Aliens will be a Hive-Engine based NFT collection. Hive users will be able to pay a small fee (maybe a couple HIVE) and then a centralized backend will randomly generate your alien, mint it to the Hive-Engine chain, and transfer it to your account.
I learn best by doing things so this project will be a learning experience for me. I'm not much of an artist at all, but have been creating various different sets of eyes, mouths, shoes, clothes, skin colors and patterns, etc. You can see a few of the possible outcomes in the image above. Questions like "Why are the aliens wearing clothes?" and "Why do they look like that?" will be answered at a future date. 😉
That's the first step before I begin figuring out how to program the rest in javascript. These are the steps on my to-do list:
Create interchangeable artwork layers with millions of possible combinations
Program a script to randomly pick options for each layer and combine them into one image
Program a script to watch for HIVE transfers to the account for the NFT collection
Program a script to run the randomization script, mint the NFT on H-E, and transfer it
Build a front-end website for buying a Hive Alien, viewing the ones you own, etc.
I'll be making more posts and possibly 3speak videos with updates along the way. Unfortunately I have a tendency of not finishing large projects like this so any positive feedback in the form of votes or comments will go a long way in giving me the motivation to continue working on it and will be appreciated!
I hope this will become something fun for the Hive community to play around with when I finish it. I might open-source the code to help others learn from and HIVE generated from it will help me pay for costs with future projects. Subscribe to me if you'd like to stay informed!