When we announced our proposals a few weeks ago we introduced some of the projects that we believe will benefit the whole Hive ecosystem. This post is the first in a series of updates that we plan to publish regularly to keep you up to date on our work.
But before diving into the details our team would like to thank the whole community for the support we received on the proposal and all the feedback and suggestions 🙏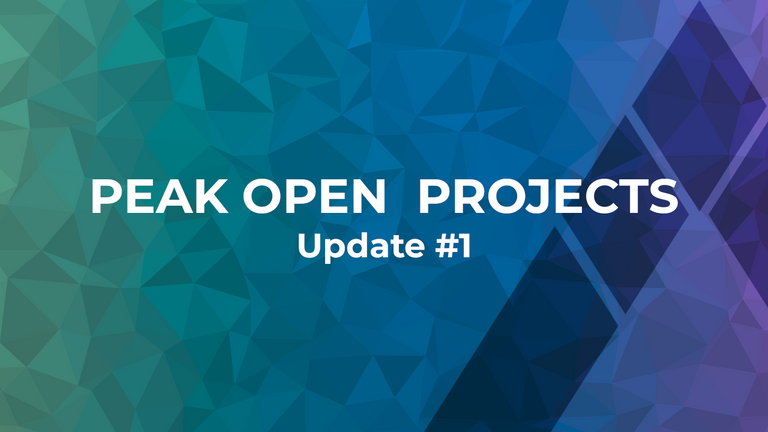 All projects (as soon as we consider them good enough for a first release) will be made available on our GitLab: https://gitlab.com/peakd
You can already see a couple of projects we mentioned in our proposal, the others will be available soon.
HiveHub.DEV
Developer: @asgarth
Some of the projects we are working on will be more useful for the users if they can be accessed from a single app/website. For this reason we created a modular platform that allow us to host multiple products into the same codebase. This new platform is HiveHub.dev
We would like to stress that this open source code is not meant to exist only in one location... we hope to see other developers or projects integrate the code in various ways and contribute to it.

Recent activities:
- Initial project setup [COMPLETED]
- Upgrade project structure to support multiple modules [COMPLETED]
- Integrate framework for state management [WIP]
- Allow more configuration options [UPCOMING]

Next Gen. Block Explorer
Developers: @yozen, @asgarth. Feedback and UX: @jarvie
Most of our efforts are currently on the Block Explorer. The idea is to offer the same set of features already available in other similar explorers while at the same time add support for 2nd layer app/projects. Some screenshots of what you can expect to see in this new website:
Recent activities:
- Witness page [COMPLETED]
- Proposal page [COMPLETED]
- Block details [WIP]
- Transactions details [WIP]
- Account details and activities [WIP]

Hive Internal Market
Developers: @igormuba, @asgarth. Feedback and UX: @jarvie
Work on the internal market interface was not originally planned as part of our initial developments, but after an internal brainstorm session we decided to prioritize this project which we expect should not be a lengthy one. The idea is to create something slightly different from the existing market pages for the Hive internal market. Meaning very intuitive and yet several tools to give the market interface much more usability.
Expect some screenshots in the next update post :)
Recent activities:
- Hive Keychain integration [WIP]
- User authentication [WIP]
- Market page layout [WIP]

Sting Message Protocol
Developers: @igormuba. Research and suggestions: @asgarth
The team is currently researching the best technological stack to implement the core messaging protocol. We want to identify the best possible protocol before starting to work on the main implementation.
At the same time we are starting to define the format of the messages and how each message will be verified and validated by any backend, frontend, or peers that comply with the protocol and want to use on a different implementation than ours. Further update on this in the coming weeks.
We have talked to and hope to talk to any of the other developers working on ideas for a message/chat system on Hive ... The goal is for Hive to have the best system possible... If that's by our team that's great if another team truly has a decentralized and encrypted system that Hive users want and love that's wonderful, we could assist or move to one of our many other projects and/or integrate with Sting.
---

How to support the @peakd project
WORK WITH US
If you're a project looking to integrate one of these tools message us.
If you're a developer looking for a part time open source project message us.
WITNESS VOTE
We have been voted as a top block producer on hive (aka "witness"). You can add your vote for us on the main witness page our "witness" account is @steempeak
VOTE HERE: https://peakd.com/witnesses
OPEN PROJECTS PROPOSAL
You can support our proposal to develop open source tools for the whole Hive community using one of the following links:
BENEFICIARY
You can donate 5% of your Hive Reward Pool earnings to @peakd to help use improve the interface: Turn on in settings
SHARE IDEAS AND FEEDBACK
We invite you to share and brainstorm some ideas with us:
---
The PeakD Team
About us: https://peakd.com/about
Discord - Blog - Twitter - LinkedIn