During the last weeks (months) there have been a couple of issues with my public api node due to full and broken hard drives, which gave me the opportunity to completely rebuild my setup.
It now consists of 5 servers in total, with hived and hivemind nodes in both Europe and North America, and a proxy to route you to the location closest to you based on your IP address. The other location is used as a backup in case yours is down.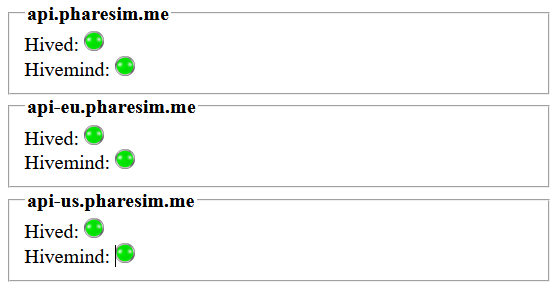 Source: https://pharesim.me/node_check
The main access point is still https://api.pharesim.me, and for most users this is the only one of concern.
For specific apps it might be interesting to have direct access to either hived or hivemind, which are available at https://acchist.pharesim.me and https://hivemind.pharesim.me
If you want to skip the georouting, you can also directly access the individual services using location-specific subdomains: https://api-eu.pharesim.me, https://api-us.pharesim.me, https://acchist-eu.pharesim.me, https://acchist-us.pharesim.me, https://hivemind-eu.pharesim.me, https://hivemind-us.pharesim.me
Please notify me if you find any issues or bugs, and sorry for the downtime to anyone who experienced problems because of it.