Goodday! I've been silent for a while, but nonetheless working on some hive related matters, as 🎵🎶 Hive is always on my mind... Hive is always on my mind 🎶🎵. Obviously we all had some motherforking distractions from the kindergarten playground, let's see how that all plays out.
I've been a witness for some time now for the Hive blockchain and been running a couple of nodes: a main production and a backup, as well as a seed node to strengthen the P2P network. And then supportive nodes for failover switching and price-feeding. So far my nodes all ran in physical separated locations in Germany, France, Finland and the Netherlands as well as across 3 different providers.
But what was lacking for a long time and I was already also wanting to have for a long time: my own API node cluster. After long inquiries, research, uncertainties and many many many consults with mainly @gtg, re-reading his HivePressure posts time after time and some backchatters with @pharesim (who just came back online with his cluster last month) and some with @someguy123 I finally took the step to go for it.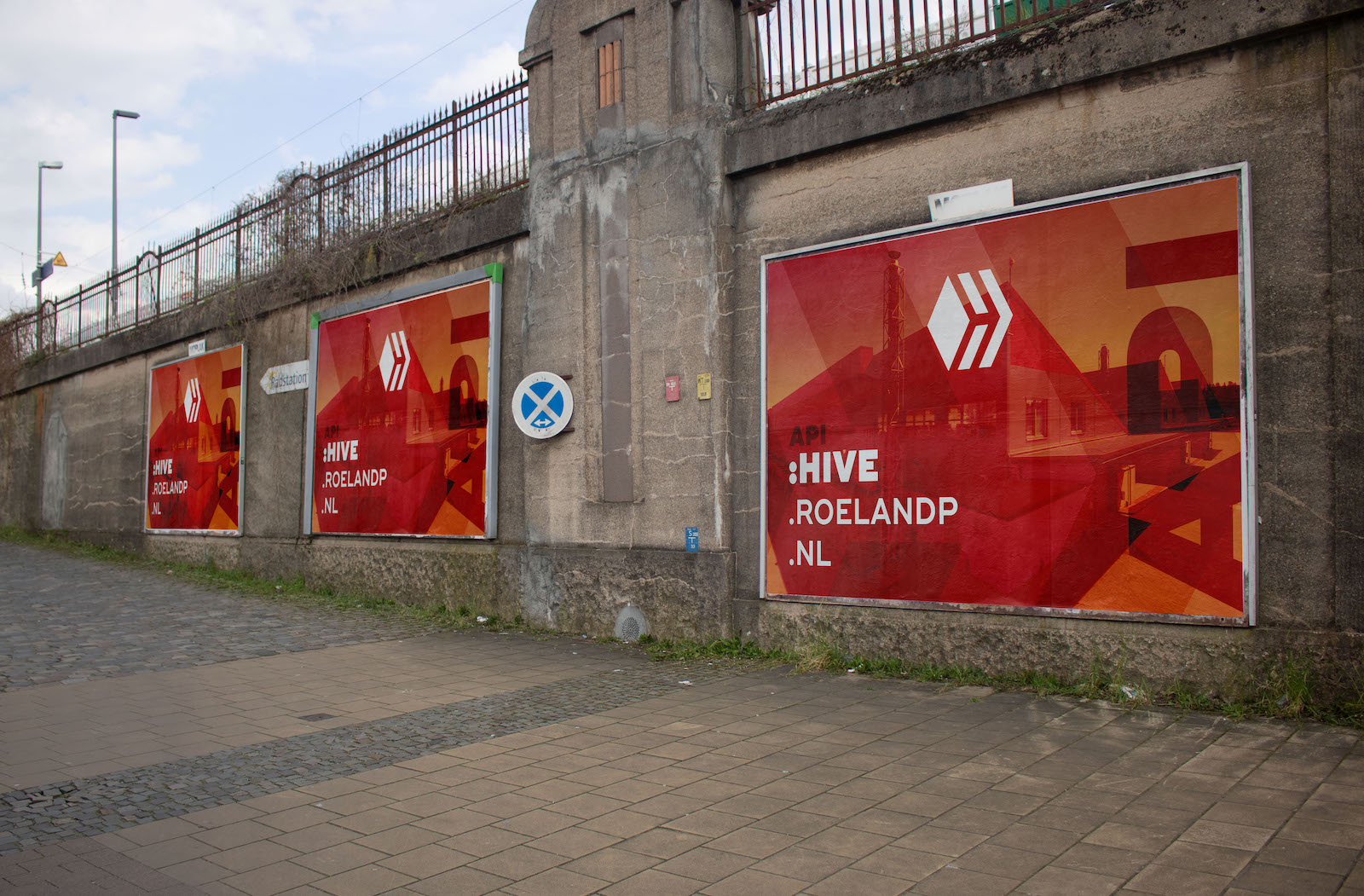 Looking for machines
Next phase was deciding about which machines for the task. I researched going the self-hosted way for a bit and looked into a physically nearby data-centre option as well as a bit further out and got promising offers for "lease-to-buy" machines. But then in the end I could negotiate a decent colocation price. As power tends to be somewhat more expensive here in NL this might have been the case. In the end it was financially more attractive to opt for a rented cluster of 3 dedicated machines, why? Lease to buy machines including hosting/traffic would in my research' cases only break-even after 5 or so years. And then I would have outdated machines, worn out most probably.
For the same money I could opt to upgrade machines whenever I want, plus I am also guaranteed with the rental bare metals that I get replacement hardware in case something breaks, which I would obviously not get when doing my own.
Ultimately I would love to have my own servers running on my own 1 GB fiber optics line, but hey what's left of the future if there ain't something to dream about...
HEL1 DC4 - Finland
So I went with our friends @ Hetzner. My Hive API cluster is located in Finland and hosted on Hetzner's finnish datacentre in Tuusula near Helsinki. Finland sounds far away from mainland Europe however it was actually Hetzner who co-invested in the 2016 delivered Cinia C-Lion1 Submarine Cable connecting the North of Germany directly with Helsinki over a 1173 km long fiber cable along the Baltic seabed. This resulted in a cable with a max-capacity of 144TB/s which is, I guess, is pretty decent.
Renewable Energy
Energy to Hetzner DC Helsinki (Tuusula) is provided by Vantaan Energia, whom issued a certificate of 100% Renewable energy use for Hetzner (just like its German DC's by the way) with a mix of hydro and wind power. Finland has more than 330 hydro power plants, with total production of 3100 megawatts, according to wikipedia.
3 x Dedicated machine = 1 HIVE API-endpoint
Following @pharesim's setup notes and multiple chats with @gtg I have compiled 3 servers, named HiveApi1, HiveApi2 and HiveApi3.
HiveApi 1 
Hivemind Node
2 x 500 GB NVME SSD in RAID 0
64 GB RAM
XFS filesys
- Hivemind
host: hivemind.hive.roelandp.nl

HiveApi 2
Fat Node
2 x 500 GB NVME SSD in RAID 0
64 GB RAM
XFS filesys
- hiveD in "Fat node"-config (MIRA)
host: fat.hive.roelandp.nl

HiveApi 3
Account History Node
3 x 500 GB NVME SSD in RAID 0
128 GB RAM
XFS filesys
- hiveD in "Account history"-config (Non-Mira)
- Jussi
host: accounthistory.hivemind.roelandp.nl
API-endpoint: hive.roelandp.nl
Ping times vary obviously based on origin of requests. Amsterdam ping is around 25ms, London 35ms. East coast USA 100ms, West coast 160ms, China 260ms, India 180ms, Sydney 300ms, Tokyo 300ms.
Here is a nice graph: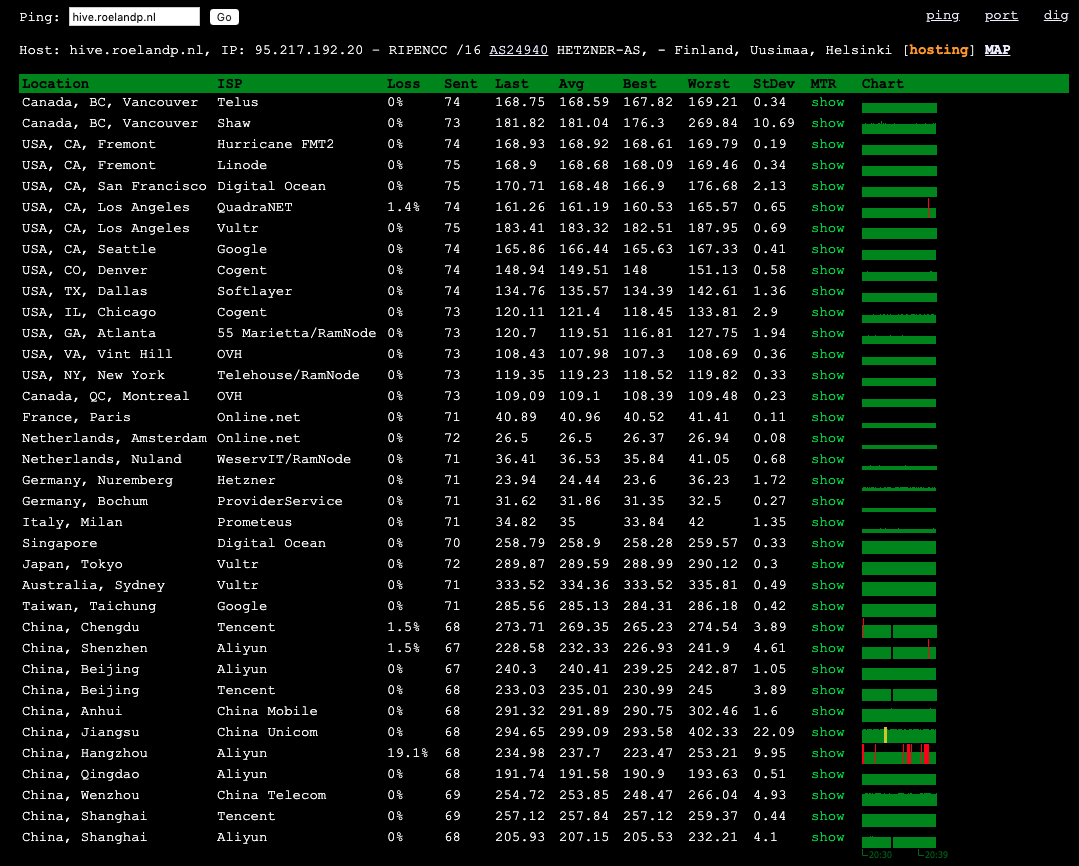 I'm happy to have finally added my api-node cluster to strengthen decentralism of the Hive api-node portfolio.
hive.roelandp.nl is open for business, and added to the developer docs and @fullnodeupdate list. A huge thanks to @gtg, @pharesim, @someguy123, @drakos for input, chats and shared configs!
See you on the chain, maybe even routed through my apinode :P