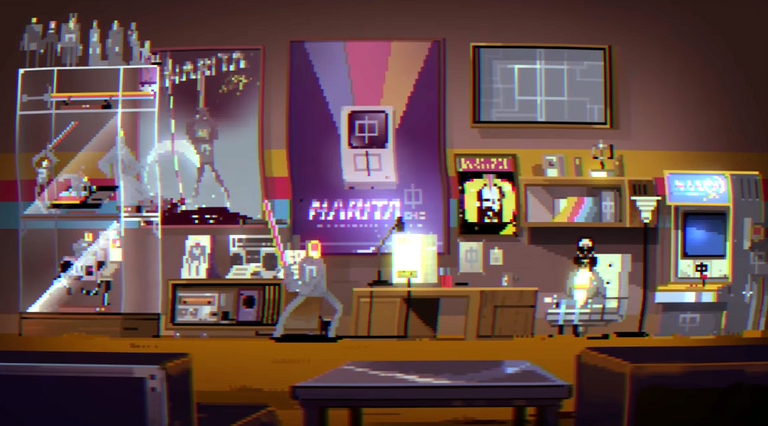 A love letter to arcades and 80s vibes: Narita Boy
It's been a while since I've played a new title (mostly because Biomutant has had me hooked for a few weeks) but I wanted to surf again in the sea of Indies to find an experience that was short and memorable, and that's exactly what Narita Boy offers, an incredible aesthetic that along with its atmosphere and other elements catch you from the first minutes, even if you are not a fan of this genre (I am not in particular) if you like the retro and neon aesthetics of the 80s Narita Boy will be like a nice walk through a futuristic retro city.
The Spanish title is retro nostalgia and freneticism in a Hack n Slash that dazzles not only with its proposal of action and adventure but also enjoys very good points in favor apart from its masterful design, but its beginnings were hard as few titles, depending solely on Crowfunding back in 2017 the Barcelona studio Koba who designed this adventure with a series of intervals, the funds were not enough to finish it in one sitting so they made several annual campaigns to be able to improve the game step by step, something that finally, 4 and a half years later can be seen on the screen.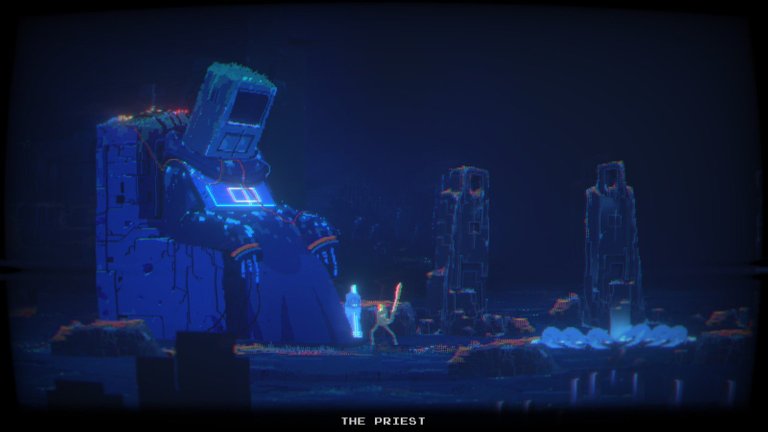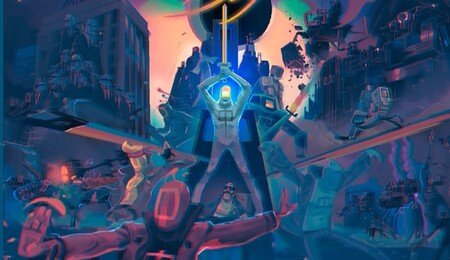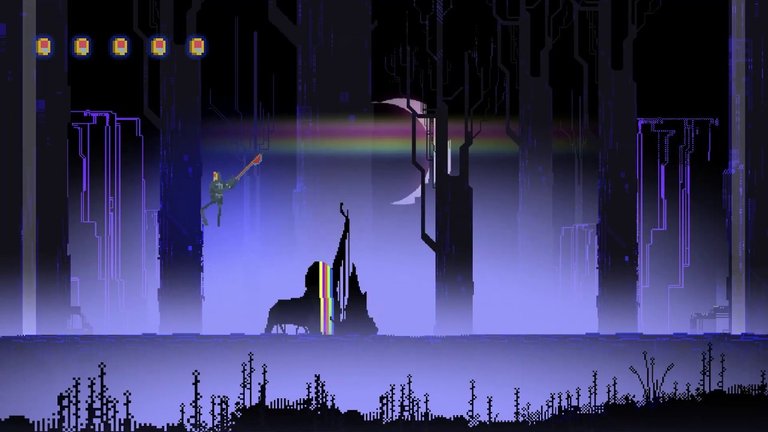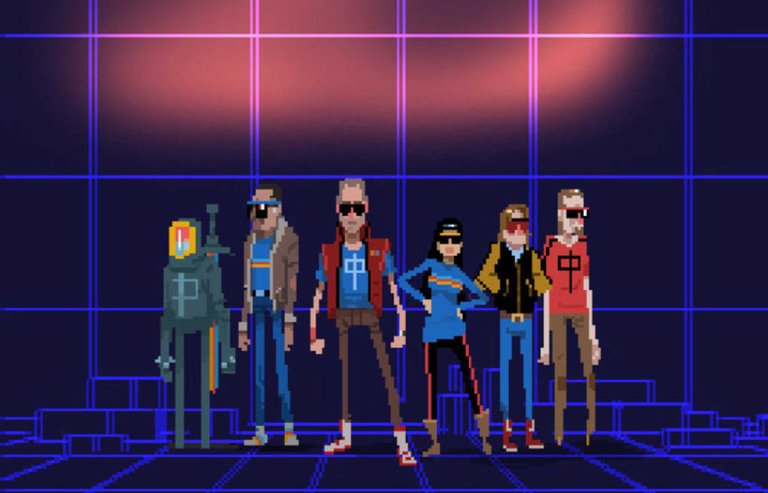 Its essence starts from the plot, we are trapped in a video game console of the time, without memories but knowing that we are the only ones able to wield a sword and go all over the citadel in search of stopping the army of Stalions and help restore tranquility to the digital realm, the proposal becomes too cliché for my taste with this concept but then makes up for it with some interesting twists that put several modern messages in sight that will make us think much more about the role of digital immersion in our present day.
Its visual section is perhaps the most powerful that the game has, from the beginning of the story we clearly separate the color palettes between reality and digital life Narita Boy, first having a powerful pixel that reminds titles like Castlevania or Megaman (even shares a similar gameplay with Castlevania) and that transports us all the way to the eighties illusion of entering a video game, with what a software of this type has because we will see lines of code, bugs and in general strange loops in the game that often will put us face to face with the enemy, much of the aesthetics is also enhanced by the constant cultural references to the time. Each pixel is a journey and is made with an innate personality in which every corner of the game seems to have a story to tell us or some clever reference in which to hang. Entering a little into the game I realize that if it wasn't called Narita Boy it could easily be an installment of Tron thanks to its neon lights and use of colors.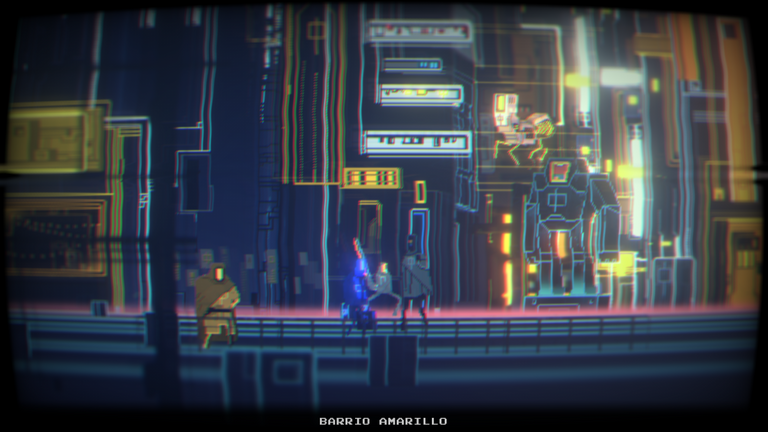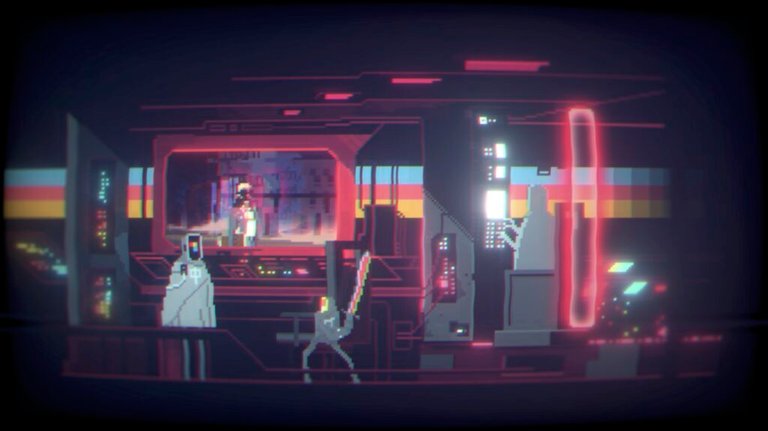 Its gameplay on the other hand is far from the eighties feeling of arcades and consoles, we are not facing some clumsy controls but we move nimbly in the middle of a Metroidvania of high quality, passing through different rooms in search of objects and even having the possibility of,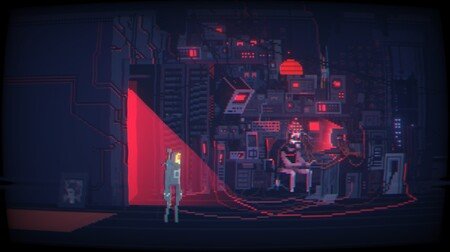 once solved a puzzle we can retrace our steps and find a surprise in the back rooms, we do not have a map so we must remember very well each puzzle, enemy or requirement in each room, which can be a drawback at first glance but entered the game I have not missed it.
We will have both our sword to kill enemies as well as a mechanics of jumping, sliding and climbing typical of platform games, also the game introduces from start to finish a whole catalog of techniques that we will unlock as we advance in the plot and some are crucial to defeat certain final bosses more loosely, progression in this game are based on these techniques that we learn, the basics just start the game is to jump and attack but we will find ourselves in situations where climbing walls or have some defense improvement will come in handy as we progress in the adventure.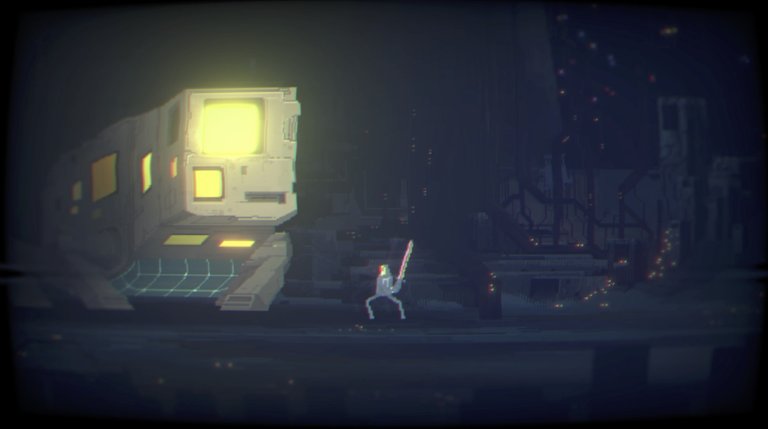 The exploration however became tedious at some points, I have been in situations where the pixels deceive me and hide certain objects that I need to advance in the campaign, much of the exploration is based on returning to certain rooms again and again so it can become repetitive on many occasions to fight against the same enemies that have reappeared repeatedly. Its puzzles on the other hand are quite simple, barely pose a challenge once we know the system and how each of these work, I expected a little more difficulty in this section but I forgive it for how they provide satisfaction every time we finish one.
The soundtrack is the second thing I love most about this game, perhaps even rivals its aesthetics as each song every sound is very well achieved to give that aesthetic of retro futurism to which the game aspires, to highlight its central theme that I have not yet tired, every time I go back to their levels the music is a delight. Excellent work here emulating the eighties vibes and providing more personality to a game that from the beginning has a character formed and ready to surprise.
Although I think Narita Boy has enough features to be a jewel in the Indie scene from the beginning, I think the game achieves a greater feat in its particular scene: The Spanish video game industry each year rises with more interesting titles and perhaps this will give a definite boost to the studios that develop games in the country, Narita Boy in particular since its inception has another studio making a port to consoles and Microsoft has decided to bet on this title to star catalog in its free games pass. We are just seeing the explosion of a Spanish industry that already for several years has the greatest prominence in the Hispanic field, who knows maybe productions with the personality of Narita Boy is exactly what drives even more to their creative in the country.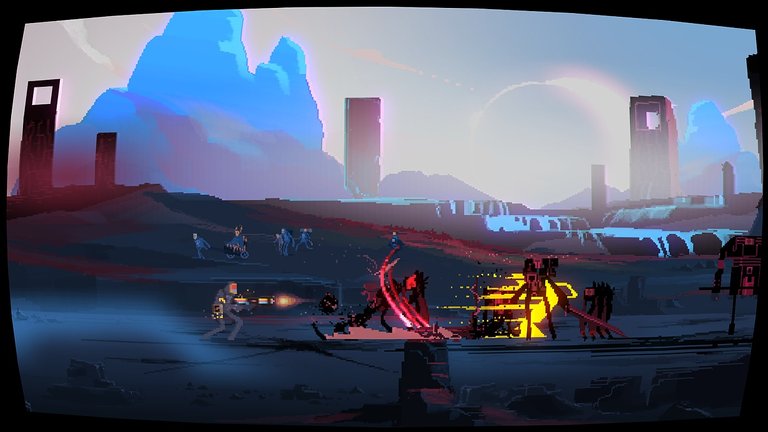 Despite being a short game if we are based on all that took its development (I have been able to overcome it in about 5 hours) I think every step we take is simply a wonder, those who are very into all the aesthetics of the 80s or movies of the time as Back To The Future will have in this game a love letter ready to charm them, much of its action is easily digestible if you are new to video games and the difficulty although it is scalable I think it remains stable to give an affordable experience to all, a gigantic game of Koba studio without a doubt. Recommended.