English
Azuru Strike Gunvolt 2 is a 2D side-scrolling game developed and published by Inti Creates for the nintendo 3ds Released in August 2016. Then on August 31, 2017 a version was launched for Nintendo Switch. Also a version for ps4 and for pc came out in 2020.
History
The story in this second part of Azure Strike Gunvolt is divided into two parts one that we will play it with Gunvolt and another with Copen seeing the points of view of each character in the course of history making it even more interesting since Copen hatesall the adepts but maintains the same objective as Gunvolt, but at the same time different, to so much so that to do so they are willing to kill each other.
Very well the story begins when he starts a talk in a secret conference room and is interrupted by an Adept who announces that once again the diva project is underway.
Gunvolt is in turn inflated into a large vessel called the Seraph but is discovered and is surrounded by some Sumeragi guards but it does not take long to defeat them proceeds to begin the mission.
As we continue to move forward Gunvolt will observe a mech of sumeragi coming out of the seraph Gunvolt tries to decide if he should pursue it.
But at that moment Xiao interrupts him and tells him that the Seraph is going to explode in Sumeragi is then that Joule decides to help Gunvolt and try to stop the Seraph with the seventh, Azure Striker this skill allows Gunvolt to hack into the control room.
But at that moment Xiao interrupts him and tells him that the Seraph is going to explode in Sumeragi is then that Joule decides to help gunvolt and try to stop the Seraph with the seventh, Azure Striker this skill allows Gunvolt to hack into the control room.
When we get to the control room a Mech appears out of nowhere that we will have to face but it doesn't turn out to be much of a problem for Gunvolt.
Gunvolt when arriving at the controls of the ship tries to overwrite the data so that the seraph does not fall on the sumeragi being this a failed attempt since the data is protected by the power of a seventh that possesses better hacking skills than Gunvolt.
At the same time Copen comes into action is then that he asks nory how to take over the Seraph since Copen thinks Mytyl is there who was kidnapped.
He tells Copen to go to the highest building and then the action begins with Copen and Lola who is his support partner.
As we go along we meet an Adept who asks him if he was the one who kidnapped Mytyl and answers to Copen that if they were the cause of the kidnapping.
It is then that the Adept reveals his true form being Zonda the adept who gunvolt He was defeated in the past but this was only a fragment of him but he still decides to escape.
Copen decides to go on his way to the Seraph and on his way he meets the mech that took off when Gunvolt was inside the Seraph, it is then that they Copen begins a battle with the mech where we will be victorious.
At the last moment Nory informs Copen that the Seraph is declining and is about to fall into the building where Mytyl is located.
After a series of events where Copen meets Gunvolt who takes Mytyl with him is at the time that makes his appearance Eden an organization which reveals its plans that manages to trap and separate Joule into 8 fragments.
It is then that Copen manages to steal a fragment and run away with Mytyl, And in turn Gunvolt tries to fight to recover the fragments but the Adept with whom he fights manages To escape is then that the mission of both is to recover the 7 fragments from the hands of Eden.
Character
We will have different characters in what we interact along our journey being Gunvolt and Copen the main characters along with their respective companions who in this case Gunvolt Joule's muse and Copen's AI Lola.
The Gunvolt team consists of:
Xiao Wu: Xiao will provide operational support to Gunvolt and we will also will help in the development of weapons previously belonging to another group but being taken by Eden and managing to escape so that he could join Gunvolt and hide a Hate towards Eden.
Quinn Sakurazaki: Quinn was previously saved from the clutches of an Adept by Gunvolt has since been sheltered in Gunvolt's house her personality is A little clumsy but he is the one who offers the most moral support to Gunvolt thanks to his kindness and goodness.
While the Copen team only consists of:
Nori: Who is the maid of Copen and Mytyl besides being a pretty
interesting helping Copen at all times and who acts as a mother in her At the same time, Nori will be able to make chips for us that will increase Copen's advantage.
Lola : It is an AI who was built by Copen and who provides support, plus that by taking one of Joule's fragments he was able to gain the ability to provide Copen with ex-weapons.
Gameplay
We will have two different styles of play as Copen has a completely different style of play than Gunvolt let's talk about that.
Gunvolt has practically the same gameplay as in its previous game, it will have a weapon that serves to fix the enemies and using electric fields to attack them Besides, by defeating the different bosses we will get improvements for the gun to make different combos with the electric field.
Unlike Copen, Gunvolt will be able to acquire various special skills while level up as luxcalibur, you can also equip up to 4 skills different specials that can be supportive or offensive.
Copen has a simple gameplay and much stronger than that of Gunvolt, its ability The main thing is to jump into the air and propel yourself towards the enemies and shoot them with multiple bullets and if you mark and use ex skills these are guided equally towards the target.
We will also tell you that every time you defeat a boss you will be able to acquire new skills ex due to the fragments of Joule that they leave behind, we will also with a definite skill that causes great damage in the whole area.
We will also have a challenge menu that will make the game last longer because by complete all the challenges in both stories we will unlock different events and plus we'll get the real end of the game.
Another point to highlight would be the 3 types of mode or prestige with which you can do the missions that are :
Cowardly : In this mode no matter what damage we receive the point multiplier will not be reduced but instead we will not receive as many points.

Prudent : In this mode we will have up to 3 attempts not to receive damage because when we receive the 3 damages the point multiplier will return to 0.

Brave : This mode is the most difficult of the 3 as it only takes one hit to reduce our point multiplier to 0 but instead we get twice as many points.
I am telling you this because the next point I will tell you about has to do with points and it is that when arriving at the amount of 1000 we will be able to invoke the "Idols" that are the assistants of our characters that will not only change the background music of the game but also increase its strength.
We will be able to change the songs with the chips that make Xiao and Nory one of my favorites is sakura efflorescence which we will be able to reproduce with Lola.
Sound Band
What made me love this game is the diverse amount of songs that contains we will be able to keep the background music that each map offers or when arriving at 1000 points with the songs of the "Idol" mode of Joule and Lola. In addition to the The combination of colors next to the songs makes it a game that can be enjoyed from start to finish.
Additional information
As a last point I will talk about how good I thought the game was and honestly I would give an 8/10 since the game does not have a great difficulty I think the only difficult thing would be take out the S+. Besides, I found Gunvolt's route to be a bit weak. The one who takes the
gold medal in this game is the role that takes Copen that more can be asked from a Zero's alter ego. But well those details do not make it an excellent game very enjoyable and recommended.
That's all for this post. See you in the next one, I hope you liked it and thanks for reading.
Español
Azuru Strike Gunvolt 2 es un juego de desplazamiento lateral en 2D desarrollado y publicado por Inti Creates para la nintendo 3ds. Se lanzo en agosto del 2016. Luego el 31 de agosto del 2017 se lanzo una version para Nintendo Switch. Ademas salio una version para ps4 y para pc en el 2020.
Historia
La historia en esta segunda parte de Azure Strike Gunvolt se divide en dos partes una que la jugaremos con Gunvolt y otra con copen viendo los punto de vista de cada personaje en el transcurso de la historia haciendo que sea aun mas interesante ya que copen odia a todos los adeptos pero mantiene el mismo objetivo que Gunvolt, pero a la vez diferente, a tal punto que para lograrlo estan dispuesto a matarse el uno al otro.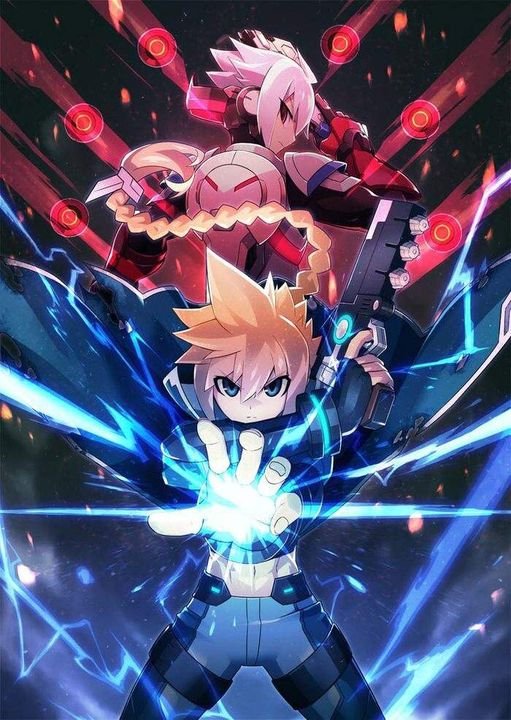 Muy bien la historia comienza cuando inicia una charla en una sala de conferencia secreta y es interrumpida por un Adepto que anuncia que nuevamente el proyecto diva esta en marcha.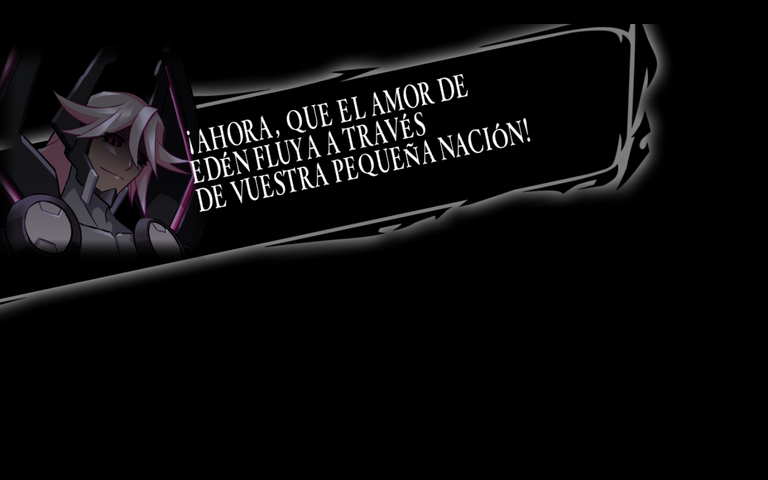 A su vez Gunvolt se inflitra dentro de una gran nave llamado el Seraph pero es descubierdo y es rodeado por algunos guardias de sumeragi pero no tarda mucho en derrotarlos. procede a comenzar la accion donde nos enseñaran los movimientos y ataques de Gunvolt.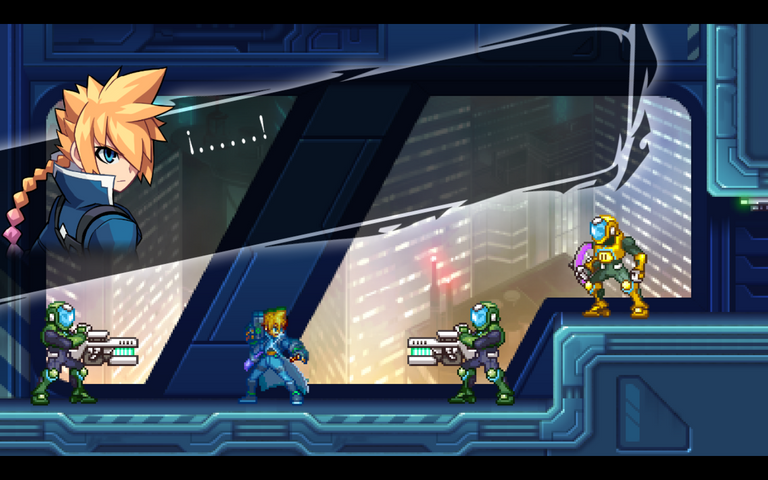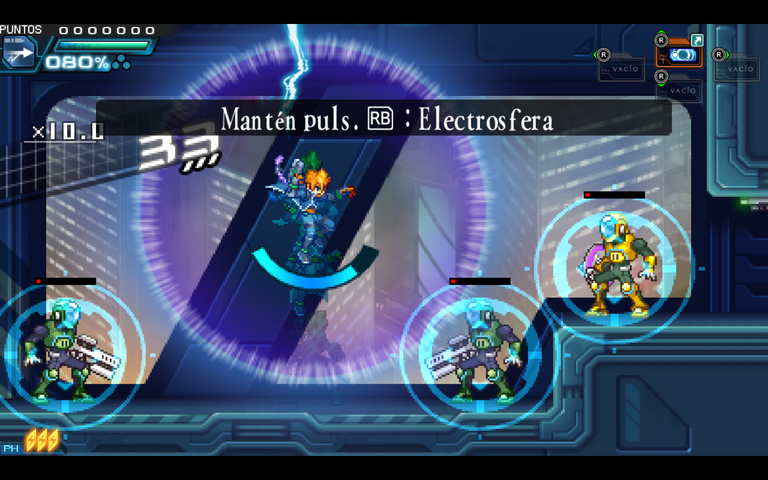 Mientras seguimos avanzando Gunvolt observaremos un mech de sumeragi saliendo del seraph Gunvolt trata de decidir si deberia perseguirlo.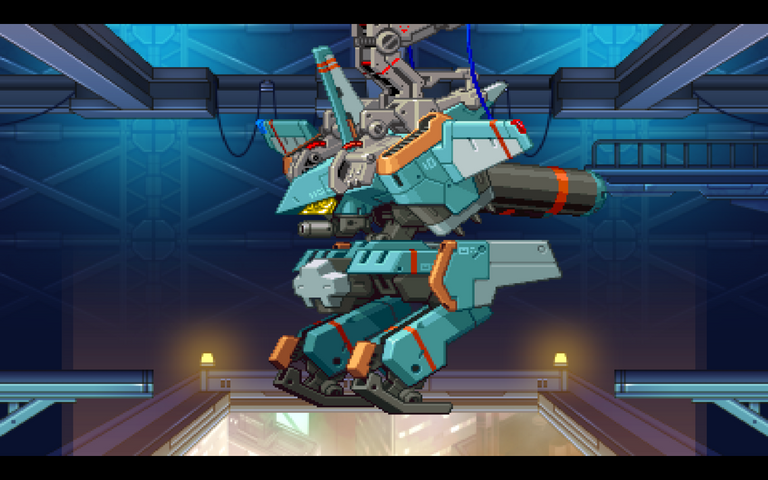 Pero en ese momento Xiao lo interrumpe y le dice que el Seraph va a estallar en el Sumeragi es entonces que Joule decide ayudar a Gunvolt y tratar de detener el Seraph con la septima, Azure Striker esta habilidad le permite a Gunvolt hackear la sala de control.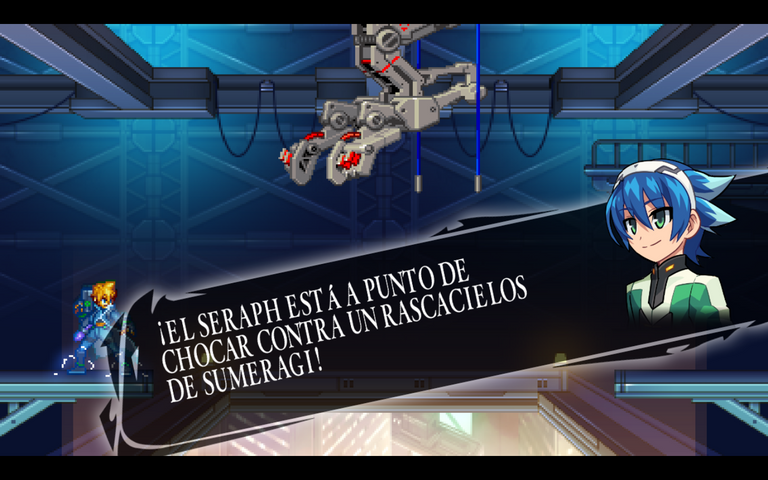 Al llegar a la sala de control aparece un Mech de la nada que tendremos que enfrentar pero no resulta ser mucho problema para Gunvolt.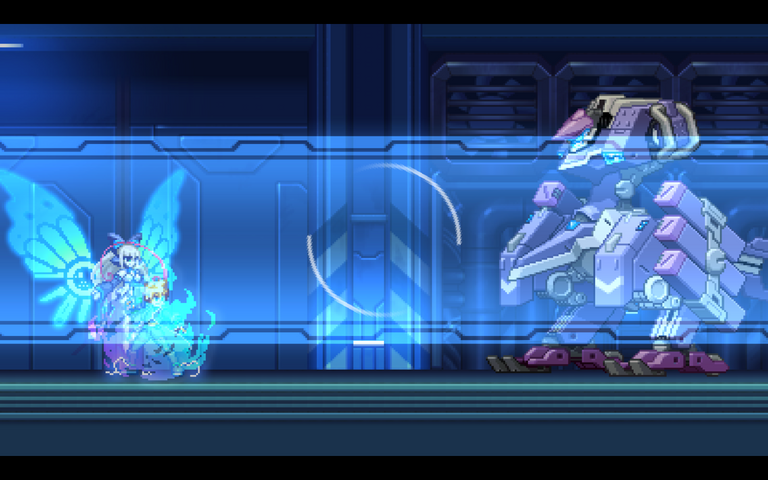 Gunvolt al llegar a los controles de la nave intenta sobreescribir los datos para que el seraph no caiga sobre el sumeragi siendo este un intento fallido ya que los datos estan protegidos por el poder de una septima que posee habilidades de hackeo mejores que las de Gunvolt.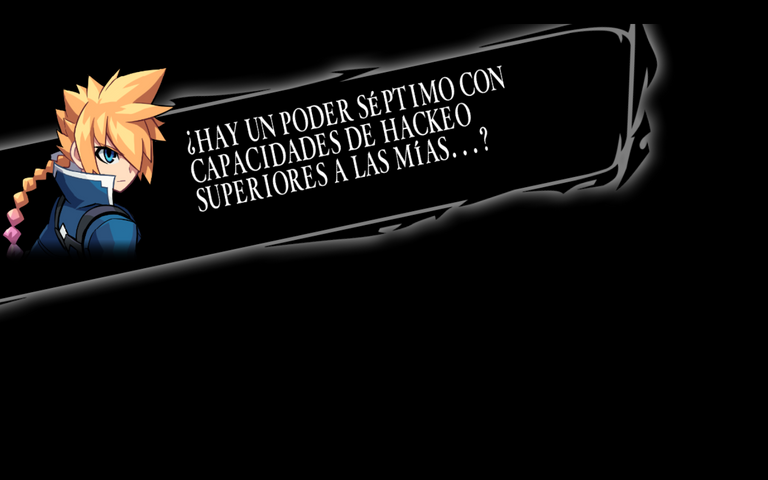 Al mismo tiempo Copen entra en accion es entonces que le pide a Nory la manera de apoderarse en el Seraph ya que copen piensa que Mytyl esta en ese lugar quien fue secuestrada.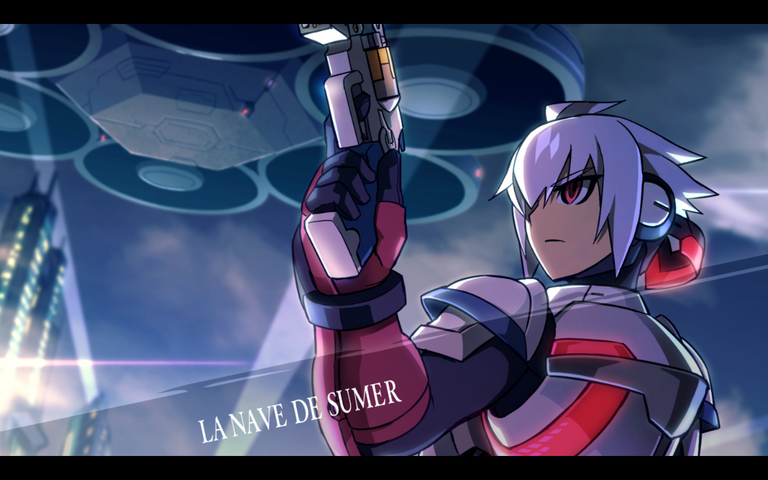 Le dice a Copen que vaya al edificio mas alto es entonces que comienza la accion con Copen y a su vez Lola quien es su compañera de apoyo.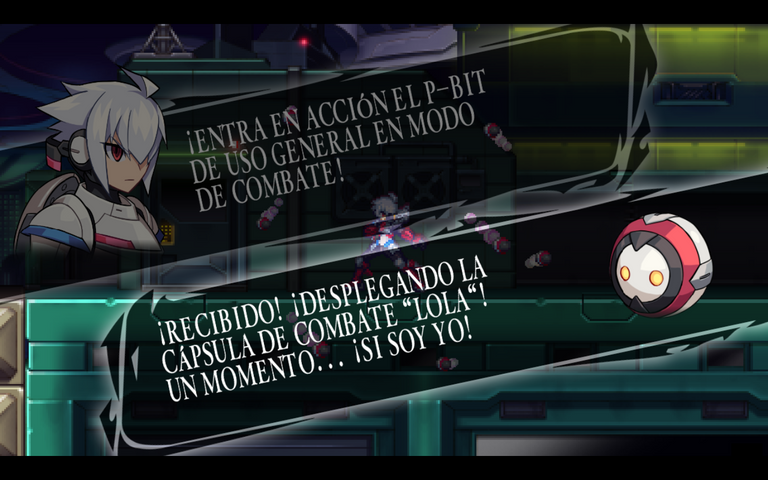 Mientras avanzamos nos encontraremos con un Adepto este le pregunta si el fue quien rapto a Mytyl respondiendole a Copen que si fueron los causante del secuestro.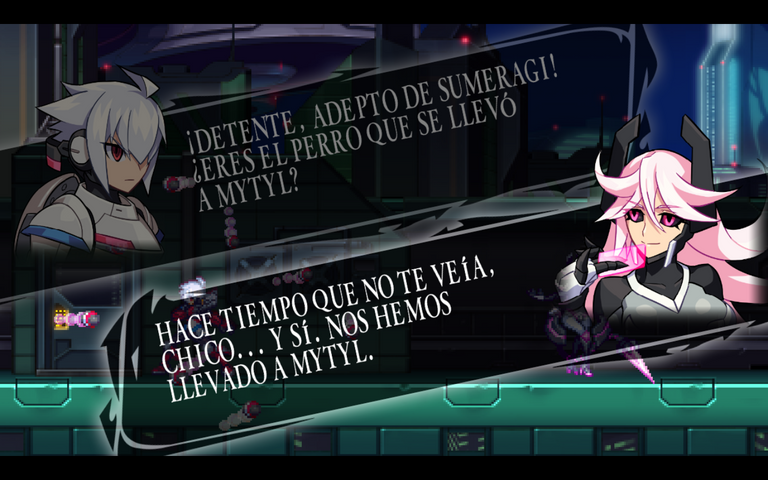 Es entonces que el Adepto revela su verdadera forma siendo Zonda el adepto que gunvolt derroto en el pasado pero este solo era un fragmento de el pero aun asi decide escapar.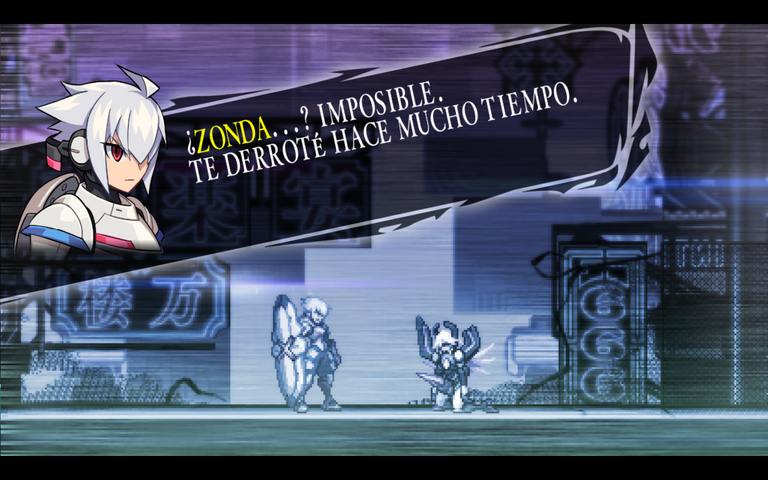 Copen decide seguir su camino hacia el Seraph y en su camino se encuentra con el mech que despego cuando Gunvolt estaba en el interior del Seraph, es entonces que copen empieza una batalla con el mech donde saldremos victoriosos.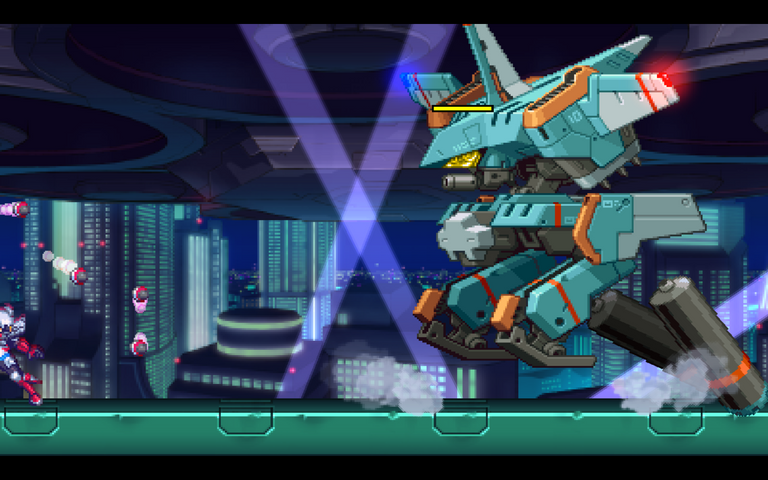 En el ultimo moento Nory le informa a Copen que el Seraph esta decendiendo y esta a punto de caer en el edificio donde se encuentra Mytyl.
Luego de una serie de eventos donde Copen se encuentra con Gunvolt quien lleva a Mytyl con el es en momento que hace su aparicion Eden una organizacion la cual revela sus planes que logra atrapar y separar en 8 fragmentos a Joule.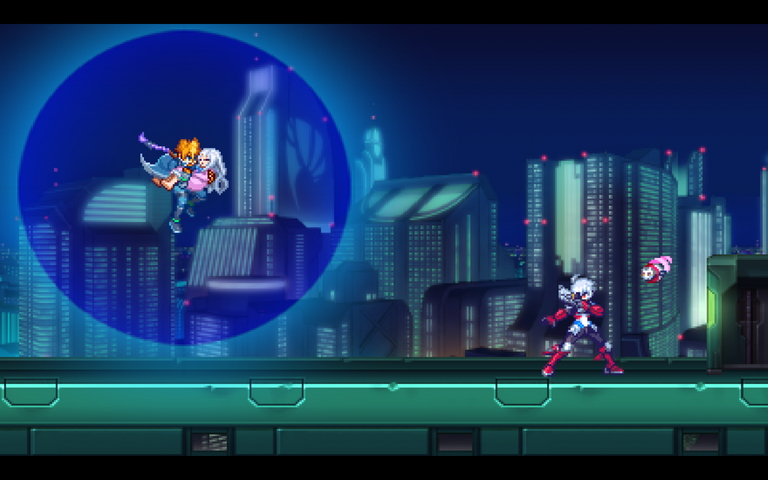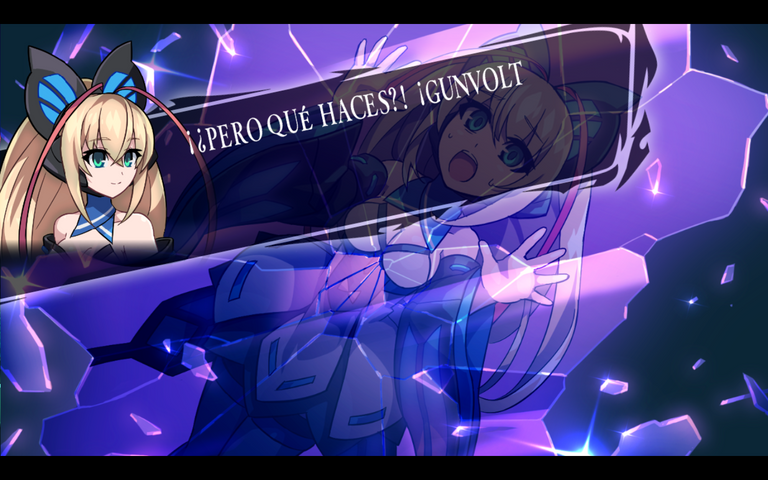 Es entonces que Copen logra robar un fragmento y huir junto a Mytyl, Y a su vez Gunvolt trata de luchar para recuperar los fragmentos pero el Adepto con el que lucha logra escapar es entonces que la mision de ambos es recuperar los 7 fragmentos de las manos de Eden.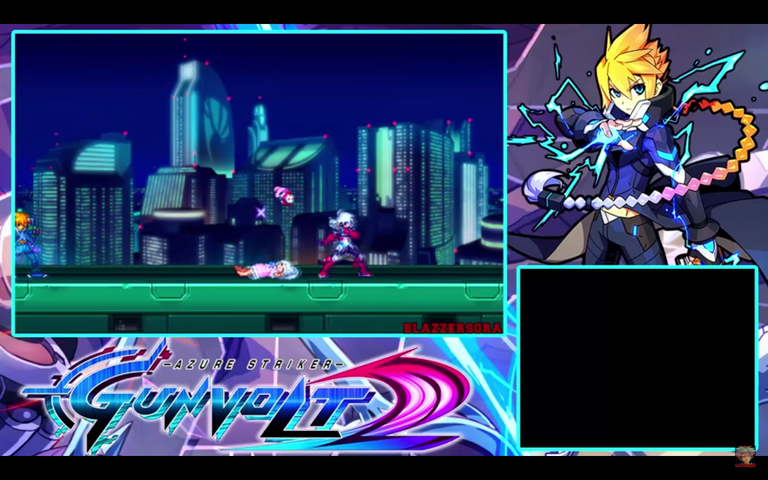 Personajes
Tendremos diversos personajes en lo que interactuamos a lo largo de nuestro viaje siendo Gunvolt y Copen los personajes principales junto a sus respectivos acompañante que en este caso la musa de Gunvolt Joule y la IA de Copen Lola.
El equipo de Gunvolt esta formado por :
Xiao Wu : Xiao se encargara de apoyar de manera operativa a Gunvolt y Ademas nos ayudara en el desarrollo de armas anterior mente pertenecio a otro grupo pero al ser tomado por Eden escapo uniendose a Gunvolt y ocultando un Odio hacia Eden.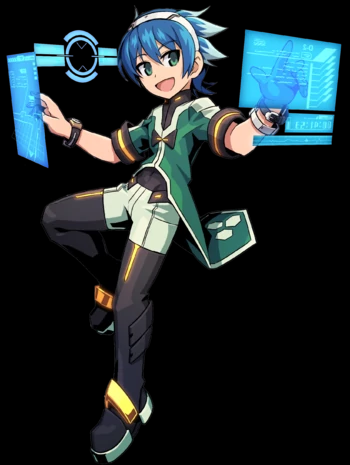 Quinn Sakurazaki : Quinn anteriormente fue salvada de las garras de un Adepto por Gunvolt desde entonces ha estado refugiada en la casa de Gunvolt su personalidad es un poco torpe pero es quien mas apoyo moral le ofrece a Gunvolt gracias a su amabilidad y bondad.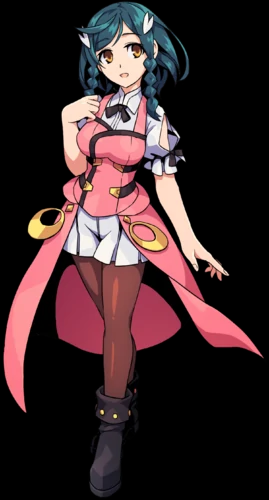 Mientras que el equipo de Copen solo esta formado por :
Nori : Quien es la maid de Copen y Mytyl ademas de ser un personaje bastante interesante ayudando Copen a todo momento y quien actua como una madre en su momento, ademas Nori nos podra fabricar chips que aumentaran la ventaja de Copen.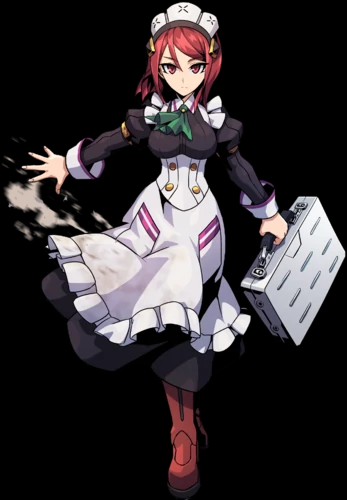 Lola : Es un IA quien fue construida por Copen y es quien le proporciona apoyo, ademas que al tomar uno de los fragmentos de Joule pudo obtener la habilidad de proporcionarle armas ex a Copen.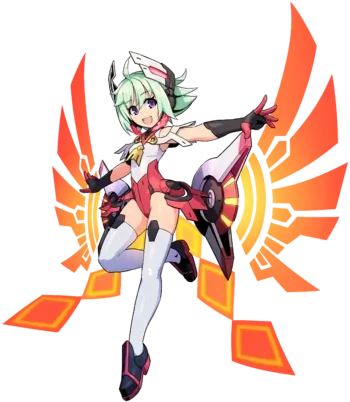 Jugabilidad
Tendremos Dos estilos de juego diferente ya que Copen posee un estilo de juego completamente diferente al de Gunvolt hablemos sobre eso.
Gunvolt practicamente posee la misma jugabilidad que en su juego anterior, tendra un arma que sirve para fijar a los enemigos y utilizando campos electricos para atacarlos ademas que al derrotar los distintos jefes obtendremos mejoras para la pistola para hacer distintos combos con el campo electrico.
A diferencia de Copen, Gunvolt podra adquirir distintas habilidades especiales mientras sube de nivel como puede ser excalibur, tambien podra equiparse hasta 4 habilidades especiales distintas que pueden servir de apoyo o de ofensiva.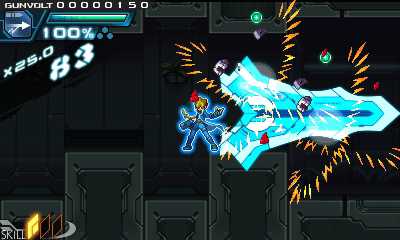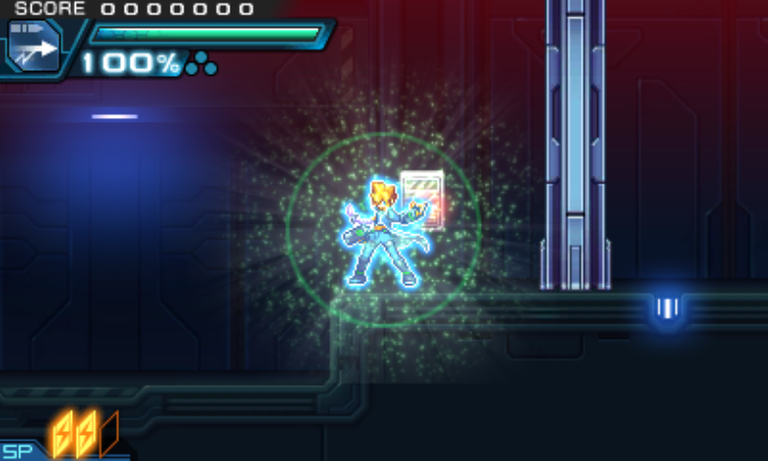 Copen posee una jugabilidad sencilla y mucho mas fuerte que la de Gunvolt, su habilidad principal es saltar hacia los aire y propulsarse hacia los enemigos y dispararle con multiples balas ademas si los marcas y utilizas habilidades ex estos son guiados igualmente hacia el objetivo marcado.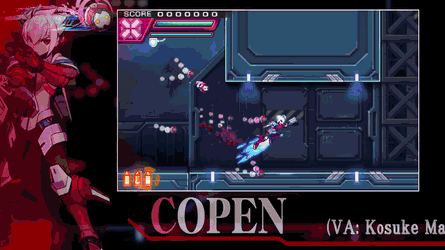 Tambien contaremos que cada vez que derrote con un jefe podra adquirir nuevas habilidades ex debido a los fragmentos de Joule que estos dejan, tambien contaremos con una habilidad definitiva que causa gran daño en toda el area.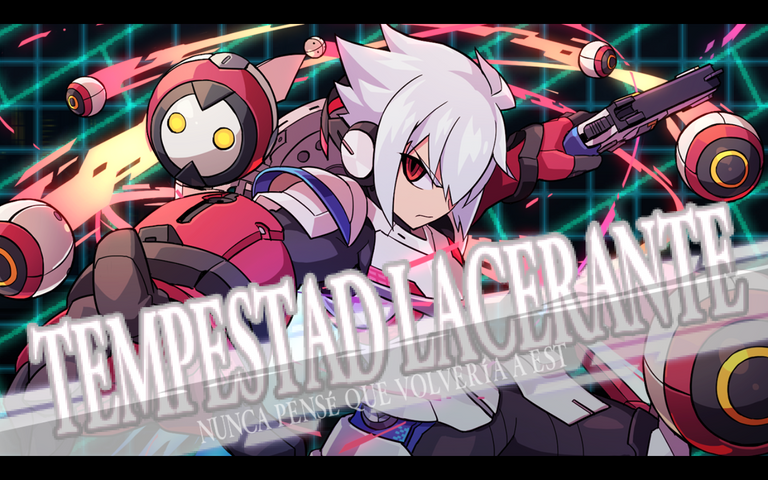 Tambien tendremos un menu de reto que hara que el juego sea mas duradero ya que al completar todos los retos en ambas historias desbloquearemos distintos eventos y que ademas obtendremos el final verdadero del juego.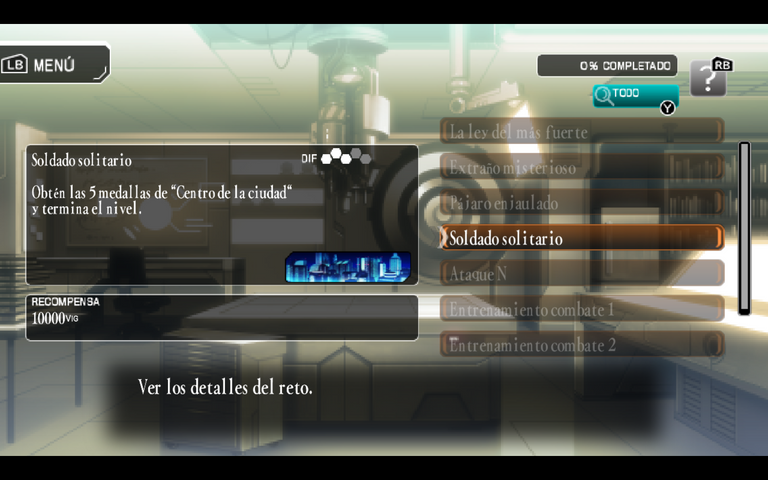 Otro punto que hay que destacar seria los 3 tipos de modo o prestigio con el que se puede hacer las misiones que son :
Cobarde : En este modo no importa el daño que recibiramos el multiplicador de puntos no se reducira pero en cambio no recibiremos tantos puntos.

Prudente : En este modo tendremos hasta 3 intentos para no recibir daño ya que al recibir los 3 daños el multiplicador de puntos regresara a 0.

Valiente : Este modo es el mas dificil de los 3 al recibir tan solo un golpe nuestra multiplicador de punto se reduce a 0 pero en cambio obtendremos el doble de puntos.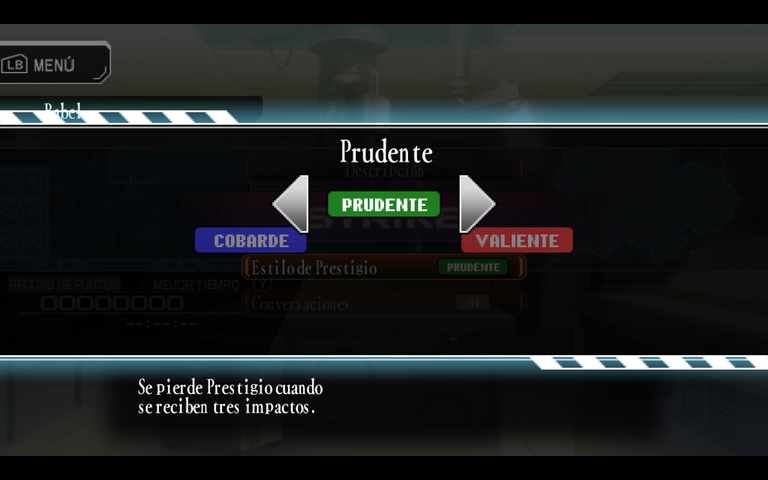 Les comento esto porque el siguiente punto del que les comentare tiene que ver con los puntos y es que al llegar a la cantidad de 1000 podremos invocar a las "Idols" que son los ayudantes de nuestros personajes que no solo cambiara la musica de fondo del juego si no que aumentara su fuerza.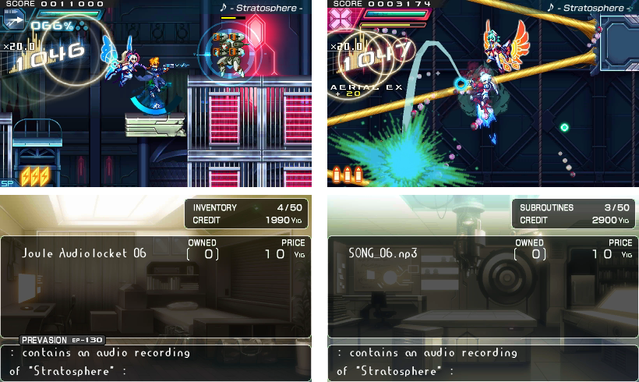 Podremos cambiar las canciones con los chip que fabrican Xiao y Nory una de mis favorita es sakura efflorescence la cual podremos reproducir con Lola.
Banda Sonora
Lo que me hizo que me encantara este juego es la diversa cantidad de canciones que contiene podremos quedarnos con la musica de fondo que ofrece cada mapa o al llegar a 1000 puntos con las canciones del modo "Idol" de Joule y Lola. Ademas que la combinacion de colores junto a las canciones hace que se vuelva un juego que se pueda disfrutar de principio a fin.
Dato Adicional
Como ultimo punto hablare sobre que tan bueno me parecio el juego y sinceramente le daria un 8/10 ya que el juego no posee una gran dificultad creo que lo unico dificil seria sacar el S+. Ademas que la ruta de Gunvolt me parecio un tanto floja. El que se lleva la medalla de oro en este juego es el papel que toma Copen que mas se puede pedir de un alter ego de Zero. Pero bueno esos detalles no hacen que sea un excelente juego muy disfrutable y recomendado.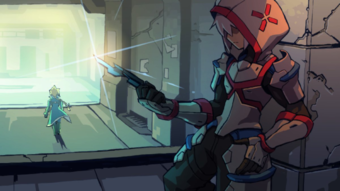 Esto es todo por este post nos vemos en el siguiente espero les haya gustado y gracias por leer.