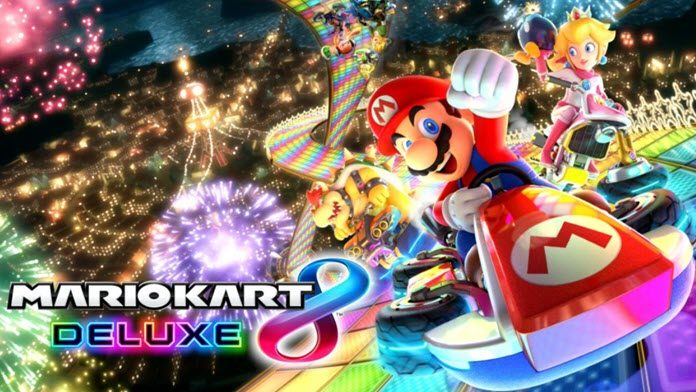 Fuente / Source

ESPAÑOL - ENGLISH
Bienvenidos todos a mi blog, en esta oportunidad les traigo el videojuego del genero de las carreras Mario Kart 8 Deluxe, la cual se desarrollado y distribuido por Nintendo para la consola Nintendo Switch. Este es uno mejores juegos de Mario Bross que visto, y no podría ser otro que de carreras que es mi pasión. El juego su lanzado al mercado el 28 de abril de 2017, es decir, el próximo mes va a cumplir 3 años desde ya desde su emisión.
Welcome everyone to my blog, in this opportunity I bring you the video game of the racing genre Mario Kart 8 Deluxe, which was developed and distributed by Nintendo for the Nintendo Switch system. This is one of the best Mario Bross games I've ever seen, and it couldn't be any other than racing, which is my passion. The game was released on April 28, 2017, that is, next month will be 3 years since its release.
---
Nintendo Co., Ltd es una empresa de entretenimiento dedicada a la investigación y desarrollo, producción y distribución de software y hardware de videojuegos, y juegos de cartas, con sede en Kioto, Japón.​ Su origen se remonta a 1889, cuando comenzó a operar como Nintendo Koppai tras ser fundada por el artesano Fusajirō Yamauchi con el objetivo de producir y comercializar naipes Hanafuda. Tras incursionar en varias líneas de negocio durante la década de 1960 y adquirir una personalidad jurídica de empresa de capital abierto bajo la razón social actual, en 1977 distribuyó su primera videoconsola en Japón, la Color TV Game 15.
is an entertainment company dedicated to the research and development, production and distribution of video game software and hardware, and card games, based in Kyoto, Japan. Its origins date back to 1889, when it began operating as Nintendo Koppai after being founded by the artisan Fusajirō Yamauchi with the aim of producing and marketing Hanafuda cards. After venturing into various lines of business during the 1960s and acquiring the legal status of an open-ended company under its current name, in 1977 it distributed its first video game console in Japan, the Color TV Game 15.


Fuente / Source
Dentro de los modos de juegos de Mario Kart 8 Deluxe, tenemos: Grand Prix, Contrarreloj, Carrera VS, Mario Kart TV, Modo Batalla, Modo inalámbrico, Multijugador en línea, que como pueden ver tenemos un buen número de modos de juegos para entretenernos y que el mismo no se haga tedioso. El modo Grand Prix consiste principalmente en correr en 4 circuitos o localizaciones de las copas que componen el juego, en este caso 12. Lo mejor de este modo de juego es que se puede jugar de 1 a 4 jugadores de la vida real y con presencia de la inteligencia Artificial completando las demás plazas. El modo Contrarreloj, como su nombre lo indica allí se debe tratar de hacer el mejor tiempo posible, corriendo en la pista sin ningún otra jugador o la inteligencia artificial; es decir, que este viene siendo un modo de practica para que los jugadores vayan adquiriendo más experiencia dentro del videojuego. El siguiente es el modo Vs que este es uno de mis favoritos, ya que es el indicado para jugar entre amigos o familiares, pueden estar de uno a 4 jugadores , en donde uno mismo puede colocar las reglas deseados.
Within the game modes of Mario Kart 8 Deluxe, we have: Grand Prix, Time Trial, VS Race, Mario Kart TV, Battle Mode, Wireless Mode, Online Multiplayer, which as you can see we have a good number of game modes to entertain us and that the same does not become tedious. The Grand Prix mode consists mainly of running in 4 circuits or locations of the cups that make up the game, in this case 12. The best thing about this game mode is that you can play from 1 to 4 players in real life and with the presence of the Artificial Intelligence completing the other places. The Time Trial mode, as its name indicates there, should try to make the best time possible, running on the track without any other player or the artificial intelligence; that is, this is a practice mode for the players to acquire more experience within the video game. The following is the Vs mode which is one of my favorites, since it is the one indicated to play among friends or family, can be from one to 4 players , where you can place the desired rules yourself.
---
Luego tenemos el modo inalámbrico que o es más que competir contra otro jugador de modo inalámbrico. Este modo se obtiene puntos de acuerdo al resultado obtenido. Finalmente tenemos lo que es el modo batalla que es genial ya que a su vez el mismo se compone de submodos, la cual podemos seleccionar el de nuestro preferencia. Entre los submodos tenemos Batalla de Globos, Batalla de Monedas, Asalto al Sol, Bob-ombardeo y Patrulla Piraña. Para estos modos mencionados anteriormente tenemos diferentes circuitos, para un total de 8 y si quieren jugar online, el mismo tiene una capacidad para 12 Jugadores. En este juego están disponibles 48 circuitos y más de 40 personajes que podemos elegir.
Then there's the wireless mode which is more than just competing against another player in wireless mode. This mode scores points according to the result obtained. Finally we have the battle mode which is great because it's made up of sub-modes, which we can select our own. Among the submodes we have Balloon Battle, Coin Battle, Sun Assault, Bob-Bombing and Piranha Patrol. For these modes mentioned above we have different circuits, for a total of 8 and if you want to play online, it has a capacity for 12 players. In this game there are 48 circuits and more than 40 characters to choose from.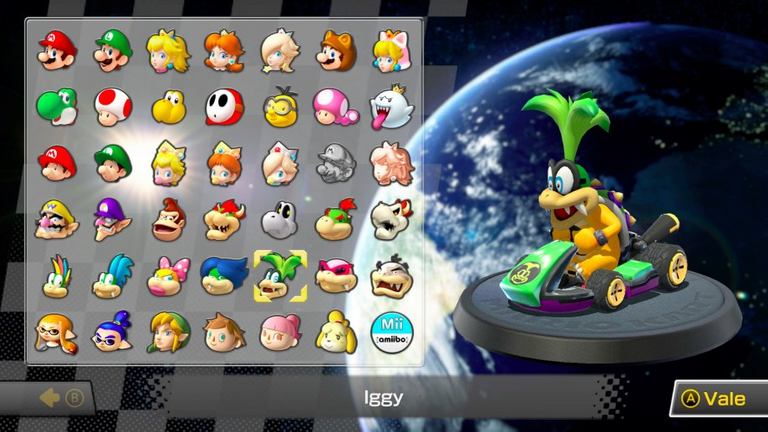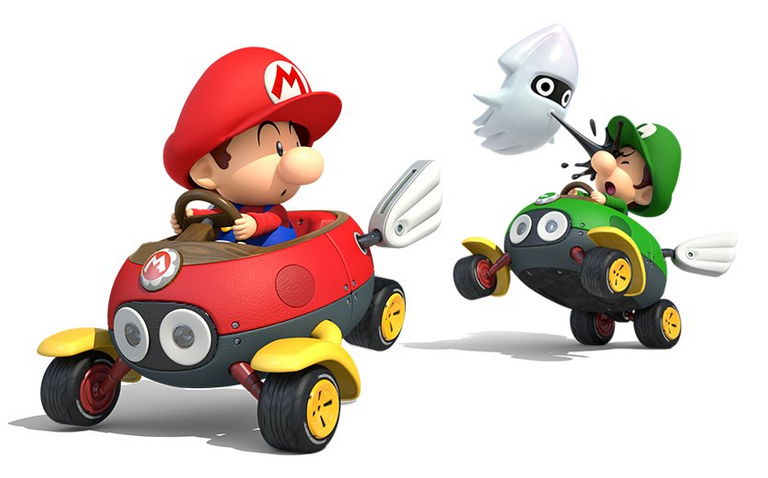 Ahora bien, el siempre esperado modo multijugador u online en este juego no nos decepciona, se puede jugar ya sea en contra de algunos de nuestros familiares o amigos, sino que podemos competir contra cualquier persona del mundo y no solo correr, sino que podemos interactuar y hacer comunidad de alguna manera. Por qué digo que podemos hacer comunidad? , ya que hasta tenemos la oportunidad de hacer un campeonato, ya que el este modo podemos crear nuestras propias partidas, eligiendo el circuito de nuestra preferencia y con las reglas que deseamos. Además, este modo también incluyo tanto el chat tradicional como de voz, por lo que nos podemos entretener más ya sea durante o antes de la carrera. También está disponible lo que conocemos como pantalla dividida para jugar en un mismo lugar y no con conexión de Internet.
Now, the always expected multiplayer or online mode in this game does not disappoint us, you can play either against some of our family or friends, but we can compete against anyone in the world and not only run, but we can interact and make community in some way. Why do I say we can do community? Because we can create our own games, choosing the circuit of our preference and with the rules that we want. In addition, this mode also includes both traditional and voice chat, so we can entertain ourselves more either during or before the race. What we know as split screen is also available to play in one place and not with an internet connection.
---
En cuanto al apartado gráfico este está bien realizado, el aspecto visual son buenos para este tipo de juegos, si bien siempre estoy acostumbrado a juegos con gráficas más realistas, este no nos decepciona. Los diseños de los autos, de los personas y los circuitos son correctos, un deleite no solo para los más pequeños de la casa sino que también para cualquier usuario que les gusten los videojuegos. En fin, este apartado técnico no le baja el nivel que hace que este sea el mejor juego, en lo que a mi persona respecta a los juegos de Mario Kart.
As for the graphic section, it is well done, the visuals are good for this type of games, although I am always used to games with more realistic graphics, this one doesn't disappoint us. The designs of the cars, the people and the circuits are correct, a delight not only for the little ones of the house but also for any user who likes videogames. Anyway, this technical section doesn't lower the level that makes this the best game, as far as I'm concerned with Mario Kart games.
---
El sonido no se queda atrás en comparación a al apartado gráfico, los efectos de sonidos son geniales, el rugido de los motores de la cilindrado del mismo, ya que los motores son de diferentes cc, la cual el mismo se diferencia uno del otro. Además hay que agregar los sonidos al momentos de los choques, al derrapas los autos cuando los oponentes usan las conchas de plátano, aceite entre otras cosas. Además en esta saga del juego también se mejoraron algunas composiciones musicales para el deleite de los oídos de los jugadores.
The sound is not left behind in comparison to the graphic section, the sound effects are great, the roar of the engines of the cylinder capacity of the same, since the engines are of different cc, which the same one differs one from the other. In addition, the sounds are added to the moments of the crashes, to the drifting of the cars when the opponents use the banana shells, oil among other things. Also in this saga of the game some musical compositions were improved for the delight of the ears of the players.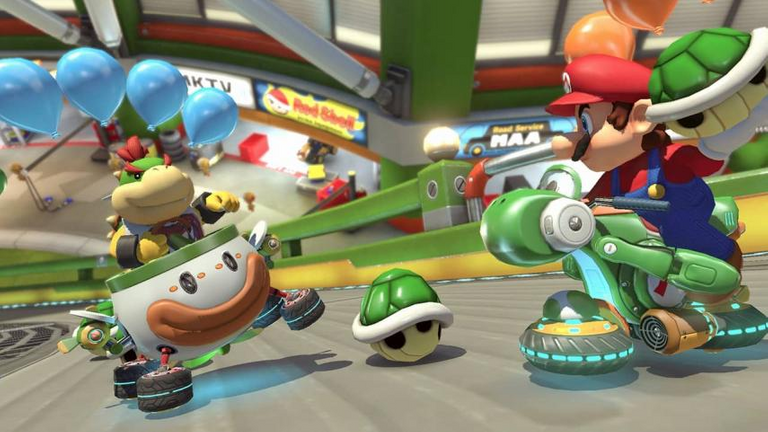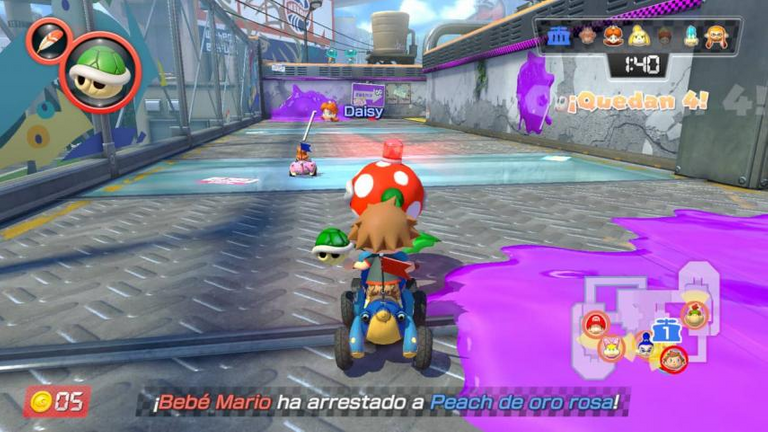 Fuente / Source
En conclusión Mario Kart 8 Deluxe es el mejor juego en lo que a la saga de nintendo y Mario Kart respecta. Se agregaron nuevos modos como el de batalla a la cual a su vez esta también nos da opciones de juego que hace que este juego tenga una gran variedad y así entretener a los jugadores. Además el mismo agrego nuevos personajes, lo que si falto fue que agregaran nuevos circuitos. El modo multijugadores es bueno, donde se puede jugar de 1 a 4 personas en pantalla dividida y con conexión a Internet máximo 12. En importante destacar que este videojuego tiene el chat tradicional de texto y además de voz para charlar con nuestros amigos o cualquier persona del mundo con que estemos compitiendo. Por último y menos importante están los detalles técnicos, como el apartado gráfico y de sonido que son muy correctos, los personajes autos y circuitos están bien realizados, además que es muy colorido. El sonido es bueno, con excelentes efectos de sonidos y bandas sonoras dentro de Mario Kart 8 Deluxe.
In conclusion, Mario Kart 8 Deluxe is the best game in the nintendo and Mario Kart saga. New modes were added, such as the battle mode, which in turn gives us gameplay options that make this game very varied and thus entertain players. In addition, it added new characters, but it also added new circuits. The multiplayer mode is good, where you can play from 1 to 4 people in a split screen and with an Internet connection of maximum 12. In important to emphasize that this video game has the traditional text chat and in addition to voice to chat with our friends or any person of the world with which we are competing. Finally and less important are the technical details, like the graphic and sound section that are very correct, the car characters and circuits are well done, besides that it is very colorful. The sound is good, with excellent sound effects and soundtracks inside Mario Kart 8 Deluxe.

---
Fuente / Source
---
Por todo lo mencionado anteriormente en los diferentes aspectos tocados es que le doy un 9.8 de 10 a este videojuego.
For all the above mentioned in the different aspects touched is that I give a 9.8 out of 10 to this video game.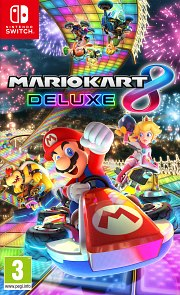 FICHA TÉCNICA // TECHNICAL DATA SHEET
Nombre // First name: Mario Kart 8 Deluxe
Fecha de lanzamiento // Launch date: 28 de abril de 2017
Plataforma // Platform: Nintendo Switch
Género // Tender: Conducción, Arcade (Fantasía)
Jugadores // Players: 1-12 (Competitivo: 2-4 local y 2-12 online)
Desarrollador // Developer: Nintendo

Separador de textos tomador del Post // Post taker text separator : Mario Kart 8 Deluxe
Gracias por su visita. Espero que les haya gustado. // Thank you for your visit. I hope you liked it.
Hasta una próxima oportunidad // Till a next chance
Sin más que decir, se despide de ustedes, su cordial servidor @franz54. // Without further ado, he bids farewell to you, his cordial server @franz54.