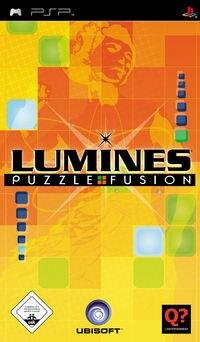 ---
Lumines es un juego de Puzle diseñado para la consola portátil PSP; desarrollado por Q Entertainment y distribuido por Bandai, su creador es nada mas y nada menos que Tetsuya Mizuguchi quien ha sido el creador de otros titulos como Space Channel 5, Sega Rally, Tetris Effect entre otros. Lumines vendió millones de copias de formas inesperada, dándole vida nuevamente a uno de los géneros que menos le prestan atención los jugadores, lo cual hace que sea unos de los juegos que mas rentabilidad le dio a SONY y a su PSP
---
Lumines is a Puzzle game designed for the PSP portable console; Developed by Q Entertainment and distributed by Bandai, its creator is none other than Tetsuya Mizuguchi who has been the creator of other titles such as Space Channel 5, Sega Rally, Tetris Effect among others. Lumines sold millions of copies in unexpected ways, giving life again to one of the genres that gamers least pay attention to, which makes it one of the games that gave more profit to SONY and its PSP
---
---
Lumines es un juego realmente sencillo, simple en su dinámica de juego, haciendo que Tetris parezca un juego mucho mas difícil. Sin embargo debemos mencionar que este aunque parezca un juego fácil a través de todos su niveles vamos a vivir un verdadero infierno para poder avanzar. Lumines cuenta con una excelente banda sonora y unos gráficos nada despreciables. Este es un juego de rompecabezas donde caerá un cuadrado desde la parte superior de nuestra pantalla los cuales iremos acomodando de acuerdo a nuestras preferencias; la dificultad radica en que cada uno de los cuadros que caen se componen de dos combinaciones de colores; en los primeros escenarios es bastante fácil poder ir agrupando los bloques mencionados, un factor a tomar en cuenta es que medida que vas resolviendo Puzles la velocidad del juego se incrementa lo cual hace que se ponga a prueba nuestras habilidades.
---
Lumines is a really simple game, simple in its game dynamics, making Tetris seem like a much more difficult game. However, we must mention that although it seems like an easy game through all its levels, we are going to experience a real hell to be able to advance. Lumines has an excellent soundtrack and not inconsiderable graphics. This is a puzzle game where a square will fall from the top of our screen, which we will arrange according to our preferences; the difficulty is that each of the falling frames is made up of two color combinations; In the first scenarios, it is quite easy to be able to group the mentioned blocks, one factor to take into account is that as you solve puzzles, the speed of the game increases, which puts our skills to the test.
---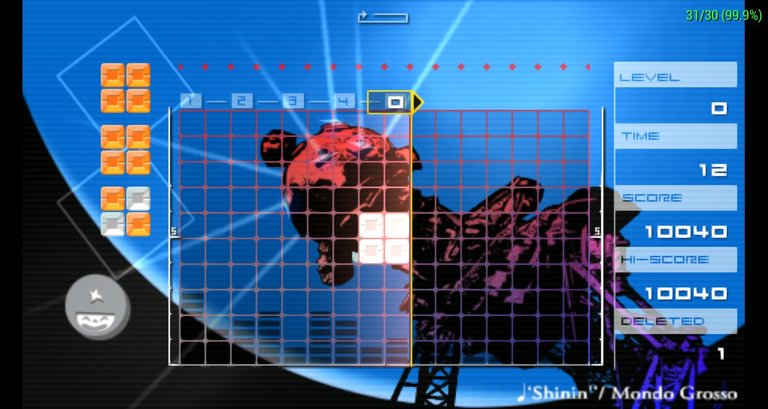 ---
El objetivo general del juego es desbloquear tantos skins sean posibles, el skin consiste en un nuevo fondo y una nueva canción. Lumines es un juego que sabe fusionar su aspecto grafico con sus fondos musicales, al jugar podemos notar que que en la pantalla aparece una barra que nos ayuda a eliminar los bloques que ya hemos agrupado, esta barra esta anclada a la velocidad a la cual se reproduce la música, lo cual hace que nuestra jugabilidad en parte se vea afectada por los diferentes sonidos y música que se pueden escuchar dentro del juego. un punto en contra de los Skins es que para desbloquear algunos se requiere una cantidad considerable de puntos lo cual hace que puedas invertir un tiempo exagerado para poder alcanzarlo, sin mencionar que el juego no posee algún tipo de Checkpoint o modo de guardado que permita volver a ciertas situaciones, de caso contrario es necesario colocar la PSP en modo suspensión.
---
The general objective of the game is to unlock as many skins as possible, the skin consists of a new background and a new song. Lumines is a game that knows how to merge its graphic aspect with its musical backgrounds, when playing we can notice that a bar appears on the screen that helps us to eliminate the blocks that we have already grouped, this bar is anchored to the speed at which it is It plays the music, which makes our gameplay partially affected by the different sounds and music that can be heard within the game. One point against Skins is that a considerable amount of points is required to unlock some of them, which means that you can invest an exaggerated time to reach it, not to mention that the game does not have any type of Checkpoint or save mode that allows you to return In certain situations, otherwise it is necessary to put the PSP in suspend mode.
---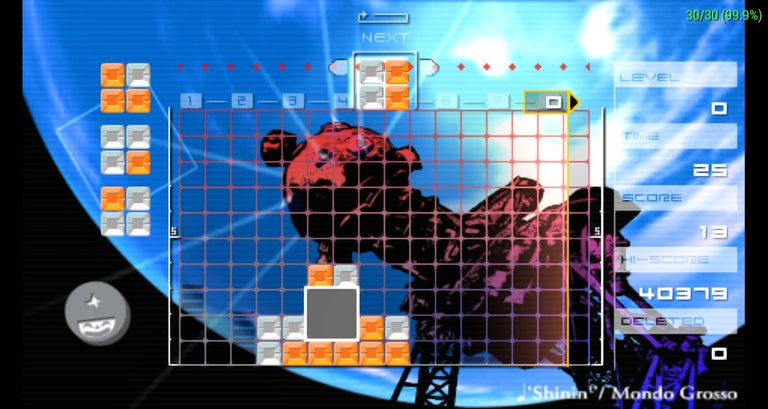 ---
Lumines posee 4 modos de juego, el modo para una persona obviamente es para jugar de forma individual, en el modo VS nos enfrentamos con algún amigo los el cual estará compitiendo directamente con nosotros, el modo CPU es muy similar al modo VS la diferencia radica que te enfrentas con la CPU de la PSP y el modo Puzzle donde podremos crear al azar las formas de los bloques. Ciertamente Lumines no saca provecho de nuestra consola en un 100% como otros juegos, sin embargo posee un buen soundtrack, gráficos adaptados a las necesidades del juego los cuales lo hacen un juego simple pero muy entretenido y a pesar de esa situación vendió millones de copias lo cual lo hace un juego que debemos colocar en nuestros pendientes si no lo han jugado.
---
Lumines has four game modes, the mode for a person is obviously to play individually, in VS mode we face a friend who will be competing directly with us, CPU mode is very similar to VS mode the difference is that you face with the CPU of the PSP and the Puzzle mode where we can randomly create the shapes of the blocks. Lumines certainly does not take advantage of our console 100% like other games, however it has a good soundtrack, graphics adapted to the needs of the game which make it a simple but very entertaining game and despite that situation it sold millions of copies. which makes it a game that we must put on our earrings if they have not played it.
---