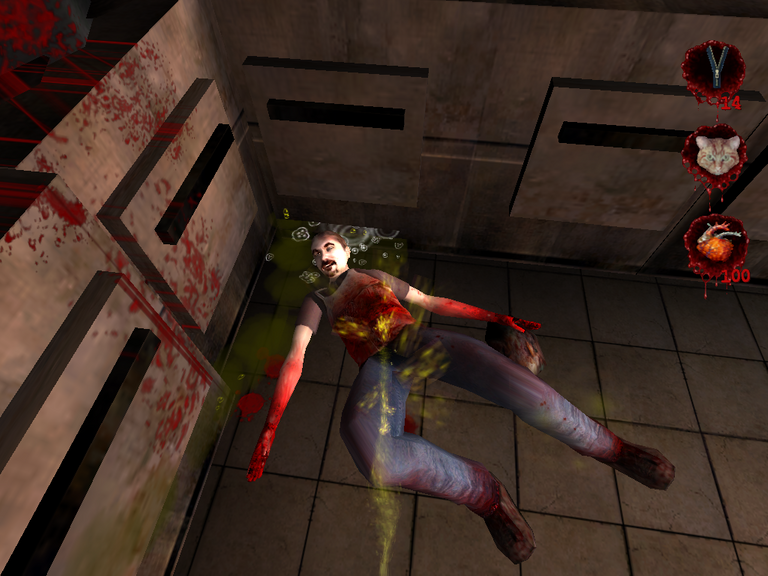 This is too random XD
Days ago I remembered a game that made me die laughing when I was little, and that's Postal, the first one, yes, but I didn't want to play that one because I had already tried it some time ago, now I wanted to download the 2 and see how it would be for me, maybe it will make me laugh more than the previous title... I don't know, that's why I decided to download it and try it since it seems to me a game too iconic to be real, it seems taken from a circus this game XD. It has a lot of fun stuff, or well, at least that happened in the first version, today I'll be trying Postal 2 and I'll see how much it has changed, and if above all, it still keeps its sick essence.
First of all, the name "Postal" has always reminded me of the slasher movie saga "Hostel", I don't know if they have anything to do with it but I find it very curious haha. Very well, the game started quite strangely, as expected, I couldn't understand much since my English is not very good at listening to it, but it is good at writing it. Then, the "narrator" or I don't know who the fuck he was, spoke very fast and with a quite strange accent, so I assumed I was in the city and I had to start completing missions, as it always happens here...
The first thing I did was to realize that I was in a pretty scary place, I don't know why, but Postal 2 makes me scared, yeah, scared... I explored a little and went towards the city, but obviously, I had to read this poster, which is too good...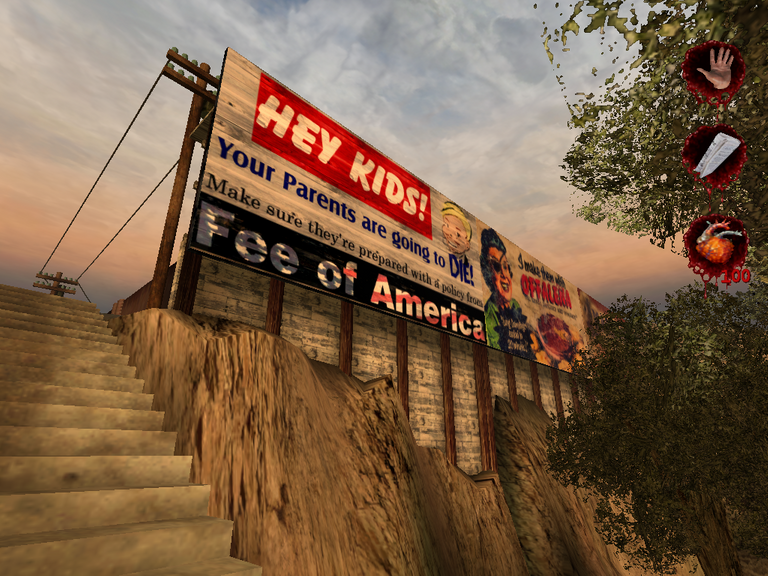 Something happened that scared me a lot, I entered a room where it said "EMPLOYEES ONLY" and I saw a bloody guy cooking, then he started to shoot me, god, Postal 2 follows the same crazy fucking essence of the old game XD. My first missions are simple, go to cash a check and get some milk for me, yes, milk XD. What I don't understand is where the fuck to go without getting a crazy fucker in the street, or fucking dogs that always want to attack me, I realize that I need a gun urgently...
Ok, I was able to start from scratch because several dogs and people killed me... First I smoked a pipe and grabbed a shovel for my defense, I was also able to open the map and finally guide me to here, the place where I must claim my check, I think I got fired...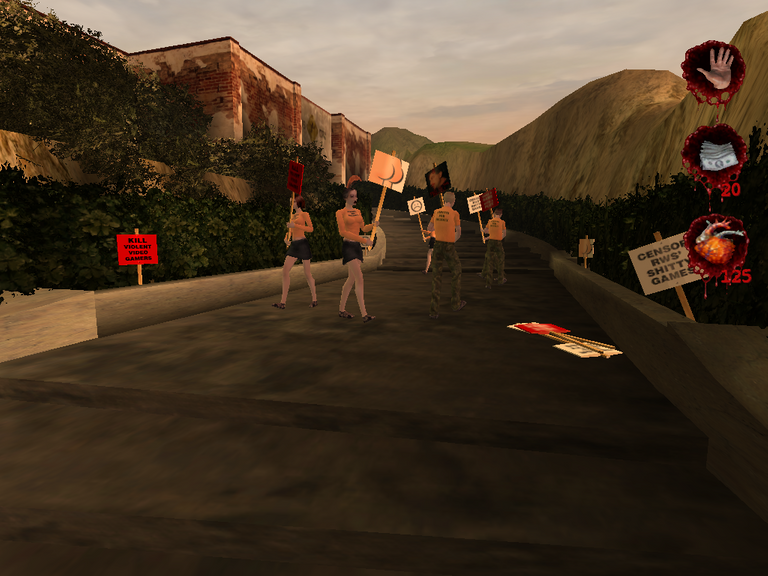 This is the most random thing I've ever seen in my fucking life XD.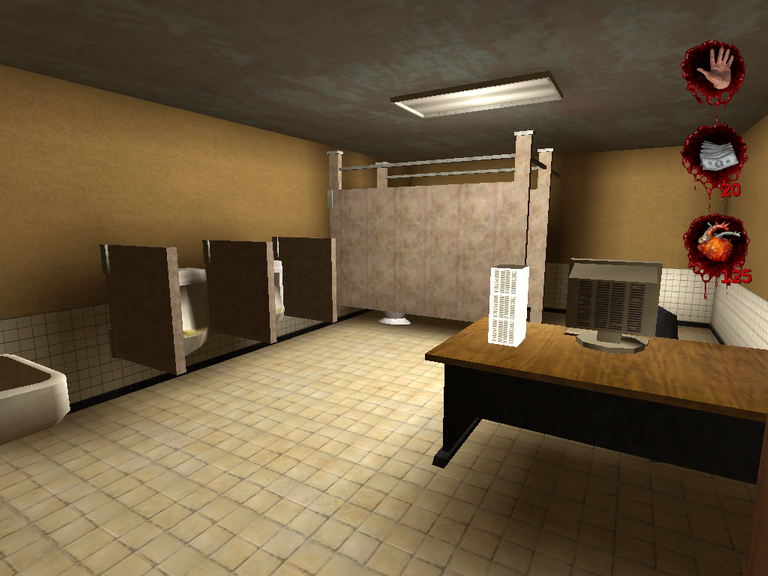 I was exploring the backrooms for a while, haha, they look like backrooms, I think that's why this fucking game is so scary XD. I got to the office where my paycheck was and now I'm going to the bank to pick it up. And also all the people who were protesting outside decided to come in and shoot at us, good thing I got a machine gun while exploring, that helped me to be able to kill them because literally, EVERYONE is armed, even the dogs...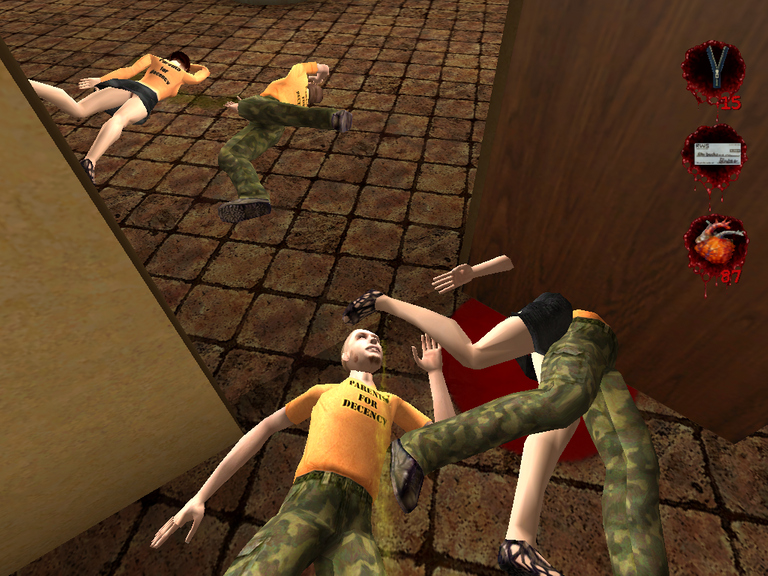 And as unbelievable as it sounds, I had to stand in line to cash my check, yes, the game has some realistic stuff, like this, but otherwise, I hope there NEVER exists something like this in real life.... or does it already exist? Well, in general, I'm loving the game, it still keeps the same essence as always, at the beginning maybe it's a little hard, but the more you play it the more you fall in love with the game, and I think that's what matters. Graphically we see an improvement, it is not immense, but if you can notice the game is much more detailed and with small details, however, it is still graphics of the year 1300 BC...
Anywhere you go you will find music, people talking, riots, etc. There are quite a few things to look at, the city is very busy and that's cool because it gives it life, more than it has... Every pedestrian does different things, we can find drunks in the middle of the street dancing, or women insulting others, it's just fucking crazy.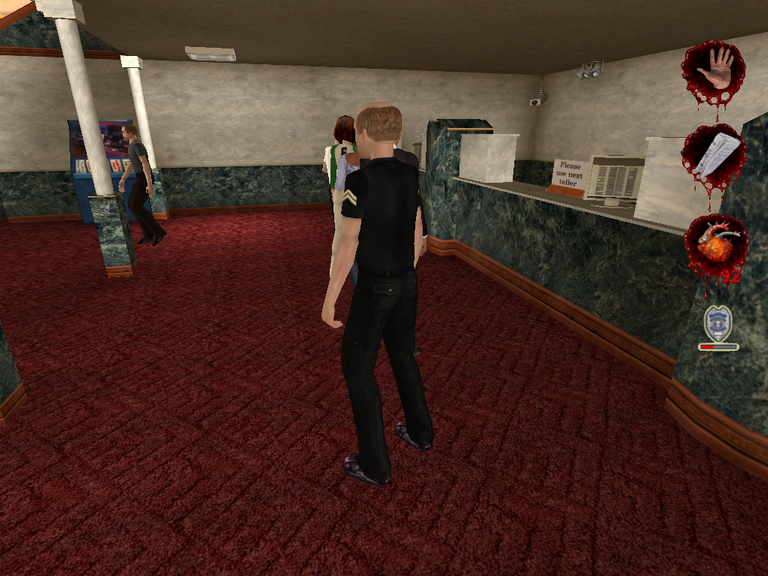 I certainly finished my "Monday" too well, I did all my missions and managed to get enough weapons, that's cool. I'm impressed by how weird the game is, and yet it's still fun and makes me want to play it. After finishing this post with my "first impressions" I will continue playing until who knows what time, the truth is that Postal missed it, and after getting bored of this one, I will move on to the third one and so on until my PC holds up, yes, because everything depends on it haha. The truth is that I recommend this game, play any version, it doesn't matter if you can play the last one or the first one, the experience will be the same, but there will be some different things, that's all. It will never be a normal game, NEVER.
I hope you liked the post, and tell me, have you played it? Play it! Bye bye.
---
Español
---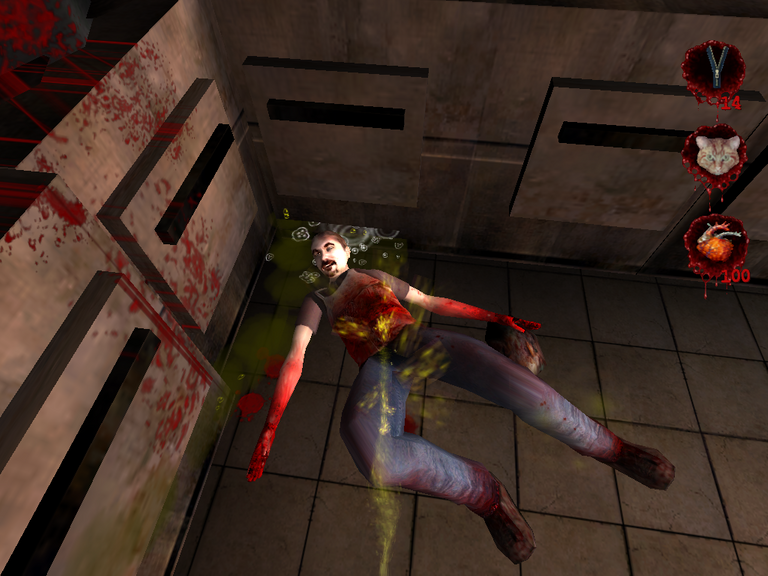 Esto es demasiado random XD
Hace días recordé un juego que me hizo morir de risa cuando yo era pequeño, y ese es Postal, el primero, sí, pero no quise jugar ese porque ya lo había probado hace tiempo, ahora quise descargar el 2 y ver que tal sería para mí, tal vez me haga reír más que el anterior título... No lo sé, por eso decidí descargarlo y probarlo, ya que me parece un juego demasiado icónico para ser real, literalmente parece sacado de un circo este juego XD. Tiene muchas cosas divertidas, o bueno, al menos eso pasaba en la primera versión, hoy estaré probando Postal 2 y veré que tanto ha cambiado, y si sobretodo, aún mantiene su esencia enfermiza.
Primero, siempre me ha recordado el nombre "Postal" a la saga de peliculas tipo slasher "Hostal", no sé si tengan algo que ver pero me parece muy curioso haha. Muy bien, el juego comenzó bastante extraño, cómo era de esperarse, no pude entender gran cosa ya que mi ingles no es muy bueno al escucharlo, pero sí al escribirlo. Entonces, el "narrador" o no sé quién mierda era, hablaba muy rápido y con un acento bastante extraño, así que asumí que estaba en la ciudad y tenía que empezar a completar misiones, cómo siempre ocurre aquí...
La primera cosa que hice fue darme cuenta que estaba en un sitio bastante tenebroso, no sé porque, pero Postal 2 me da miedo, sí, miedo... Exploré un poco y me fui hacia la ciudad, pero obviamente tuve que leer este cartel, que de hecho, es demasiado bueno...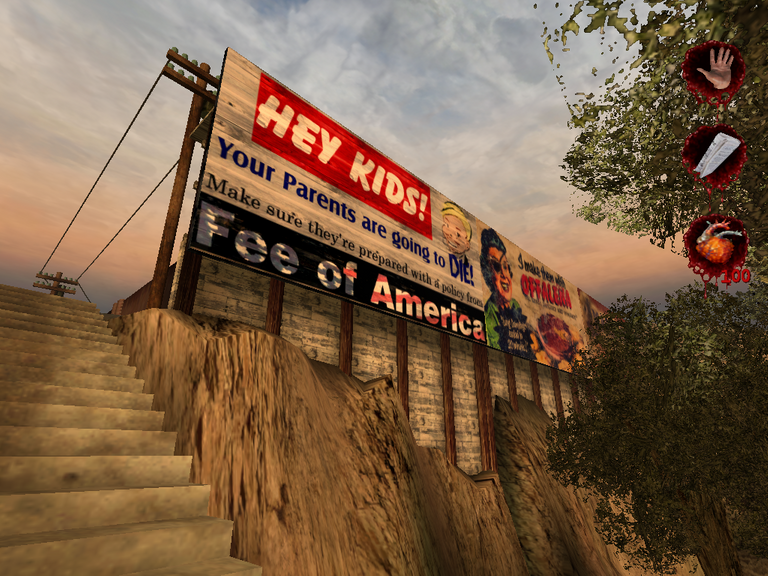 Ocurrió algo que me dió mucho miedo, entré a una habitación dónde decía "SÓLO EMPLEADOS" y vi a un tipo ensangrentado cocinando, luego empezó a dispararme, |dios, Postal 2 sigue la misma puta esencia loca del antiguo juego XD. Mis primeras misione son sencillas, ir a cobrar un cheque y conseguir lechita para mí, sí, lechita XD. Lo que no entiendo es a dónde mierda ir sin conseguirme un puto loco en la calle, o perros de mierda que siempre me quieren atacar, me doy cuenta que necesito un arma urgentemente...
Okey, pude empezar desde cero porque varios perros y personas me mataron... Primero me fumé una pipa, y agarré una pala para mi defensa, también pude abrir el mapa y por fin guiarme hasta aquí, el sitio dónde debo reclamar mi cheque, creo que me despidieron...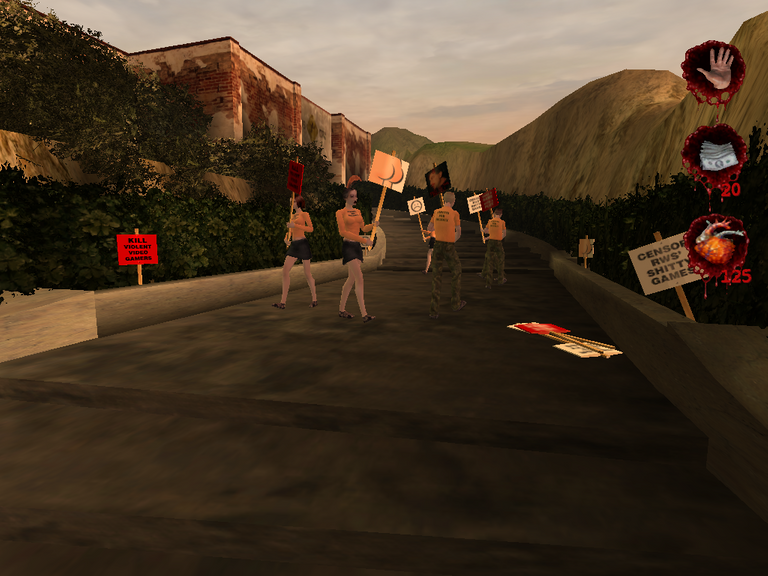 Esto es lo más random que he visto en mi puta vida XD.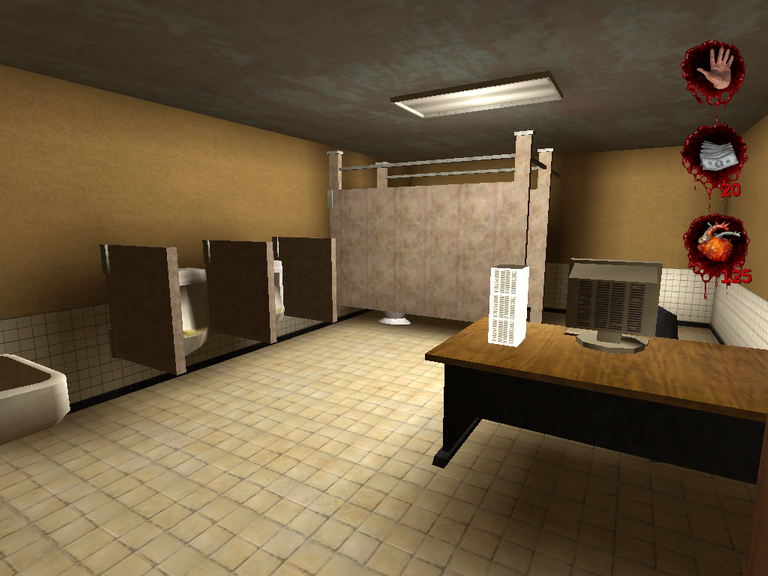 Estuve explorando los backrooms un rato, haha, en serio parecen backrooms, creo que por eso es que da tanto miedo este puto juego XD. Conseguí la oficina donde estaba mi cheque de pago y ahora voy al banco a retirarlo. Y también todos los que estaban protestando afuera decidieron entrar y dispararnos, menos mal conseguí una ametralladora mientras exploraba, eso me ayudó a poder matarlos, porque literalmente TODOS están armados, hasta los perros...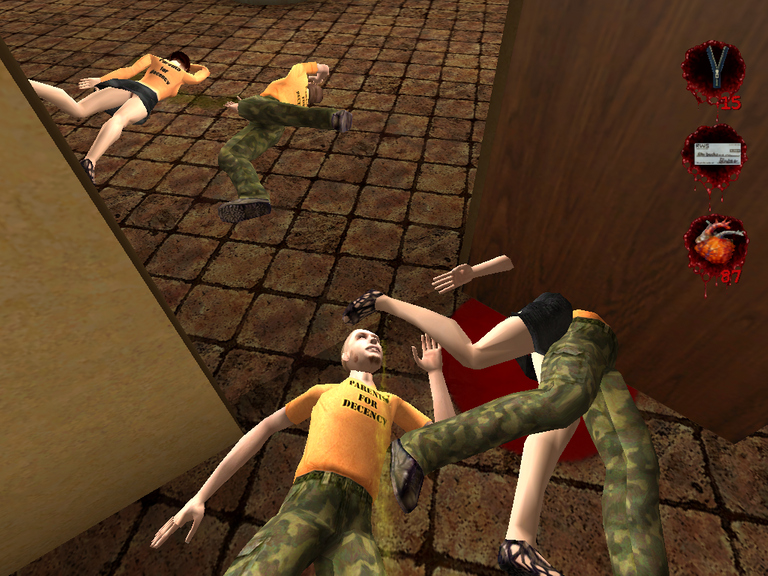 Y aunque parezca increíble, tuve que hacer una cola para poder cobrar mi cheque, sí, el juego tiene algunas cositas realistas, cómo esto, pero de resto, espero que NUNCA exista algo así en la vida real... ¿o ya existe? Bueno, en general el juego me está encantando, sigue manteniendo la esencia de siempre, al principio tal vez les cueste un poco, pero mientras más lo juegan más se enamoran del juego, y creo que eso es lo que importa realmente. Gráficamente vemos una mejora, no es inmensa, pero si se puede notar el juego mucho más detallado y con pequeños detalles, sin embargo sigue siendo gráficos del año 1300 antes de cristo...
Por cualquier sitio que pases encontrarás música, gente hablando, disturbios, etc. Literalmente hay bastantes cosas en las que fijarse, la ciudad es muy movida y eso está cool ya que le da vida, más de la que tiene... Cada peatón hace cosas distintas, podemos encontrarnos borrachos en medio de la calle bailando, o mujeres insultando a otros, es simplemente una jodida locura.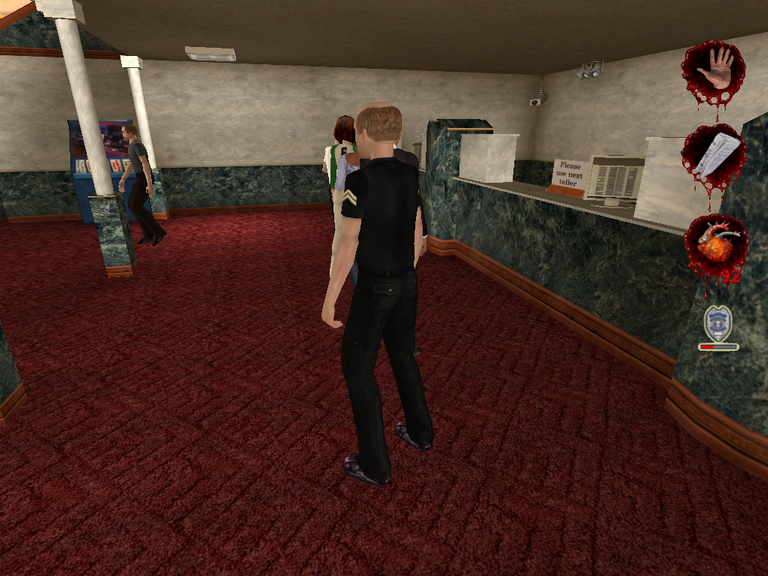 Sin duda alguna terminé mi "lunes" demasiado bien, hice todas mis misiones y logré conseguir bastantes armas, eso está cool. Me impresiona lo extraño que es el juego, y aún así es divertido y dan muchas pero muchas ganas de jugarlo. Yo luego de terminar este post con mis "primeras impresiones" seguiré jugando quién sabe hasta que hora, la verdad es que Postal lo extrañaba, y luego de aburrirme de este, pasaré al tercero y así hasta que mi PC aguante, sí, porque todo depende de ella haha. La verdad es que les recomiendo este juego, jueguen la versión que sea, da completamente igual, si pueden jugar la última o la primera, la experiencia será la misma, pero habrán algunas cosas distintas, es todo. Nunca será un juego normal, NUNCA.
Espero les haya gustado el post, y díganme, ¿lo han jugado? Juegénlo! Saludos.