Hello, I'm glad to greet all Rising Star fans and hope you are well.
hola! Gusto Saludarles a todos los aficionados de Rising Star espero se encuentren bien.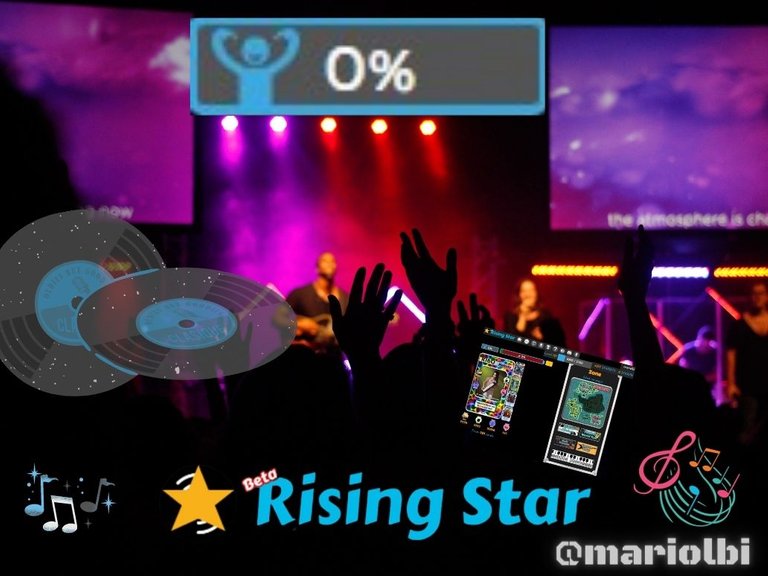 I have not told you about my Rising Star account for a long time, the first thing I want to tell you is that I have not left my account, on the contrary, I have it currently at level 107 in a year that I have been in it, I do not know if it is little but I have been constant and almost everything I have reinvested.
Currently there is no denying that the STARBITS has dropped to levels that few of us expected, because it is an inflationary token "a lot of STARBITS is produced and little is burned", there is a way to burn it making music promoter but it is not enough, hopefully the administrators create another way to burn the token within the same game to help maintain its economy.
Llevo largo tiempo sin contarle sobre mi cuenta de Rising Star, lo primero que les quiero decir, es que no he dejado mi cuenta, todo lo contrario, la tengo actualmente en nivel 107 en un año que llevo en ella, no sé si será poco pero he sido constante y casi todo lo he reinvertido.

Actualmente no se puede negar que el STARBITS ha bajado a niveles que pocos esperábamos, debido a que es un token inflacionario "se produce mucho STARBITS y poco es el que se quema", existe una manera de quemarlo haciendo music promoter pero no es lo suficiente, esperemos que los administradores creen otra forma de quemar el token dentro del mismo juego para ayudar a mantener su economía.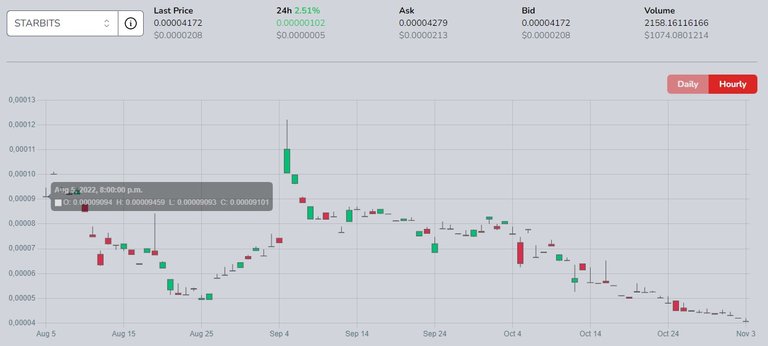 Graph of the STARBITS
But what has me a little more reassured is that the best games I know of are the hive network games. So we are still in them, let's remember that we are currently in a bear market.
Pero lo que me tiene un poco mas tranquila es que los mejores juegos que conozco son los juegos de la red hive. Así que seguimos en ellos, recordemos que actualmente estamos en un mercado bajista.

Now, what I come to tell you is the subject of ego, the one that overwhelms many and even in real life we can notice it, I take this opportunity to tell those who suffer from this evil, that in the sight of others is in bad taste.
At the beginning, when I started to gain ego in the account, I immediately took music lessons to combat it until it reached zero and that's what I spent my time on, until I created my own plan, in the following line I will let you know it
Every morning, the first mission that I execute even if my ego is at 0 is my music injury, as it is well known, you must accumulate some specific instrument the more cards you have of that instrument the more skill you will gain during the injury, helping to bring your ego to 0, currently I collect guitars. I do this every day before getting out of bed, with this methodology I have accumulated 1500 temporary drunks and my ego still remains at 0, the first time that happened to me the 1500 drunks and I noticed my ego at 0, I said my plan has worked as I expected, so it has not been in vain to stop producing the token for an hour every morning, so I do not worry that I will raise the ego of my account.
Ahora bien, lo que vengo a contarles es el tema del ego, ese que agobia a muchos y hasta en la vida real lo podemos notar, aprovecho la ocasión para decirles a los que sufren de este mal, que ante la vista de otros es de mal gusto.

Al principio, cuando comencé a ganar ego en la cuenta, realizaba inmediatamente lecciones de música para combatir el mismo hasta llevarlo a cero y en eso me la pasaba, hasta que cree mi propio plan, en la siguiente línea te lo doy a conocer 👇

Cada mañana, La primera misión que ejecuto así tenga el ego en 0 es mi lesión de música, como bien se sabe, debes acumular algún instrumento en específico mientras mas cartas tengas de ese instrumento más skill ganarás durante la lesión, ayudante a llevar tu ego a 0, actualmente colecciono guitarras. Esto lo hago todos los días antes de levantarme de la cama, con esta metodología he llegado a acumular 1500 borrachos temporales y mi ego aún así se mantiene en 0, la primera vez que me pasó lo de los 1500 borrachos y noté mi ego en 0, dije mi plan ha funcionado como lo esperaba, ósea que no ha sido en en vano dejar de producir el token por una hora durante todas las mañanas, así me despreocupo que vaya a subir el ego de mi cuenta.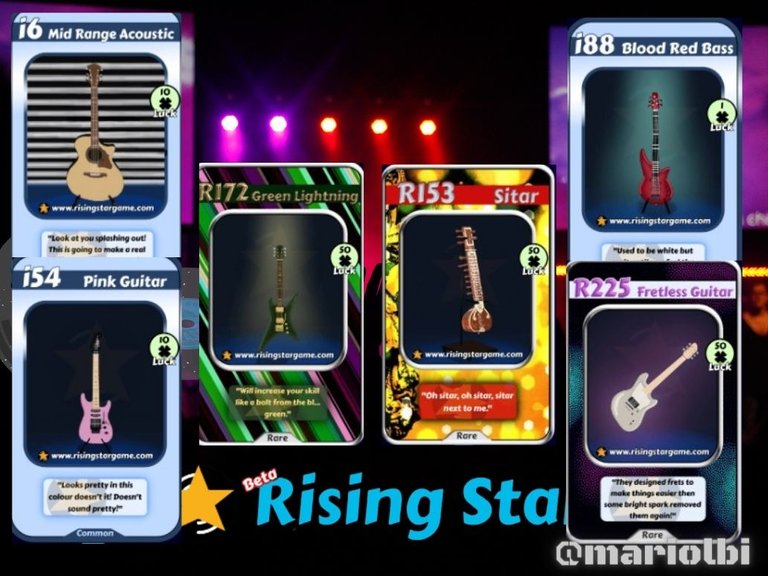 These are the cards that I accumulate of guitars, I have several repeated, I have acquired them buying them in the market and others that I have gotten with the opening of packs.
Estas son las cartas que acumulo de guitarras, tengo varias repetidas, las he adquirido comprándolas en el mercado y otras que me han salido con la apertura de de packs.
The fans of #RisingStar have their strategy to combat the ego, for example there are people who dedicate their weekends to perform music injuries, others every so many days perform their injuries and others as their ego is increasing are executing their music injuries, each one executing it as they see fit.
Los aficionados de #RisingStar tienen su estrategia para combatir el ego, por ejemplo hay personas que dedican los fines de semana a realizar lesiones de música, otros cada tantos días realizan sus lesiones y otros a medida que va aumentando su ego van ejecutando sus lesiones de música., Cada quien la va ejecutando cómo mejor les parezca.

I invite you to comment if you have a better strategy, or how do you like mine ✨.
Te invito a que comentes Si tienes una mejor estrategia, o que tal te parece la mía ✨

Hasta una nueva publicación🚀
Until further publication🚀