Quests have an important role in the game of Holybread. They help the player in increasing the level/s of Hero/es and at the same time in earning Gold.
Quests can be attempted from the first tab, Quests (Red color Arrow and Box), by clicking on the button, Ask for new quests (Turquoise color Arrow and Box).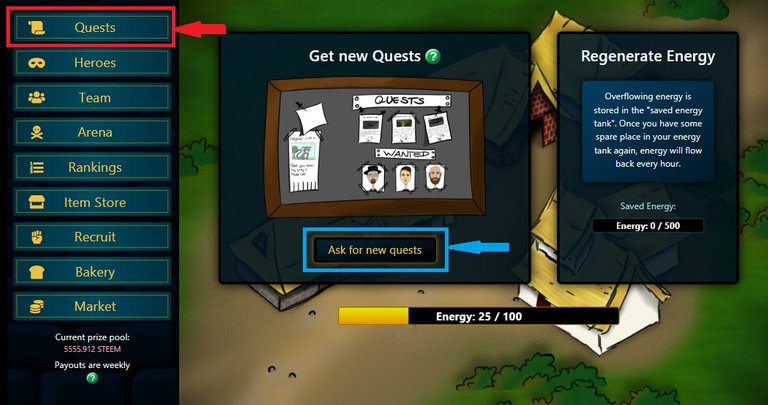 Sometime, players also get items for their Heroes from the quests other than Gold and increase in Level.
When a player asks for a Quest, Holybread shows him/her three Quests to choose from...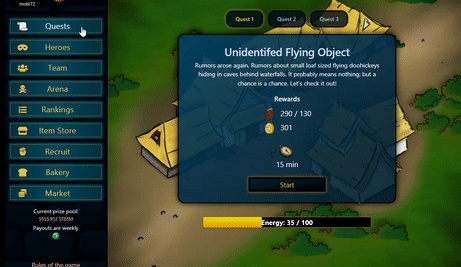 These quests could be of three different duration; 5 minutes, 10 minutes or 15 minutes.

Each quest consumes the energy equal to the duration of the quest. For example, a 5 minutes quest consumes 5 Energy.
Player cannot attempt a quest if he/she has no Energy to utilize.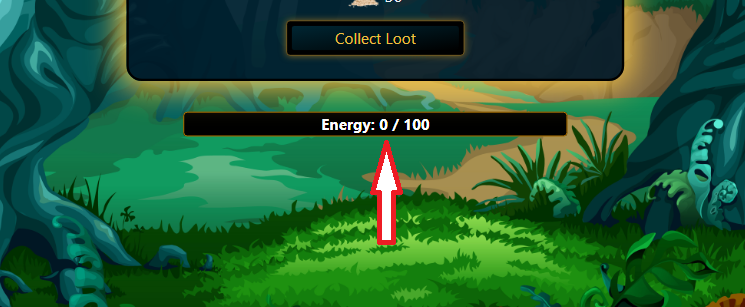 Holybread regenerates 10 Energy in an hour. And, in case, you don't play for 10 hours then the extra energy will start to store in the TANK. Capacity of the Tank for the Energy storage of a normal account is 50.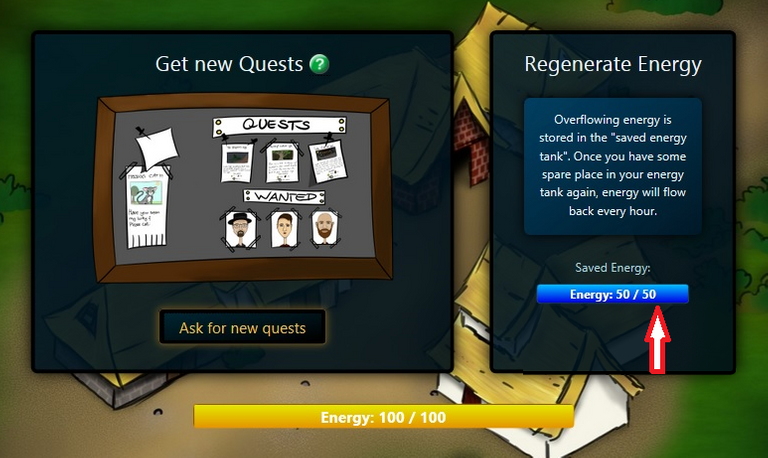 Holybread will continue to generate the Energy every hour even after that, but Tank won't be able to contain extra energy after 50. A total of 150 Energy will be available for the player in that case.
Whereas, a Premium Account has the Tank which can save Energy up to 500, a total of 600.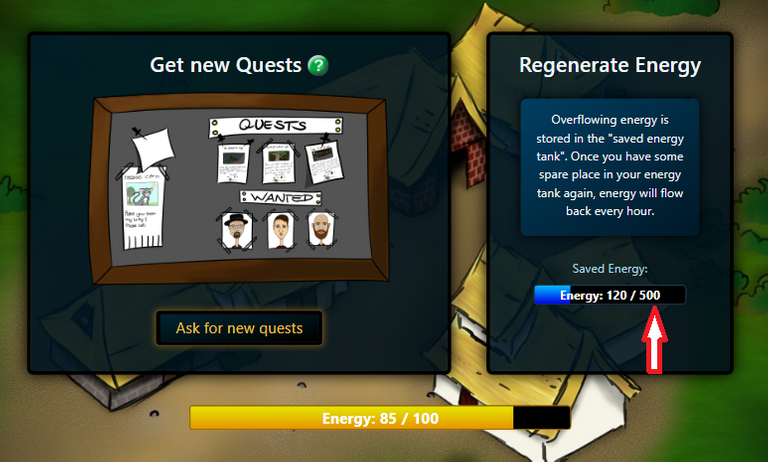 As I mentioned above by attempting the Quests, a player can have following advantages.
Increase in Level/s,
Earn Gold,
Get an Item for the Hero (This Item could be a Common or Epic Item),
Get a Hero (This Hero could be a Common, Rare, Epic or Legendary Hero).

A player can occasionally come across a quest with an item whereas getting a Hero from the quests is quite rare, it normally happens when a new hero slot is going to open.
Keep in mind, a player can have three Heroes in his/her team.
You cannot choose a quest for a Hero but you can choose a quest that has an item in it...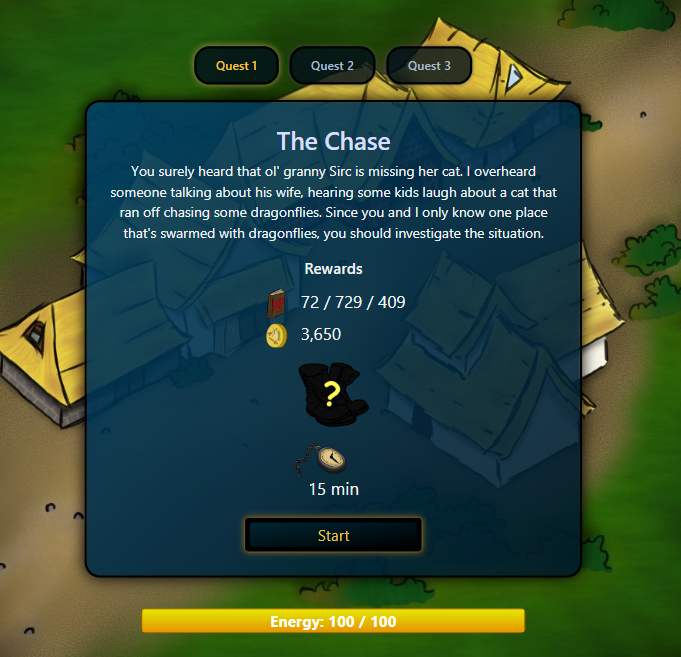 This quest could be one of the three quests or there could be two quests with items out of three. I haven't come across a situation where all three quests have an item in each of them.
If there are two quests with items then they normally offer items in different categories. There are four categories of items; Weapon, Chest, Head & Shoes.
I normally pick the quest which has an item to offer whenever one such quest is available. If it has some better features than the item I already have then I replace it with that item, otherwise I sell it in the Item Store for the Gold or place it in the Market for other players to buy it against Steem.

Increase in Level/s increase the Damage and HP (Life) of the Hero/es. You cannot have more than 240 Energy in a day, so you have to choose the quests wisely. Choose quest that uses less Energy and gives more Gold and/or increase in the Level/s.
For example, I chose Quest 1 when I had to decide in between Quest 1 and Quest 3...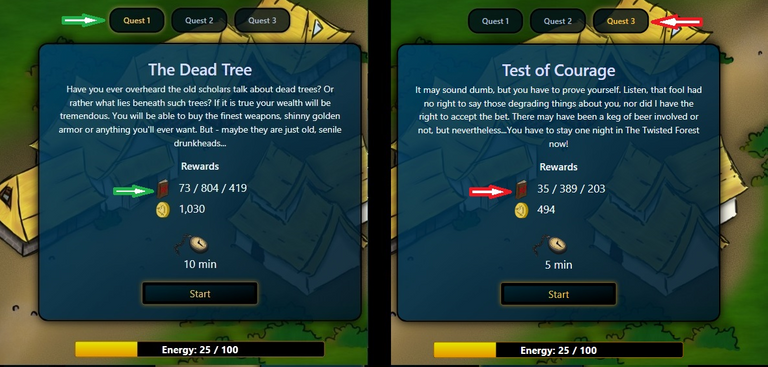 Even though, there is no significant difference here but as it is said, every penny counts. I got a little more from Quest 1 (10 minutes quest) than I would have had from Quest 3 (5 minutes quest), again every Gold and increase in level count.
Sometimes, this difference could be huge.
See the following example where Quest 3 has 4 times plus more Gold and 6 times plus increase in Level/s as compare to Quest 1.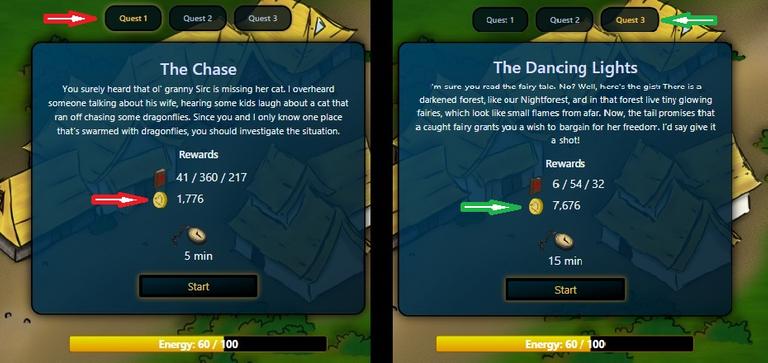 ONE THING SHOULD ALWAYS BE KEPT IN MIND...
Don't attempt the very first quest without going through the details of the rest of the quests.
WHY?
See the following example where both the quests, Quest 1 and Quest 3, are of the same duration, 10 minutes, and have the same amount of Gold, 2375 Gold, but the increase in Levels is more than double in Quest 1 than in Quest 3.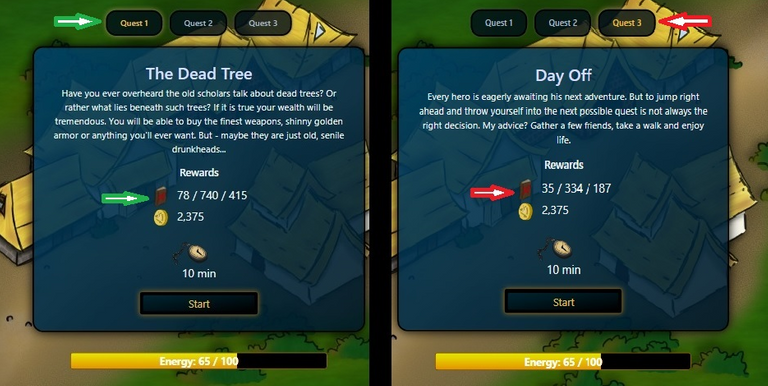 Another example where both the quests, Quest 2 & Quest 3, are of the same duration, 10 minutes, but Quest 3 is better than Quest 2 in every aspect.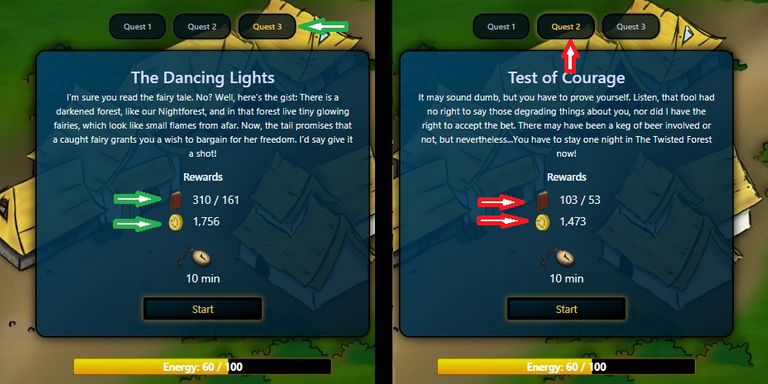 In above two examples, a player can get more of almost everything while spending the same amount of Energy.

I hope, this post would have clarified a couple of things for new players about the QUESTS in HOLYBREAD in order to understand WHY & HOW TO ATTEMPT THEM.