Wieder eines dieser absurd überfinanzierten Kickstarter-Projekte - aber ich war selten so froh über ausgegebenes Geld. Schaut euch meine Gründe dafür an.
Another one of those ridiculously overfunded Kickstarter projects - but I was rarely so glad about money spent. Take a look at my reasons for that.
Die Crowdfunding-Kampagne begann am 14. Januar - ich hatte darüber in einem Blog gelesen, der regelmäßig neue Projekte in den Bereichen Tabletop / Pen & Papier / Brettspiele vorstellt. Ich erinnere mich, dass ich anfangs etwas skeptisch war, aber nach einer Woche wieder auf die Seite ging und sah, dass das Projekt schon nach drei Tagen finanziert worden war. Es fiel dann Stretch Goal nach Stretch Goal und - was mir wirklich gefiel - die Leute vom Projekt haben gefragt, was die Käufer sich wünschen würden: welche Kulturen, welche Spezies, welche interessanten Merkmale. Also hab ich die 20 Dollar ausgegeben und mit angehaltenem Atem gewartet.
The crowdfunding campaign began January, 14th - I read about it in a blog that regularly presents new projects in tabletop / pen & paper / board games. I remember I was a bit sceptical at first, but came back to it after a week and saw that it had been funded after three days! They unlocked stretch goal after stretch goal and - what I really liked - asked what people wanted: which cultures, which species, which interesting features. So I threw $20 at them and waited with bated breath.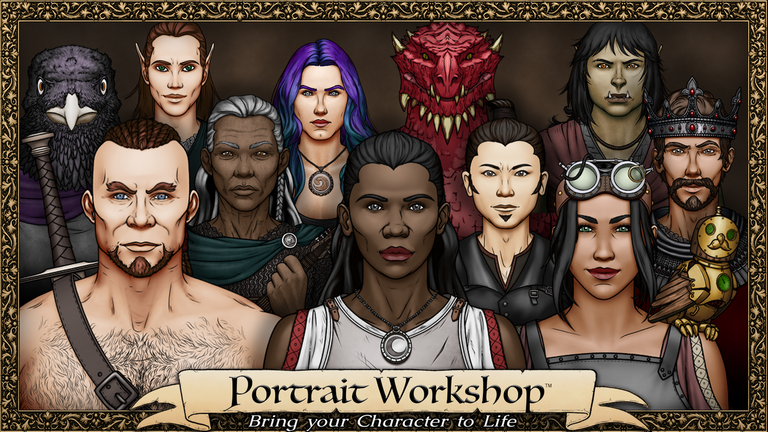 What is Portrait Workshop?
Es ist eine App für Handys (iOS oder Android) zur schnellen und einfachen Erstellung von "maßgeschneiderten" Charakterportraits. Jeder Rollenspieler (der nicht selbst gut zeichnen kann) weiß, dass es eines der schwierigsten Dinge ist, den Charakter, den man im Kopf hat, zu finden um ihn anderen zu zeigen. Man sucht im Netz, von Deviant Art bis zum blöden Pinterest, und kommt nur zu "Sie sieht so aus, nur dies und das ist anders, sie hat eine andere Waffe und eine andere Rüstung". Damit ist es jetzt vorbei für mich!
It is an App for mobile phones (iOS or Android) for the fast and easy quick generation of customized character portraits. Every tabletop RPG player (that can't draw them themselves) knows that one of the most difficult things is to show the char you have in your mind to others. You search the net, from Deviant Art to the dreaded Pinterest and only come to "She looks like that, only this and that is different, she has another weapon and a different armour". Now I'll never have to do that again!
Die Beta-Version ist für Unterstützer des Kickstarters bereits verfügbar. Wer da noch einsteigen möchte, werfe einen Blick auf die Kickstarter-Seite, da scheint es eine Möglichkeit zu geben. Aber jetzt werde ich die einzelnen Schritte zeigen, um "meinen" Char zu machen. Eine meiner Pathfinder-Charaktere ist eine Elfen-Waldläuferin 1 - der sprichwörtliche "direkt aus dem Wald - Menschen sind seltsam - worüber lacht ihr schon wieder"-Elf.
The beta version is already available for backers of the Kickstarter. If you want to jump on the bandwagon, take a look at the Kickstarter page, there seems to be a way for that. But now let me show you the individual steps to make "your" char. One of my Pathfinder characters is an elven ranger1 - the most stereotypical "straight from the woods - people are strange - life is no joke" elf you ever saw.


How it works
This post was made with Peakd and looks best with that front-end.
| The starting page: you see the criteria for the rough figuration of your char and below some randomly composed portraits. There are always 24 shown and at the bottom is a button for "respin". | | Die Startseite: Man sieht die ersten Kategorien, die zur Auswahl stehe um einen Char zu gestalten. Darunter finden sich einige zufällig erstellte Portraits - 24 sind es jedes Mal mit einer Option auf weitere. |
| --- | --- | --- |
| For age I choose "mature". | | Beim Alter habe ich "erwachsen" ausgewählt. |
| My ranger is female. | | Meine Elfe ist weiblich. |
| These are the already choosable species, new are unlocked every few weeks. Further species are: avian, beastman, dwarf, gnome, halfling, orc, reptile, devilish and "other" | | Dies sind die momentan wähbaren Spezies, neue werden alle paar Wochen freigeschaltet. Es kommen noch: Flugwesen, Tierwesen, Zwerge, Gnome, Halbling, Orks, Reptiloiden, Höllenwesen und andere. |
| Of course she's a wood elf! | | Natürlich eine Waldelfe - waldiger geht nicht ;) |
| The available classes. Even if you play systems without these classes it helps to know them - fighter tend to have a different build than bards or wizards. | | Die "klassischen" Klassen. Bei Charakteren für Systeme ohne diese Klasseneinteilungen kann man sich dieser bedienen - Kämpfer tendieren zu einem anderen Körperbau als Barden oder Zauberer. |
| Six of the 24 portraits offered, I scrolled through them to choose one, going for general build and face form. | | Sechs der 24angebotenen Porträts, ich habe mir eines ausgesucht nach Körperbau und Gesicht als Ausgangspunkt. |
| Now that we have the body, the char needs a weapon and armour! | | Der Körper ist fertig, es fehlte noch Waffe und Rüstung. |
| This is the portrait I choose for fine-tuning. | | Diese ist die Grundlage für meine Feineinstellungen. |
| Since she already has a quiver on her back there is no place for a backpack. I didn't want anything in addition to the quiver's strap. | | Sie hat ja schon einen Köcher auf dem Rücken, es gäbe sonst z. B. noch die Möglichkeit eines Rucksacks. Ich habe mich gegen eine Änderung entschieden. |
| Gear: here that means different bows or now bow. I choose the bow on the non-quiver side. | | Gear, also Ausrüstung, ist hier natürlich der Bogen. Verschiedene Varianten, ich habe mich für den Bogen auf der Nicht-Köcher-Seite entschieden. |
| These are all the things you can change - follow me while I work through them. | | DAs kann man alles ändern: Rüstung, Ausrüstung, Gesichtsform, Gesichtsbehaarung, Haarfrisur, Kleidung und Schild. Und es kann natürlich überall die Farbe geändert werden. Ich zeige euch, was ich bei meiner Elfe noch verändert habe. |
| Different Faces - from round and well-nourished to nearly-starved. | | Verschiedene Gesichtsformen, von wohlgenährt bis halb verhungert. |
| And these are the features you can change. | | Und diese Dinge kann man nach Wunsch ändern: Ohren, Augen, Puppillen, Augenbrauen, Kopfform, Mund und Nase. |
| Changing the ears - of course they're pointy! | | Elfenohren sollten irgendwie spitz sein... |
| These (and more) ears are available... | | So viele Ohren... |
| This is how she looks now. | | So sieht sie mit den neuen Ohren aus. |
| Form of the eyes: | | Augenformen... ich beginne, leicht überfordert zu sein... |
| Five different round eyes. | | Fünf unterschiedliche runde Augen. Soll ich auswürfeln? |
| Hairstyle - I wanted something "not complicated and practical" | | Haarfrisuren - im Angebot sind: kahlköpfig, Zöpfe, lockig, Dreads, kraus, modern, glatt, besonders, wild, Hochfrisur und wellig. Ich wollte etwas "praktisches" für meine Feld-, Wald- und Wiesenelfe - also Zöpfe. |
| Six of many different braided hair styles. I liked the first one. | | Sechs von vielen verschiedenen Zopffrisuren. Die erste gefiel mir. |
| Now the outfit - again, I wanted something simple. | | Was soll ich nur anziehen? Bzw. meiner Elfe anziehen ;) Mir schwebte etwas einfaches vor. |
| A simple shirt with a leather vest | | Ein einfaches Oberteil und ein Lederhemd, dem man die Handarbeit ansieht. |
| Eyecolors. I really need a dice to help me decide... | | Augenfarben. Die Qual der Wahl. |
| Outfit color - I wanted something light, but no bright colors. | | Farbe der Kleidung - mir schwebte etwas in "Natur" vor für das Oberteil. |
| Here is the different shirt and now it's time for the hair color. I wanted a brown, but a different hue. | | Das hellere Shirt sehen wir hier, und nun ist es Zeit für die Haarfarbe. Ich wollte ein etwas anderes Braun, mir war das zu "Ton in Ton" mit dem Leder von Hemd und Köcher und dem hölzernen Bogen. |
| Finally the background - something light, but not white was what I wanted. | | Und zum Schluß dann die Auswahl des Hintergrunds - kein reines Weiß, aber etwas helles war mein Wunsch. |
| Voilà - my customized character! Do you like her? | | Und so sieht sie aus, meine Elfe. Wie gefällt sie euch? |
---

DACH-Community Discord - für alle deutschsprachigen Nutzer


Du hast keinen Hive-Account? Hier ist der schnellste und einfachte Weg dorthin!
You're not on Hive? Here you'll find the best and most fast way to enter this world :)
---
1
Gut, sie hat jetzt auch eine Stufe Paladin bekommen. Irgendwie scheint Erastil das mit dem "das einfache Leben ist das wahre" und "Städte sind blöd" und so falsch verstanden zu haben...
Well, she's multiclass now because she - don't ask me how - aquired one level of paladin as well. Erastil somehow must have heard her preachings of the simple life and her loud loathing of civilization...