⚪English🔵⚫Español🔴
Hi Hivers❗🐝 welcome to a new post, today we are back in injustice 2 mobile to promote a character from the multiverse as well and give it a very good improvement to greatly increase the potential of this character, said this join me, and let the post begin ❗🐻🚀🎮
❗Hola Hivers❗🐝 bienvenidos a un nuevo post, el día de hoy estamos de vuelta en injustice 2 mobile para hacer la promoción de un personaje del multiverso igualmente y darle una muy buena mejora para aumentar en gran cantidad el potencial de este personaje, dicho esto acompáñenme ❗y que comience el post ❗🐻🚀🎮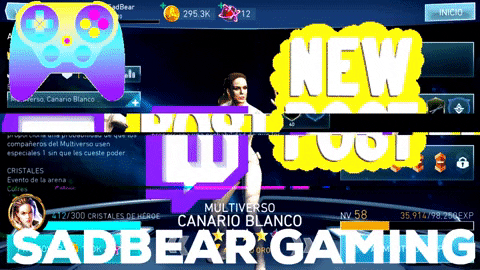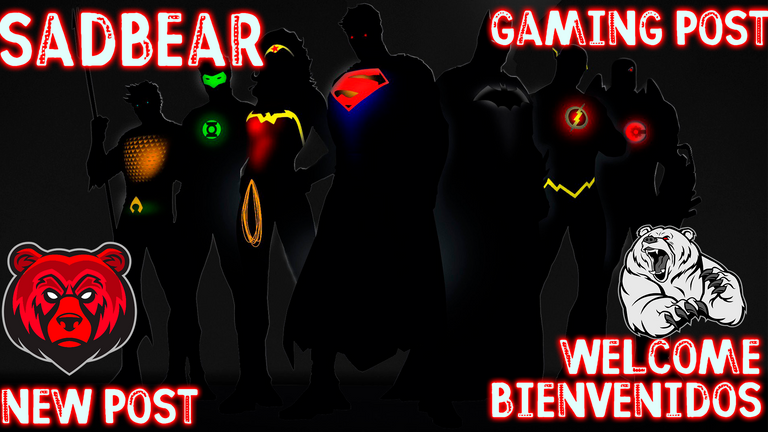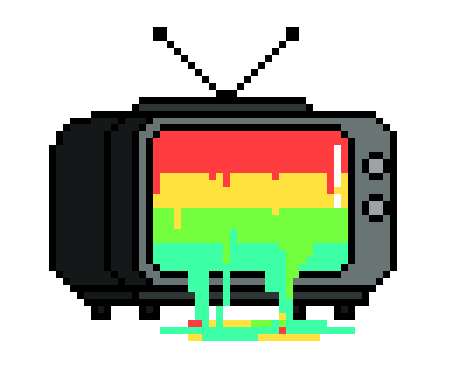 The character that we are going to promote today is White Canary from the multiverse, this character, although it may not seem that good at first glance, really is a pretty good character and that we can join with the other characters of the multiverse to form a quite acceptable team for to be able to obtain important victories in arena events or battles against other players, and today we are going to make a very special promotion to this character.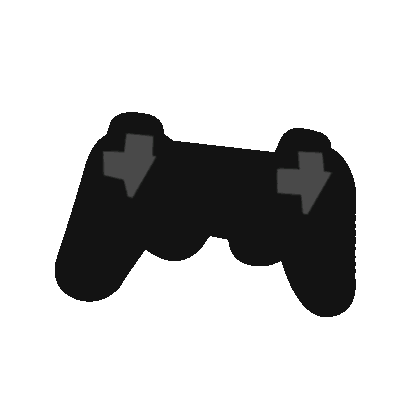 El personaje que vamos a promover hoy, es White Canary del multiverso, este personaje aunque parezca que no sea tan bueno a simple vista, realmente es un personaje bastante bueno y que podemos juntar con los demás personajes del multiverso para formar un equipo bastante aceptable para poder obtener victorias importantes en eventos de arena o combates contra otros jugadores, y hoy vamos a hacerle una promoción muy especial a este personaje.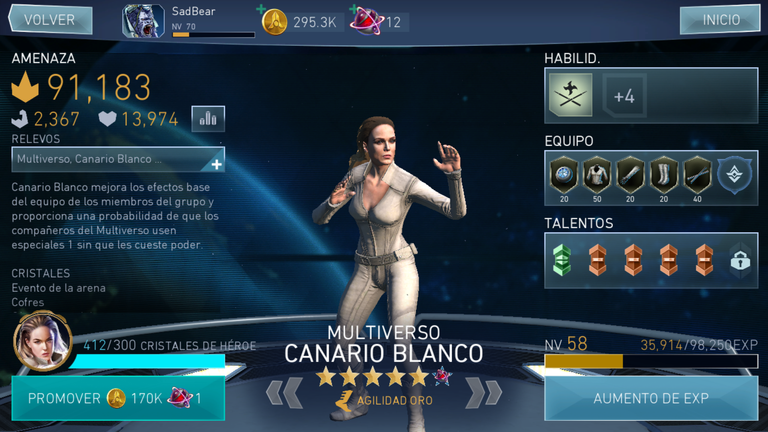 After spending a long time collecting crystals of this character, finally today we can promote it to 6 stars, and the last category of stars currently in the video game, in order to promote it we will have to use a good amount of gold, and also an orb that is obtained Through the league invasion, in addition to the fact that I had leftover crystals of the character after promoting it to 6 stars, once the character is promoted we have already exceeded 100,000 points of threats, and that we can continue to improve, increasing the skills of this character, in addition, as you can see, the character with 5 stars had a threat level equivalent to characters such as wonder woman, warrior queen, and robin master of the sword.


Luego de durar un buen tiempo recolectando cristales de este personaje, finalmente hoy podemos promoverla a 6 estrellas, y la última categoría de estrellas actualmente en el videojuego, para poder promoverla tendremos que utilizar una buena cantidad de oro, y además un orbe que se obtiene por medio de la invasión de liga, además de que me sobraron cristales del personaje luego de promoverla a 6 estrellas, una vez promovido el personaje hemos superado ya los 100.000 puntos de amenazas, y que podremos seguir mejorando, aumentando de nivel las habilidades de este personaje, además como pueden observar el personaje con 5 estrellas tenía un nivel de amenaza equivalente a personajes como wonder woman reina guerrera, y robin maestro de la espada.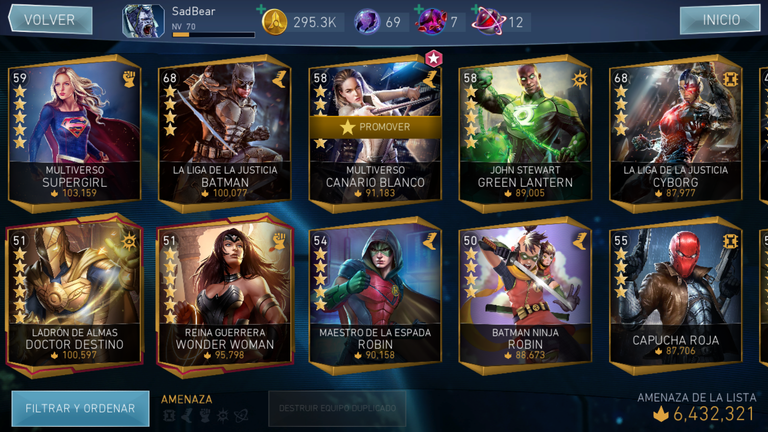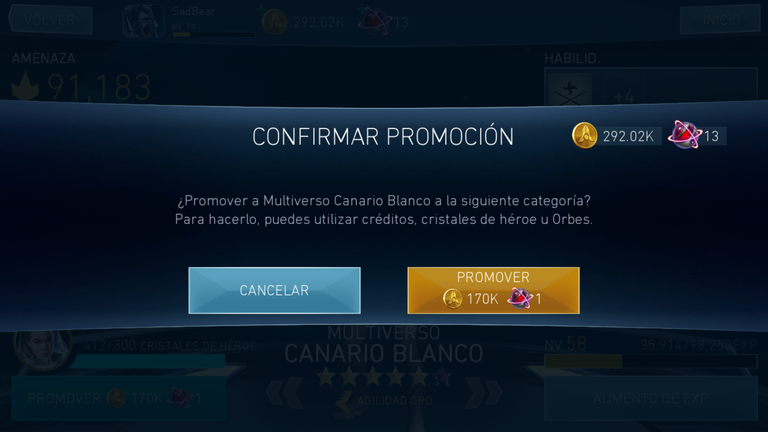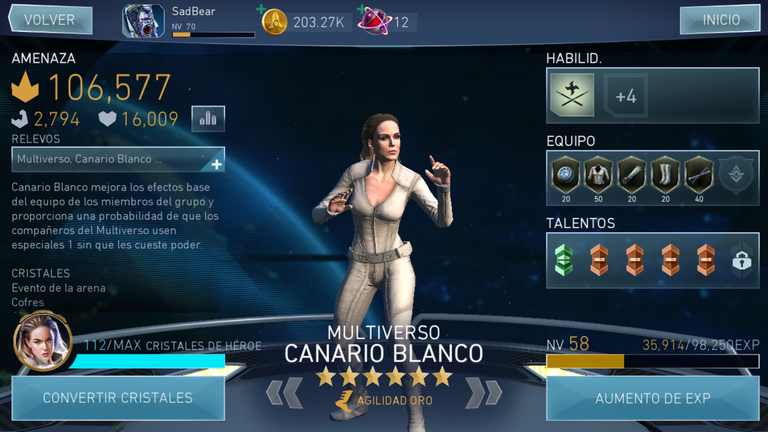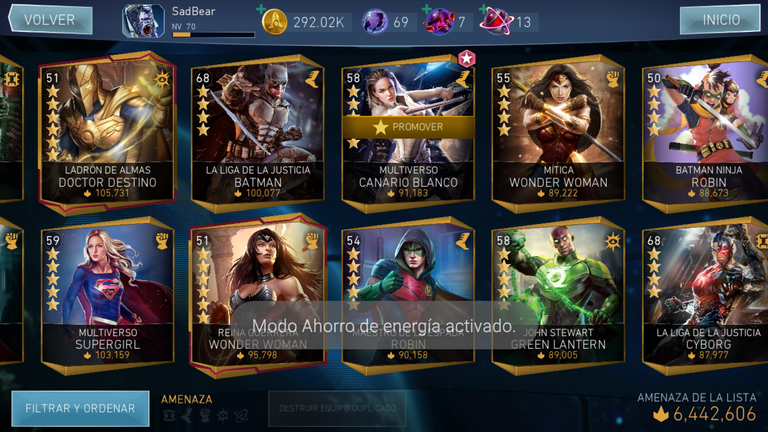 And this is where we begin to improve the passive abilities of the character, as you can see the first ability is called "Weapons of the multiverse", this ability allows us to have a 50% probability that the first special ability of all characters in the multiverse It does not cost us any power bar and that we can perform the same ability again after taking the first hit, in addition to that we will have 30% effects in the equipment material base, this means that we will obtain an increase in the equivalent equipment to the power that each character in the multiverse that makes up our team has, in offensive skills we have "baton twist" and this ability allows us to make an attack at close range by turning the White Canary batons to do damage, in addition to using the passive ability we have the possibility that this ability does not, it costs us power, then we have "Staff Burst" in the second ability of the character , in which it will perform a combo with its canes attacking the enemy quite quickly, and as a third ability we have a sonic device, with this ability we will have a large amount of damage that we can do to our opponents, in addition to being effective the blow will be able to effect the deactivation of the opponents' abilities, with a period of time of 2.5 seconds each time we use this ability, and personally I must say that it is one of the abilities that I use the most with this character.


Y es aquí donde comenzamos a mejorar las habilidades pasivas del personaje, como pueden observar la primera habilidad lleva por nombre "Armas del multiverso", esta habilidad nos permite tener un 50% de probabilidad de que la primera habilidad especial de todos los personajes del multiverso no nos cueste ninguna barra de poder y que podamos nuevamente efectuar la misma habilidad luego de dar el primer golpe, además de eso tendremos un 30% de efectos en la base de material del equipo, esto quiere decir que obtendremos un aumento en el equipo equivalente al poder que tenga cada personaje del multiverso que integre nuestro equipo, en las habilidades ofensivas tenemos "giro de bastón" y esta habilidad nos permite que a corta distancia podamos efectuar un ataque girando los bastones de White canary para efectuar daño, además de que con la habilidad pasiva tengamos la posibilidad de que esta habilidad no, nos cueste poder, luego tenemos "Ráfaga de bastón" en la segunda habilidad del personaje, en la que esta efectuara un combo con sus bastones atacando al enemigo de una forma bastante rápida, y como tercera habilidad tenemos dispositivo sónico, con esta habilidad tendremos una gran cantidad de daño que podremos a hacer a nuestros oponentes, además de que ser efectivo el golpe podremos efectuar el efecto de desactivación de habilidades de los oponentes, con un periodo de tiempo de 2.5 segundos cada vez que utilicemos dicha habilidad, y personalmente debo decir que es una de las habilidades que mas suelo utilizar con este personaje.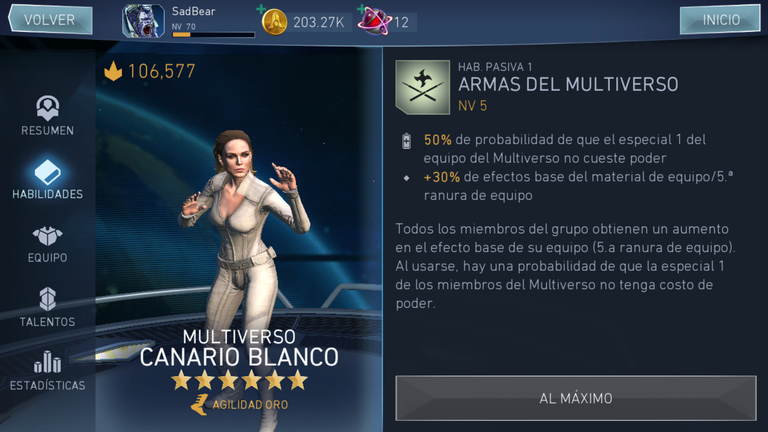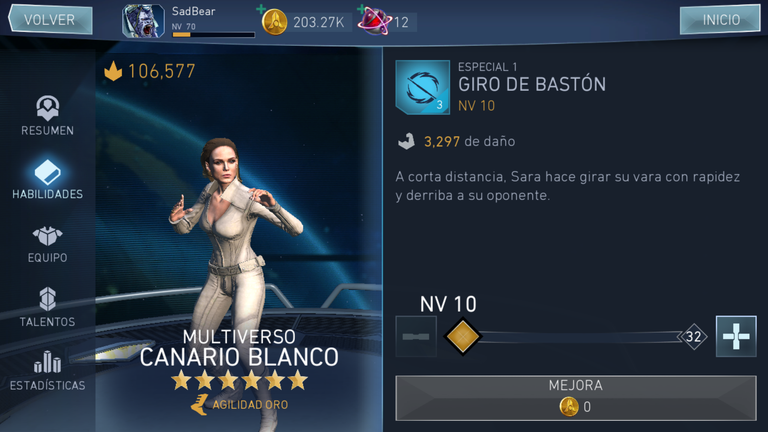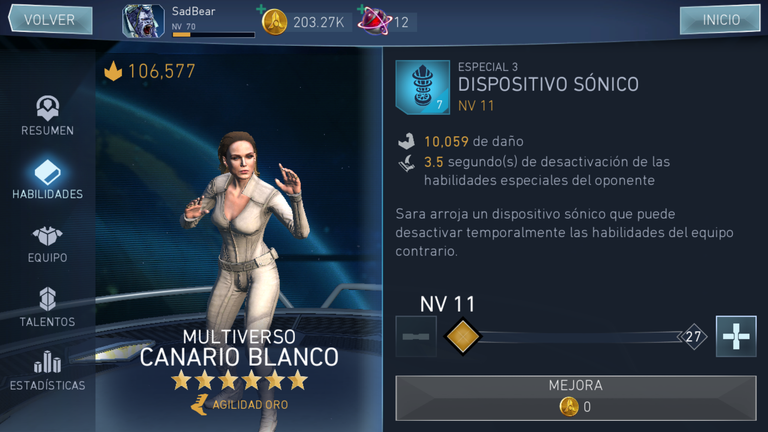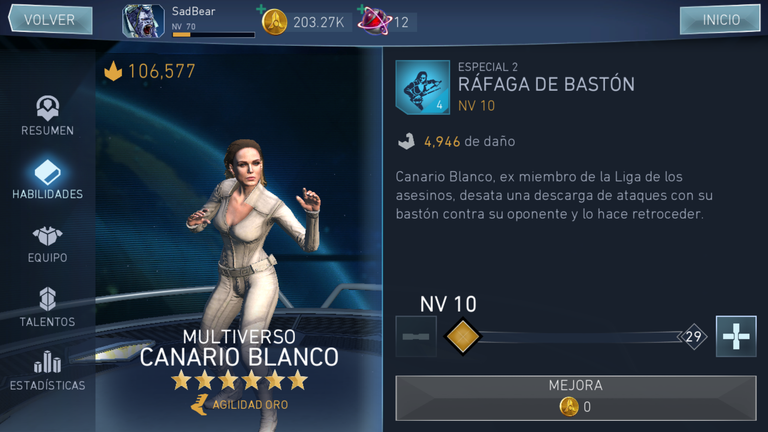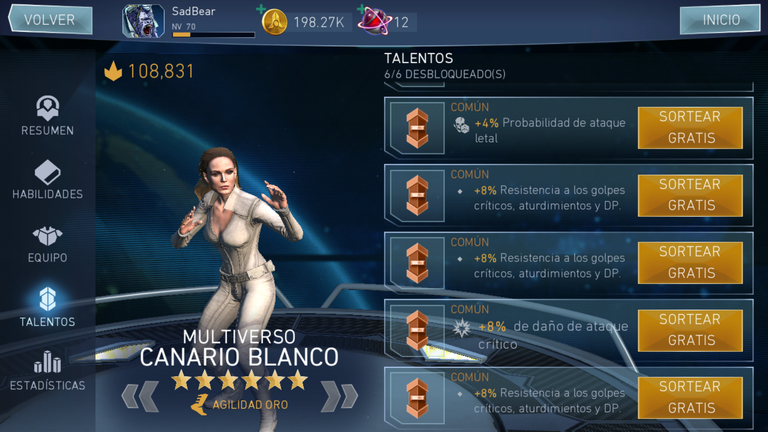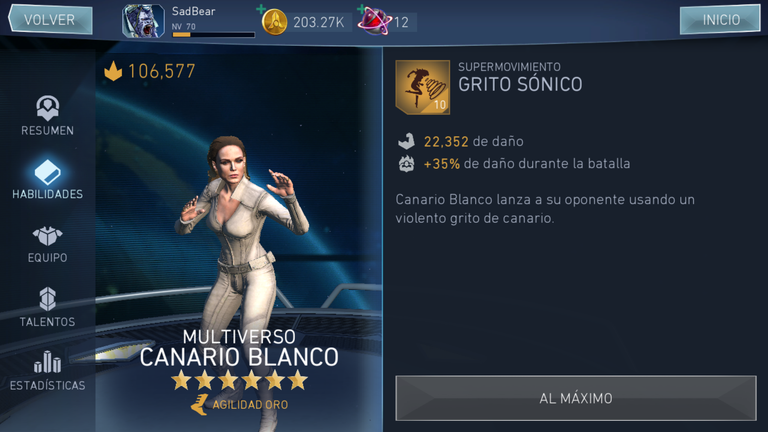 In the character equipment pieces, we have a level 20 in White Canary's sonic generator, in addition to level 50 in her jacket, level 20 in her gloves, level 20 in her boots, and finally level 40 in her attack sticks, Besides that we have a 22,000 damage if we use his sonic scream which is the character's final ability, which also if we use it gives us 35% damage during the battle where we use that ability, in the character's talents now we finally have 6 talents, where to begin with having the first epic talent in this character with 12% defense, and the remaining 5 talents are of common type, we can see that the threat level of the character has also increased and that we have an improvement of 108,000 points in total, in addition to the fact that in the summary of the character we have 239% damage per critical attack with a probability of 24%, we also have a 5% probability of making lethal attacks, 34% defense in the character With a 25% blockage on the character, we also have 24% resistance to blocks from other characters and also 24% resistance to prolonged damage, as another data we can see that the character with this improvement is now up to par From characters like optimized supergirl, and even surpassing characters like doctor fate, which I also have in the 6-star range, without a doubt this character from the multiverse has gotten a good change and now it will be even more effective than before.


En las piezas de equipo del personaje, tenemos un nivel 20 en el generado sónico de White Canary, además de nivel 50 en su chaqueta, nivel 20 en sus guantes, nivel 20 en sus botas, y finalmente nivel 40 en sus bastones de ataque, además de que tenemos un 22.000 de daño su utilizamos su grito sónico que es la habilidad final del personaje, que además si lo utilizamos nos otorga un 35% de daño durante la batalla en donde utilicemos dicha habilidad, en los talentos del personaje ahora tenemos finalmente 6 talentos, en donde para empezar tener el primer talento épico en este personaje con un 12% de defensa, y los 5 talentos restantes son de tipo común, podemos observar que el nivel de amenaza del personaje ha ido aumentando también y que tenemos una mejora de 108.000 puntos en total, además de que en el resumen del personaje tenemos 239% de daño por ataque crítico con una probabilidad del 24%, tenemos también un 5% de probabilidad de efectuar ataques letales, 34% de defensa en el personaje con un 25% de bloqueo en el personaje, también tenemos 24% de resistencias a bloqueos por parte de otros personajes y también un 24% de resistencia al daño prolongado, como otro dato podemos ver que el personaje con esta mejorar ahora esta a la altura de personajes como supergirl optimizada, y superando incluso a personajes como doctor fate, que también lo tengo en el rango de 6 estrellas, sin duda alguna este personaje del multiverso ha obtenido un buen cambio y ahora será todavía más efectivo que antes.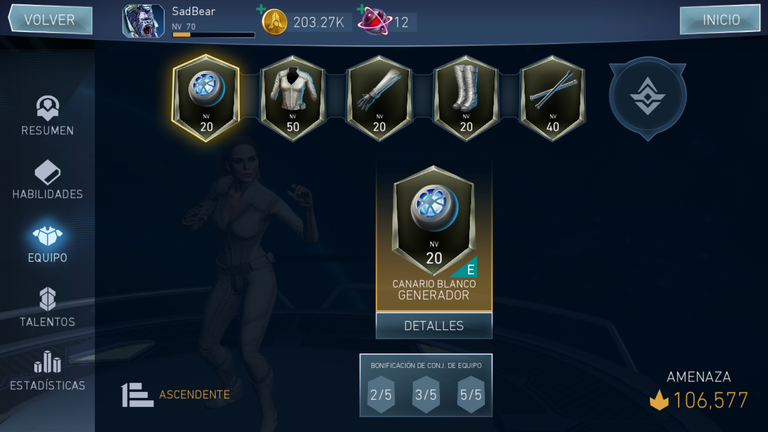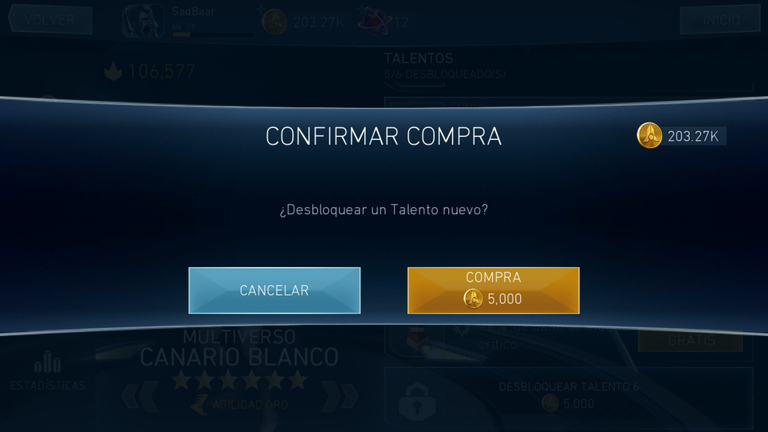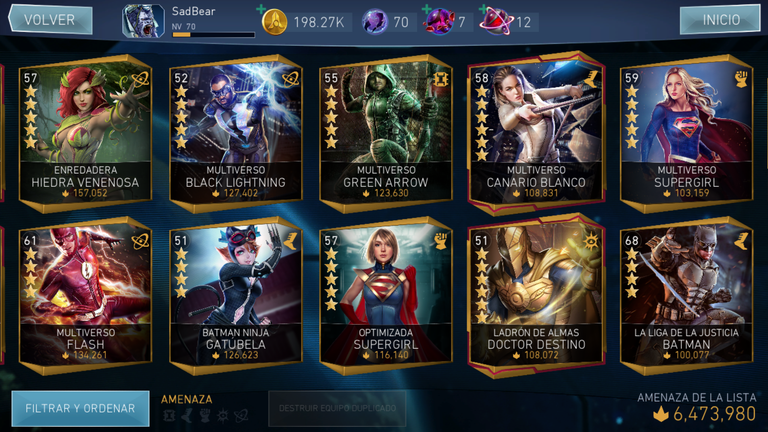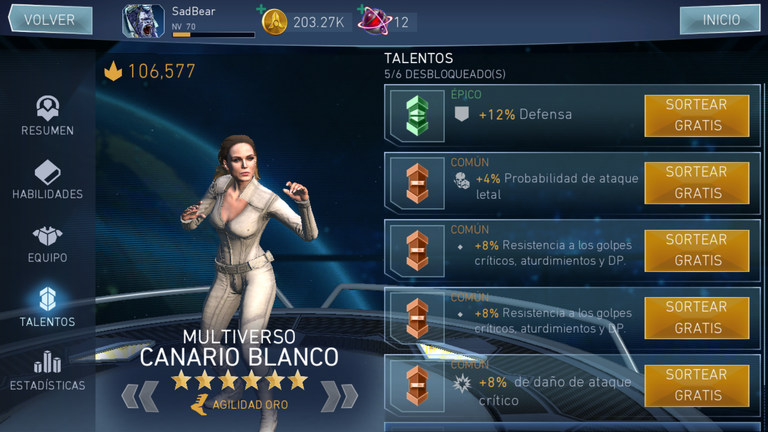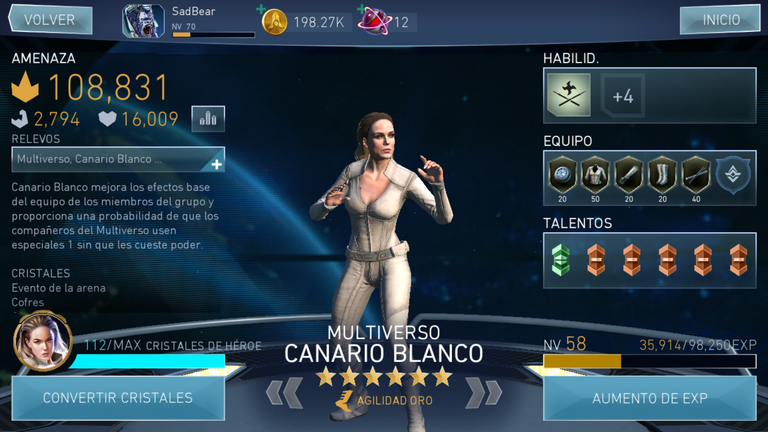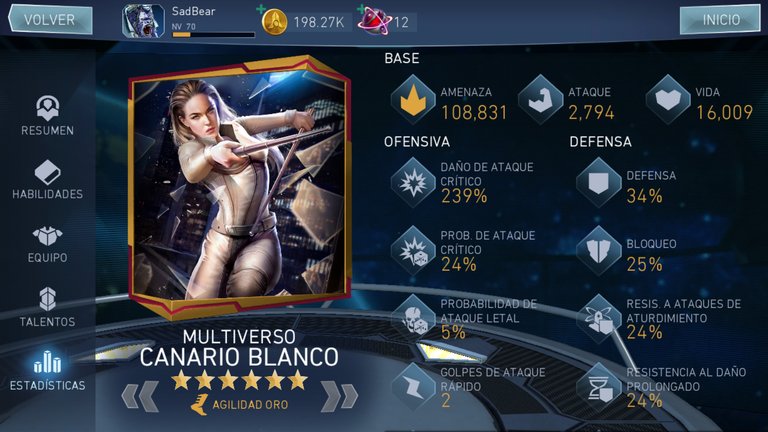 And so far today's post Hivers, I hope you liked it, but above all you enjoyed it, what did you think about the improvement of this character? What other character in the multiverse would you like to see? Let me know in the comments, yes Do you like my content, do not forget to follow me so as not to miss anything in your Hive feed, without more than saying I wish you a good morning, afternoon or evening, SadBear says goodbye from the cave, Until another time❗🐻🚀

All the images and gifs you saw in this post were taken and edited by me from injustice 2 mobile INGAME.🐺
Add me in discord if you want to give me suggestions for posts or know some information # SadBear # 6392👽
Captures taken With Samsung S5 Edge.🐯

Y hasta aquí el post de hoy Hivers, espero que les haya gustado, pero sobretodo lo hayan disfrutado, ¿Qué te pareció la mejora de este personaje?, ¿Qué otro personaje del multiverso te gustaría ver?, házmelo saber en los comentarios, si te gusta mi contenido no olvides seguirme para no perderte de nada en tu feed de Hive, sin más que decir te deseo unos buenos días, tardes o noches, Desde la Cueva se Despide SadBear ❗Hasta otra ocasión❗🐻🚀

Todas las imágenes y gifs que viste en este post fueron sacadas y editadas por mí de injustice 2 mobile INGAME.🐺
Agrégame en discord si quieres darme sugerencias para posts o saber alguna información #SadBear#6392👽
Capturas tomadas Con Samsung S5 Edge.🐯