Español | English
There are video games that are great and offer elements that we can spend hours and hours playing, interesting stories that captivate us, mechanics with which we can create unique moments, unique characters that are just perfect. I played Far Cry 3 and it offered me everything I talked about before, a game with a characteristic Far Cry environment, a story that I liked a lot and mechanics that offered me different ways to advance in the game. But today we won't talk about Far Cry 3, we'll talk about its DLC, Far Cry 3: BloodDragon (I'll try not to spoiler).
Hay videojuegos que son geniales y ofrecen elementos con los que podemos pasar horas y horas jugando, historias interesantes que nos cautivan, mecánicas con las que podemos crear momentos únicos, personajes únicos que simplemente son perfectos. Jugué a Far Cry 3 y me ofreció todo lo que hablé anteriormente, un juego con una ambientación característica de los Far Cry, una historia que me gustó mucho y unas mecánicas que me ofreció diferentes maneras de avanzar en el juego. Pero hoy no hablaremos de Far Cry 3, hablaremos de su DLC, Far Cry 3: BloodDragon (trataré de no hacer spoiler).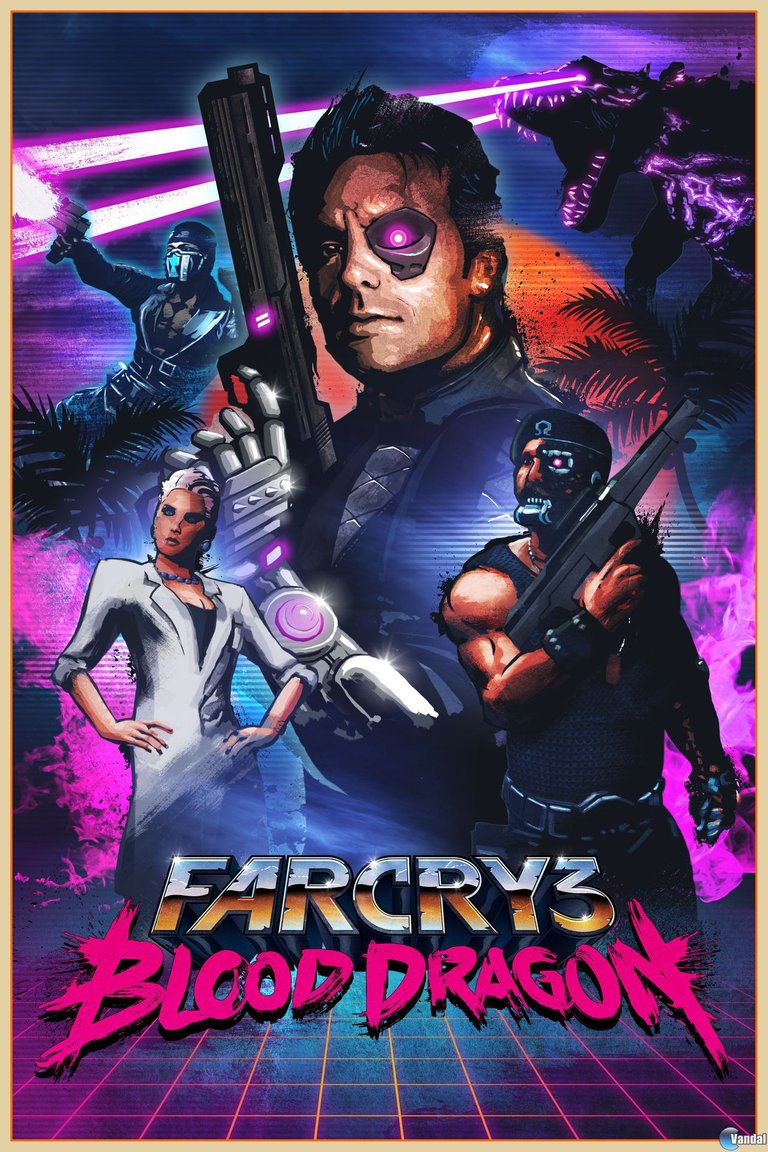 A DLC that turns Far Cry 3 into a new game set in the aesthetics of futuristic action movies of the 80s, the typical American movies where the protagonist is a man of action that deals with his enemies in the most masculine way possible, gaining muscle mass every time he kills an enemy, it is full of references to 80s cinema and with a Synthwave style, an aesthetic that personally is one of my favorites.
Un DLC que convierte todo Far Cry 3 en un nuevo juego ambientado en la estética que tenían las películas de acción futuristas de los años 80, las típicas películas americanas en donde el protagonista es todo un hombre de acción que se encarga de sus enemigos a de la manera más masculina posible, ganando masa muscular cada vez que acaba con un enemigo, está lleno de referencias al cine ochentero y con un estilo Synthwave, una estética que en lo personal es de mis favoritas.
Incluso los diálogos están basados en esa influencia del cine ochentero, jugamos como Rex Power Colt (sí, lo sé, el mejor nombre de la historia)un ciborg tipo IV y patriota americano, al ser un ciborg tiene características superiores a las de un humano común, puede sobrevivir a cualquier altura, correr a una gran velocidad y tener grandes habilidades de combates, a pesar de que es un tipo ciborg IV en un mundo de ciborgs tipo V sabe cómo hacer sufrir a los enemigos.
Even the dialogues are based on that 80's movie influence, we play as Rex Power Colt (yes, I know, the best name ever)a cyborg type IV and American patriot, being a cyborg he has superior characteristics than a common human, he can survive at any height, run at a great speed and have great combat skills, even though he is a cyborg type IV in a world of cyborg type V he knows how to make enemies suffer.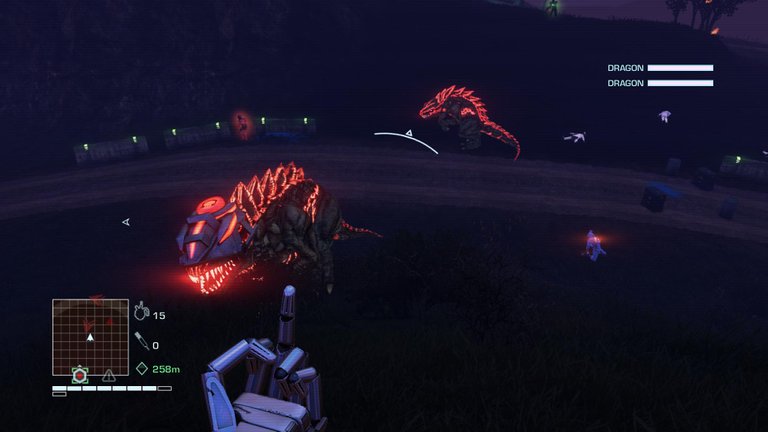 As in Far Cry 3 we will level up by killing or doing missions, but in Blood Dragon every time we level up we unlock a new skill or health bars without having to select them in a menu as in Far Cry 3, we can also unlock upgrades for weapons by doing side quests.
Al igual que en Far Cry 3 iremos subiendo de niveles matando o haciendo misiones, pero en Blood Dragon cada vez que subimos de nivel desbloqueamos una nueva habilidad o barras de salud sin tener que recurrir a seleccionarlas en un menú como en Far Cry 3, también podemos desbloquear mejoras para las armas haciendo misiones secundarias.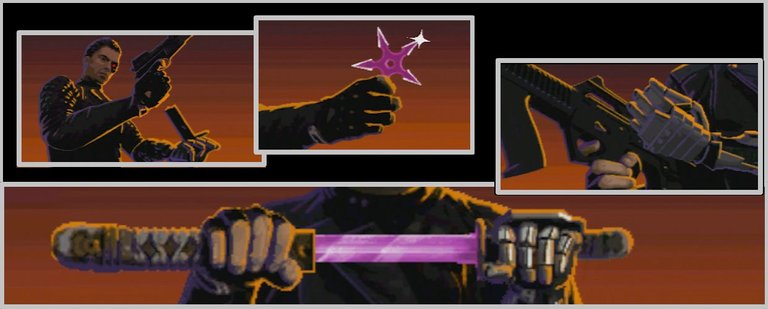 No tiene tanta variedad como el juego original, cómo diferentes vehículos, diferentes animales y misiones, pero esto es solo una expansión de un juego, y tampoco le hace falta tener todo eso para ser genial, el juego lo puedes completar en un solo día, solo tienes unas cuantas misiones principales (LA MISIÓN FINAL ES LA MEJOR MISIÓN DE LA HISTORIA DEL VIDEOJUEGO), misiones secundarias y puestos que debemos liberar eliminando a los enemigos de la zona, sí, al igual que en Far Cry 3
It doesn't have as much variety as the original game, like different vehicles, different animals and missions, but this is just an expansion of a game, and it doesn't need to have all that to be great, the game can be completed in one day, you only have a few main missions (THE FINAL MISSION IS THE BEST MISSION IN THE HISTORY OF THE VIDEO GAME), side missions and outposts that we must liberate by eliminating the enemies in the area, yes, just like in Far Cry 3.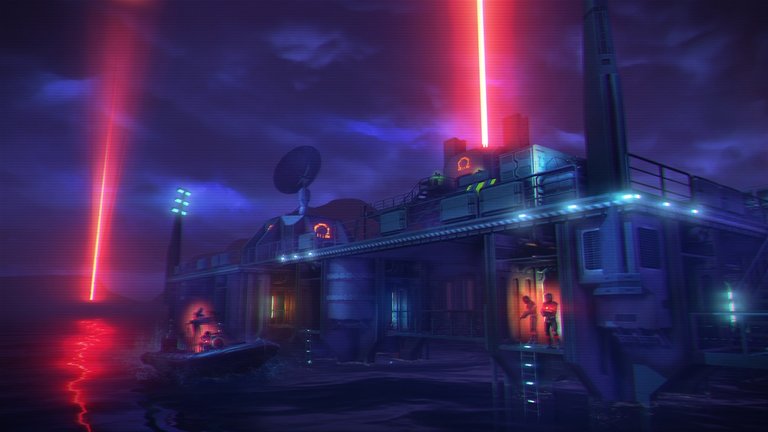 Pero Blood Dragon convierte todo eso en algo nuevo y hace que luzca como otro juego totalmente diferente, agregando elementos como dragones que disparan láseres por la boca, una de las grandes amenazas a las que nos enfrentamos, la resistencia a las balas que tienen los enemigos compensan nuestras habilidades súper humanas, podemos ejecutarlos rápidamente mediante el sigilo o con un ataque sorpresa, creo que es mi mecánica favorita de todo el juego, ejecutar rápidamente a un enemigo por la espalda y luego lanzarle una shuriken al enemigo que está a la distancia, todo sin ser detectado, es increíble.
But Blood Dragon turns all that into something new and makes it look like another game entirely, adding elements like dragons that shoot lasers out of their mouths, one of the biggest threats we face, the bullet resistance of the enemies compensate for our super human abilities, we can execute them quickly by stealth or with a surprise attack, I think it's my favorite mechanic of the whole game, quickly execute an enemy from behind and then throw a shuriken at the enemy in the distance, all undetected, it's amazing.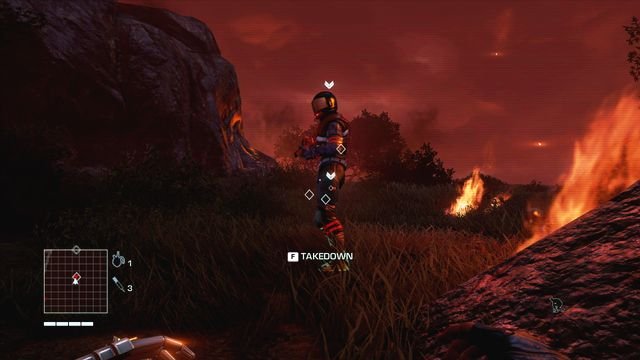 No hay un elemento del juego que no combine perfectamente con la estética y la banda sonora, es fácil familiarizarnos con todo lo que nos rodea ya que siguen una misma corriente de estilos visuales y auditivos. Todo el mapa está rodeado por puestos enemigos, por lo que constantemente estaremos combatiendo contra enemigos cuando nos movemos por el mapa. El juego no solo se conforma con llamar tu atención por medio de su estilo visual y su concepto, sino que también abusa de su carisma y sentido del humor para decirte "Hey, mira esta cinemática llena de estereotipos ochenteros, clichés y referencias que seguramente te va a gustar", Y LOGRA HACERLO, usa todo eso para caerte bien y lo consigue, y ya no solo con las cinemáticas, funciona con las frases que suele usar Rex cuando acaba con un enemigo, con los diálogos que mantienes con la AI que está instalada en tu personaje, INCLUSO HASTA LOS TUTORIALES SON CARISMÁTICOS.
There isn't an element of the game that doesn't perfectly match the aesthetics and soundtrack, it's easy to become familiar with everything around us because they follow the same aesthetic and auditory styles. The entire map is surrounded by enemy outposts, so we will constantly be fighting enemies as we move around the map. The game is not only satisfied with grabbing your attention through its visual style and concept, it also abuses its charisma and sense of humor to tell you "Hey, check out this cinematic full of 80's stereotypes, cliches and references that you'll surely like", AND IT ACTUALLY DOES, it uses all that to make you like it and it succeeds, and not only with the cinematics, it works with the quotes that Rex usually uses when he kills an enemy, with the dialogues you have with the AI that is installed in your character, EVEN THE TUTORIALS ARE CHARISMATIC.
Para ser sinceros creo que merece una parte 2, hay muchas cosas que se pueden explotar y nuevos elementos con la misma temática que pueden funcionar muy bien, pero ya sabemos como funcionan las cosas en la industria del videojuego, si te gustó Far Cry 3 y no has jugado a esta expansión, te recomiendo que lo juegues, no te arrepentirás de nada y estoy seguro que te gustará. Espero que te haya gustado este post, disfruto hablar de juegos que se han ganado mi cariño, ten una buena mañana, tarde o noche, nos vemos en el siguiente post!




PD:Si quieres ir a la fuente de las imágenes, haz click en ellas
To be honest I think it deserves a part 2, there are many things that can be exploited and new elements with the same thematic that can work very well, but we already know how things work in the video game industry, if you liked Far Cry 3 and you have not played this expansion, I recommend you to play it, you will not regret anything and I'm sure you will like it. I hope you liked this post, I enjoy talking about games that have earned my love, have a good morning, afternoon or evening, see you in the next post!





PS:If you want to go to the source of the images, click on them.
---
See you later gamers <3