Ten days ago I took some pictures of our garden, and three days ago I took more. I was having issues with my computer, so am just now getting around to writing up the actual post.
It has been hot and dry, as it usually is this time of year where I live. We've had some 100 degree readings, and plenty of 90s. If I need to do any weeding, pruning, or harvesting, I prefer to head out by 7:00 a.m. and be back indoors by 9:00 a.m. Heat disagrees with me.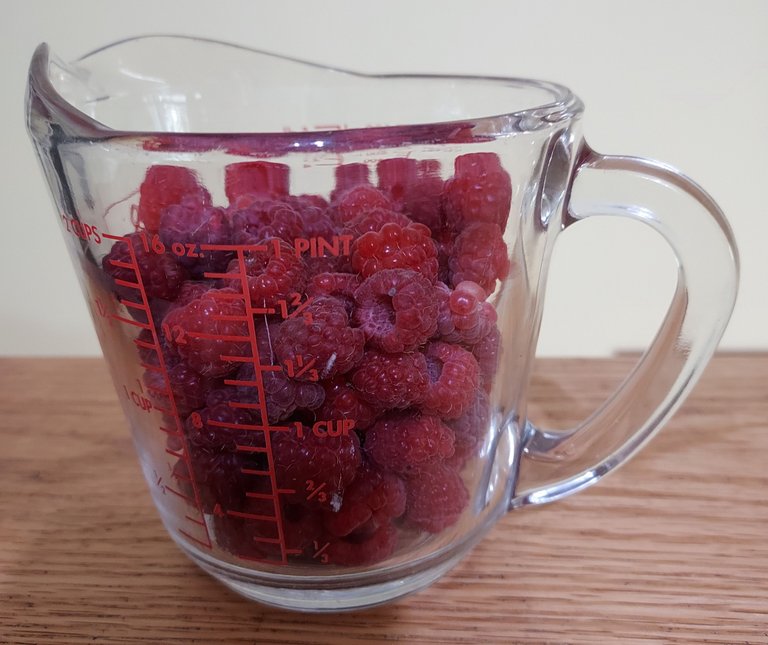 On July 27 I picked two cups of raspberries, as shown above. It was the first picking, and predictably small.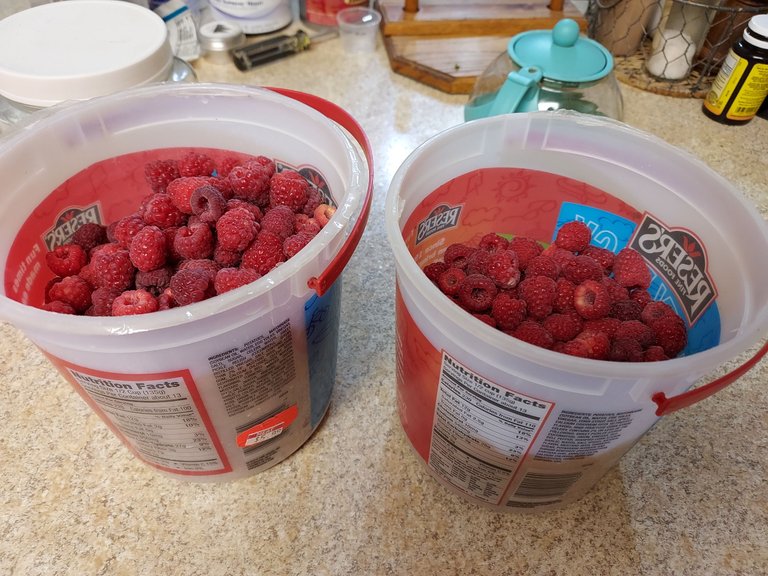 Since then I have been picking anywhere from 4 cups to 12 cups every other day. Our patch is not huge, and it has become badly overgrown with weeds, so I think this is a decent crop, considering what we're working with.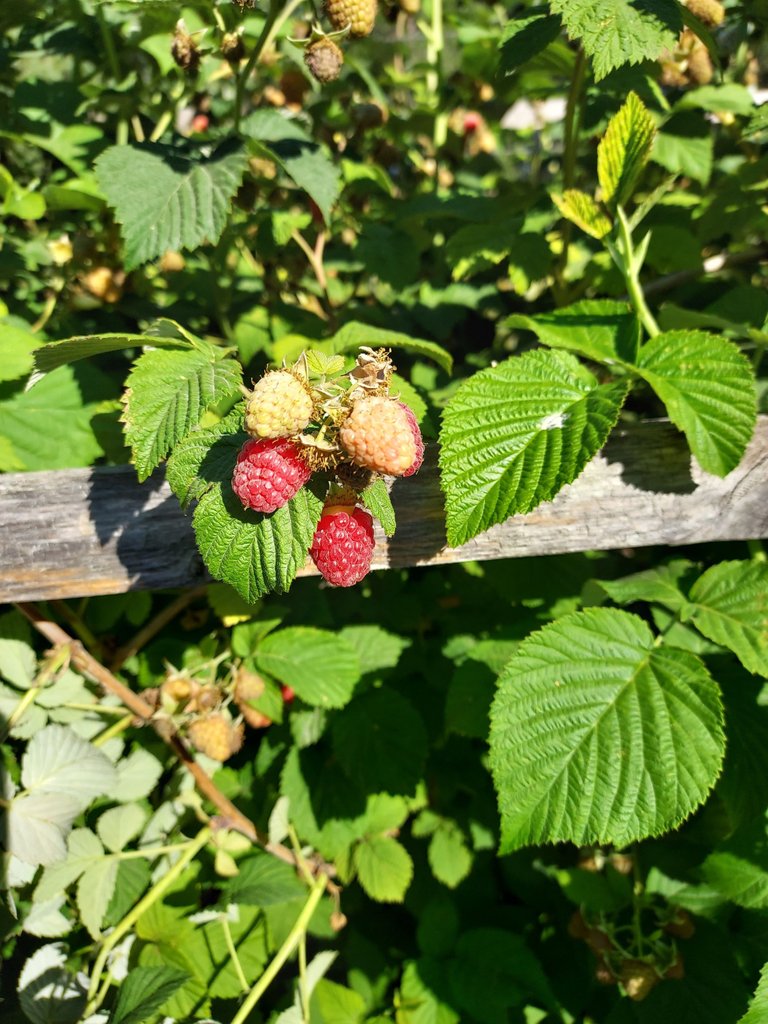 I freeze the berries for smoothies in the winter, and I may even make jelly or jam from some of them, eventually. But my favorite way to eat raspberries is fresh from the plant, warm from the sun.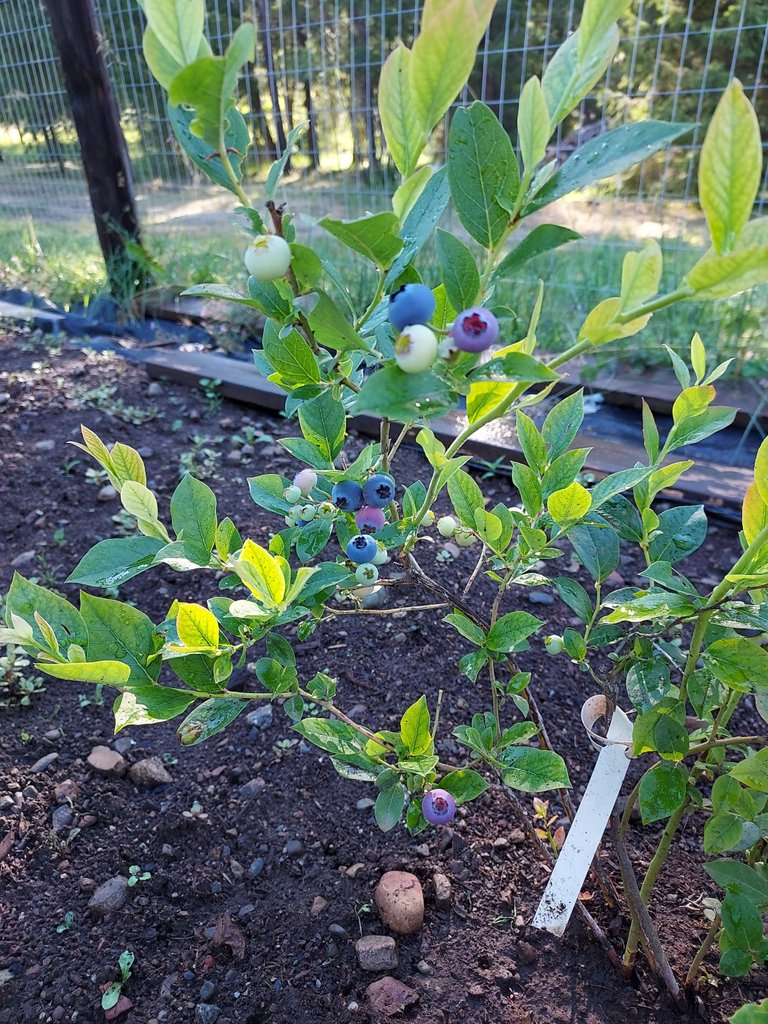 I am excited to see a few blueberries developing this year. Last year we had no blossoms and no berries. I've been learning more about how to grow blueberries (I am new to this), so have been fertilizing properly this year, and will continue to do so.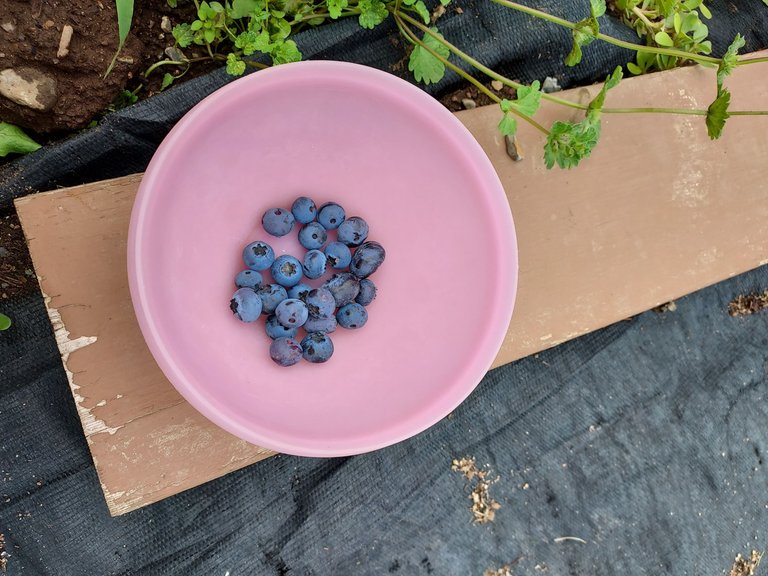 This is the extent of my blueberry harvest so far. It's a start!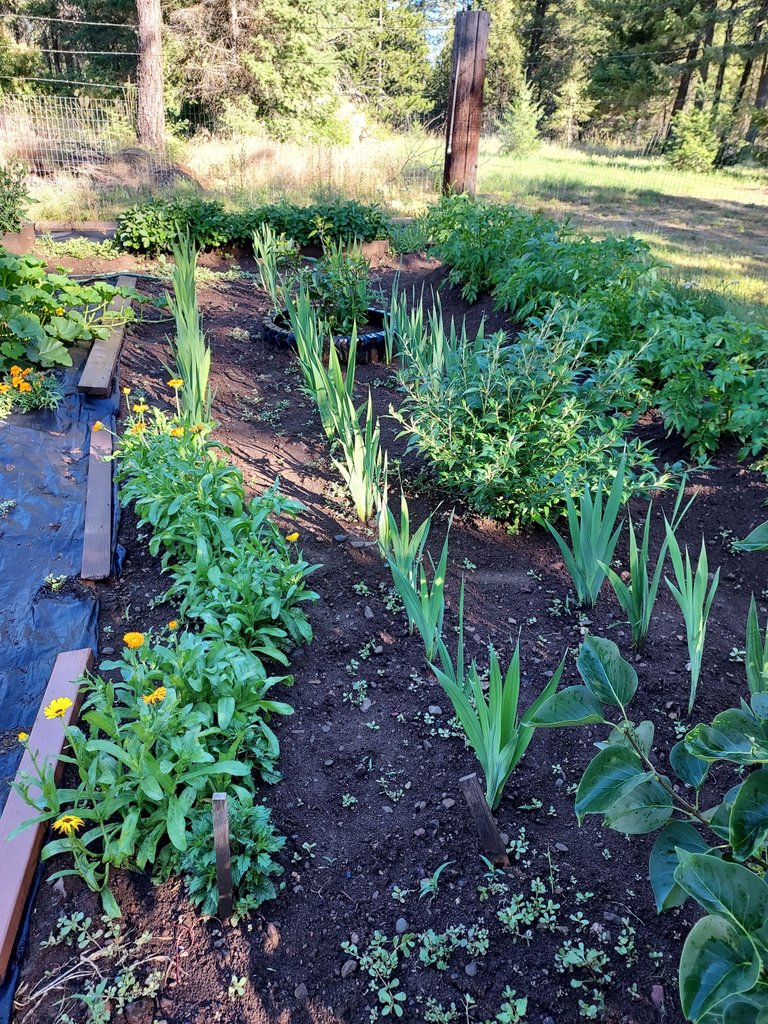 The gladiolus got planted late, as did everything else, so they haven't even sent up any spikes yet, but they are growing. That butterfly bush in the middle looks as if it may crowd out some of the glads. The calendulas are blooming, though, as are the marigolds I planted throughout the vegetable patch. On the far right is a row of potatoes. My husband insisted on planting those, and he is in charge of the hilling. A small patch of strawberries is visible in the back of the photo. They haven't produced much yet this year, but it looks as if they may get around to it. Insects have been nibbling on the few that do get ripe.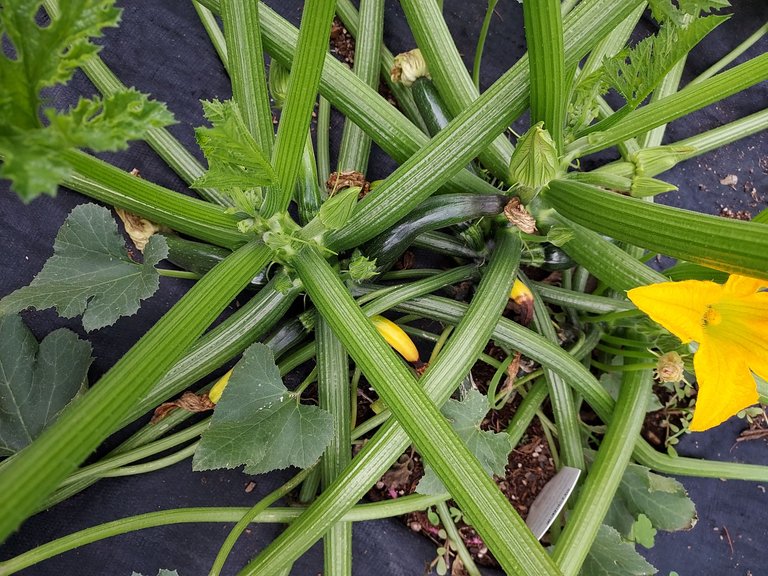 The first few zucchinis turned yellow and shriveled up while still about 1" long. I think that happens nearly every year, but I don't know why. Because I planted so late, I am quite anxious for the first zucchini to grow large enough to eat. There is one out there almost ready, and I am watching it closely.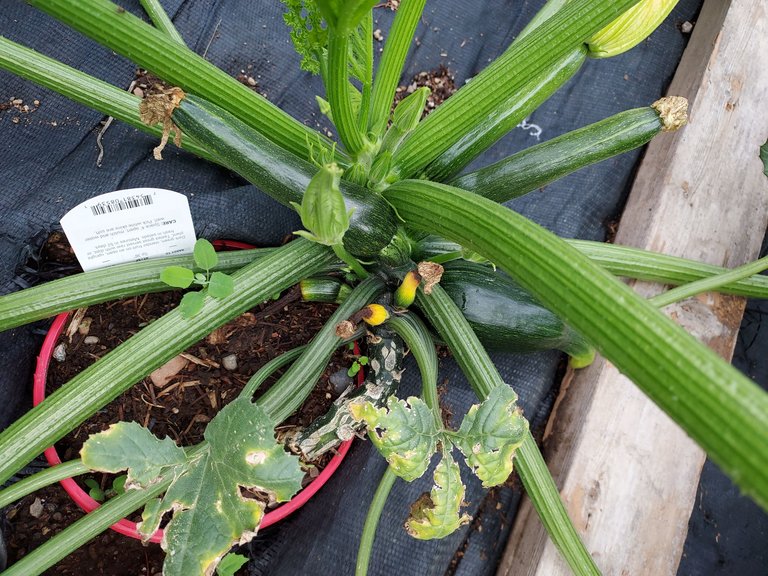 The above photo shows more undeveloped little zukes along with several that were maybe 3" long when I took the photo.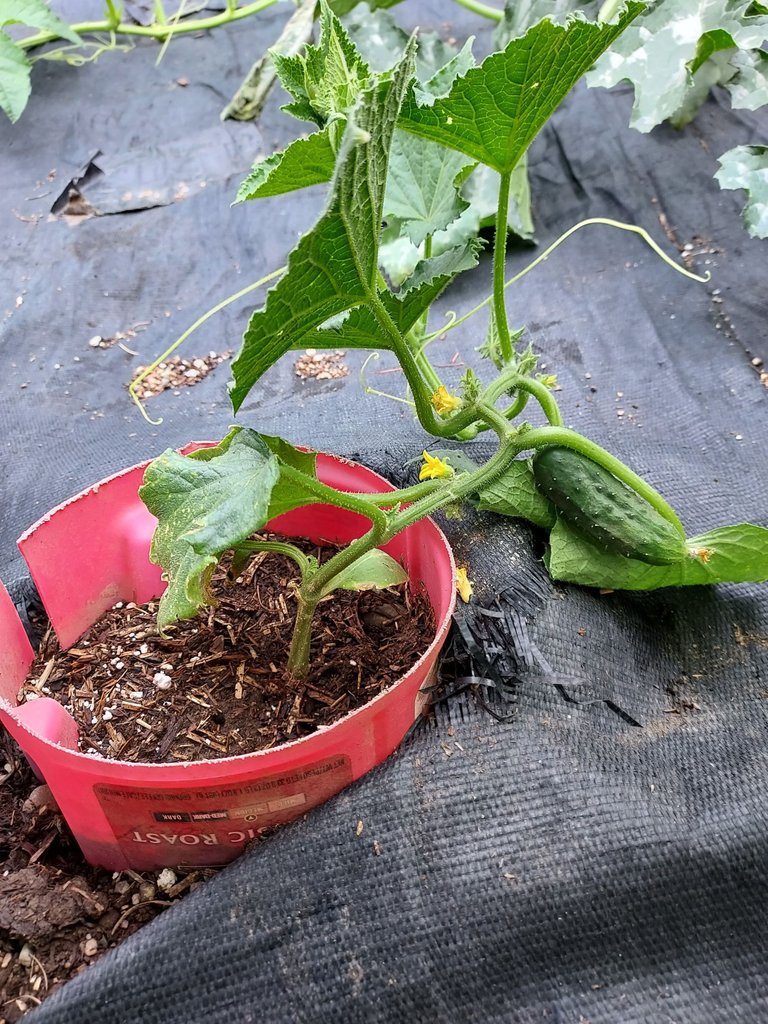 This entire cucumber plant is only about a foot long, yet it is starting to produce a cucumber! I am cheering it on!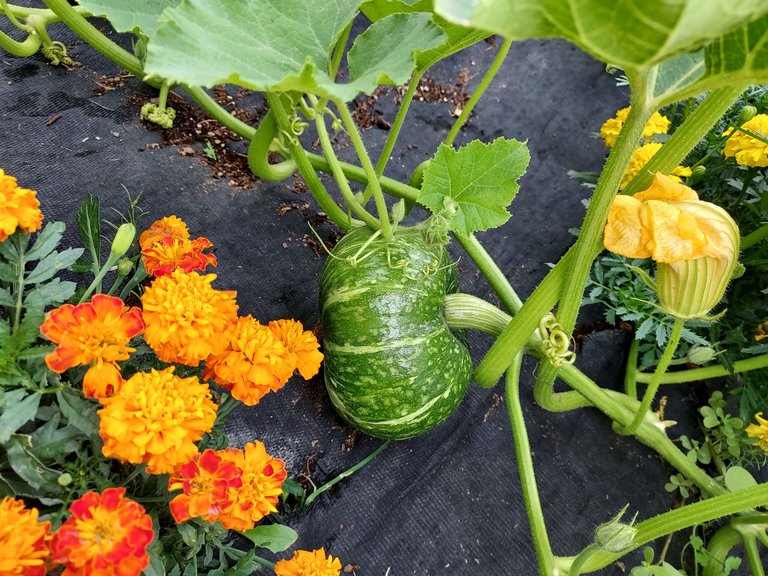 The winter squash have spread out all over the place, so I no longer know which vines belong to which plant. A few small squashes are developing, and I hope the weather stays warm long enough for them to mature properly. It may be a close call.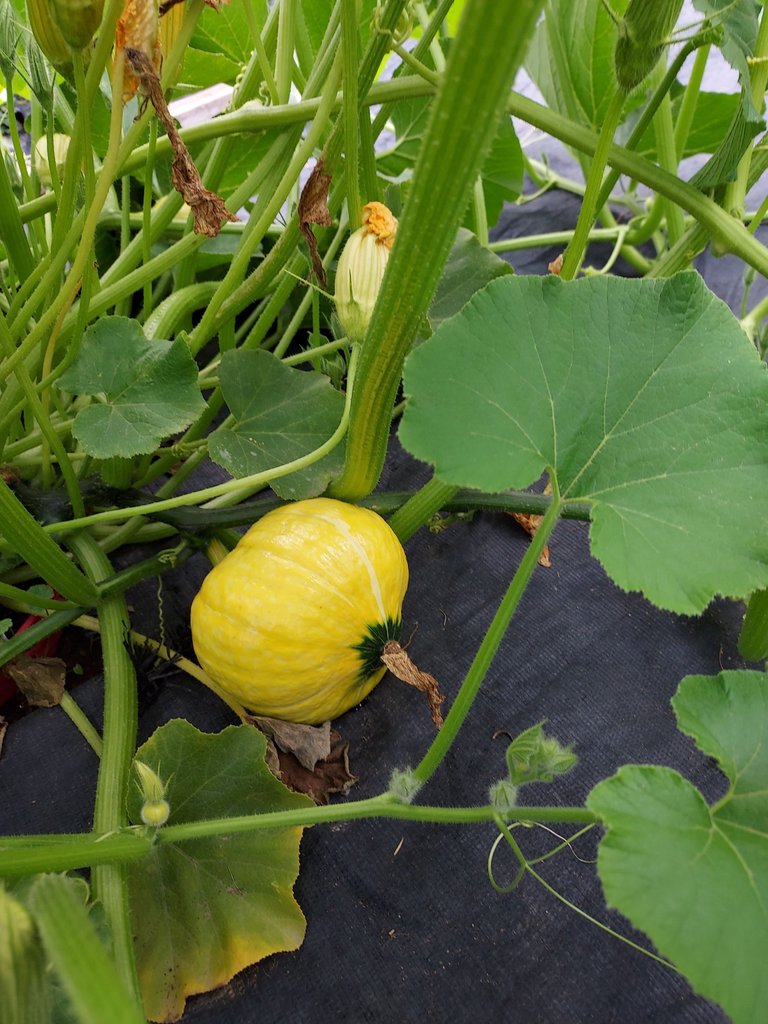 Another little squash getting off to a good start.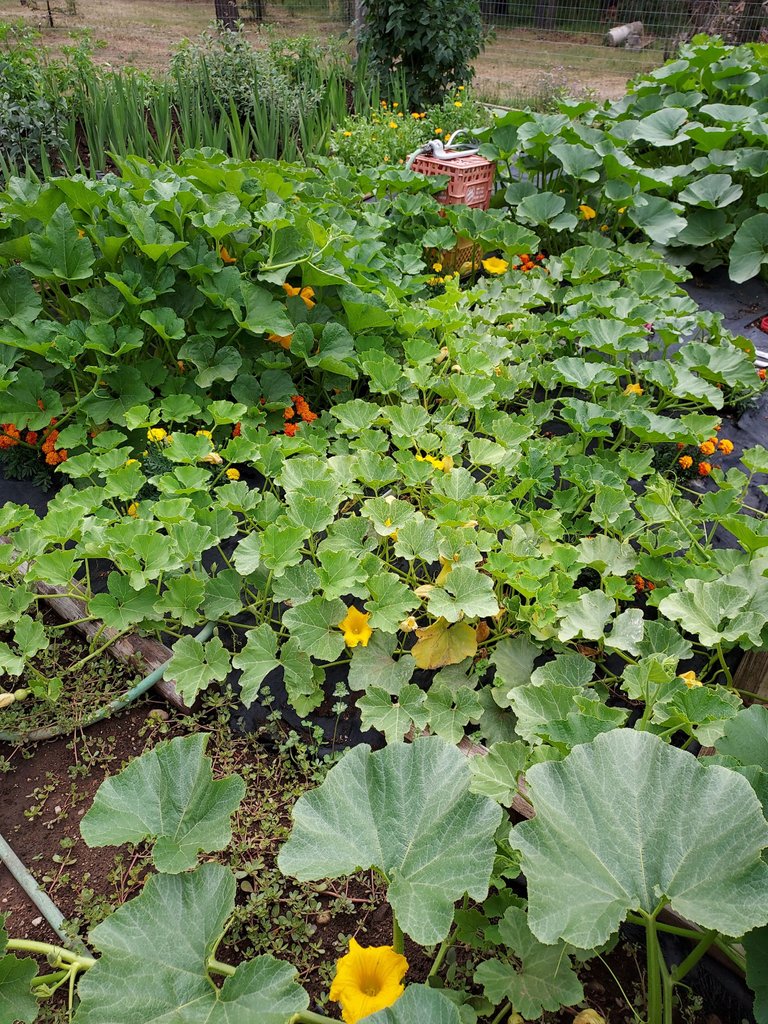 Here's a good view of the tangle of squash vines. The sprinkler was sitting directly on the ground at first. As the squash plants grew, we had to set it up on a crate, and then on a second crate, to the water wouldn't get diverted by the leaves on the plants.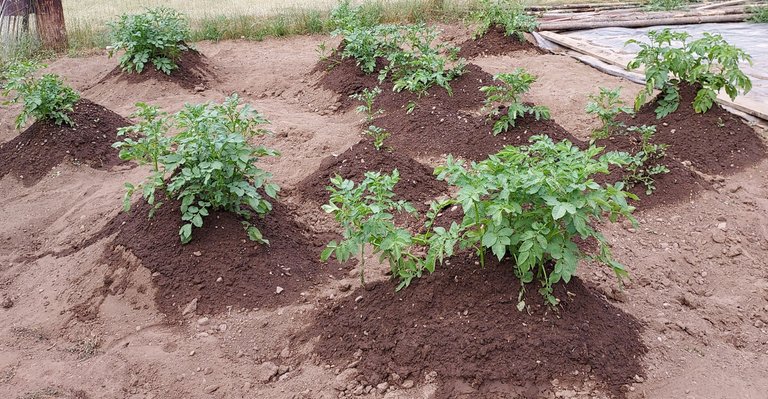 We left part of the garden fallow this year, since I wasn't sure I'd have the energy to keep the whole thing up. This was where we planted potatoes last year, and we had so many volunteers come up this spring, my husband decided to just hill a few and let them grow. They seem to be doing well. He is still puzzled, because he was so sure he carefully dug up all the potatoes last fall.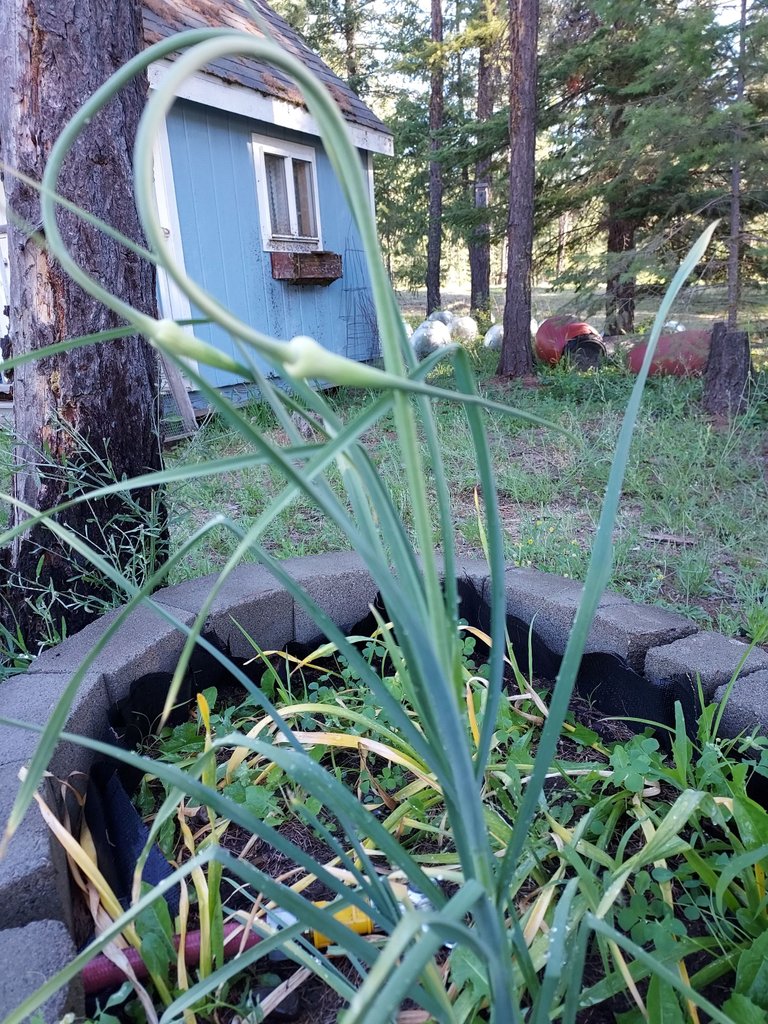 And finally, the Great Garlic Mystery! This is my daffodil bed, and I was waiting for the daffodil leaves to all turn brown so I could dig them up and fertilize and replant them. This one plant remained healthy and green. Upon closer examination, I realized it was a garlic plant! I'm not sure how it got there, unless it rode along with some dirt I got from the garden to help fill in the flower bed. But that was in the fall of 2020, and I don't recall any garlic showing up in 2021. I had to dig it up when I dug up the daffodils, and I don't know whether the garlic bulbs are big enough to use, but I'll be finding out soon.
All photos taken on my Android phone.