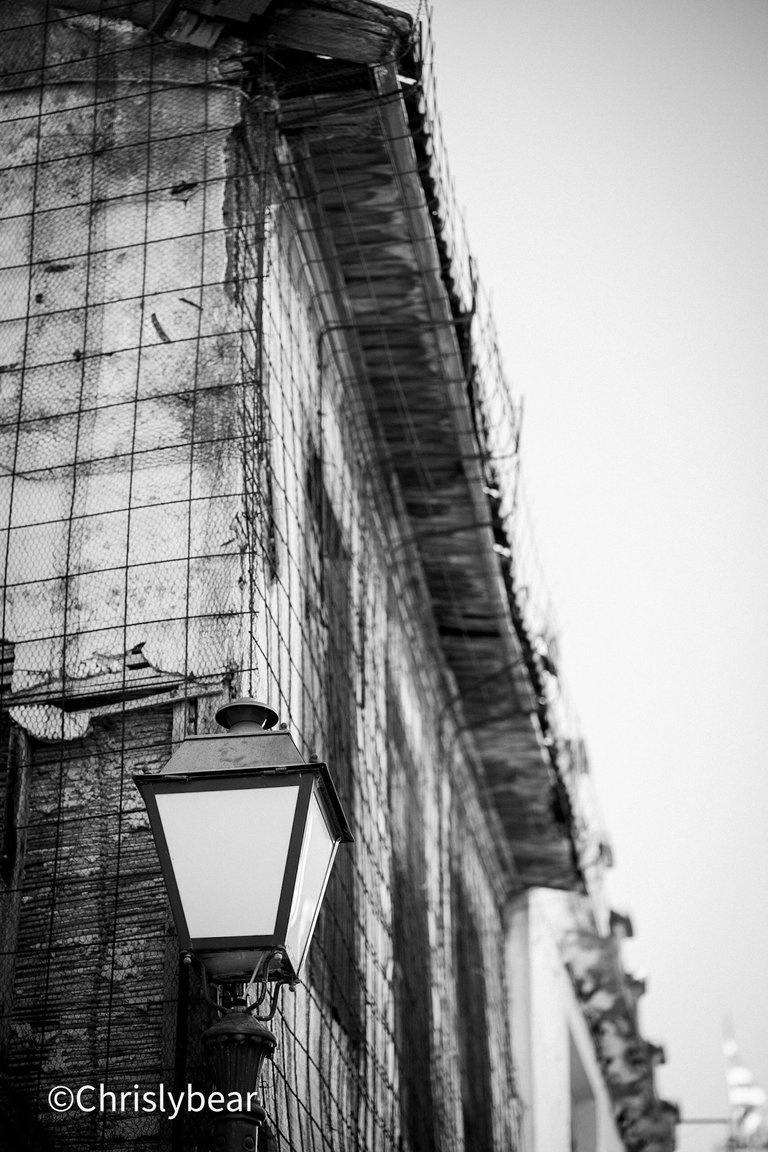 My #Monomad Challenge entry:
Abandoned House
Verlassenes Haus

Abandoned houses - whether large, small, modern or old have an attractive effect on me. I find documentaries about Lost Places and the like extremely exciting and interesting. But I have to admit that I have never really entered a Lost Place myself and probably never will. Unless it's in the form of a guided tour - something keeps me away. Maybe that's why they have such a special appeal to me?
The photos are not of one abandoned house, but of two. One is in the middle of the streets of a city. Surrounded by other houses that are perfectly intact and partly very well maintained. The house is not demolished because it seems to have an owner, but he apparently does not care about the object. The city has then provided the facade with wire mesh and nets, so that fragments can not fall on the street.
The second building is a small farmhouse in a village. The staircase to the house has already collapsed and only part of the door remains. The adjacent houses are partly in the same condition. Topic city flight is apparently not unknown in the village. Too bad for the buildings - good for my Lightroom library.
Verlassene Häuser - ob groß, ob klein, modern oder alt haben auf mich eine anziehende Wirkung. Ich finde Dokumentationen über Lost Places und ähnliches extrem spannend und interessant. Muss aber zeitlich gestehen, dass ich selber noch nie wirklich ein Lost Place betreten habe und es vermutlich auch nicht tun werde. Außer es ist in Form einer Führung - irgendetwas hält mich davon ab. Vielleicht haben sie deshalb so eine besondere Ausstrahlung auf mich?
Bei den Fotos handelt es sich nicht um ein verlassenes Haus, sondern um zwei. Das eine befindet sich mitten in den Straßen einer Stadt. Umgeben von anderen Häusern die vollkommen in Takt und teilweise sehr gepflegt sind. Das Haus wird nicht abgerissen da es scheinbar einen Eigentümer hat, dieser kümmert sich aber scheinbar nicht um das Objekt. Die Stadt hat daraufhin die Fassade mit Drahtgittern und Netzen versehen, so das Bruchstücke nicht auf die Straße fallen können.
Bei dem zweiten Gebäude handelt es sich im ein kleines Bauernhaus in einem Dorf. Die Treppe zum Haus ist bereits eingestürzt und nur noch ein Teil der Türe ist vorhanden. Die angrenzenden Häuser sind teilweise im selben Zustand. Thema Stadtflucht ist in dem Dorf scheinbar nicht unbekannt. Schade für die Gebäude - gut für meine Lightroom Bibliothek.