How to get free ECU ? Comment recevoir des ECU
Several people asked me more precision about ECU distribution.
Vous êtes plusieurs à me demander plus de précision sur la distribution des ECU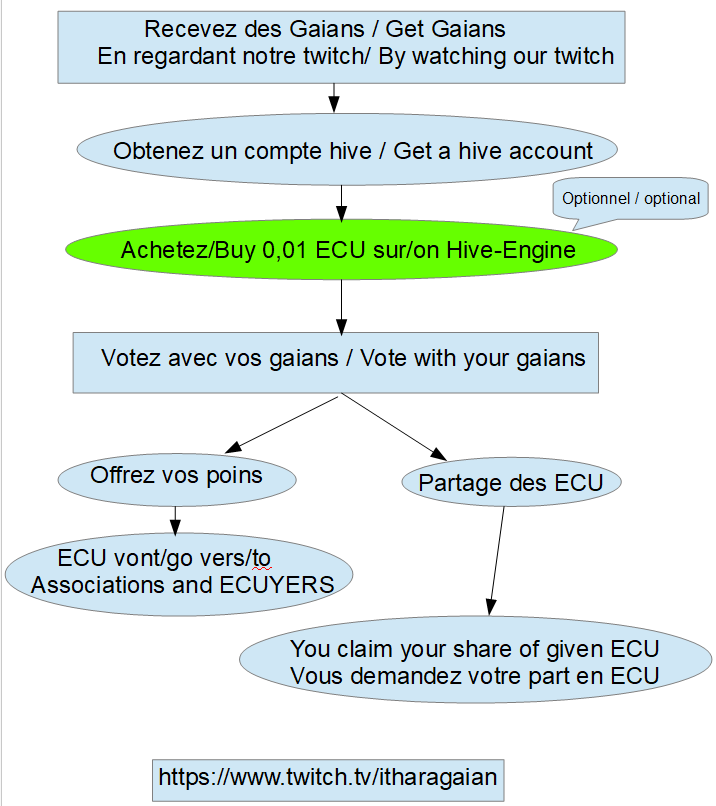 To receive ECU as "ECUYER" you need to have at least 0.01 ECU on your hive-engine account, to receive your share with claim using gaians, you do not need to have that minimal amount.
When a distribution occurs, the weight of all gaians are taken in account and define where the ECU will go.
Pour recevoir des ECUS en tant qu'ECUYER, vous devez avoir 0.01 ECU sur votre compte Hive-engine, ce qui n'est pas le cas pour réclamer votre part via les Gaians.
Lorsqu'une distribution a lieu, le poids de tous les gaians sont pris en compte, et définissent où vont les ECU.
---
IGNET
Grandir ensemble...
Le réseau d'entr'aide, de soutien...
Si vous désirez aider @IGNET: https://peakd.com/fr/@ignet/aider-ignet
Delegations :
Délégations en un click: 10 HP | 50 HP | 100 HP | 500 HP |1000 HP | 5000 HP
Pour une délégation autre, copiez le texte et notez le nombre de HP à la place du mot montant.
https://hivesigner.com/sign/delegateVestingShares?delegator=&delegatee=hive-143869&vesting_shares=montant%20HP
Pour annuler vos délégations, vous pouvez remplacer montant par 0 dans la case HP, mais nous serions triste de ne plus plus vous compter parmi nos généreux délégateurs...
Notre chaîne Twitch