So, words on the street is that Justin Sun pushed out communities after he took over Steemit Inc. It's all right, let him have his fun. We'll pretend @roadscape was chilling in his garage for years. Imagine that, four years after its launch, the chain now has a semblance of Reddit. Much like Reddit, you get to post to specific communities of your choosing.
         This is part one of discussing about cross posting and posting in communities in general. There will be a second part to this.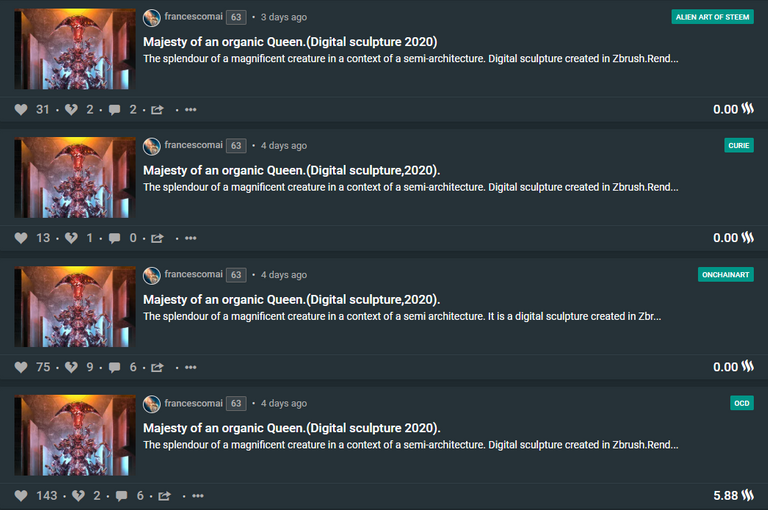 Unfortunately, since you can only post to one community at a time, things get messy. In the image above, that was a legitimate content reposted to several communities. The end result? Most of the reposts received downvotes from other Steemians. And I'd agree that the appearance of spam was undeniable. But, what else was one supposed to do?
         I'm not sure what the technical limitation is for not being able to post to several communities at once. I'm sure I'm not the only one with this question in mind. In addition, I hope there's a better way frontends such as @steempeak could help with the way things display.
Enter Cross Post
         Speaking of SteemPeak, there is also the new cross post feature. It allows you to cross post anything (even your own content) into another community.

         The result is a new post which sets the original author as 90% beneficiary. The community/hive account receives 5%, and the cross poster gets the remaining 5% of the rewards. In some way, it's workaround for content to be evergreen. It's a Resteem that pays.
         I want to point out that any autovotes you usually receive will land on whatever you cross post. It gives the cross poster a mean to reward undervalued content on their own. However, the cross posted item will not have any of the tags associated with the original post. For those of you with alts that autovote in different Tribes, that is something to consider.
         It looks nifty, but it actually looks like this on Steemit.com.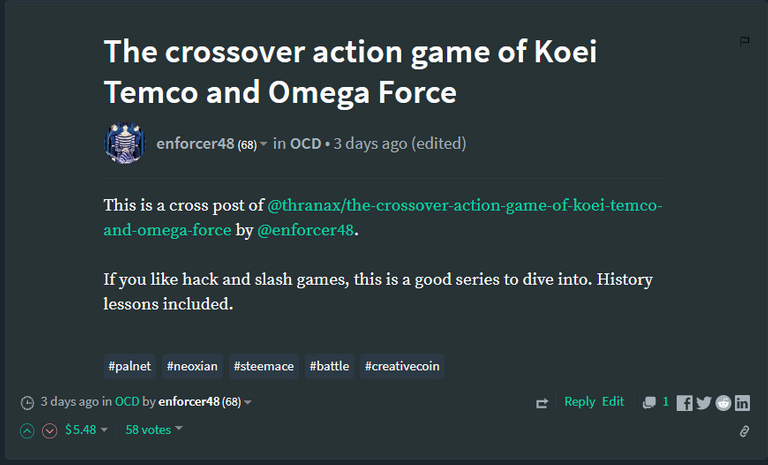 Ugly is an understatement. At least on SteemPeak, you get to see the whole post. Going back to the first point about one community per post, now we have the following scenario:

         One can see the potential for bloat. In fact, I have discussed this with @jarvie. For the most part, we agree that most abusers wouldn't dare to cross post often without backlash. Cross posting is way too conspicuous. As with the case of @francescomai, the community reacted. I have mixed feelings, but I won't argue for or against the reaction. Elsewhere, other Steemians share the following sentiments: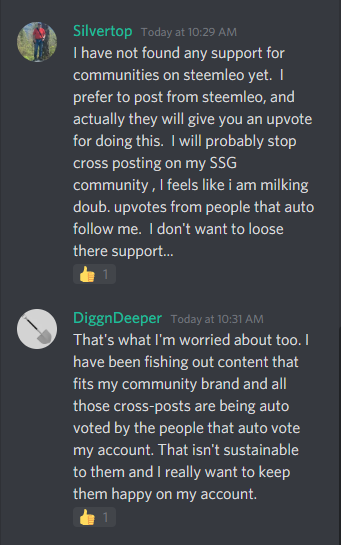 Can you believe it? There are actually people who feel like they'd be taking more than their fair share of the rewards. I'm not going to lie, it felt surreal reading that. At the same time, it's a feature which people have mixed feelings about. Yes, I felt as if I had a renewed faith in Steemians, but something is still a bit off.
         Whether there needs to be a shift in culture has yet to be seen. I want to see people share great content, but I understand the concern of bloat, spam, and selfish actions.
         What about those who want to say more than a short comment about the content they cross posted? It's not that difficult, hit the edit button.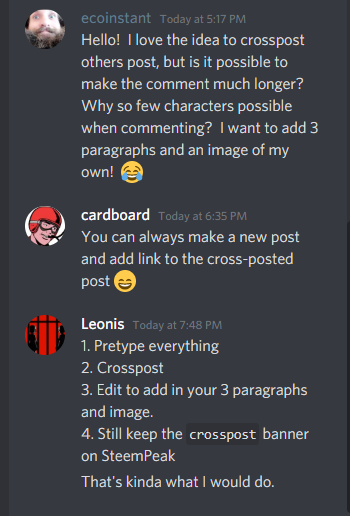 The Role of Anti-abuse
         To be frank, I don't have a definitive stance. I lean towards members of each community/hive to deal with excessive cross posting. They may contact @steemcleaners and @steemflagrewards if they want. I wouldn't go out of my way to look for these type of things. That is, if they are legitimate content and not some lazy attempt to farm all their autovotes' worth.
         With subsidized downvotes, curation initiatives should use their downvote power within their hives. They are also given tools to mute and control what shows up in their community. They need to be the curators they claim to be. Nothing is more irritating than seeing "curators" acting like glorified button clickers.
         What do you guys think? Could this be an issue, or it's only another feature that could use more polish?
Stay tuned for part two.