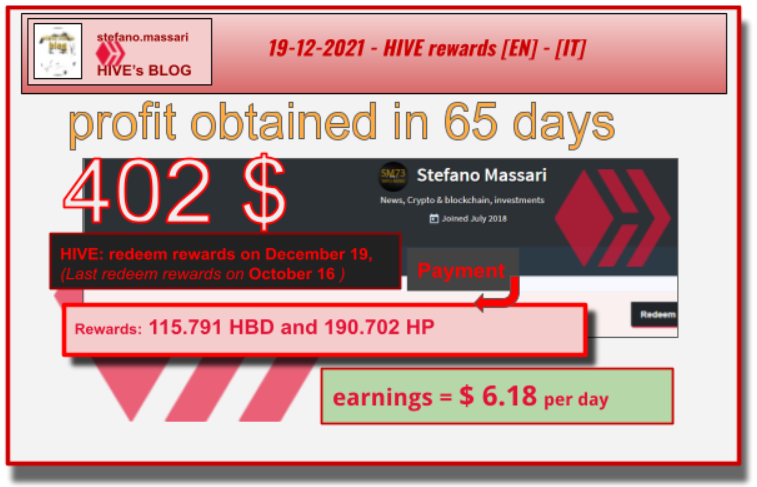 Chart screenshot from: https://hive.blog
logo source: https://hive.blog
---
---
~~~ La versione in italiano inizia subito dopo la versione in inglese ~~~
---
ENGLISH
Considerations
On December 19, 2021, I picked up the rewards I earned over the past 65 days of blogging.
I earned the following rewards:
115,791 HBD and 191,205 HIVE POWER
Let's do some calculations and figure out the countervalue in dollars and euros.
Today HBD is worth 0.98$ while HIVE is worth 1.51$.
Taking into account these values, today the amount withdrawn would be worth $402.12, which is equivalent to €357.76.
Now I'm going to calculate the daily average. The income from blogging is currently around $6.18 per day, which is equivalent to €5.5 per day.
The platforms I use for blogging and receiving information are HIVE-blog (https://hive.blog) and Leofinance (https://leofinance.io/).
HIVE.blog is a blogging platform where you can find general information, while Leofinance is a platform dedicated exclusively to finance. Here you can find information about the cryptocurrency market, stock market, economic trends and general financial information.
Conclusions
By blogging on HIVE in 65 days I earned the equivalent of $402.12, which equates to $6.18 per day. My daily average over the past 4 months has gone from $4.3 per day to $6.18, an increase of 43%. This is largely due to the increase in the value of the HIVE token.
Question
I now no longer use centralized social networks and have already started using platforms like the ones described above suitable for web 3.0. Have you guys totally switched to decentralized social or do you still see something positive in centralized social networks?
Previous Posts
https://hive.blog/hive-146620/@stefano.massari/hive-rewards-of-16-october-2021-en-it
Guidelines or usage information
HIVE: Registration and First Login with PeakD (Tutorial)
https://peakd.com/hive-177682/@libertycrypto27/hive-registration-and-first-login-with-peakd-tutorial
Disclaimer
I am not a financial advisor, so what is written in this post is a personal opinion, not financial advice. If you want to invest, you have to do it consciously and on your own responsibility.
Referral
My HIVE referral link:
https://hiveonboard.com?ref=stefano.massari
---
ITALIAN
Considerazioni
Il 19 Dicembre 2021 ho ritirato le ricompense ottenute negli ultimi 65 giorni di blogging.
Ho ottenuto le seguenti ricompense:
115.791 HBD and 191.205 HIVE POWER
Facciamo due calcoli e cerchiamo di capire il controvalore in dollari ed in euro.
Oggi HBD vale 0,98$ mentre HIVE vale 1,51$.
Tenendo conto di questi valori, oggi la somma ritirata varrebbe 402,12$, che equivalgono a 357,76 €.
Ora vado a calcolare la media giornaliera. Il ricavo del blogging attualmente si aggira sui 6,18$ al giorno, che corrispondono a 5,5 € al giorno.
Le piattaforme che uso per fare blogging e recepire informazioni sono HIVE-blog (https://hive.blog) e Leofinance (https://leofinance.io/).
HIVE.blog è una piattaforma di blogging dove si possono trovare informazioni di carattere generale, mentre Leofinance è un piattaforma dedicata esclusivamente alla finanza. Qui si possono trovare informazioni a riguardo del mercato delle criptomonete, del mercato azionario, dell'andamento dell'economia e informazioni generali di carattere finanziario.
Conclusioni
Facendo blogging su HIVE in 65 giorni ho guadagnato il corrispettivo di 402,12$, che equivalgono a 6,18$ al giorno. La mia media giornaliera negli ultimi 4 mesi è passata da 4,3$ al giorno a 6,18$, con un incremento del 43%. Questo è dovuto in gran parte all'aumento del valore del token di HIVE.
Domanda
Io ormai non uso più i social network centralizzati ed ho già iniziato ad usare piattaforme come quelle descritte sopra adatte per il web 3.0. Voi siete passati totalmente ai social decentralizzati o ancora vedete qualcosa di positivo nei social network centralizzati?
Post precedenti
https://hive.blog/hive-146620/@stefano.massari/hive-rewards-of-16-october-2021-en-it
Guide o informazioni per l'utilizzo
HIVE: Registrazione e Primo Login con PeakD (ITA)
https://peakd.com/hive-146620/@libertycrypto27/hive-registrazione-e-primo-login-con-peakd-ita
Disclaimer
Non sono un consulente finanziario, quindi ciò che è scritto in questo post è un'opinione personale, non un consiglio finanziario. Se volete investire dovete farlo consapevolmente e sotto la vostra responsabilità.
Referral
Il mio referral link di HIVE:
https://hiveonboard.com?ref=stefano.massari