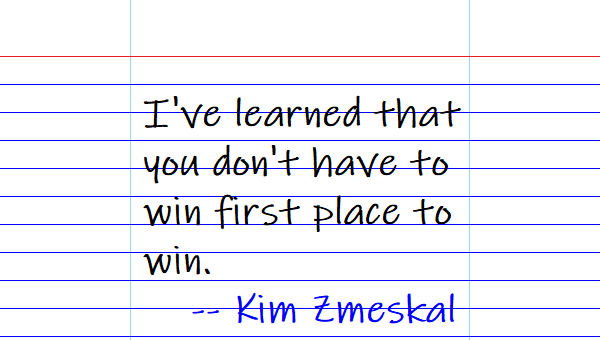 I've learned that you don't have to win first place to win.
-- Kim Zmeskal
---
About the Quote
While there are some competitions where there can be only one winner (Thunderdome, winner-take-all, championships, elections, etc.), in many other competitions participants can consider themselves winners even if they don't win 1st place; they just don't get The Big Prize.
In the Olympics, top 3 places win medals. In professional futbol, teams play to win 3rd place standing. In American Idol-type television series around the world, sometimes the runners up end up with better careers than the actual winners.
In some cases, losing today is simply winning deferred until some later date:
There are many instances of election losers winning their election rematches.
From sports, in the National Hockey League--Although the Edmonton Oilers were swept in the 1983 Stanley Cup Finals by the dynastic New York Islanders team which had won its 4th consecutive championship, the Oilers won the rematch in 1984 to win the first of 5 Stanley Cups in 7 seasons.
In a different form, television journalist and program host Geraldo Rivera came up empty when the heavily-hyped opening of Al Capone's Vault came up empty. Given the conditions surrounding that event, his career would have ended had he been a lesser personality. In his case, he received numerous job offers. By losing then, he won big later.
---
Some Information about Kim Zmeskal
Kimberly Lynn Burdette (née Zmeskal) was born in Houston, Texas, US on 1976-February-6.
Better known as Kim Zmeskal, she is a retired competitive gymnast and gymnastics coach. She was also a Bronze medalist in team competition for Team USA at the 1992 Barcelona Summer Games.
When she was 6, Kim Zmeskal began taking tumbling classes at the Sundance Athletic Club. Sundance Athletic Club had been bought by legendary gymnastics coach Béla Károlyi. Since he also coached in Houston, Zmeskal was able to balance her schedule between that of a normal student and that of a dedicated gymnast. Zmeskal was able to maintain this balance until 7th grade, at which time she shifted her education from in-person attendance to correspondence.
At the Károlyi-owned Sundance Athletic Club, Zmeskal had become one of "Károlyi's Kids," an elite group of 6 gymnasts whose training was geared toward international and world competitions. Károlyi himself called Kim Zmeskal his "little pumpkin" as a term of endearment.
In 1990, when she was 14, Kim Zmeskal had won the 1990 Up and Coming Award given by the Women's Sports Foundation. In 1991 she made history by being the first American female gymnast to win the Gold medal at the World Championships in the all-around competition. Team USA won a Silver medal at those World Championships on the strength of her vault, which had scored a 10.000.
-- Source
---
Post Details
Index4INDEX image made by @magnacarta using MS Paint.
Quotes I use for Index4INDEX are stored in an Excel 2003 spreadsheet. Recently I added database functionality for limited searching.
---
Other Recent Quotes
---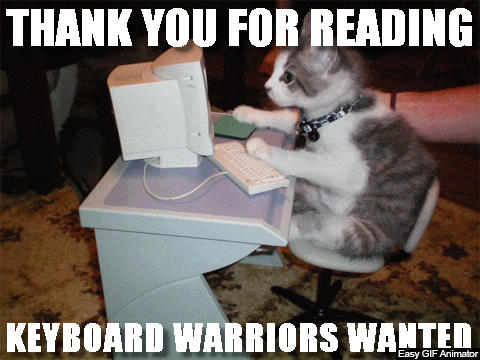 ---
---
Do you like posting short bursts of text? Do it 240-characters at a time at LeoThreads.
---