Heeeeeeello friends, I hope you are well ;D today I will tell you about a very special girl for me who by the way yesterday was on her birthday, she is Karina, an exemplary friend. Without further ado, let's get started!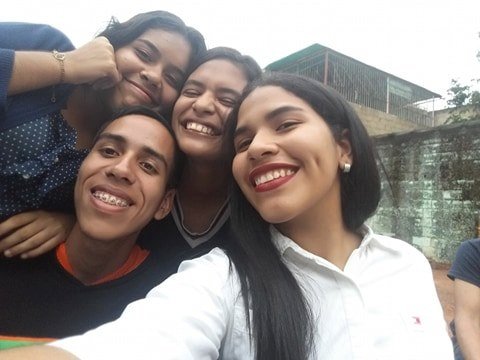 From left to right we are: Karina, myself, Geraldin and Rosiris on my 18th birthday.
---
I don't remember the moment I met her, but since I'm 4 years old I remember her. She went to the same preschool as me, as well as to the same school as me, but I came to know her in the second year of high school while she was in the third year. That year we were going home from school together, she lives about 6 blocks from my house. She lives with her mom, who has been her main strength in times of crisis.
I remember when she graduated from the third year, she gave an excellent speech for having obtained the merit honor as the best student of her year; her mother cried when she saw her daughter dedicate some beautiful words to her.
Karina was the first totally religious girl to accept my sexuality. She used to be tolerant of gay people but was not supportive of them, but since I have known her she has become more open to people's support, even her mom is supportive of me.
She knows most of my family problems, my love failures and my personalities. Even though we don't see each other every day, the feeling and mutual support is still intact, I consider her a great friend to me.
Her confidence towards me is virtuous, she fills me with joy every time she tells me about a situation, I like to support her and depending on what the situation is like I am happy or discouraged by her?
How do you describe her? Well, she is extremely intelligent, emotional, responsible, brave, capable of accomplishing everything she sets out to do, creative, with beautiful feelings and an incredible personality. Since I know her, she is one of the main guests at my birthdays, even if I don't celebrate it.
During her life she has faced several situations that have made her suffer but with the support she receives from those who really love her she has stood up and moved on. Even within the church she attends she has been caught up in problems.
She is an exemplary girl and I admire her.
Translated with www.DeepL.com/Translator (free version)
---
TEXTO EN ESPAÑOL
Hoooooola amigos, espero estén bien ;D hoy les hablaré de una chica muy especial para mí que por cierto ayer estuvo de cumpleaños, ella es Karina, una amiga ejemplar. Sin más preámbulo, ¡comencemos!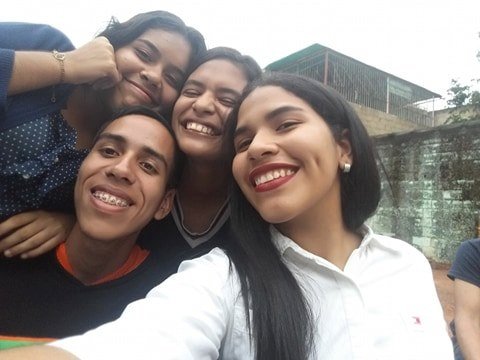 De izquierda a derecha estamos: Karina, mi persona, Geraldin y Rosiris en mi cumpleaños número 18.
---
No recuerdo el momento en que la conocí, pero desde que tengo 4 años la recuerdo. Ella estudió en el mismo preescolar que yo, al igual que en el mismo colegio que yo, pero la vine conociendo en el segundo año de preparatoria mientras que ella cursaba el tercer año. Ese año nos íbamos juntos del colegio hacia nuestros hogares, ella vive como a 6 cuadras de mi casa. Vive con su mamá, quien ha sido su principal fortaleza en tiempos de crisis.
Recuerdo cuando se graduó del tercer año, ella dio un excelente discurso por haber obtenido el honor al mérito como la mejor estudiante de su año; su mamá lloraba al ver a su hija dedicarle unas hermosas palabras.
Karina fue la primera chica totalmente religiosa en aceptar mi sexualidad. Antes toleraba a las personas gays más no las apoyaba, pero desde que la conozco se ha abierto más al apoyo de las personas, incluso su mamá me apoya.
Ella sabe la mayoría de mis problemas familiares, mis fracasos amorosos y mis personalidades. A pesar de que no nos veamos todos los días, el sentimiento y el mutuo apoyo sigue intacto, la considero como una gran amiga para mí.
Su confianza hacia mí es virtuosa, me llena de alegría cada vez que me cuenta una situación, me agrada apoyarla y dependiendo de cómo sea la situación que esté pasando, estar feliz o desanimado por ella...
¿Cómo describirla? Pues, es sumamente inteligente, emotiva, responsable, valiente, capaz de cumplir todo lo que se proponga, creativa, de hermosos sentimientos y una increíble personalidad. Desde la conozco es una de las principales invitadas a mis cumpleaños, así no lo celebre.
Durante su vida se ha enfrentado a diversas situaciones que la han hecho sufrir pero que con el apoyo que recibe por parte de los que la quieren de verdad se ha levantado y ha seguido adelante. Incluso dentro de la iglesia a la cual asiste se ha visto envuelta en problemas.
Ella es una chica ejemplar y la admiro.