div class="text-justify"> Saludos querida comunidad el día de hoy estoy participando en la iniciativa de @tripode en el día 5, esta es mi primera participación en la iniciativa de los blog, decidí unirme en la etapa cuatro ya que muchas de las preguntas me gustaría desarrollarla y compartirlas con todos ustedes.
Greetings dear community, today I am participating in the initiative of @tripode on day 5, this is my first participation in the blog initiative, I decided to join in stage four since many of the questions I would like to develop and share with all of you.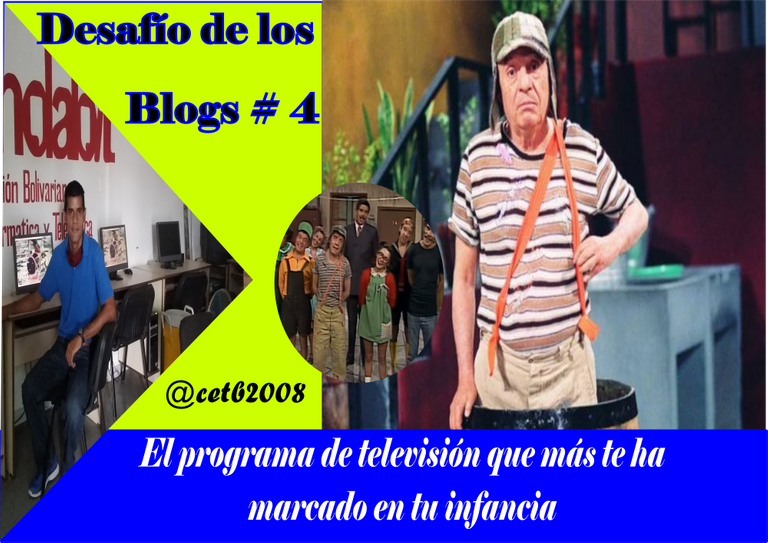 En esta oportunidad les hablaré de un programa de televisión que marco mi infancia. Esto me trajo muchos recuerdo que viví en mi hogar junto con mis hermanos, cuando escuchábamos que el programa iba iniciar todos nos sentábamos en la sala para ver el programa, que actualmente se hizo muy famoso a nivel de Latinoamérica como lo es el Chavo del 8.
This time I will tell you about a television program that marked my childhood. This brought me many memories that I lived in my home together with my brothers, when we heard that the program was going to start, we all sat in the room to watch the program, which currently became very famous in Latin America as is Chavo del 8 .
Han pasado varias décadas, aún sigue vigente este programa que se ha traducido en varios idiomas y actualmente hasta mis hijo lo ven. El Chavo del 8 es un niño huérfano que vive en la vecindad Mexicana dentro de un barril, donde hacen vida junto con Quico su amigo, La Chilindrina, Don Ramón, La Bruja del 71, Doña Florinda, El Profesor Girafales, Don Barriga y Noño.
Several decades have passed, this program is still in force, which has been translated into several languages and today even my children see it. El Chavo del 8 is an orphan boy who lives in the Mexican neighborhood inside a barrel, where they live together with his friend Quico, La Chilindrina, Don Ramón, La Bruja del 71, Doña Florinda, El Professor Girafales, Don Barriga and Noño .
El Chavo del 8 representa la vida diaria de las personas, en donde los niños juegan juntos, pelean, y luego se hacen nuevamente amigos. Además existen diferentes etapas de la vida que el ser humana confrontan con diversas situaciones como el desempleo, la pobreza y la desigualdad. Allí se ve reflejado la vida de niño huérfano, que es muy pobre pero es muy feliz con su vida dentro de la vecindad.
El Chavo del 8 represents people's daily life, where children play together, fight, and then become friends again. In addition, there are different stages of life that human beings confront with various situations such as unemployment, poverty and inequality. The life of an orphan child is reflected there, who is very poor but is very happy with his life in the neighborhood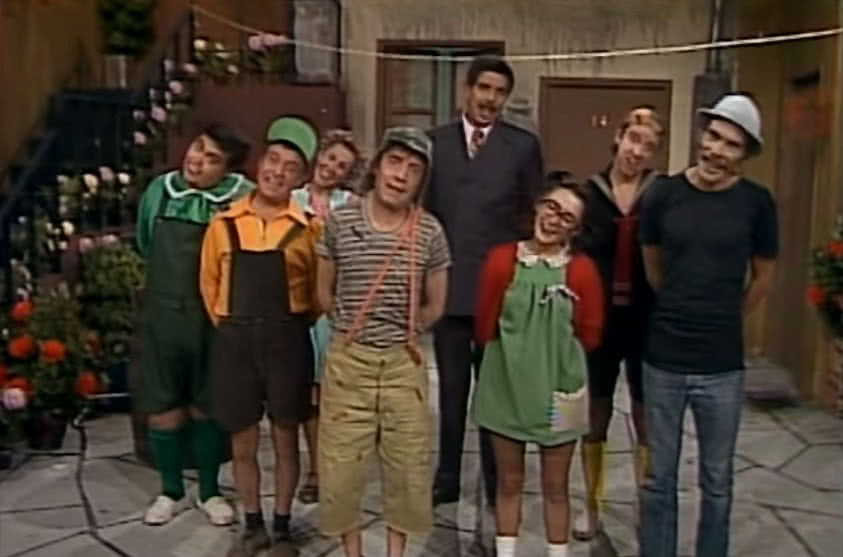 Fuente
Unos de los episodios que recuerdo era cuando estaban en el salón de clases con el Profesor Girafales y se estaba celebrando el día del maestro, cada uno de los estudiantes le entregó un obsequio al profesor, y él estaba muy contento por los regalos recibido, al final el Chavo le dio una pequeña caja que el maestro recibió con mucho afecto, al abrirla no encontró nada dentro y le dijo al Chavo pero aquí no hay nada, entonces le indico que la volteara la caja y encontró el siguiente mensaje Te Quiero, y entonces el Profesor Girafales le dijo este es el mejor regalo que he recibido. Aquí no da un mensaje que las cosas más pequeñas son muchas veces las más importantes, que algo material, debemos valorar los momento que se presentan en nuestras vida.
One of the episodes that I remember was when they were in the classroom with Professor Girafales and it was celebrating Teacher's Day, each of the students gave a gift to the teacher, and he was very happy with the gifts received, At the end, Chavo gave him a small box that the teacher received with great affection, when he opened it he found nothing inside and said to Chavo but there is nothing here, so he told him to turn the box over and he found the following message I love you, and then Professor Girafales told him this is the best gift I have ever received. Here it does not give a message that the smallest things are often the most important, that something material, we must value the moments that appear in our lives.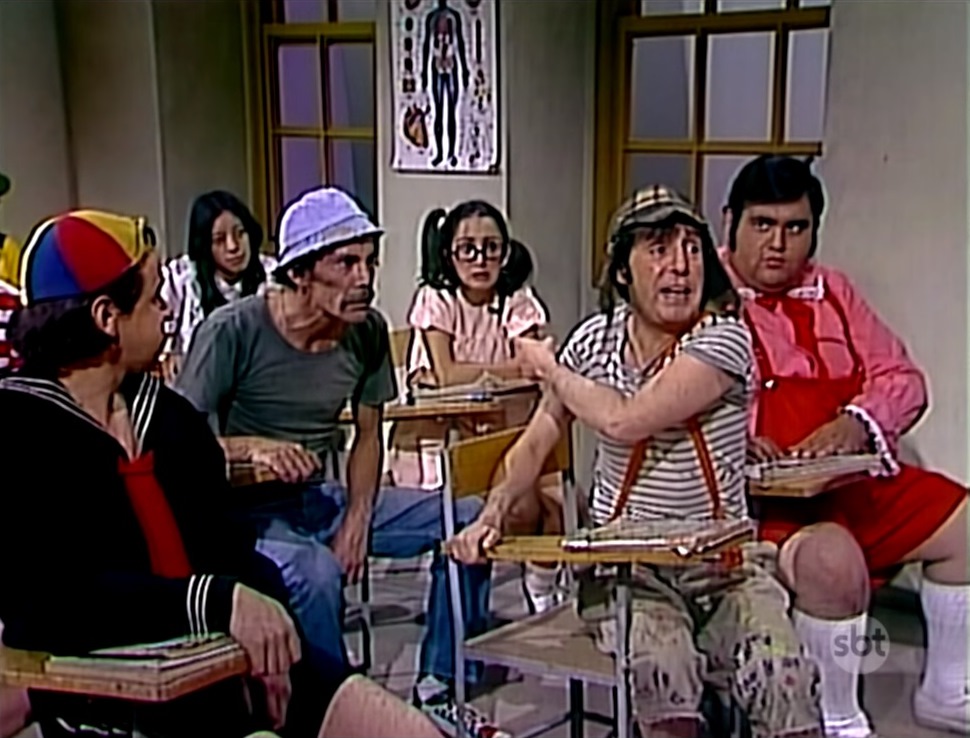 Fuente
Otros de los episodios era la confrontación constante del Doctor Barriga al cobrar la renta del alquiler a Don Ramón, el cual era una persona desempleado que no tenía dinero para pagar, a pesar de eso por el gran afecto que le tenía nunca lo corrió de su hogar y le decía que para donde se van a ir esta gente.
Other episodes was the constant confrontation of Doctor Barriga when collecting the rent from Don Ramón, who was an unemployed person who had no money to pay, despite that due to the great affection he had for him, he never ran him from his home and told him where are these people going.
Algunos críticos indicaba que el programa era una muestra de antivalores donde se mostraban insultos y golpes entre los personajes como por El Chavo y Quico, y Don Ramón con Doña Florinda y que estaba dirigido a personas adultas, sin embargo a medida que se transmitió fue todo un éxito que reflejaba la vida cotidiana de la familia mexicana.
Some critics indicated that the program was a sample of anti-values where insults and blows were shown between the characters such as El Chavo and Quico, and Don Ramón with Doña Florinda and that it was aimed at adults, however as it was broadcast it was all a success that reflected the daily life of the Mexican family.
Recomiendo este programa donde puede disfrutar de las vivencias del Chavo dentro de la vecindad donde se destaca los valores del amor, el compañerismo y la amistad. Donde además se ve los golpes que recibe El Chavo y Quico, que es algo común entro los niños en la etapa de juegos.
I recommend this program where you can enjoy Chavo's experiences within the neighborhood where the values of love, companionship and friendship stand out. Where you can also see the blows that El Chavo and Quico receive, which is something common among children in the game stage.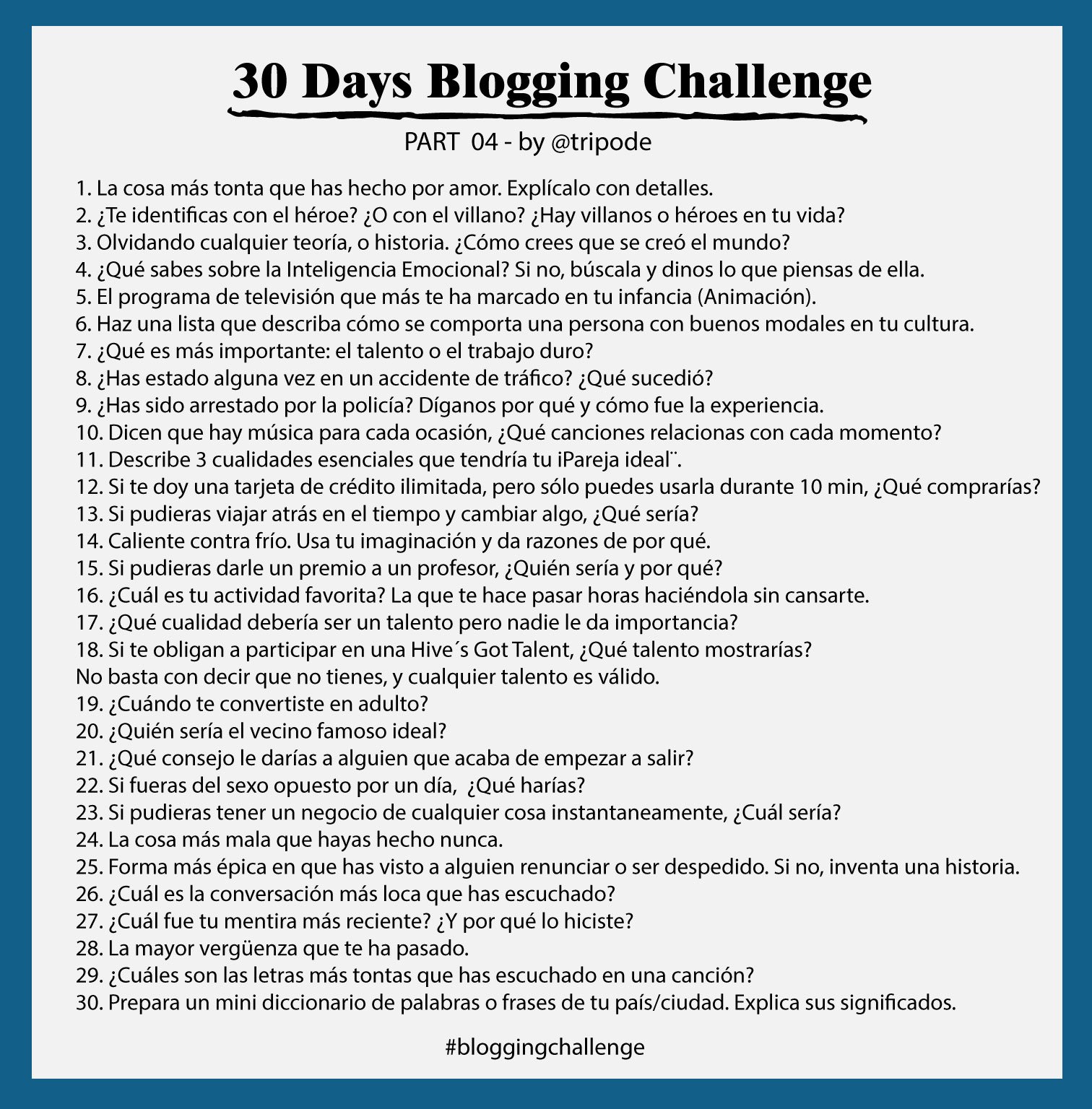 fuente
Si deseas participar en la iniciativa aquí te dejo las bases
If you want to participate in the initiative here I leave you the [bases]
Me despido, y nos vemos en la próxima iniciativa.
I say goodbye, and see you in the next initiative.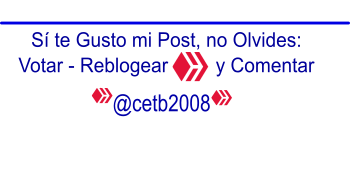 Posted using Dapplr