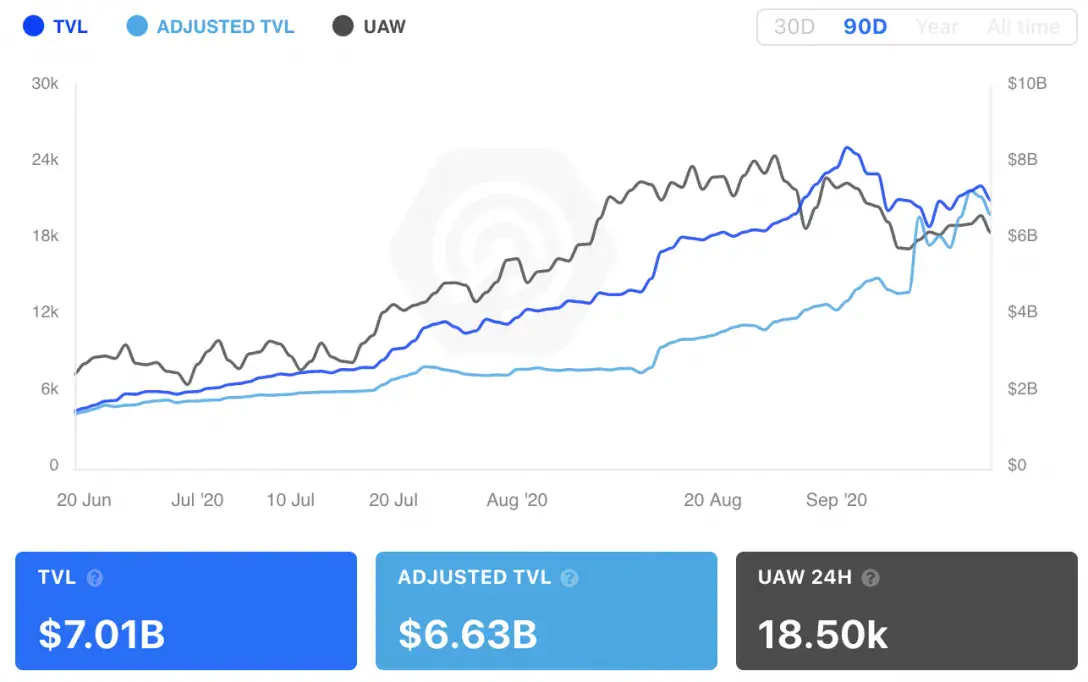 DappRadar has prepared the September 2020 DeFi Flash Report. Within this overview we will have a look at the most popular DeFi dapps right now based on active wallets, total value locked and the price of the native tokens. MakerDAO, Aave, and Curve.
Key Takeaways
MakerDAO regains a leadership position in total value locked by surpassing $1.5 billion.
MakerDAO is responsible for 21% of the total value generated in the DeFi space right now.
Aave is right behind MakerDAO with $1.35 billion in TVL with active wallets growing by 25% in September.
Aave is the number one lending protocol in DeFi right now.
Aave's LEND token value has increased by 952% in three months.
While daily wallets on Curve skyrocketed recently from 102 to 1,235 within 3 months, the dapp lost its share in value. TVL is close to $1 billion now.
DeFi is still the most important category on Ethereum
As already reported, the DeFi category generated $24 billion of transaction volume in August 2020. The total value locked surpassed the $7 billion line and active users are higher than 19,000.
Recently the top three dapps leaderboard was fluctuating a lot. Aave and Curve just surpassed $1 billion in total value locked back in August while MakerDAO held more than $1 billion in value for a while now.
Would like to know more? Read the full September 2020 Flash Report now