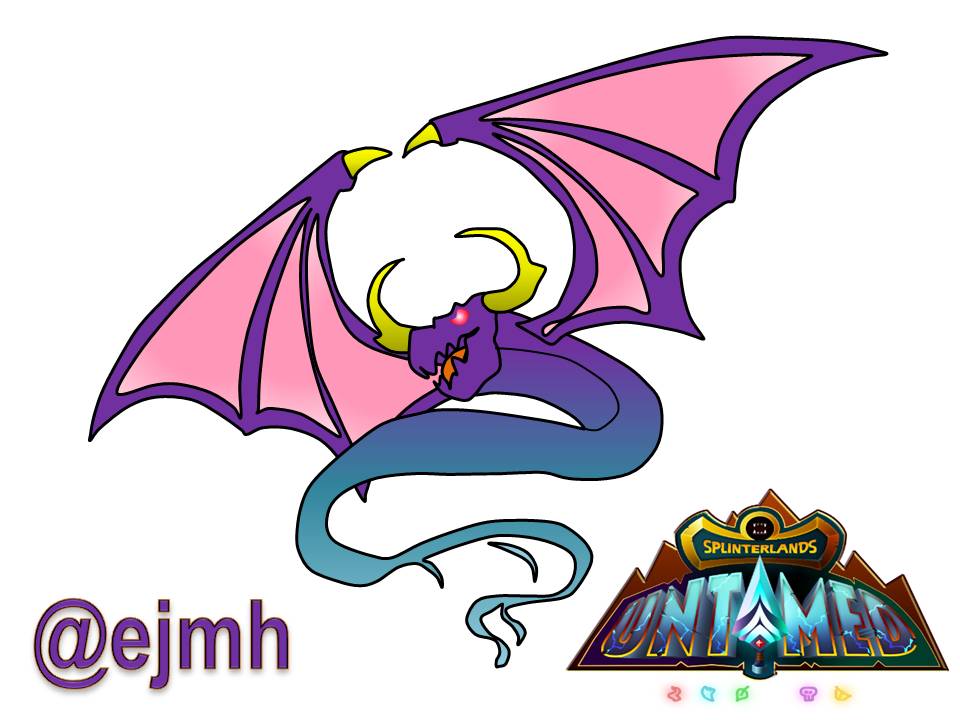 Hola, amigos de splinterlands, hoy después de mas de 18 semanas sin participar en los concursos de arte, regreso con mis ilustraciones de monstruos para compartirlas con todos ustedes.
En esta ocasión escogí a un monstruo de la edición de cartas mas nueva, los DICE para recordar esta estrategia de dibujo que aprendí hace tiempo.
Es que ya hace varios meses que buscando herramientas en powerpoint me encontré con una que me permite realizar ilustraciones de una manera diferente pero muy atractiva, y de esta manera creo mis obras. Mas adelante verán el paso a paso de como se realizó.
Hello, friends of splinterlands, today after more than 18 weeks without participating in the art contests, I return with my monster illustrations to share them with all of you.
In this occasion I chose a monster from the newest card edition, the ICE to remember this drawing strategy that I learned long time ago.
It is that several months ago, looking for powerpoint tools, I found one that allows me to make illustrations in a different but very attractive way, and in this way I create my works. Later on you will see the step by step of how it was done.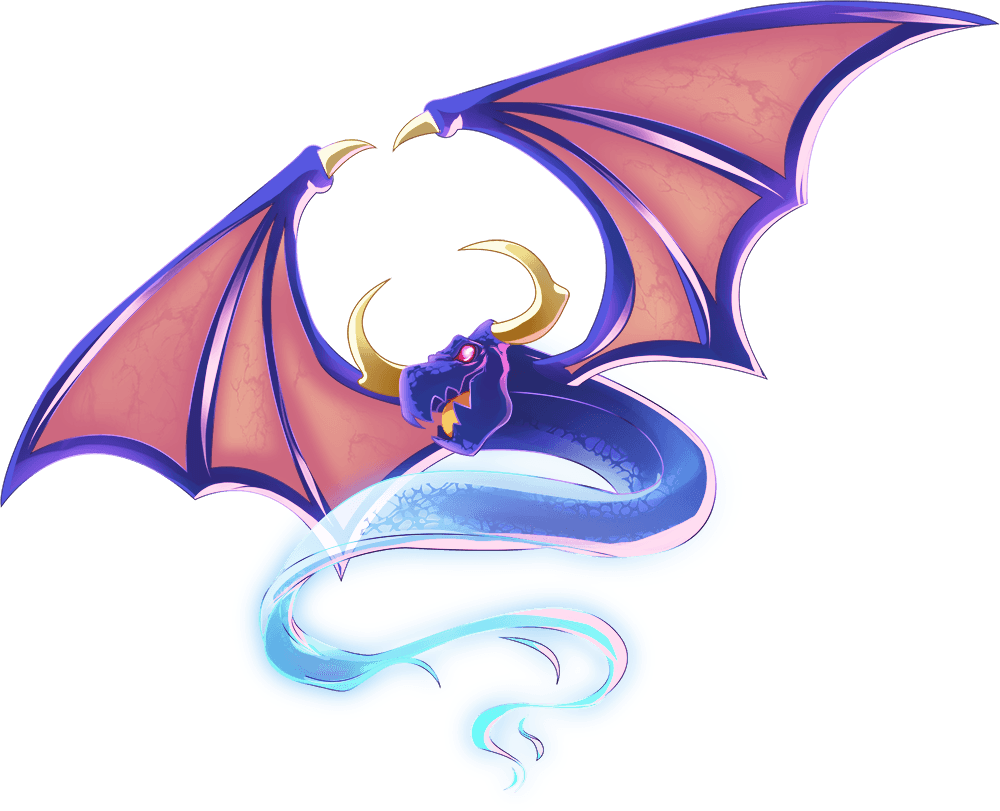 Fuente

Esta es la imagen tomada para la creación, es mi manera de participar en este tipo de concursos los cuales son muy buenos y también me ayudan a practicar mis nuevas herramientas.
This is the image taken for the creation, it's my way to participate in this kind of contests which are very good and also help me to practice my new tools.

PASO A PASO // STEP BY STEP
---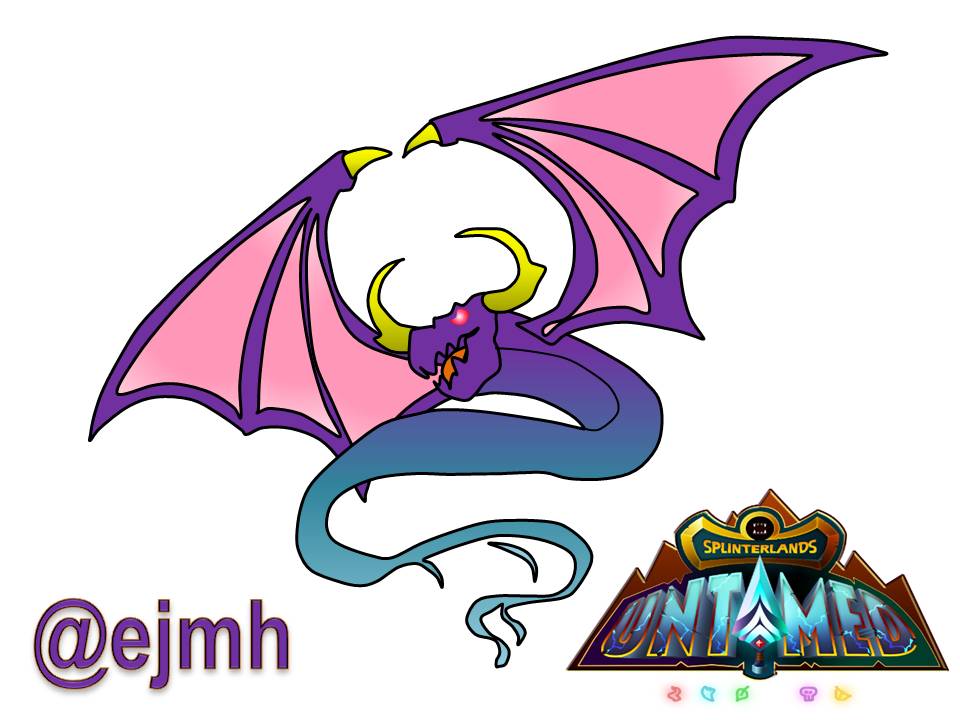 PASO 5 // STEP 5

Para iniciar decidí hacerlo por el cuerpo y la cabeza de este espíritu de dragón, para luego pasar a las alas, al terminar esta área ya contaba con un boceto y una forma del dibujo que podía utilizar para darle mejor forma al mismo, luego agregué los detalles principales de la figura como lo son los cuernos y espinas en sus alas y ademas, agregar los compartimiento que se diferencian también en sus alas.
Ya con los contornos de todas las figuras realizado, continué a la colocación de de color a cada una de ellas para darle la mejor forma y el mas parecido a la imagen referencia. Con ayuda de los degradados del mismo programa, pude lograr los efectos que se muestran en cada una de las partes de mi rompecabezas. Le digo de esta manera porque si se fijan, realizo cada parte por separado para luego al final poder juntar y darle la mejor forma posible.
Por ultimo agregué unos detalles como el ojo y algunas lineas que terminaron mi ilustración para presentarles.
To start I decided to do it for the body and head of this dragon spirit, then I went to the wings, when I finished this area I already had a sketch and a shape of the drawing that I could use to give it a better shape, then I added the main details of the figure as the horns and thorns in its wings and also, I added the compartments that are also different in its wings.
With the contours of all the figures done, I continued to place the color to each one of them to give it the best form and the most similar to the reference image. With the help of the gradients of the same program, I was able to achieve the effects that are shown in each of the parts of my puzzle. I say this because if you look at it, I make each part separately and then at the end I can put them together and give it the best possible shape.
Finally I added some details like the eye and some lines that finished my illustration to present you.

Hasta aquí mi publicación para el día de hoy, en la cual les compartí mi forma de ilustrar uno de los nuevos monstruos de edición DICE y espero que les guste tanto como a mi me gustó el resultado final.
Here is my publication for today, in which I shared with you my way of illustrating one of the new monsters of DICE edition and I hope you like it as much as I liked the final result.
¿AUN NO JUEGAS SPLINTERLANDS? TE INVITO A UNIRTE A ESTE GRAN JUEGO DESDE AQUÍ
¿TIENES DUDAS SOBRE EL JUEGO? PUEDES SEGUIR MIS GUÍAS
PARTE 1: Función de los Botones de la barra principal
PARTE 2: Cartas y sus características
PARTE 3: Batallas y Reglas
PARTE 4: Recompensas
EN LOS SIGUIENTES ENLACES PUEDES OBTENER TODA LA AYUDA QUE NECESITAS Y RESOLVER TUS DUDAS.
IN THE FOLLOWING LINKS YOU CAN GET ALL THE HELP YOU NEED AND SOLVE YOUR DOUBTS.
Telegram Español
Traducción realizada en DELP.