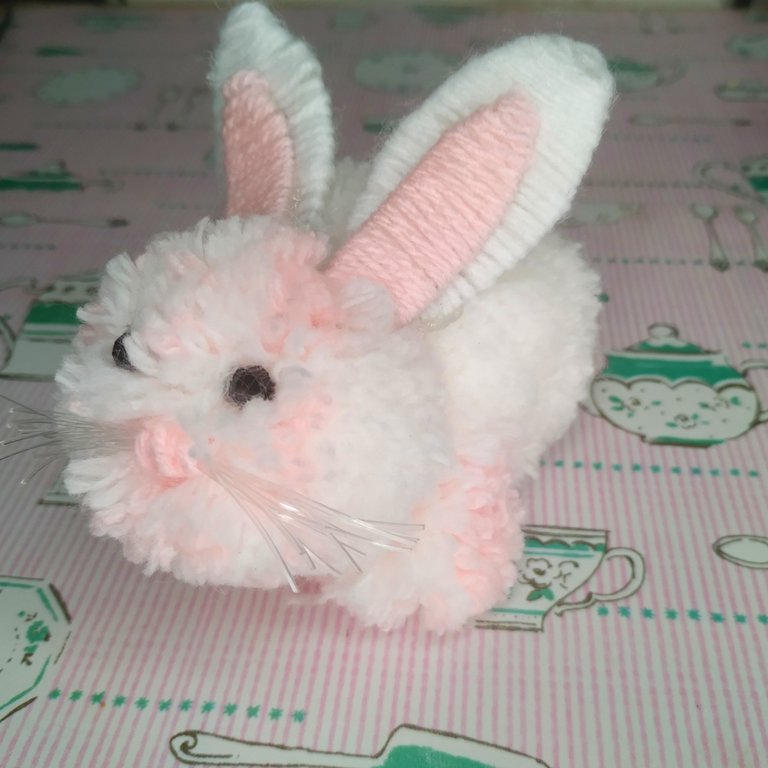 Coonejito de lana/ wool bunny. Imagen propia.
Hola mi querido Hiver!👋
Bienvenido un día más a mi blog. El día de Hoy quiero compartir contigo esta linda manualidad, un conejito de lana o estambre🐇, te sirve para un llavero, para adornar la habitación de un niño, para un móvil de bebé o como yo para pasar una tarde desestresandote con manualidades. Los materiales que vas a necesitar son:
Estambre/Lana
Cartón (yo he usado el de rollo de papel)
Dos mostacillas para los ojitos
Nylon
Tijeras
Silicón
Hello my dear Hiver!👋
Welcome one more day to my blog.
Today I want to share with you this cute craft, a bunny made of wool or yarn🐇, you can use it for a keychain, to decorate a child's room, for a baby mobile or like me to spend an afternoon de-stressing with crafts.
The materials you will need are:
Yarn/wool
Cardboard (I used the one from a paper roll)
Two beads for the eyes
Nylon
Scissors
Silicone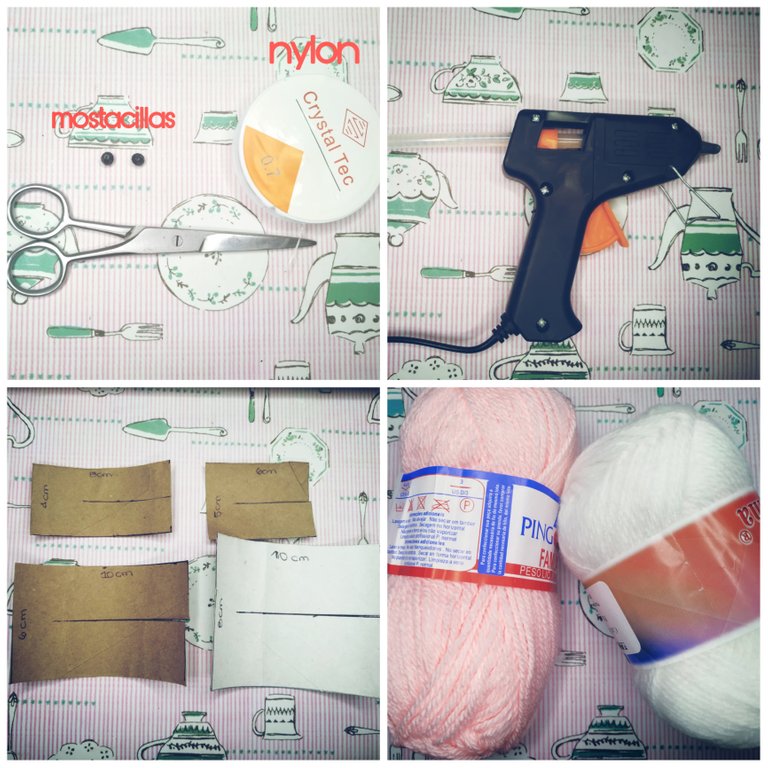 Materiales a utilizar. Imagen propia.
Para formar las Bolitas del Cuerpo
Con el cartón realizar 4 rectangulos con diferente medida:
8 cm de largo * 10 cm de ancho
6 cm de largo * 10 cm de ancho
5 cm de largo * 6 com de ancho
4 cm de largo * 6 cm de ancho
A todos estos se les realizara un corte en la mitad a lo ancho como se ve en la imagen.
To form the Body Balls
With the cardboard make 4 rectangles with different measures:
8 cm long * 10 cm wide
6 cm long * 10 cm wide
5 cm long * 6 cm wide
4 cm long * 6 cm wide
Cut all of these rectangles in half widthwise as shown in the picture.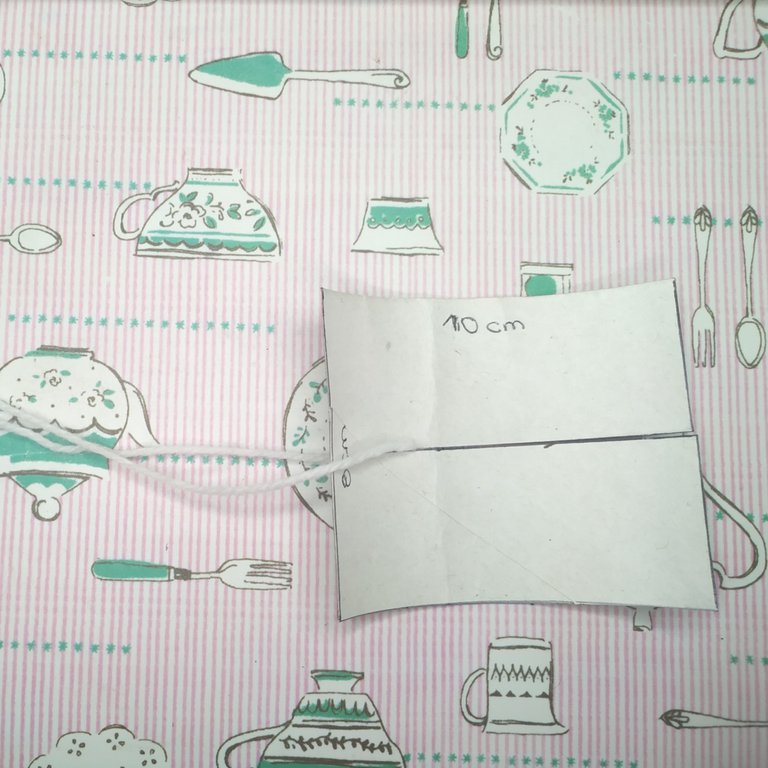 Cordón dentro del rectángulo. Imagen propia.
---
Para realizar el cuerpo tomarás el rectangulo más grande y empezarás a enrrollar alrededor la lana o estambre como se ve en las siguientes imagenes, tienes que tener en cuenta que mientras mas delgado sea tu hilo más vueltas tendrás que dar para que quede bien espeso.
To make the body you will take the largest rectangle and start winding the yarn around it as shown in the following pictures, you have to keep in mind that the thinner your yarn is the more turns you will have to make it thicker.
---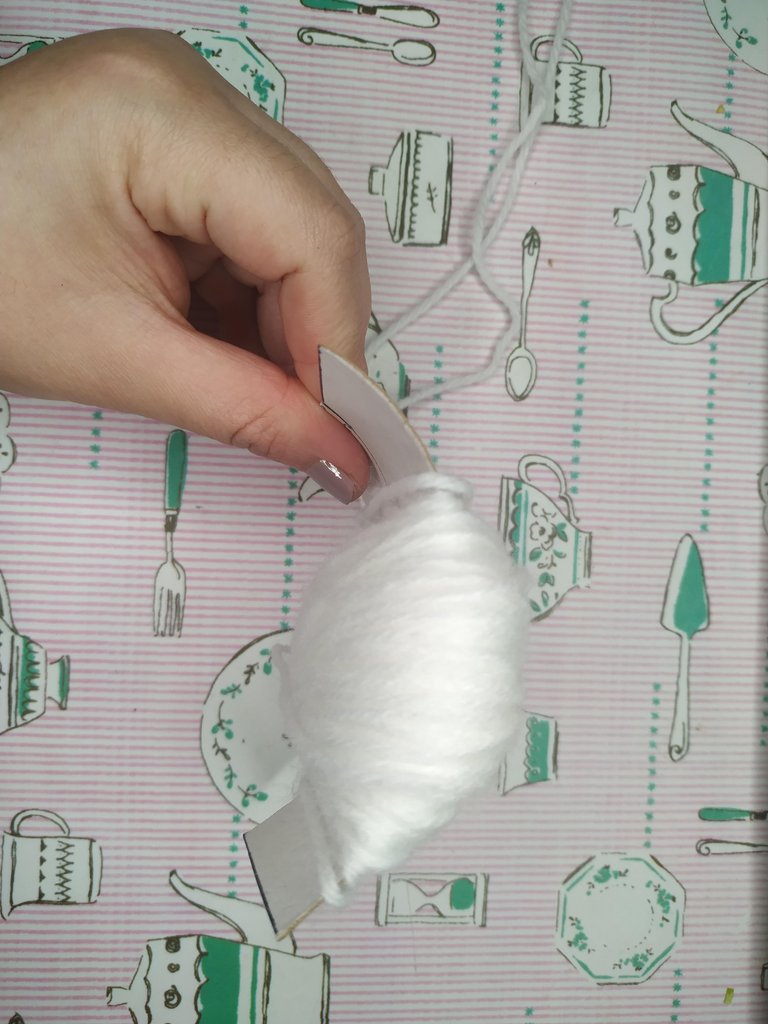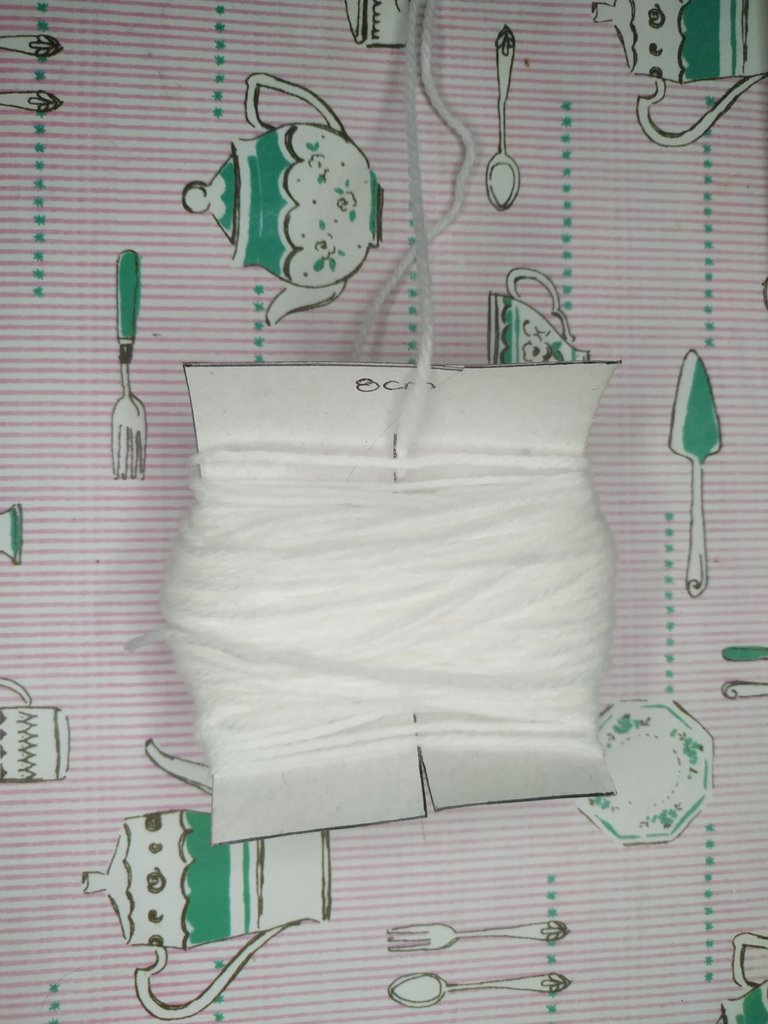 Envolver el cordon en el cartón. Imagen propia.
---
Cuando estes conforme con la cantidad de vueltas, con el cordón que colocamos al principio vas a hacer un nudo en el medio del estambre y lo sacarás del cartón de la siguiente manera:
When you are satisfied with the number of turns, you will tie a knot in the middle of the yarn and take it out of the cardboard in the following way:
---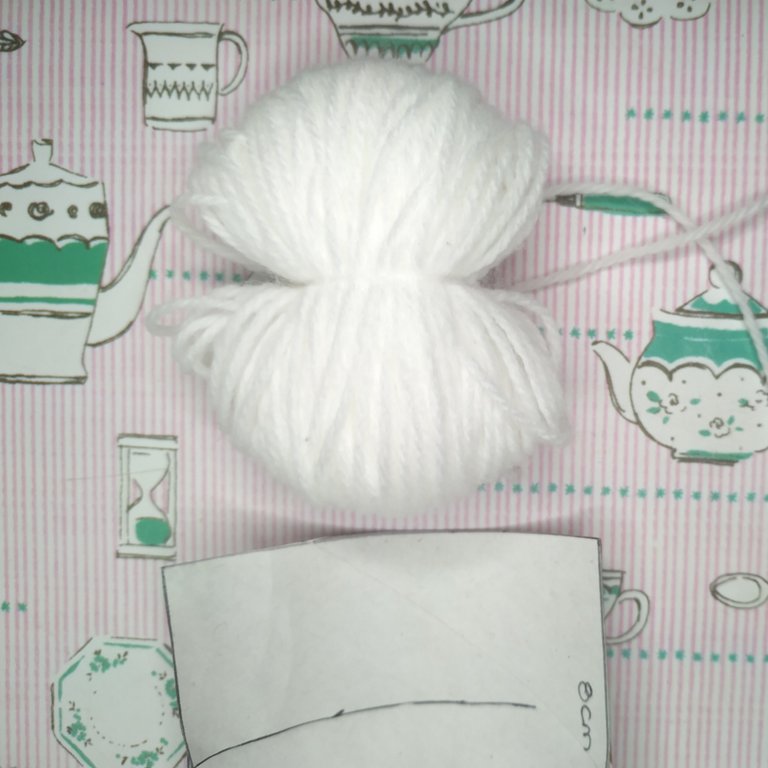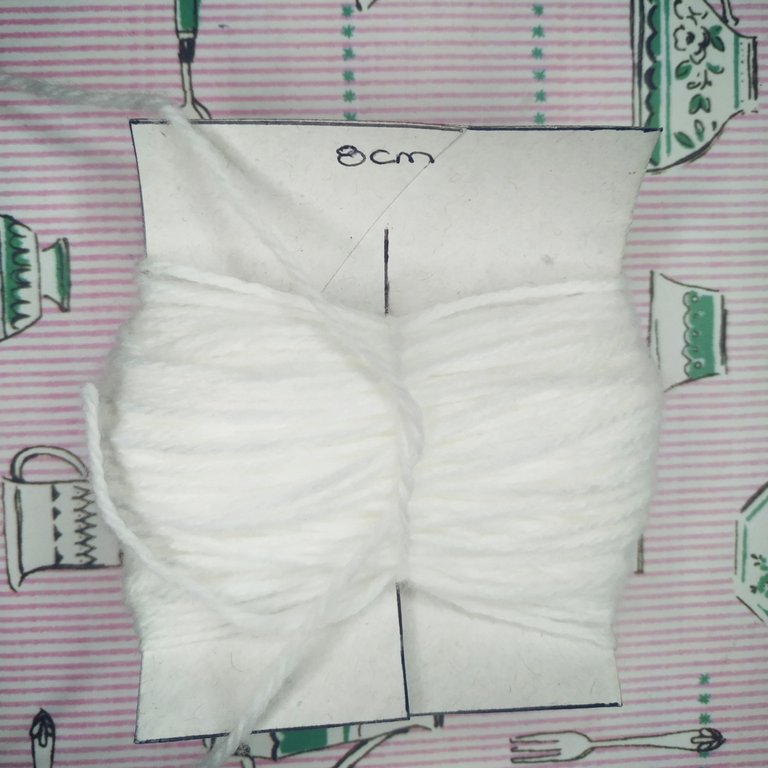 Amarra el hilo con el cordón. Imagen propia.
---
Posteriormente corta con la tijera y luego empareja los hilos hasta formar un pompón. Vas a hacer lo mismo con todos los cartones para formar 5 pompones, el de la medida de 5 cm se realiza doble porque serán las dos patitas.
Then cut with the scissors and match the threads to form a pompom. You are going to do the same with all the cardboard to form 5 pompoms, the one with the measure of 5 cm is made double because it will be the two little legs.
---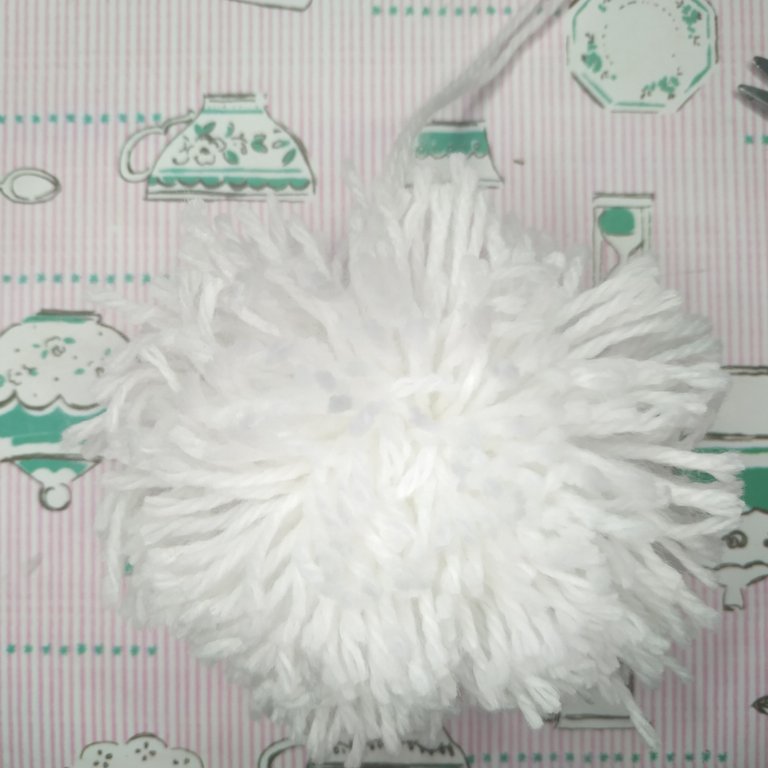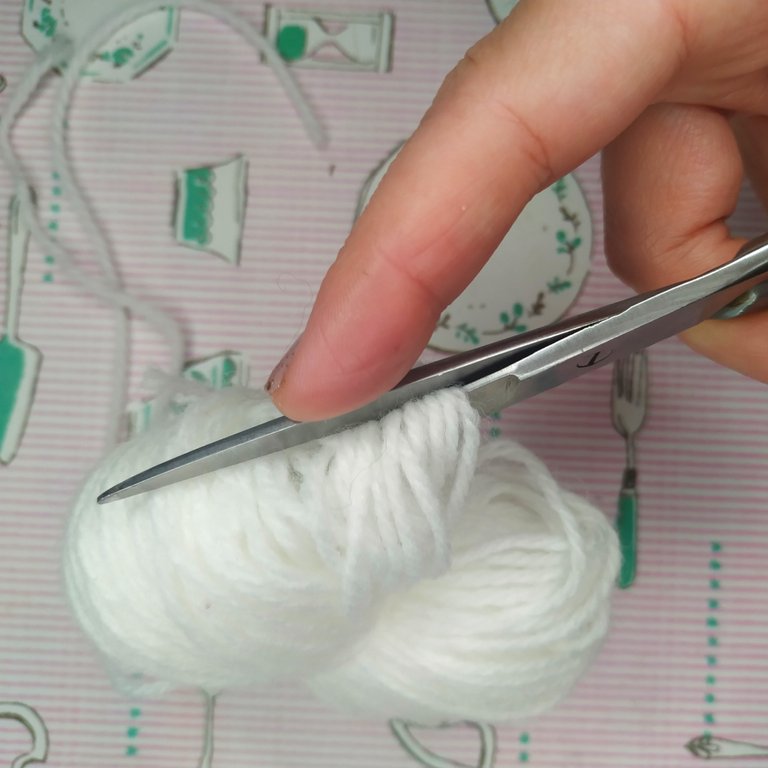 Corta el hilo. Imagen propia.
---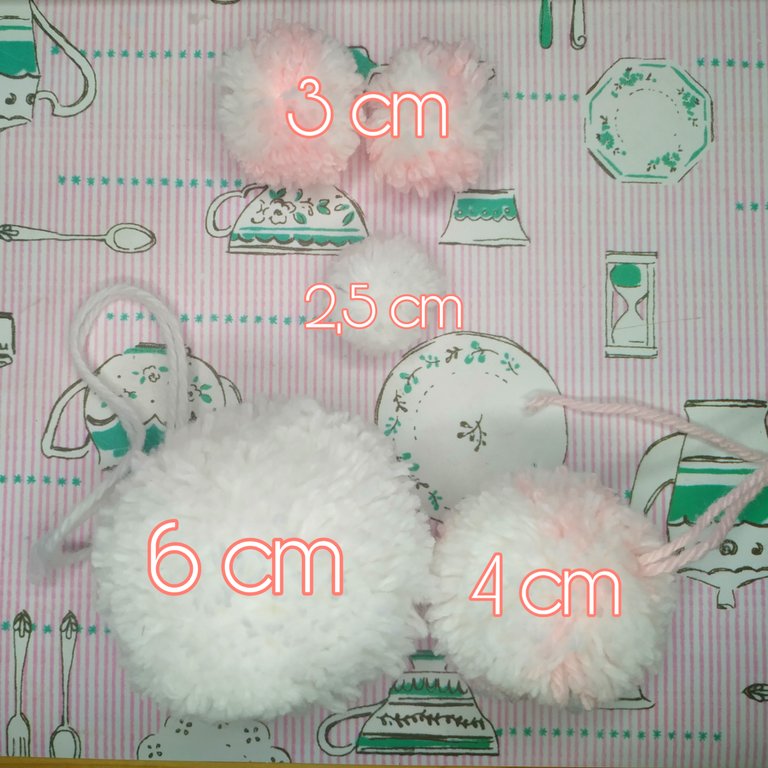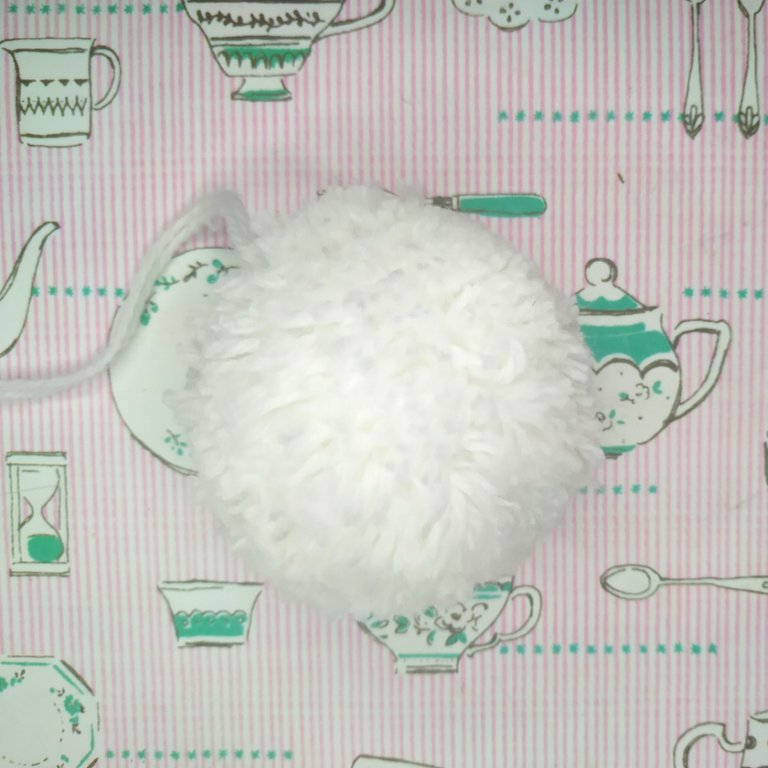 Pompones cortados. Imagen propia.
---
Para unir el cuerpo a la cabeza, solo deberás amarrar los cordondes de los pompones más grandes.
To attach the body to the head, you only need to tie the strings of the larger pompoms.
---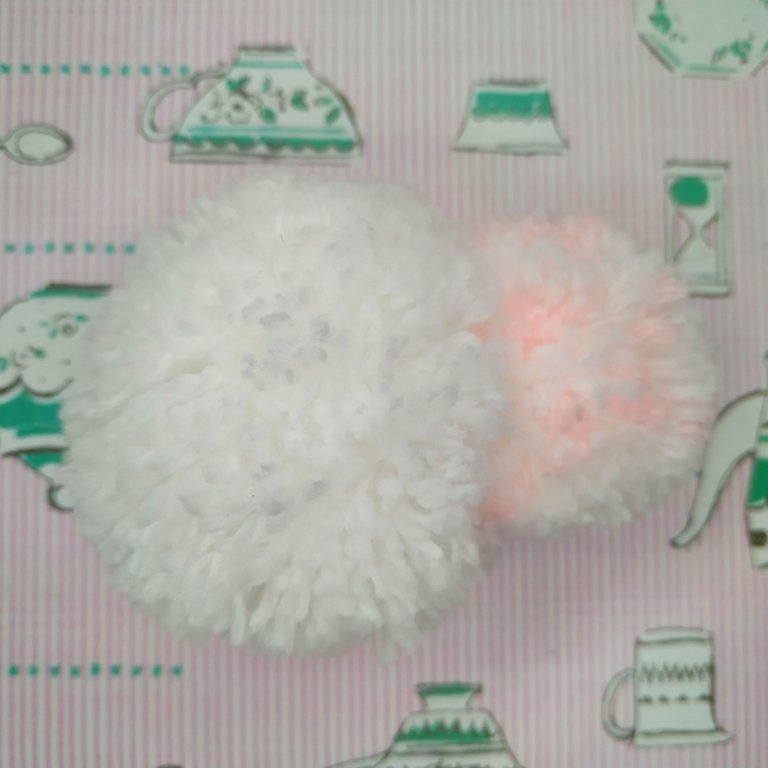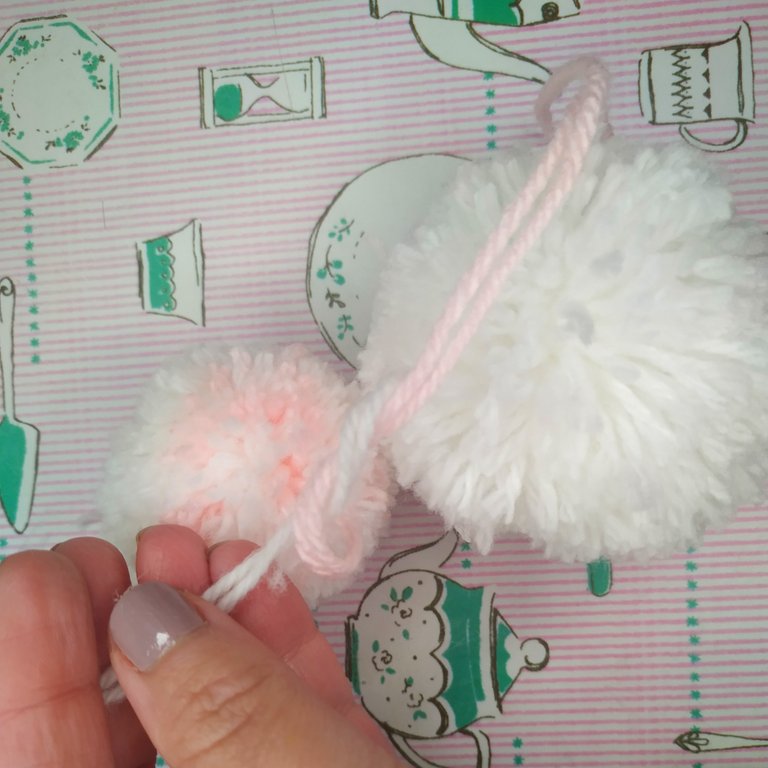 Unir los Pompones . Imagen propia.
---
Las patitas y la cola serán pegadas con silicón caliente.
The legs and tail will be glued with hot silicone.
---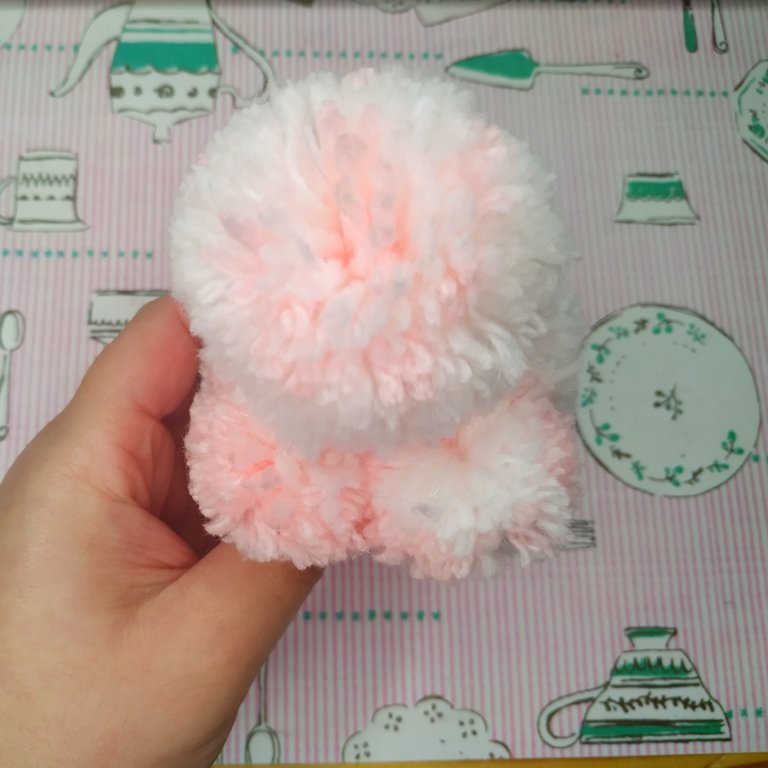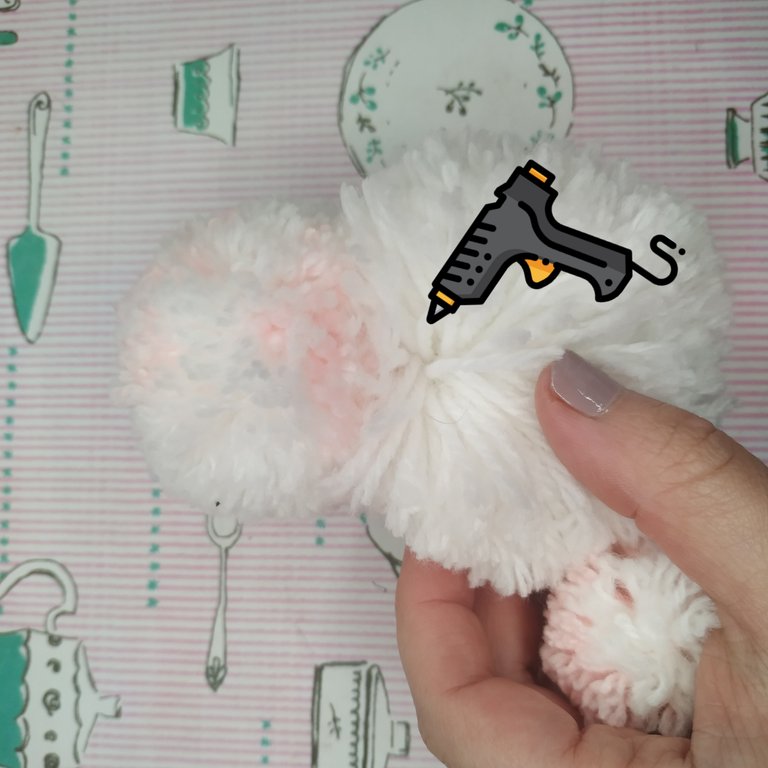 Pegar las patitas con silicón . Imagen propia.
---
Para las orejitas, vas a tomar un poco de cartón y lo cortarás con las medidas que te indico en la fotografía, posteriormente los envuelves con lana y pegas la misma con silicón para que no se mueva.
For the ears, you are going to take some cardboard and cut it with the measures that I indicate in the picture, then wrap them with wool and glue it with silicone so it does not move.
---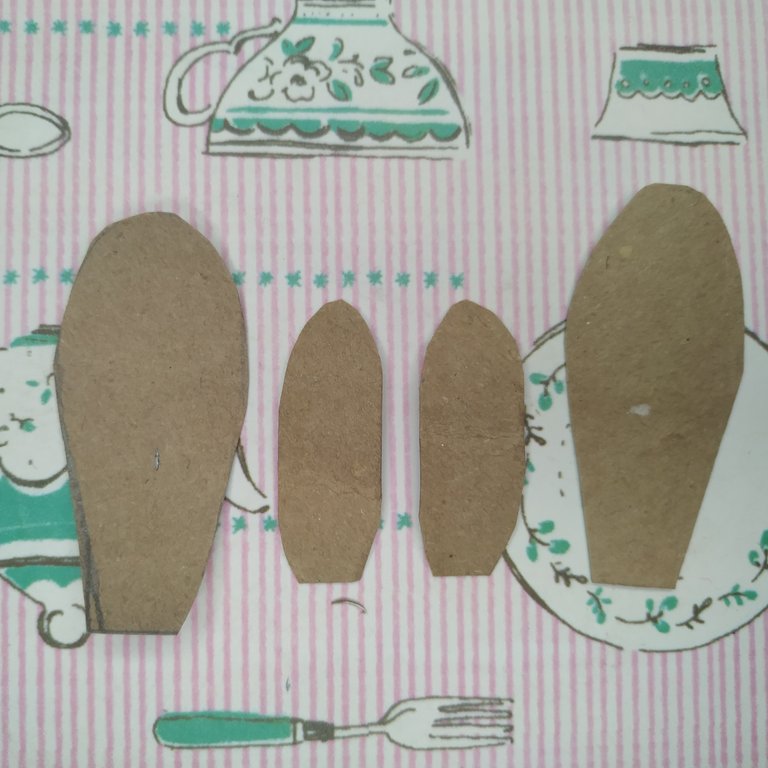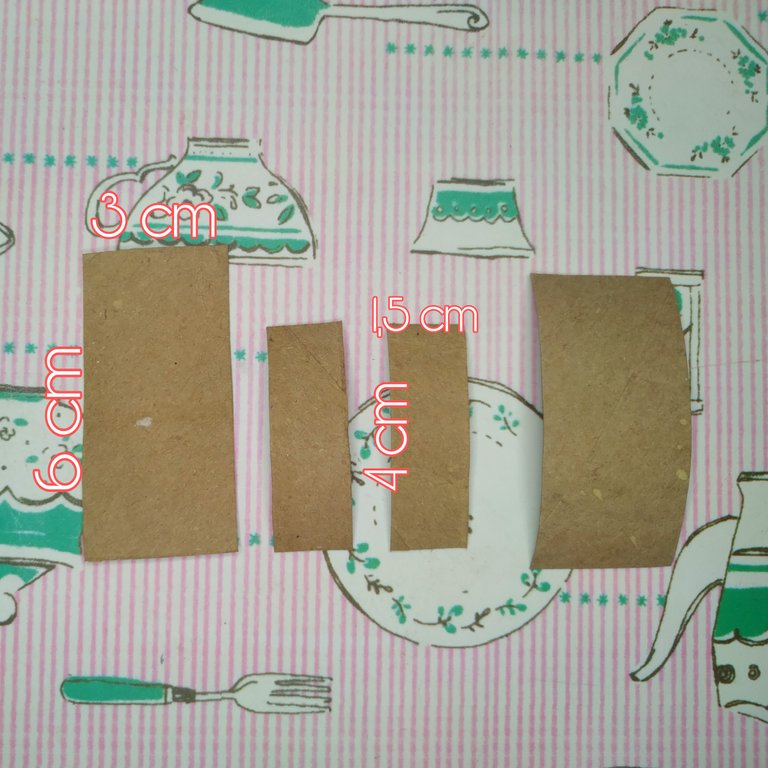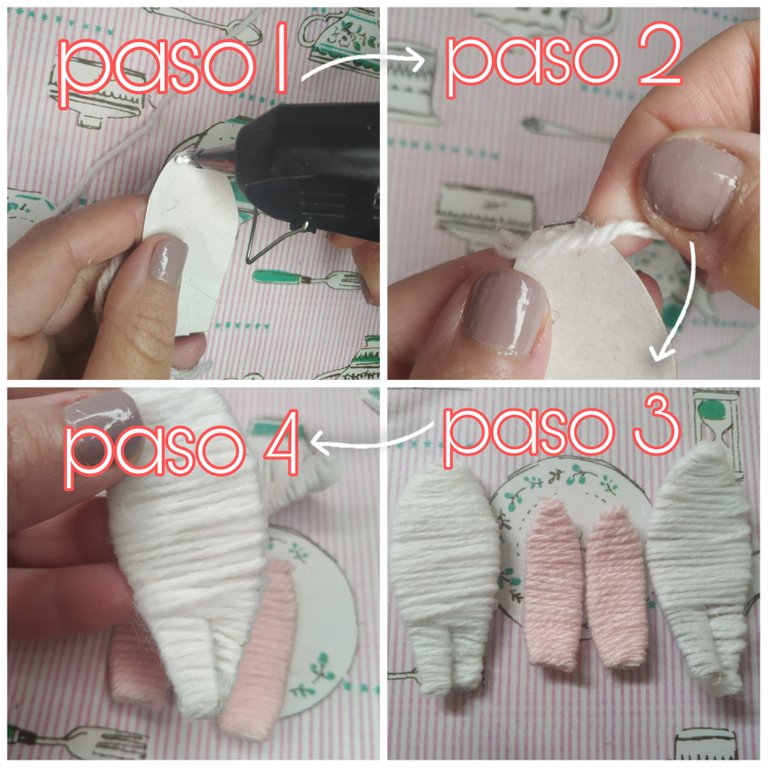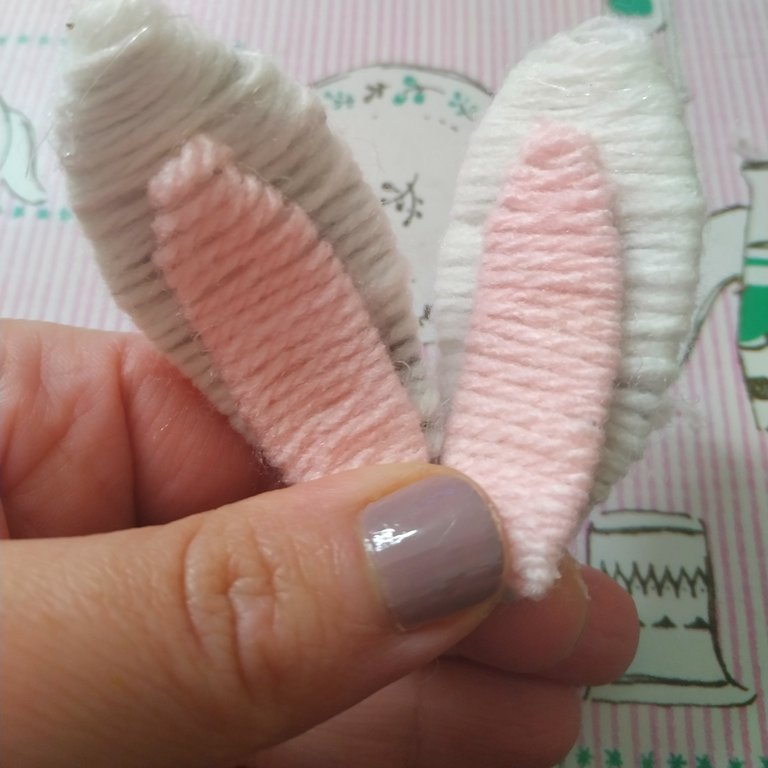 Armado de las orejas . Imagen propia.
---
Ahora pega las orejas al cuerpo, con silicón caliente
Now glue the ears to the body with hot silicone.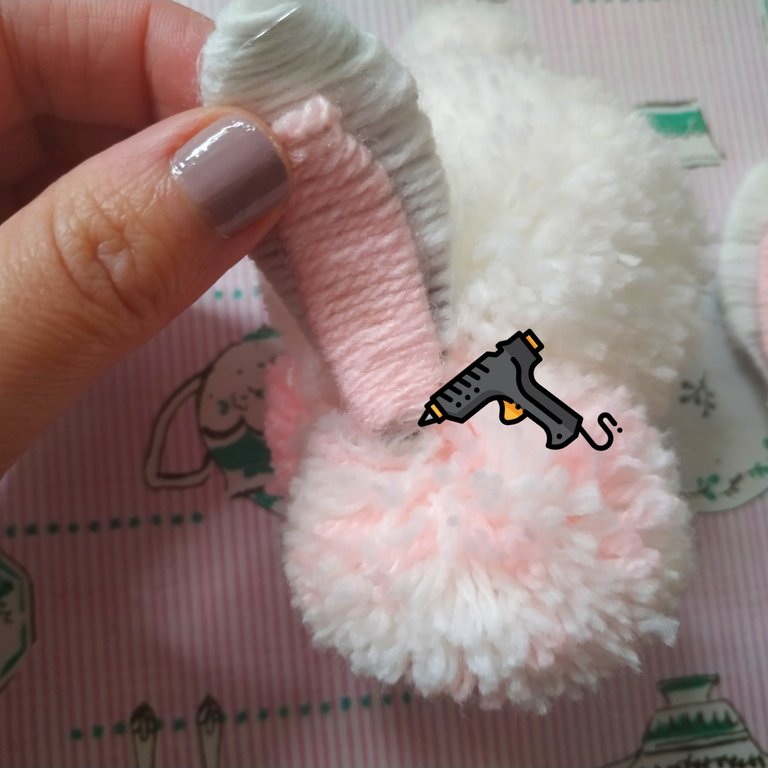 Pega las orejitas al cuerpo. Imagen propia.
---
Los dos ojitos srán las mostacillas, las mismas las pegarás con silicón caliente en la cara. Los bigotes y la nariz se harán con Nylon y estambre rosa, tomarás algunas vueltas de nylon las enrrollaras en tus dedos y en la mitad harás varios nudos con estambre rosa, tal como se muestra en las siguientes imagenes:
The two little eyes will be the beads, glue them with hot silicone on the face. The whiskers and the nose will be made with Nylon and pink yarn, you will take a few turns of nylon and wrap them around your fingers and in the middle you will make several knots with pink yarn, as shown in the following pictures:
---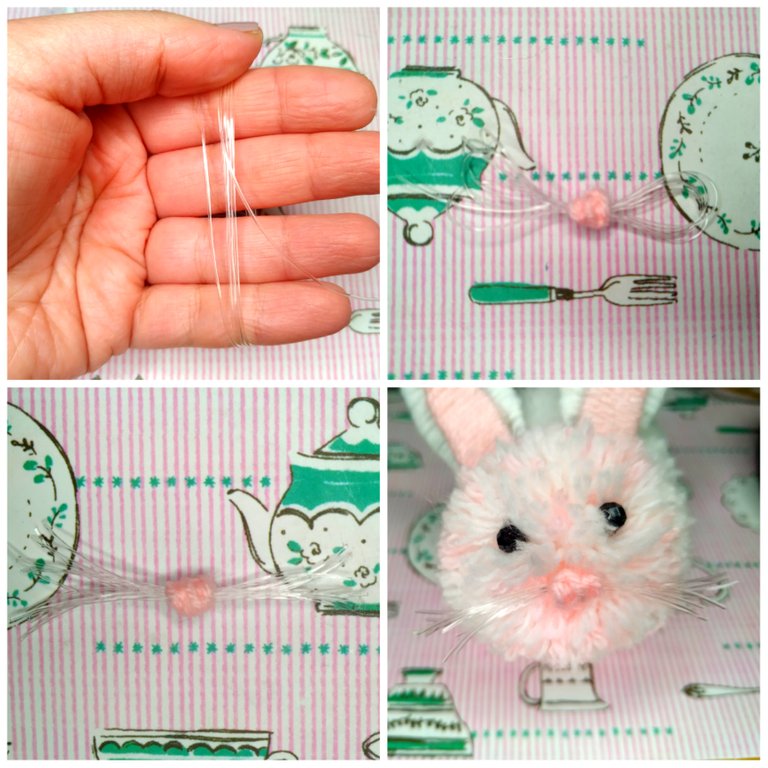 Construcción de la cara. Imagen propia.
---
Por último disfruta de tu conejito, gracias por leer hasta aqui, dime ¿cuál animalito te gustaria recrear en lana?
Saludos y Besos😘
Finally enjoy your bunny, thanks for reading this far, tell me which animal would you like to recreate in wool?
Greetings and Kisses😘