Buenas noches queridos amigos, espero que se encuentren bien... En ésta oportunidad, vengo a compartirles una exquisita receta, super saludable y nutritiva.
La elaboración de éste platillo es un poco laboriosa, pero NO por lo complicado en su preparación, sino por los pasos que debemos realizar en el proceso del sofrito, para obtener una textura ideal debemos sofreír "paso a paso" y de forma individual, ya que cada ingrediente tiene un tiempo de cocción diferente.
Pongámonos el delantal y preparemos un delicioso "pisto de verduras"...
Good evening dear friends, I hope you are well... In this opportunity, I come to share with you an exquisite recipe, super healthy and nutritious.
The elaboration of this dish is a little laborious, but NOT because of the complexity in its preparation, but because of the steps that we must carry out in the process of the sofrito, to obtain an ideal texture we must fry "step by step" and in an individual way, since each ingredient has a different time of cooking.
Pongámonos el delantal y preparemos un delicioso "pisto de verduras"...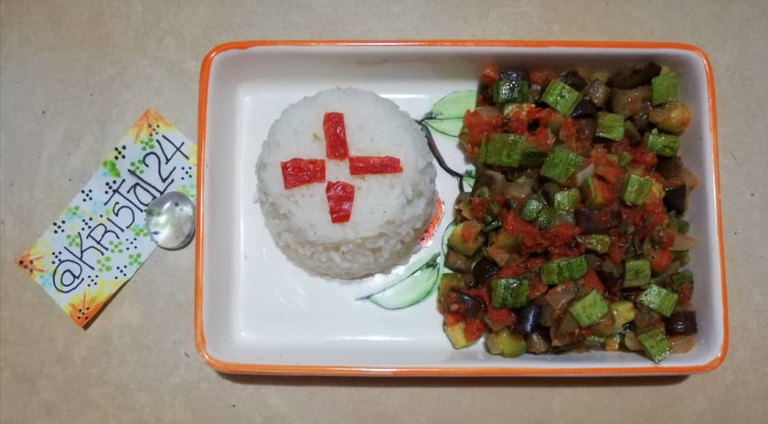 Necesitarán los siguientes ingredientes:
3 berenjenas
4 calabacines
1 cebolla grande
2 tomates maduros
6 cucharadas de aceite de oliva
1 cucharadita de sal condimentada
1/2 cucharadita de comino
You will need the following ingredients:
3 eggplants
4 zucchini
1 large onion
2 ripe tomatoes
6 tablespoons of olive oil
1 teaspoon of seasoned salt
1/2 teaspoon cumin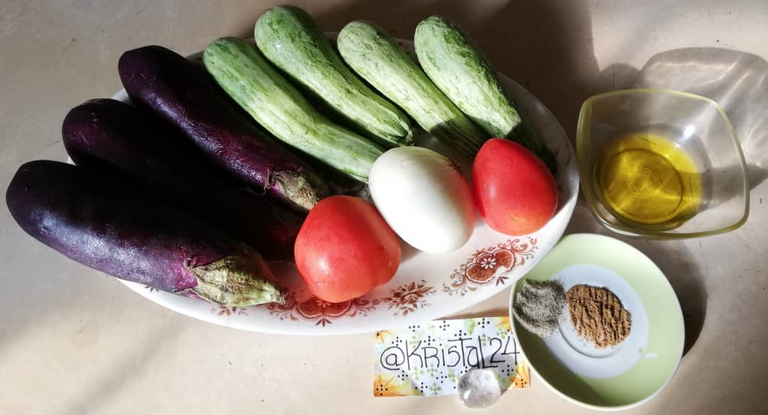 Amigos, empecemos nuestro maravilloso proceso... Agregamos el aceite de oliva a un sartén hondo, iremos sofriendo todas nuestras verduras de forma individual. Empezaremos incorporando la cebolla, cocinamos a fuego "medio-alto".
Friends, let's start our wonderful process... We add the olive oil to a deep frying pan, we will fry all our vegetables individually. We will start incorporating the onion, we will cook to "medium-high" fire.


Cuando la cebolla haya tomado una tonalidad cristalina y doradita, añadimos la sal condimentada y el comino en polvo...
When the onion has taken on a crystalline shade, we add the seasoned salt and cumin powder .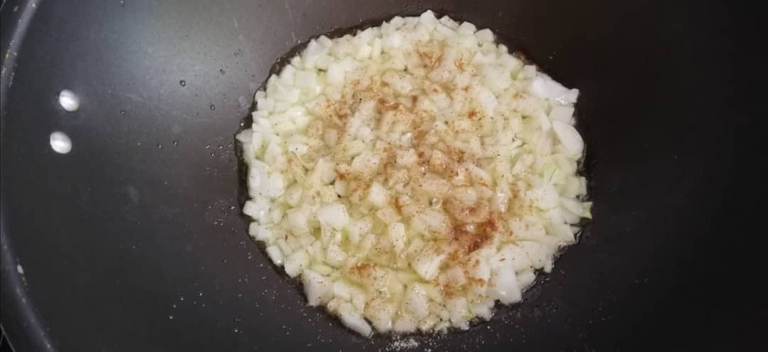 Retiramos el sartén de la hornilla, con un colador de metal extraemos el aceite de la cebolla, para evitar que la receta nos quede muy aceitosa (así lo haremos con todas las verduras).
We remove the pan from the oven, with a metal strainer we extract the oil from the onion, to prevent the recipe from being too oily (this is what we will do with all the vegetables).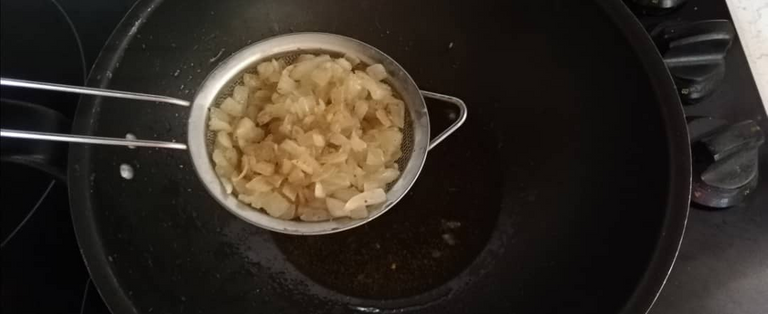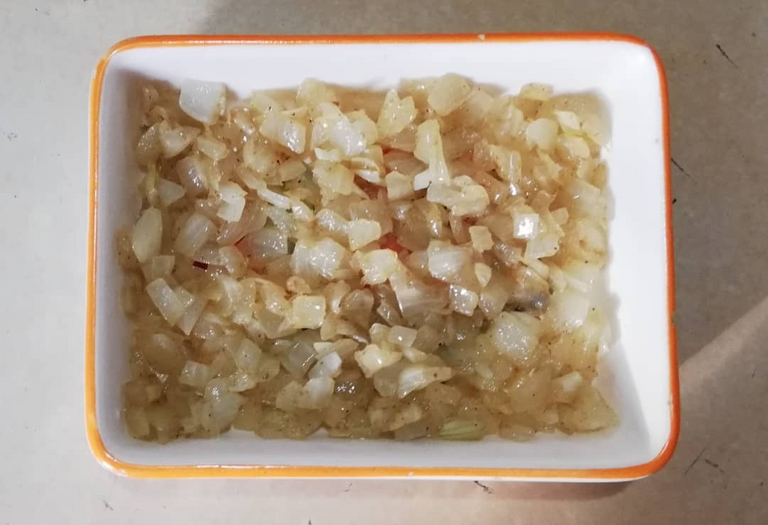 Sofreímos el calabacín a fuego "alto" para evitar que adquiera una textura muy blanda, lo ideal es conseguir una consistencia suave por dentro sin perder lo crujiente de su piel (agregamos una pizca de sal).
We fry the zucchini over "high" heat to prevent it from acquiring a very soft texture, the ideal is to achieve a smooth consistency inside without losing the crunchiness of its skin (we add a pinch of salt).


Sabremos que está listo cuando el verde de su piel haya adquirido una tonalidad brillante.
We will know that you are ready when the green of your skin has acquired a bright tone.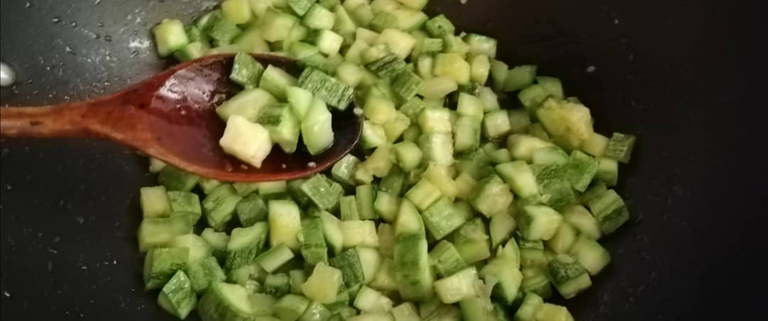 Repetiremos el proceso que realizamos con la cebolla...
We will repeat the process we did with the onion...


El último ingrediente en sofreír será "la berenjena"...
The last ingredient to be fried will be "the eggplant"...


Así nos quedará... Les sugiero no sofreír durante mucho tiempo para evitar que la piel se despegue.
This is how it will be... I suggest NOT to fry for a long time to avoid skin detachment.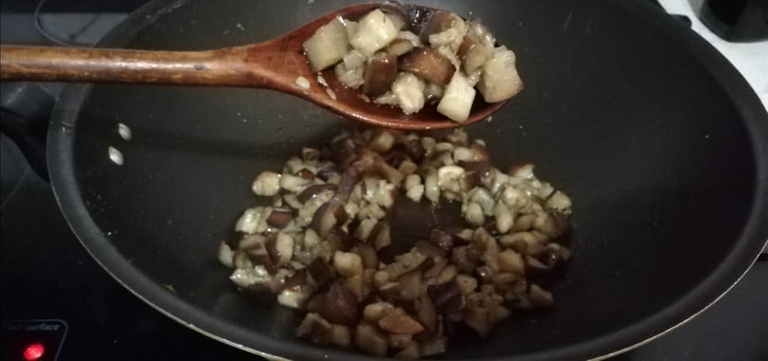 Reservamos nuestros ingredientes...
We reserve our ingredients...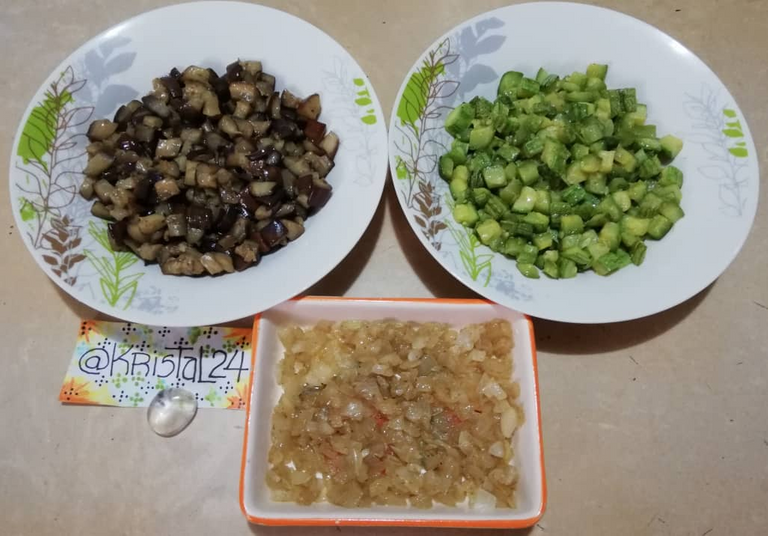 Sofreímos los tomates (sin piel ni semillas), añadimos 1/2 taza de agua, cocinamos durante 20 minutos a fuego "medio-alto", agregamos una pizca de sal y azúcar.
Fry the tomatoes (without skin or seeds), add 1/2 cup of water, cook for 20 minutes at "medium-high" heat, add a pinch of salt and sugar.


Incorporamos todos los ingredientes al puré de tomate, mezclamos para que se integren bien.
We incorporate all the ingredients to the tomato puree, we mix them so that they integrate well.


Amigos, a continuación les presento nuestro saludable y nutritivo "pisto de verduras"... Un manjar al paladar!
Friends, I present to you our healthy and nutritious "vegetable ratatouille"... A delicacy to the palate!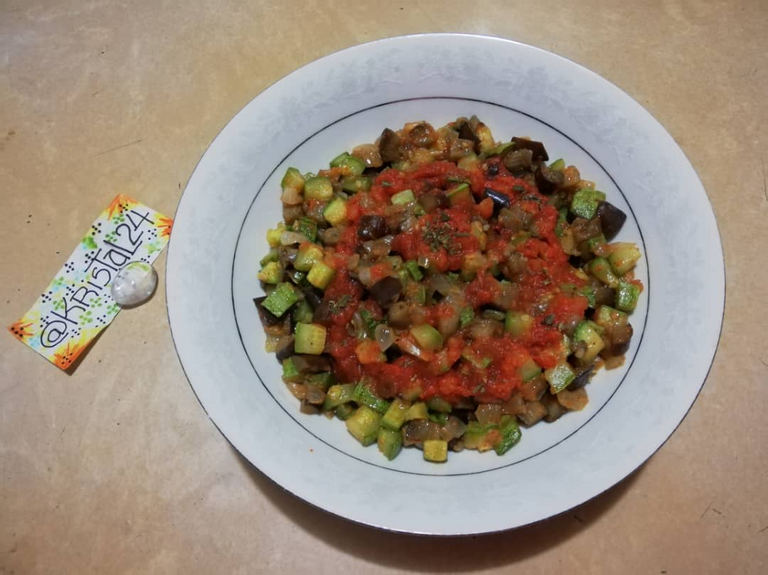 Con ésta apetitosa ración @kristal24 les desea buen provecho!
With this appetizing portion @kristal24 wishes you good luck!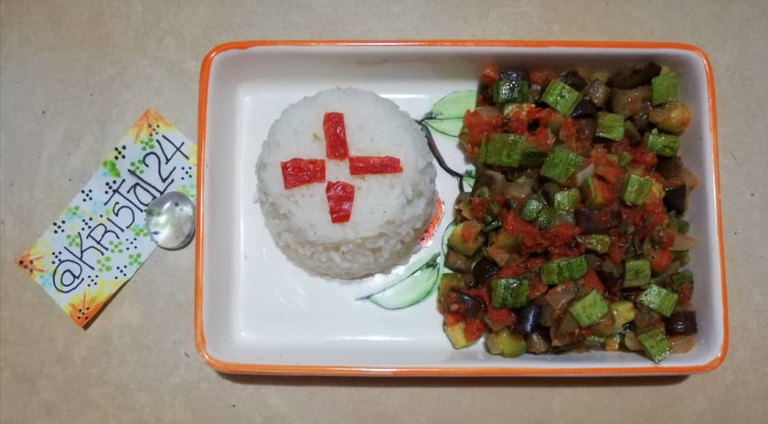 Gracias por visitar mi blog
Thank you for visiting my blog

Todas las fotografías son de mi autoría (Huawei P20 lite)
All photographs are my own (Huawei P20 lite)