¡Hola comunidad Hive!
Hello Hive Community!
MAKEUP CHALLENGE!
Segunda semana de este reto y una temática diferente, como serán todas las semanas. En esta oportunidad @ambarvegas me propuso la idea de que fuera "Pop Art" y a mi me encanto totalmente. Nunca había realizado este tipo de maquillaje hasta ahora! Y eso es una de las cosas que me gustan de esta iniciativa, poder probar cositas nuevas y así aprender con el tiempo.
Second week of this challenge and a different theme, as it will be every week. In this opportunity @ambarvegas proposed me the idea of being "Pop Art" and I totally loved it. I had never done this kind of makeup until now! And that's one of the things I like about this initiative, to be able to try new things and so learn with time.
---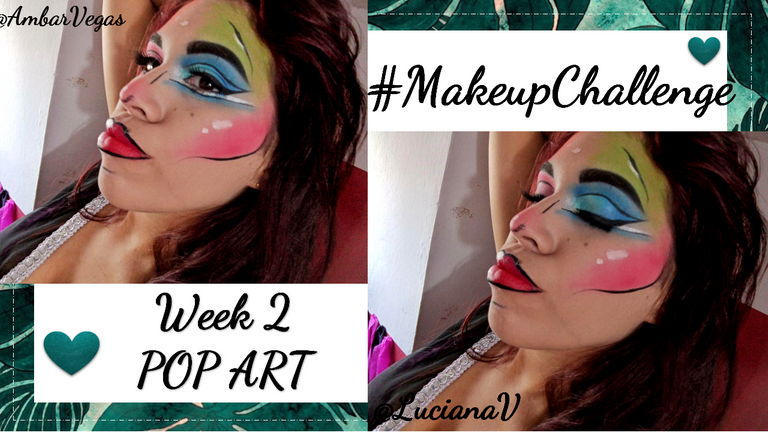 ---
Los maquillajes de este estilo realmente son impresionantes, a veces suelen cambiar la forma de nuestro rostro y transformarnos en caricaturas. Aunque para llegar a este punto hace falta practica. Me inspire un poco en un Makeup que realizo Nikkie Tutorials hace tiempo, bastante colorido.
The make-ups of this style are really impressive, sometimes they tend to change the shape of our face and transform us into caricatures. Although to get to this point you need practice. I was inspired by a Nikkie Tutorials makeup I did some time ago, quite colorful.

Para realizar este Pop Art utilicé:
Paleta de Sombras Salome.

Brochas de ojos y rostros.

Corrector en tono claro.

Base de maquillaje.

Pestañas postizas.

Polvo Compacto.

Delineador Líquido.

Mascara de Pestañas.

Labial Rojo.
To make this Pop Art I used:
Salome Shadow Palette.

Eye and Face Brushes.

Light Tone Concealer.

Foundation.

False eyelashes.

Compact Powder.

Liquid Eyeliner.

Eyelash Mascara.

Red Lipstick.

---

---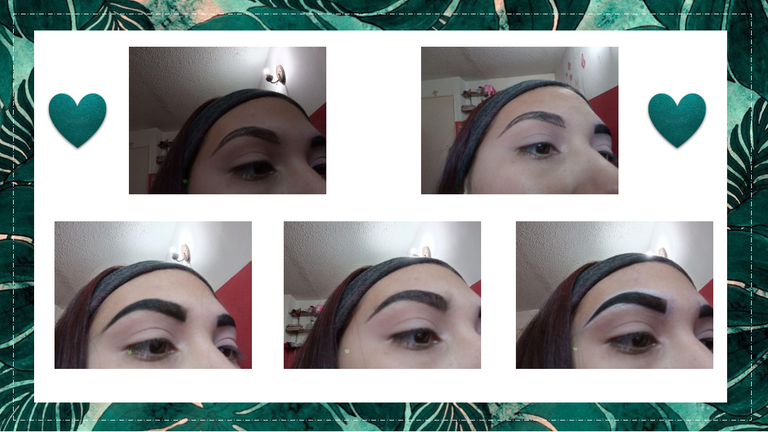 ---
Una característica interesante de los Pop Arts son las cejas, estas son bastante negras y definidas. Por lo que comencé siguiendo mi forma natural pero haciendo todas las líneas marcadas, sin difuminar. Luego rellenando espacios y para agregar intensidad aplique una sombra súper negra en toda la ceja.
An interesting feature of the Pop Arts are the eyebrows, these are quite black and defined. So I started by following my natural shape but doing all the lines marked, without blurring. Then filling in the spaces and to add intensity I applied a super black shadow on the whole eyebrow.
---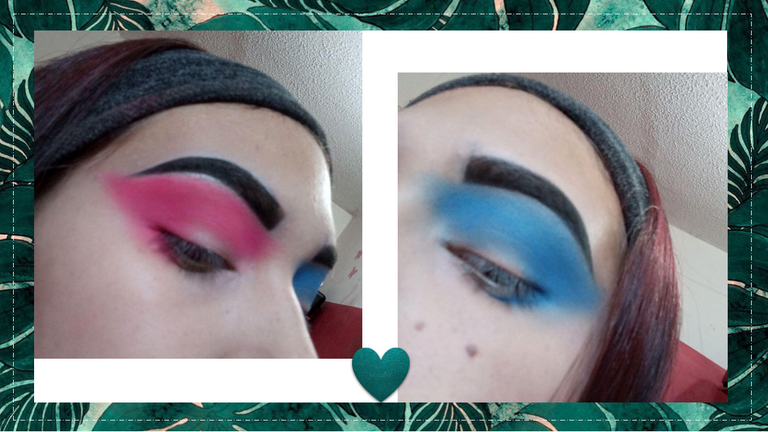 ---
Luego comencé por los ojos, en uno aplique una sombra azul y en el otro una rosada. Difuminando hasta tocar la ceja y dejando el color bastante intenso. También lo saque un poco hacia la nariz, buscaba que el maquillaje de ojos estuviera exagerado.
Then I started with the eyes, in one I applied a blue shadow and in the other a pink one. Blurring until it touches the eyebrow and leaving the color quite intense. I also pulled it a little towards the nose, looking for the eye makeup to be exaggerated.
---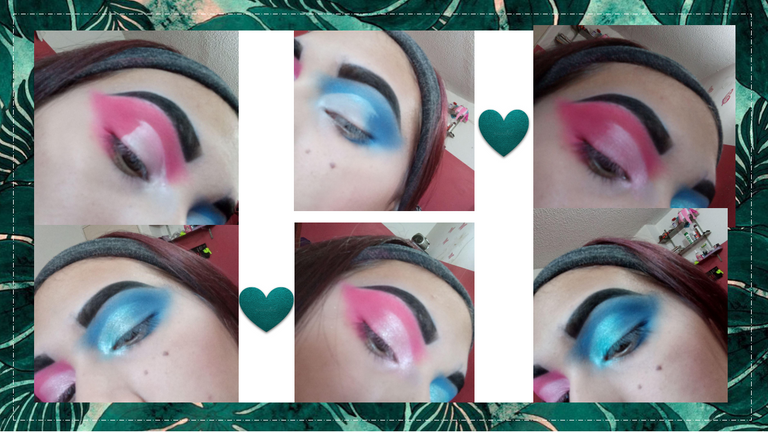 ---
Luego hice un corte de cuenca exagerado, por fuera de mi pliegue natura y muy por encima del lagrimal. En este corte aplique unas sombras Shimmer rosada clara y azul claro. Seguido encima de estos tonos aplique un tono claro para iluminar, al igual que el lagrimal.
Then I made an exaggerated basin cut, outside my natural crease and well above the teardrop. In this cut, I applied a light pink and light blue shimmer. Then I applied a light shade on top of these shades to illuminate, just like the teardrop.
---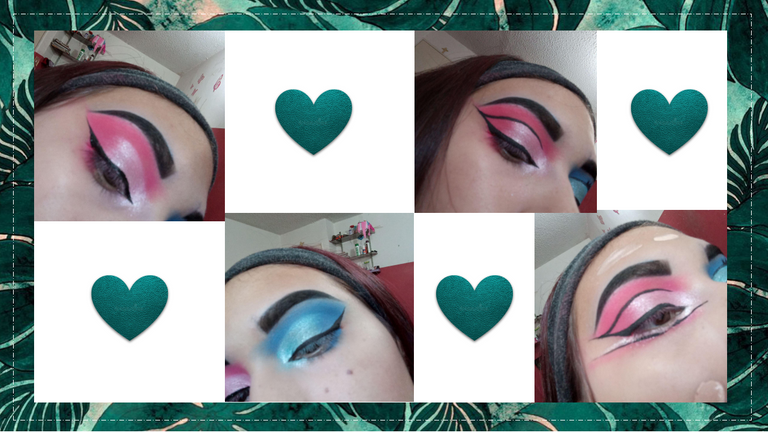 ---
Luego comencé a delinear, realicé un doble delineado en ambos ojos, conectando el delineado superior con el corte de cuenca. También en la linea inferior de las pestañas realice tres lineas. La primera blanca metalizada, la seguida negra y la ultima del color del ojo correspondiente.
Then I started to outline, I made a double eyeliner in both eyes, connecting the upper eyeliner with the basin cut. I also did three lines on the lower lash line. The first metallic white, followed by black and the last one of the corresponding eye color.
---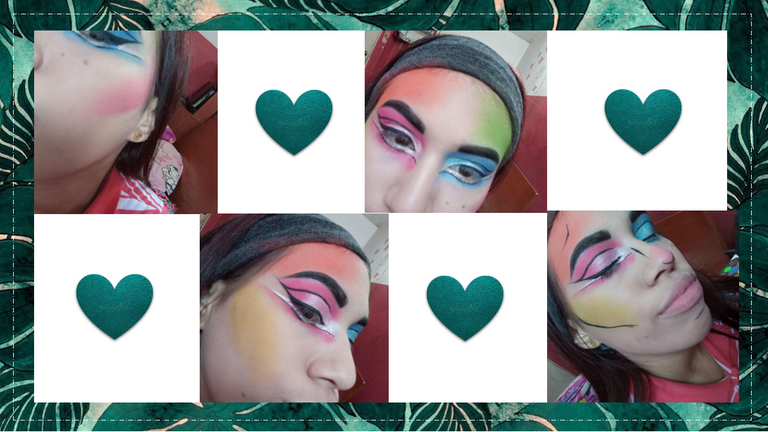 ---
Listos los ojos comienzo a realizar la piel. Luego a aplicar base coloco los tonos rosado y amarillo por debajo de los pómulos, uno de cada lado. Los tonos verde y naranja en las esquinas de la frente y un punto rosa en la nariz. Después delineador abajo de los tonos aplicados en los pómulos, también dos lineas en los tonos de la frente y en la nariz.
Once the eyes are ready, I start to make the skin. Then to apply base I place the pink and yellow tones under the cheekbones, one on each side. The green and orange tones at the corners of the forehead and a pink dot on the nose. Then I apply eyeliner under the shades applied to the cheekbones, also two lines in the shades of the forehead and in the nose.
---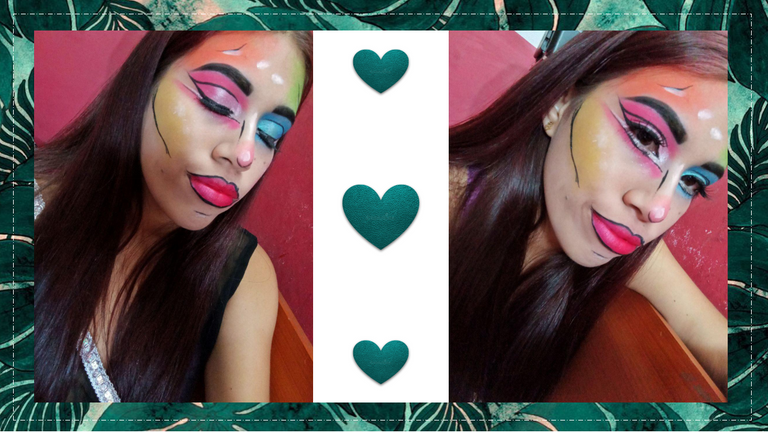 ---
Finalizo con los labios, rojos con los bordes negros utilizando delineador liquido. también coloco unos puntos de luz con un corrector súper claro, casi blanco, para agregar dimensión en el Pop Art, y coloco pestañas postizas con la respectiva máscara de pestañas.
I finish with the lips, red with black edges using liquid eyeliner. I also place some highlights with a super-clear, almost white, concealer to add dimension to the Pop Art, and place false lashes with the respective mascara.
---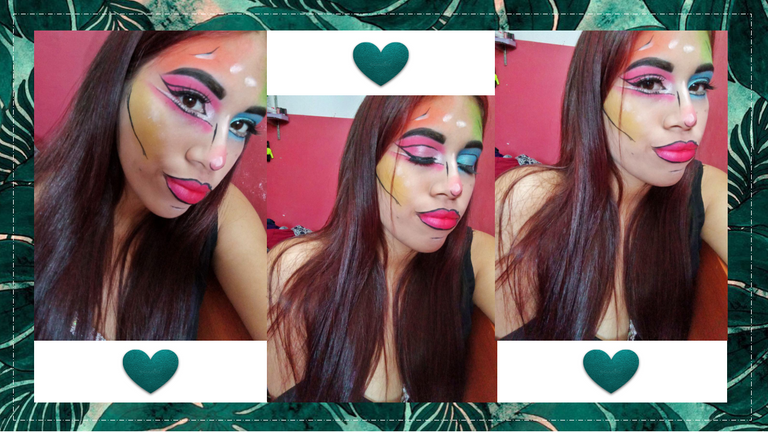 ---
Este look fue toda una odisea, algo completamente nuevo para mi, me gusto mucho el resultado, aunque le mejoraría muchas cosas, pronto realizare otro look así para seguir practicando.
Me llena de emoción este Hive Makeup Challenge, observar a las chicas hacer looks siguiendo el tema semanal es muy gratificante! Aquí les dejo mi aporte al reto siguiendo la temática semanal. Y tu...
¿Ya hiciste el Makeup Challenge?
This look was an odyssey, something completely new for me, I really liked the result, although it would improve many things, I will soon do another look like this to keep practicing.
I'm very excited about this Hive Makeup Challenge, watching girls do looks following the weekly theme is very rewarding! Here is my contribution to the challenge following the weekly theme. And you...
Have you already done the Makeup Challenge?
¡Gracias por leer mi post! ¡Espero que les haya gustado!
Fotos de mi propiedad.
Camara: Teléfono Redmi 9.
Thanks for reading my post! I hope you enjoyed it!
Pictures of my property.
Camera: CellPhone Redmi 9.