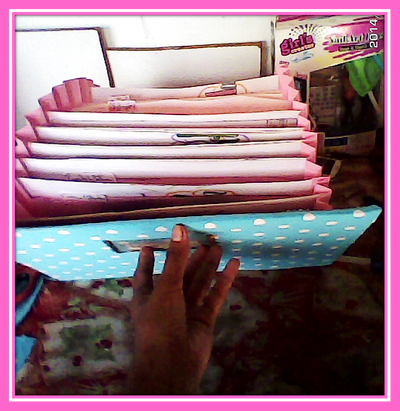 ¡Hoola amigos de Hive!
Hello, friends of Hive!
En esta oportunidad les traigo la elaboración de un portafolio escolar paso a paso. En vista de la cuarentena los colegios tomaron diferentes medidas para continuar impartiendo clases a los jóvenes, como estrategia implementaron el uso de los portafolios que no es más que una carpeta o maletín con separaciones para ir guardando las actividades realizadas en casa.
In this opportunity I bring you the elaboration of a school portfolio step by step. In view of the quarantine the schools took different measures to continue giving classes to the young people, as a strategy they implemented the use of the portfolios which is nothing more than a folder or briefcase with separations to keep the activities done at home.
En mi familia hay dos adolescentes en el liceo, una en 1er año y otra en 4to año; a la más pequeña es que le hicimos el portafolio con materiales que teníamos en casa, es decir, aprovechamos el momento para reciclar.
In my family there are two teenagers in the high school, one in 1st year and the other in 4th year; to the youngest one we made the portfolio with materials we had at home, that is, we took advantage of the moment to recycle.
¿Qué materiales utilice?
What materials do you use?
Caja de cartón. - Cardboard box.
Regla. - Rule

Tijera. - Scissors
Pistola de silicón. - Silicone gun
Cortador exacto. - Exact cutter
Lápiz. - Pencil
Cartulina u hojas blancas o de reciclaje (para los separadores). White or recycled cardboard or sheets (for separators)
Tela (opcional). - Fabric (optional)
Papel de regalo (opcional). - Gift wrap (optional)
Paso a Paso:
Step by step:
Marcamos y cortamos dos rectángulos en la caja. La medida que utilice fue de 25 cm de largo por 35 cm de ancho.
We mark and cut out two rectangles in the box. The measure I used was 25 cm long by 35 cm wide.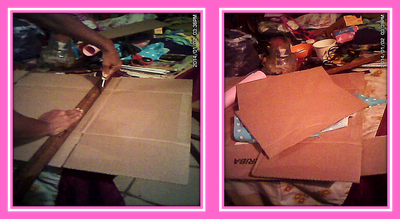 Una vez que tenemos las dos tapas, hacemos el acordeón que va a los lados donde serán pegados los separadores. El acordeón tiene un largo de 20 cm y un ancho de 50 cm, cuando tengamos ambos lados doblados comenzamos a pegar los separadores que tienen un largo de 12 cm y un ancho de 32 cm.
Once we have the two covers, we make the accordion that goes to the sides where the dividers will be glued. The accordion is 20 cm long and 50 cm wide, when we have both sides folded we start gluing the dividers that are 12 cm long and 32 cm wide.

Las tapas las forre con tela por fuera y papel de regalo por dentro. Esto es opcional ya que se puede usar cualquier material que tengamos en casa para forrar.
The covers are lined with fabric on the outside and gift wrap on the inside. This is optional as we can use any material we have at home to cover.

Para unirlas utilice una tira de tela y sobre ella un cartón para así darle firmeza.
Use a strip of cloth and a piece of cardboard to join them together.

Ya solo queda pegar el acordeón a las tapas y tenemos nuestro portafolio listo. Arriba se le puede colocar un sujetador para que no se abra y la decoración ya queda a la creatividad de cada uno! Recomiendo hacerlo con los niños o jóvenes para así estimular su creatividad.
All that remains is to glue the accordion to the covers and we have our portfolio ready. Above you can put a bra so that it does not open and the decoration and is to the creativity of each! I recommend doing this with children or young people to stimulate their creativity.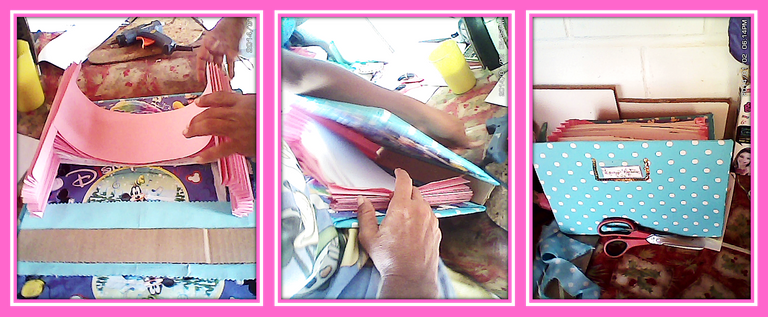 ---
Las fotografías son de mi autoría y fueron tomadas con un celular básico chino. Editadas en PowerPoint.
The photographs are my own and were taken with a basic Chinese cell phone. Edited in PowerPoint.



Te invito a que visites mis post anterior:
I invite you to visit my previous post:
[Esp - Eng] Dibujo de Pokemon Umbreon en PowerPoint 2013//Drawing of Pokemon Umbreon in PowerPoint 2013
¡Tengo Nuevo Banner! 😍


Un fuerte abrazo a todos @luiyi-22
A big hug to everyone